'I'm not going to do it.' Police aren't eager to help Trump enforce immigration laws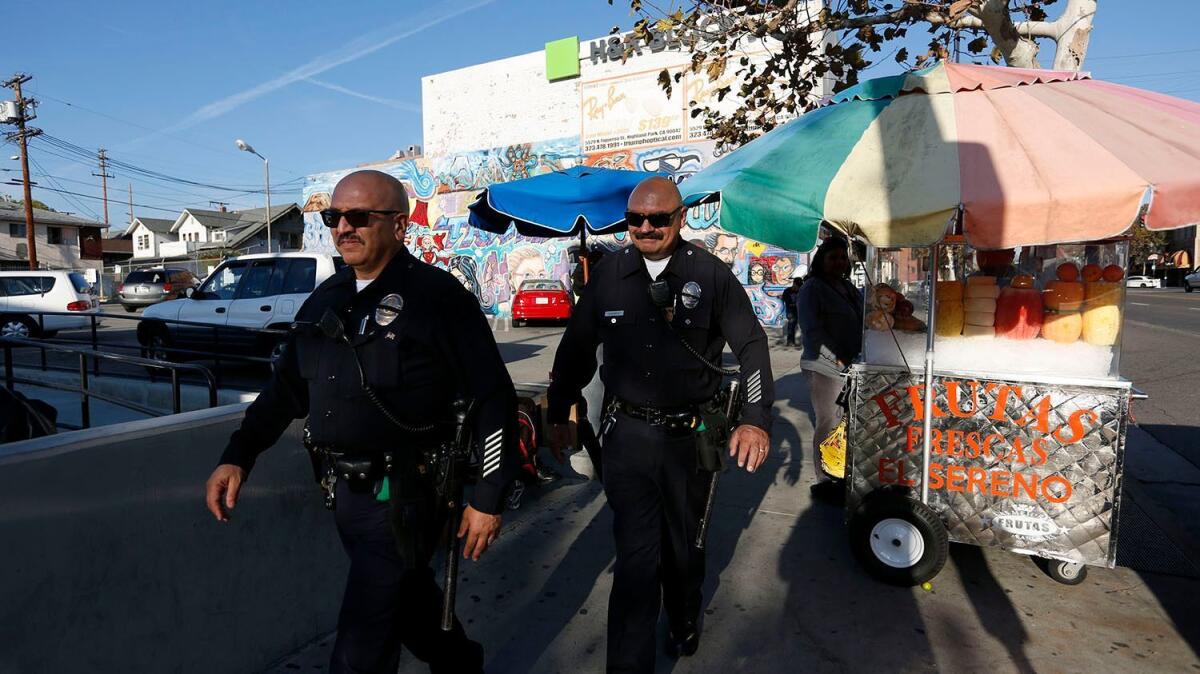 A day after Donald Trump was elected president, two detectives walked up to a building site in Koreatown. The pair was hoping to find someone who might have witnessed a motorist intentionally knocking down a construction worker.
They introduced themselves to a group of Latino workers. The workers got up and walked away.
"Trump is coming," one of them said as he left.
To Det. Brent Hopkins, the scene was a stark illustration of the difficulties he could face depending on how far President Trump goes in enlisting local law enforcement to rid the country of people who are in the U.S. illegally.
"It is my job to investigate crimes," said Hopkins of the Los Angeles Police Department's Wilshire Division, who also serves on the police union's communications committee. "And if I can't do that, I can't get justice for people, because all of a sudden, I'm losing my witnesses or my victims because they're afraid that talking to me is going to lead to them getting deported."
After Trump's unveiling last week of two executive orders that called for empowering local law enforcement officers to take on the duties of immigration agents, police officers and sheriff's deputies across the Los Angeles area said in interviews that enforcing immigration laws is not in their job descriptions. Many expressed concerns that immigrants already wary of reporting crimes or being interviewed as witnesses will retreat further into the shadows.
"They should be running to us, not away from us," said LAPD Deputy Chief Robert Arcos of Central Bureau, which includes Boyle Heights, MacArthur Park, Chinatown and other areas with many immigrant residents. "We are here to be their protectors."
Besides, some officers said, they are too busy answering 911 calls, arresting robbers, stopping erratic drivers and solving homicides to add federal immigration enforcement to their to-do lists.
"We have enough issues just trying to keep the peace anyway," said J.C. Duarte, a veteran LAPD officer in Northeast Division. "It's just going to create a wedge between immigrants and law enforcement. Whether they're here legally or not, there's going to be a fear generated."
Many officers said they believe their bosses will resist Trump's directives, despite the president's threat to withhold federal funding.
The LAPD has long had a policy that forbids officers from initiating contact with a person solely to ask about immigration status.
On Wednesday, hours after Trump unveiled his executive orders, LAPD Chief Charlie Beck reiterated that his officers would continue to focus on building relationships with city residents, regardless of where they were born. L.A. County Sheriff Jim McDonnell said his deputies do not ask anyone about their legal status and that immigration enforcement remains a federal responsibility.
In the state Legislature, Senate leader Kevin de León is championing a measure that would prohibit California police officers from engaging in immigration enforcement.
"We're not going to be enforcing any immigration laws whatsoever," said Cmdr. Keith Swensson, who oversees the Central Patrol Division, which includes Compton and parts of East and South L.A., for the L.A. County Sheriff's Department. "The whole concept seems to be overpoliticized, when in fact we're going to be doing the same thing we've always been doing."
The racial demographics of L.A County's two largest law enforcement agencies reflect those of the region as a whole. In both the LAPD and the county's Sheriff's Department, nearly half of the sworn officers are Latino. It is not uncommon for a police officer or sheriff's deputy to be an immigrant or the child of immigrants. Duarte, the Northeast Division officer, came to the U.S. legally from Guatemala at age 2.
During the presidential election, Trump found support among some law enforcement officers who viewed him as more pro-police than his Democratic opponent, Hillary Clinton. But locally, even some officers who privately said they voted for him are not eager to help with his immigration agenda.
Trump's executive orders call for the resurrection of Secure Communities, a program from earlier in Obama's administration that asked jail officials to hand over inmates to immigration authorities, including inmates who had no criminal records and were guilty only of immigration violations.
But Trump has not spelled out any specific plans to enlist street officers in apprehending immigrants without legal status. The executive orders say that local law enforcement agencies will be empowered "to perform the functions of an immigration officer … to the maximum extent permitted by law" but provide no detail.
An Arizona law, Senate Bill 1070, tested the legal limits of what immigration enforcement duties police officers could perform. In 2012, the U.S. Supreme Court struck down most of the Arizona law but let stand a provision that required police to check the immigration status of someone they had already stopped if there was "reasonable suspicion" the person was in the country illegally.
If Trump asks police agencies to perform immigration checks along the lines of the Arizona law, participation would have to be voluntary, because the federal government cannot coerce local governments to do its work, constitutional law scholars say.
The funding component of Trump's executive orders, which involves withholding federal funds to so-called sanctuary cities, could face legal hurdles, because courts could view it as an underhanded way to force cooperation, said Hiroshi Motomura, an immigration scholar and professor at UCLA School of Law.
"If the LAPD doesn't want to be involved in immigration checks, the feds can't force the LAPD to do that," Motomura said.
Still, the specter of police officers checking residents' legal status has stirred anxiety among some immigrants.
At roll calls, Capt. Martin Baeza of the LAPD's Hollenbeck Division has been reiterating to his officers that their job is enforcing state laws, not federal immigration laws.
At community meetings, he tries to tamp down fears, answering questions that included one about whether internment camps, such as those used to imprison Japanese Americans during World War II, might arise again.
"I completely understand the anxiety that our community is having, because I've lived that as a child," said Baeza, who came to the U.S. from Mexico when he was 2.
Baeza's parents had green cards, but they still viewed the police with fear. His parents would tell him not to get into trouble and not to have anything to do with the police, he recalled.
After the presidential election, the LAPD's Central Division, which includes Hollenbeck, held a series of community meetings to reassure immigrants that police officers are there to help them, not deport them.
But comforting words can only go so far when people fear being separated from their families and livelihoods.
At a community meeting in South Los Angeles on Thursday night, a man asked if he could be deported for a traffic ticket. LAPD Officer Marcela Garcia assured him that would not happen.
Inglewood Police Officer Chris Beckman said that when he investigated sex crimes, he had a hard time getting some Spanish-speaking victims to come forward because they feared being deported.
If police officers do take a role in immigration enforcement, some victims "are not going to want to deal with the police whatsoever," Beckman said.
Some police officers and sheriff's deputies said that if their bosses tell them to ask people about immigration status, they will have to obey the orders.
But Duarte, the LAPD officer in Northeast, said he would "flat out just refuse." He plans to retire next year and has little to lose.
"At this point in my career, I'd take whatever consequence came down the pipe," he said. "So what? Go ahead and suspend me for 10 days. I'm not going to do it."
Times staff writer Alene Tchekmedyian contributed to this report.
For more law enforcement news from Southern California, follow us on Twitter: @cindychangLA, @katemather and @nicolesantacruz
ALSO
Are you an immigrant? We want to hear your story
Protesters block LAX traffic, face off with police as they rally against Trump's travel ban
Travel ban is the clearest sign yet of Trump advisors' intent to reshape the country
Sign up for Essential California for news, features and recommendations from the L.A. Times and beyond in your inbox six days a week.
You may occasionally receive promotional content from the Los Angeles Times.