On base, the comforts of home, minus civilians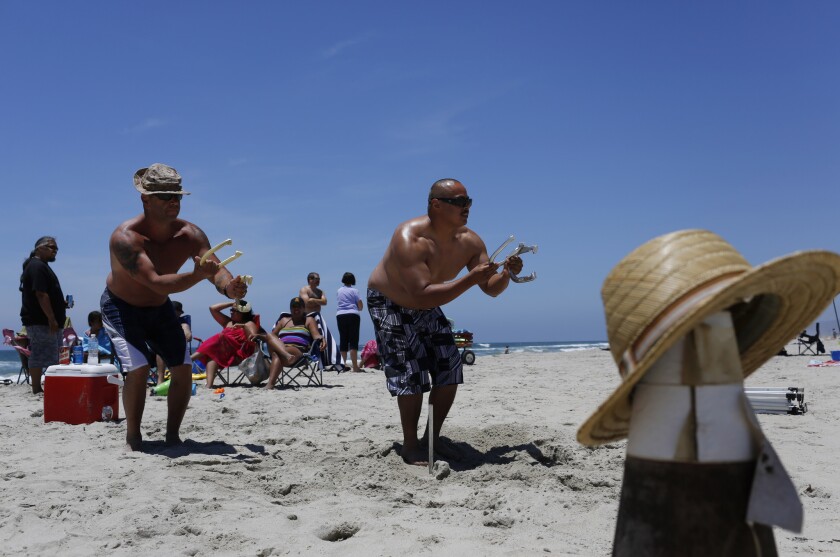 Master Sgt. Rick Duran, left, plays horseshoes with nephew Manny Higuera on the beach at Camp Pendleton, which has 17 miles of shoreline.
(Katie Falkenberg / Los Angeles Times)
Makayla Balderas admires the uniforms for sale as she shops on base with her family.
(Katie Falkenberg / Los Angeles Times)
Cpl. Jordan Ziegler shops on base with daughters Delilah, left, and
Adelaide. Groceries at the commissary are up to 30% less than off base.
(Katie Falkenberg / Los Angeles Times)
Cpl. Justin MacRae, center, works out on base with Sgt. Samuel McGlennen, left, and Sgt. Andrew Jones.
(Katie Falkenberg / Los Angeles Times)
Marines line up for lunch at one of Camp Pendleton's 20 fast-food restaurants.
(Katie Falkenberg / Los Angeles Times)
Adrianna Van Horn greets her father, Hospital Corpsman 2nd Class Joshua Van Horn, upon his return from a six-month deployment in Afghanistan.
(Katie Falkenberg / Los Angeles Times)
Staff Sgt. Antonio Henderson with son Arias after returning to Camp Pendleton from a six-month deployment in Afghanistan.
(Katie Falkenberg / Los Angeles Times)
Reporting From CAMP PENDLETON —
The days when "If the Marine Corps wanted you to have a family, it would have issued you one" are clearly over.
The 43,300 military personnel and family members who live on the Marines' major West Coast base, Camp Pendleton, enjoy the amenities of a prosperous midsized town — five schools, nine health clinics, a golf course, swimming pools and dozens of child-care facilities.
There are a new hospital, a movie theater, two florists, four dry cleaners, three "big box" stores, 20 fast-food restaurants, and, because it's a military base, 13 barber shops and a commissary selling groceries for up to 30% less than at civilian supermarkets.
Tree-shaded neighborhoods like Wire Mountain and Stuart Mesa feature attractive two-story houses flanked by green lawns. Enlistees live in college-like dorms, not wooden barracks. The website for housing on the base, with its 17 miles of Pacific coastline, touts seaside living and a "recreational paradise."
"We build communities, just like the housing outside the fence," said Robert Marshall, director of family housing. "Just because the Marines are on the march, it doesn't mean the spouses and kids have to be on the same march."
That benevolent approach reflects a growing trend in the all-volunteer military — provide for the families as well as the warriors.
The question is whether the sheltered, subsidized lifestyle on this heavily guarded mega-base, and others like it, has reinforced the separation of the all-volunteer military from the nation it serves.
The Pentagon closed more than 350 domestic bases and other installations between the end of the Cold War and 2010 to save money and enhance efficiency. Many of their functions and personnel were consolidated into fewer, mostly larger bases that tend to be more isolated than the earlier constellation.
Communities that cluster around the largest bases — Ft. Bragg in North Carolina, Ft. Campbell in Kentucky, Ft. Hood in Texas, Joint Base Lewis-McChord in Washington state and Ft. Benning in Georgia — are dominated by military personnel, reservists and retirees, many of them from multi-generational military families.
The Defense department is the biggest employer in San Diego County, for example, providing 133,000 jobs. An additional 245,000 military veterans live in the county, many close to the base. One result: The Pentagon pumped more than $25 billion into the local economy last year, according to the civilian-run San Diego Military Advisory Council.
At the same time, some experts worry that the growing self-sufficiency of the mega-bases adds to the sense of a divided society.
Ron Bee, a lecturer in political science and international relations at San Diego State, is concerned that so few Americans serve in uniform or share the sacrifice of those who do. The public has "mentally outsourced" issues of war and peace to the military, he says, and "somehow, some way, becomes surprised when world events interrupt our day."
"At universities and in the public discourse, we tend to separate out our military compatriots, with occasional nods of gratitude," like salutes to veterans at sports events, he added.
Steve Erie, a political science professor at UC San Diego, says Americans revere the military — even if they don't join themselves. "From the civilian standpoint, the all-volunteer force appears to be working fine," he said.
Here at the home of the 1st Marine Division, many argue that the upgraded living conditions helped the Marines and their families endure the unrelenting strain of the Iraq and Afghanistan wars: the back-to-back deployments, the geopolitical uncertainties, the casualties.
"It's more of a family than living outside," said Jessica Konczal, 33, whose husband is Sgt. Matthew Konczal. "If you've had a hard day, you'll probably meet someone at the commissary who understands because they're going through the same thing."
It remains an ironclad belief among military families that civilians do not comprehend their lives: the constant moving, the long separations, raising children with a parent far away, the post-combat mental disorders, and during the darkest days of war, the fear of finding an officer and chaplain waiting outside to say a loved one has died.
"Civilians, even when they try, just can't understand the emotions that we go through," said Sharon Garcia, 22, as she waited for her husband, Sgt. Robert Garcia, to return from his third war-zone deployment.
Some 346 Marines from here were killed in Iraq, making the base's losses second only to those of the Army's Ft. Hood, which had 509 troops killed.
"We've lost a few friends," said Jolene Bopp, 25, whose husband is Sgt. Justin Bopp. "We've lost some to suicide too. You pretty much learn to live with it."
Like many spouses, Bopp appreciates the shopping and the sense of safety for the children. But she says there are times "when you just need to get away."
An off-base restaurant is preferable for a girls' night out. "On base, everything you do reflects on your husband," she said.
Still, the economic spillover on nearby Oceanside has changed in recent years.
The deployment of Marines to the first Gulf War in 1991 caused a sharp downturn in Oceanside and other nearby towns. A decade or so later, when Marines deployed to Afghanistan in 2001 and Iraq in 2003, the impact was barely noticeable. Their families had already been doing most of their shopping on base.
Officials here say that life inside the heavily guarded base isn't as separate as it appears.
All unmarried Marines under the rank of sergeant live on base, but only a third of married Marines do. The rest live outside the gate even if they shop on base. Moreover, the average Marine returns to civilian life after four years of active duty, although that tour may shape his or her attitudes for life.
Civilians on bicycles are allowed to pedal through the base. Thousands of weekend athletes flock to the base for the annual "mud run." Others come to play paintball, bowl at Leatherneck Lanes or ride horses.
Local media cover the base and the Marines closely, sending reporters to Afghanistan long after other news organizations stopped.
Last year, a two-story facility was opened at Del Mar Beach — not the city of Del Mar but a wide and well-tended beach at Camp Pendleton. With a view of the ocean, the facility is open to civilians for corporate meetings and weddings. Catering can be arranged.
All that is welcome to Chelsey Kurtz, who grew up here in the 1990s when her father was in the Navy and living conditions were far more austere. Now 30, she lives on base again with her husband, Sgt. Ryan Kurtz, and their two children.
"When my father was here, it was just a workplace," said Kurtz. "Now it's a family place."
Twitter: @LATsandiego
This is one of several reports on the growing separation between America's all-volunteer military and the public it serves. For more: latimes.com/volunteer-army
---
The stories shaping California
Get up to speed with our Essential California newsletter, sent six days a week.
You may occasionally receive promotional content from the Los Angeles Times.