Imperial County man is likely the state's first West Nile virus fatality of the year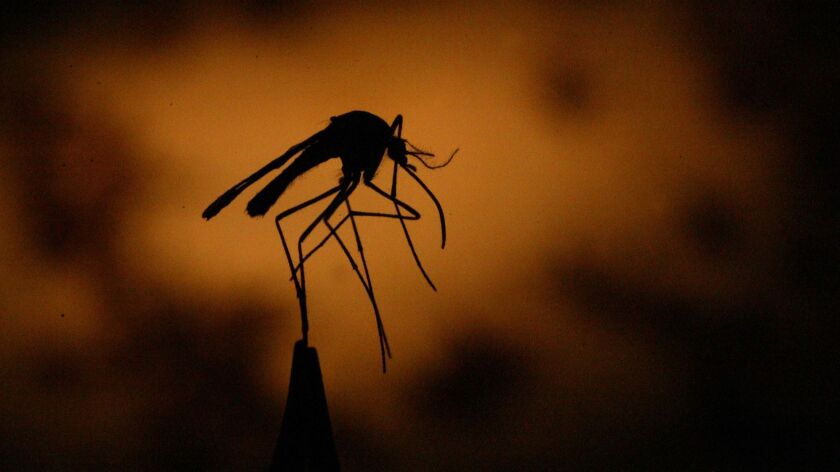 A Southern California man died last week after contracting West Nile virus in what is likely the first death caused by the disease this year in the state, officials said.
West Nile virus, which is transmitted to humans through a mosquito bite, kills Californians every year. Last year, 11 people in the state died of West Nile, and 44 in the previous year.
The man, who died on July 4, lived in Imperial County and had a history of other health problems, according to county health officials. The Desert Sun identified him as 74-year-old Robert Mears, a retired construction worker.
"Our hearts go out to the family and friends of the resident that passed away as result of complications with WNV. This local death serves as a reminder to our community of the importance of taking precautions against mosquito bites," Imperial County health officer Dr. Stephen Munday said in a statement.
Health officials recommend that people protect themselves from West Nile by applying bug repellent, clearing their yards of standing water that attracts insects and wearing long sleeves and pants at dawn and dusk, when mosquitoes are most active.
Only 1 in 5 people who catch West Nile have any symptoms. But 1 in 150 who are infected develop a serious illness that can be fatal, according to the U.S. Centers for Disease Control and Prevention. Though serious illness can occur in people of any age, it is most likely among people over age 50.
West Nile virus, first detected in Uganda, wasn't introduced to California until 2003. The first time scientists in the state isolated the virus was in mosquitoes in Imperial County.
Since then, nearly 7,000 Californians have been diagnosed with West Nile virus and more than 300 have died from the illness, according to state data. The virus has become the most prevalent mosquito-borne disease in the United States.
Health experts say that warm temperatures make it more likely for mosquitoes to breed and infect humans with the virus. This year in particular, late spring rains have left standing water, which provides fertile ground for mosquitoes to breed and spread the illness.
Late last month, state health officials warned that West Nile season was underway and would last through early fall. There is no vaccine for West Nile, nor any specific treatments.
"West Nile virus activity in the state is increasing, so it is important to take every possible precaution to protect against mosquito bites," California Department of Public Health Director Dr. Karen Smith said in a statement.
The timing of the recent death is somewhat unusual. In the last two years, health officials did not begin reporting deaths from West Nile until September, though there were many nonfatal cases before then.
To monitor West Nile levels across the state, health workers test mosquitoes for the virus and also collect data on dead birds. Mosquitoes transfer West Nile to birds, which can kill them, making the birds a reliable indicator of how many mosquitoes are carrying West Nile in a region.
This year so far, dead birds that tested positive for West Nile have been found in L.A. County — in Beverly Hills — as well as Orange, Sacramento, San Diego, Fresno, Tulare and San Joaquin counties, according to the state's West Nile website.
The Imperial County man who died had traveled throughout the state prior to falling ill, so it is unclear where he contracted West Nile, officials said. Imperial County health workers have not been able to confirm whether mosquitoes at the man's home are infectious, officials said.
"It is important for all residents to know that they need to take precautions to prevent mosquito bites no matter where they reside in Imperial County," said Jeff Lamoure, deputy director of environmental health, in a statement.
soumya.karlamangla@latimes.com
Twitter: @skarlamangla
---
The stories shaping California
Get up to speed with our Essential California newsletter, sent six days a week.
You may occasionally receive promotional content from the Los Angeles Times.