Los Angeles World Airports head Gina Marie Lindsey to retire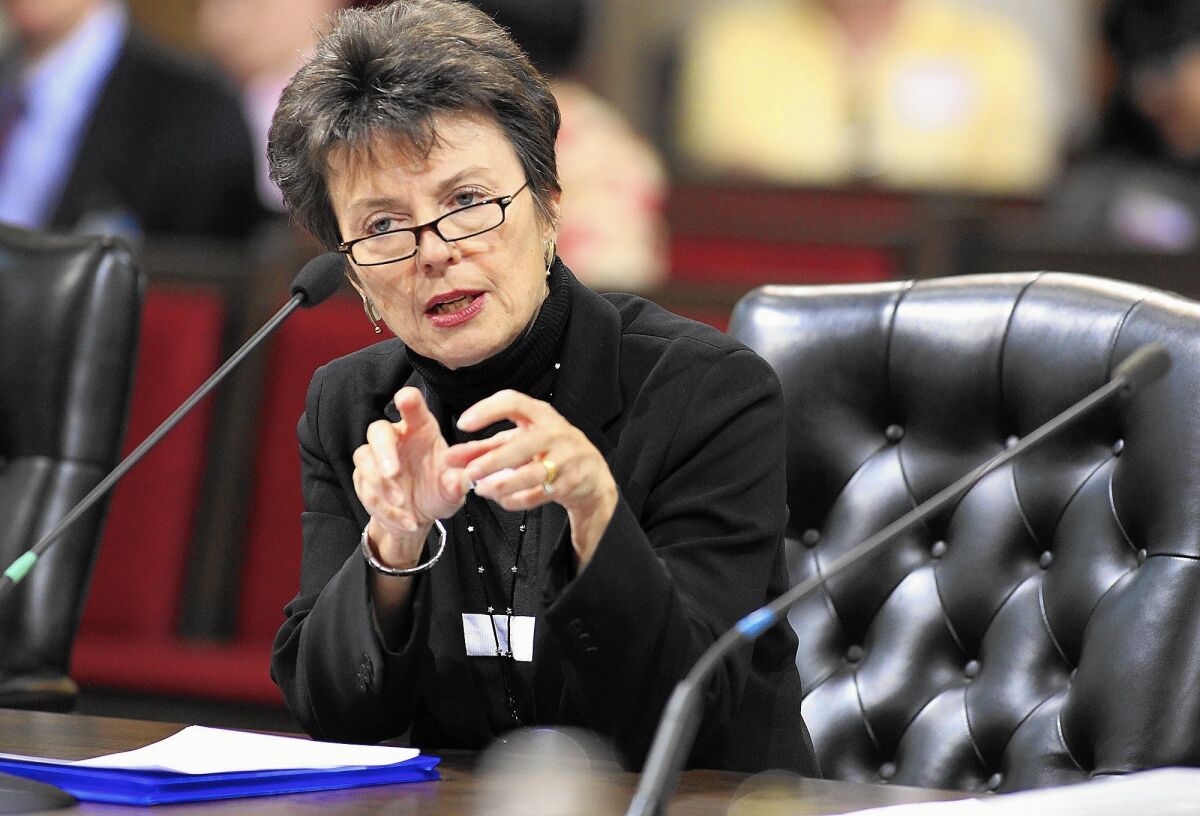 Los Angeles airport Executive Director Gina Marie Lindsey, who has overseen a massive and ongoing modernization of LAX for nearly eight years, announced Tuesday that she will retire in the spring.
"This is an appropriate time for a transition," said Lindsey, 60. "The next executive director will be able to take the airports development program through its next major phase."
Recruited by then-Mayor Antonio Villaraigosa after leading Seattle's airport agency, Lindsey joined Los Angeles World Airports in 2007 at a pivotal moment for the department that operated Los Angeles International Airport, LA/Ontario International Airport, Van Nuys Airport and LA/Palmdale Regional Airport.
Redevelopment of LAX had been delayed by lawsuits and community opposition. Van Nuys, a general aviation facility, faced financial issues and Ontario International, a once-popular alternative airport, was on the brink of sharp drops in flights and passengers.
Lindsey is credited with moving LAX modernization forward, including a $2-billion expansion of the Tom Bradley International Terminal that is nearing completion.
She managed overhauls of aging domestic terminals, construction of a new utility plant and planning for future improvements, including a consolidated car rental facility and a people mover that would link to a long-awaited light-rail line.
Lindsey "is one of the nation's finest aviation executives," said Los Angeles Mayor Eric Garcetti, "and that's why LAX is now on its way to becoming one of the world's best airports."
LAX reached about 71 million passengers a year under Lindsey, making it the second-busiest airport in the U.S. in terms of travelers and the fifth-busiest in the world. It had been ranked third in the nation and sixth in the world when she was hired.
"It is no secret that Gina Marie and I have differed dramatically on occasion, but even in disagreement she was always honest, direct and extremely professional," said Los Angeles City Councilman Mike Bonin, whose district includes LAX and surrounding neighborhoods that fought airport projects. "I will miss working with her."
Lindsey shut down Palmdale in 2008 and worked to increase revenue from Van Nuys. The latter move bolstered the general aviation airport's finances but strained tenant relations as rents increased and additional fees were imposed on businesses there.
"Eight years ago, Van Nuys was losing $5 million to $7 million a year," Lindsey said. "We are now meeting all our expenses, reconstructed the runway and resolved the tenant issues."
Lindsey faced additional challenges at LA/Ontario, where passenger volumes plummeted almost 45% from a high of 7.2 million travelers in 2007. The decline prompted the city of Ontario to sue Los Angeles in an attempt to regain control of the facility. The case is pending.
Ontario officials allege that Los Angeles mismanaged the airport and violated agreements to do its best to develop air service. Lindsey contends the decline was because of the recession and a restructuring in the airline industry, which relocated service to major airports, such as LAX.
Ontario Mayor Pro Tem Alan Wapner said he hoped Lindsey's departure will clear the way for an agreement to transfer LA/Ontario back to the Inland Empire city. L.A. airport officials have offered to sell the facility for $400 million, a price Ontario officials say is too high to shift a facility between government agencies.
Lindsey became embroiled in more controversy in 2011 and after the Nov. 1, 2013, shooting inside Terminal 3 that killed a federal screening officer. Two reviews questioned the adequacy of security at LAX, which had been identified as a potential target for terrorists.
The studies concluded that improvements were needed in communications, emergency management, security of facilities and the airport police force. Lindsey has said that LAX is safer today, citing an investment of more than $1.6 billion in security measures since 9/11.
"We've closed some of the security gaps," she said, adding, "It will be an ever-evolving quest."
Follow @LADeadline16 for aviation news
---
The stories shaping California
Get up to speed with our Essential California newsletter, sent six days a week.
You may occasionally receive promotional content from the Los Angeles Times.