California Commute: Start-ups offer Bay Area travelers alternative to crowded bus system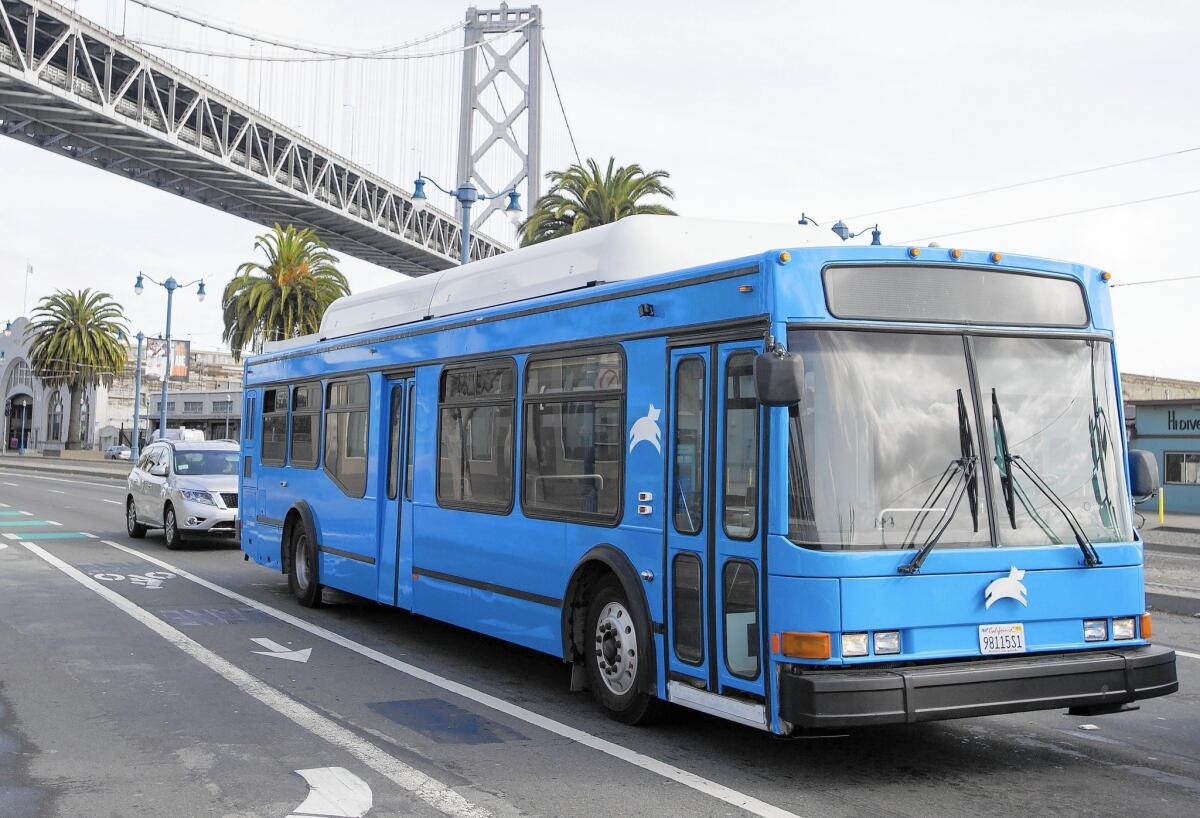 Reporting from SAN FRANCISCO —
A bright blue bus pulled to the curb in the busy Financial District, where two men in plaid shirts and backpacks were focused on their phones.
Josh Pincus, 21, stepped aboard, greeted the driver and settled onto a padded bench at the rear, beneath a wall of distressed wood. An employee tended a small counter offering $7 juice and high-end coffee. The shuttle was roomy, cool, quiet and almost empty, with just five other, youngish passengers hunched over phones and laptops.
"I don't like feeling crowded," Pincus said, as he scrolled through email using the free Wi-Fi. Out the windows, he could see standing passengers swaying and jostling on a passing city bus. "Muni just isn't convenient, or very pleasant."
Pincus' ride, operated by Leap, is one of several start-ups providing an alternative to San Francisco's aging, crowded bus network. The company and its main competitor, Chariot, run short, peak-hour shuttle routes between the Financial District and the Marina, a pricey neighborhood popular with young entrepreneurs and investment bankers who complain of unreliable and infrequent Muni service.
The start-ups, both less than a year old, have drawn comparisons to Google's sleek buses, which sparked protests last year among activists who said the shuttles were exacerbating gentrification by connecting higher-income commuters to neighborhoods with otherwise poor transit service, driving up rents. Some fear Leap and Chariot could further stratify San Francisco commuting options between rich and poor — and reduce pressure to improve the public transportation network.
Officials at Leap and Chariot say they are interested in expanding to L.A., but are not yet sure how it would work here or what routes would make sense.
Leap resembles a charter bus; Chariot a Super Shuttle. Riders buy tickets ($6 and $5, respectively) on company apps and board in passenger loading zones marked with sidewalk signs. Both offer routes similar to Muni's $2.25 Marina Express, which is frequently full and forced to leave commuters standing on the curb. Transportation officials say the private shuttles are helping their crowded system.
"If we could, we would be meeting those needs," said Tilly Chang, executive director of the San Francisco County Transportation Authority, an agency that works with Muni, BART and Caltrain on funding and planning issues. The shuttles are important, she said, because "at the end of the day, we can't meet the demand."
Ilyse Magy, an organizer with SF Transit Riders, said the rise of private Bay Area shuttle services shows that public carriers such as Muni need to improve customer service to prevent the creation of "parallel systems" for rich and poor residents.
"If people who are voting on Muni improvements aren't riding it, that will only lead to an underfunded system," Magy said. "When the 'spirit of innovation' starts separating out the classes, that's a scary pattern."
Both companies stress that their services are open to everyone.
"The social fabric of every city is more complicated than two tiers of income," Leap Chief Executive Kyle Kirchhoff said. "We see a lot of shades of gray."
Leap and Chariot say they hope to complement Muni, rather than compete with it. Their target customers, they add, are people who commute by ride-sharing services such as Uber and Lyft, not by bus.
"Here's the thing: Leap isn't for everybody," Dan Hon of the nonprofit Code For America wrote in a recent newsletter. "Take a look at the imagery used on the Leap site. Look at the kind of people shown. Think about the kind of jobs that those people have. Leap isn't just for all commuters, it's implicitly for a specific set of commuters: the kind of people who aren't, say, service workers."
The real issue with privatizing transit, Hon continued, is that "not insignificant amounts of capital are wasted on short-term solutions for small groups of people," rather than fixing the mass transit system for everyone.
Critics note that, unlike public transportation systems, Leap and Chariot don't accommodate guide dogs or wheelchairs.
"Public transportation is great, and always needs to exist, and always needs to serve the whole population," Kirchhoff said. Leap is focusing on bringing more options to areas that are "highly trafficked, but underserved" by transit, he said.
Chariot Chief Executive Ali Vahabzadeh says his firm hopes to act, in part, as a connection to transit, carrying people on first- and last-mile trips to Caltrain and BART stations.
The new shuttles hearken back to jitney vans that roamed San Francisco until 1972, when the city banned the services in a bid to boost Muni ridership.
Vahabzadeh said some of Chariot's first investors were from Asia and Africa, where such private, informal transportation networks are common and popular.
Jenn Mariska, 30, used to take the bus from her Marina apartment to her investment job in the Financial District. But it stops running at 6:30 p.m. On the nights she couldn't leave work in time, she took a taxi. Seven months ago, she switched to Chariot, which costs $25 more per month than a Muni pass. But it runs later — and she no longer pays for late-night cabs, which balances out the costs.
"It's a nice, clean car, and it's dependable," Mariska said. Plus, she said, she's guaranteed a seat.
Weighing the larger transportation benefits of the private shuttle services requires understanding how passengers were commuting before, said Susan Shaheen, co-director of UC Berkeley's Transportation Sustainability Research Center. If they were driving alone, Shaheen said, or driving to a train station, the services are providing a net gain by taking cars off the road.
"When new services come online, you get this very polarizing reaction, either 'they're completely horrible' or 'this has changed everything,'" Shaheen said.
"The reality is that it's probably somewhere in between."
laura.nelson@latimes.com
Twitter: @laura_nelson
Have an idea, gripe or question? Times staff writers Laura J. Nelson and Dan Weikel write California Commute and are looking for leads. Please send them along.
Sign up for Essential California for news, features and recommendations from the L.A. Times and beyond in your inbox six days a week.
You may occasionally receive promotional content from the Los Angeles Times.