L.A.'s DWP managers agree to undergo formal evaluations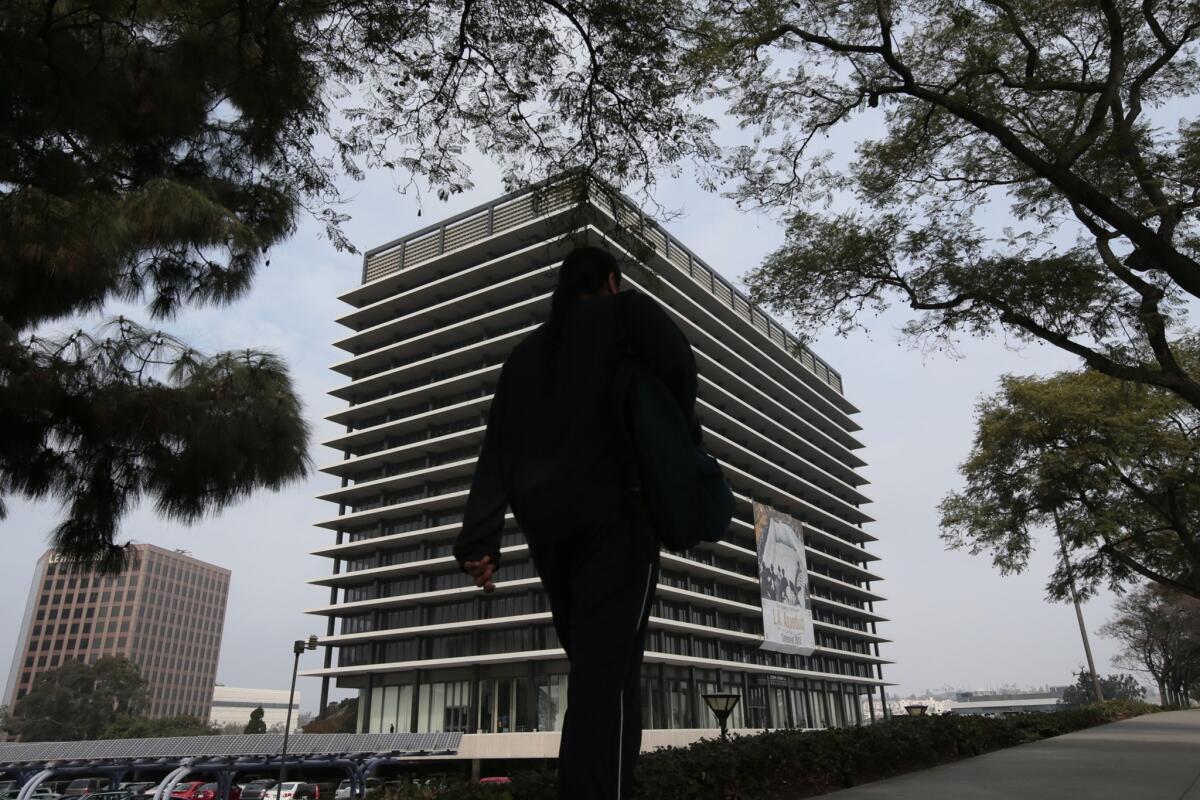 Hundreds of managers in the Los Angeles Department of Water and Power are agreeing to formal, annual evaluations as part of a new pact with the utility — a groundbreaking move for an agency long targeted for reform.
Requiring such evaluations would be "absolutely standard" in many utilities, but represents a serious stride for a department that has lacked them, city ratepayer advocate Fred Pickel said Tuesday.
Failing to regularly assess employees has been "one of the things I found most shocking about the DWP," said Pickel, who was appointed to his position 2 1/2 years ago. "You can't judge progress in the organization without something like that."
In recent memory, employees at the municipal utility have not had a formal, regular process for being evaluated after passing the probationary period for their jobs, according to the department. Many workers must be regularly evaluated during such a probation period after being promoted, but have no standard process for being assessed afterward.
"If no one is telling you what you need to do to improve, your strengths and weaknesses, you're out there rudderless," said Tom Anderbery, president of the Management Employees Assn.
DWP spokesman Joseph Ramallo added that in the absence of such rules, utility employees have still been assessed informally by their bosses, and someone failing to do their job could still be disciplined and ultimately terminated. However, the new pact will usher in "more formal employee evaluations" for managers, he said.
Under the labor pact, more than 300 mid- to executive-level managers represented by the Management Employees Assn. will be reviewed annually using the same process as other city departments. A smaller group — the Assn. of Confidential Employees, whose members work in labor relations — has agreed to start working out an evaluation process as well.
"As the managers, we're setting an example going forward," said Anderbery.
He said the new process would improve communication and give managers more reason to excel. "All this can do is help us," he said.
Board of Water and Power Commissioner Jill Banks Barad said the agreement could encourage the rest of the roughly 9,000 Water and Power employees — the bulk of whom are represented by the International Brotherhood of Electrical Workers Local 18 — to follow suit.
The IBEW signed an agreement with the department last year that did not include such a provision, and that agreement extends until 2017. IBEW leader Brian D'Arcy could not be reached Tuesday afternoon for comment.
The utility has long lacked a formal process for employee evaluations: Department officials said evaluations do not appear to have been part of employee contracts as far back as the early '90s, and have no evidence that a formal, systematic process ever existed across the agency. A 1990 report prepared for the department by an outside consultant lamented that employee pay wasn't tied to performance — and noted that the same concerns were raised in reports dating back to 1978.
"Some would argue that evaluations of this kind have not been a part of DWP culture for a very long time — and the organization has existed and served the people of Los Angeles for 100 years," said former DWP head H. David Nahai, who raised the issue of employee evaluations in the past. "On the other hand, certainly it is part of accepted corporate norms to have evaluations across the board, and these are tools that businesses use all the time. It's a matter of balancing those two views."
The DWP board approved the new agreements Tuesday, which must still be vetted by the City Council. Utility managers also agreed to a number of concessions under their new labor pacts, some of which echo those already struck by the IBEW in its crucial deal last year.
The Management Employees Assn. and the Assn. of Confidential Employees agreed to three years without salary increases, sandwiched between two boosts of 2% each in 2012 and 2016. The two groups also accepted leaner retirement benefits for new hires and agreed for employees to contribute 5% of the cost of their health insurance premiums.
Utility chief Marcie Edwards praised the agreements struck with employees, saying in a written statement that they "build upon the strides made by IBEW to reform pensions and control salary costs" and give workers "the opportunity to help manage escalating health care costs," along with establishing the evaluation system.
Edwards was chosen for the job earlier this year by Mayor Eric Garcetti, whose spokesman Jeff Millman lauded the move toward regular evaluations.
"This is an important step in Mayor Garcetti's agenda to reform the DWP and provide greater accountability for ratepayers," Millman said in a statement.
Follow @LATimesEmily for more news from L.A. City Hall
Sign up for Essential California for news, features and recommendations from the L.A. Times and beyond in your inbox six days a week.
You may occasionally receive promotional content from the Los Angeles Times.