L.A. officials ponder bond or tax measure to help the homeless as a budget shortfall looms
Five months ago, Los Angeles' top elected officials stood on the steps of City Hall and promised to spend $100 million helping the homeless, a sum they billed as their first serious ante in the fight against a problem whose human cost could no longer be ignored.
Now, with budget preparations underway and a detailed homelessness strategy waiting to be enacted, city officials are facing another and equally unavoidable problem: Fiscal reality.
L.A.'s budget, still frail after a halting economic recovery, is on track to end the year in the red. With city services already pared to a minimum during the recession — roughly 7 in 10 tax dollars currently pay for firefighters or police officers — budget officials expect to tap reserve funds to balance their books in 2016.
NEWSLETTER: Get the day's top headlines from Times Editor Davan Maharaj >>
As a result, L.A. politicians are owning up to the inevitability of a course of action few could have predicted this time a year ago: A ballot measure seeking voters' approval of a bond, tax or fee to fund the city's homelessness efforts.
Such a revenue stream, which under California's tax laws requires a popular vote, would be used for roughly $2 billion in projected costs to shelter a homeless population of 26,000 over the next decade.
"Every single day we're crunching those numbers," said Mayor Eric Garcetti, who was initially cool to the idea of asking voters to fund new homeless programs. "But for a sustainable source, and for us not to make pretty deep cuts in other parts of the city budget, we can't do this without probably a new revenue source."
Garcetti said there is now "a high probability" that he will join the City Council in sponsoring a November ballot measure.
For a sustainable source, and for us not to make pretty deep cuts in other parts of the city budget, we can't do this without probably a new revenue source.
— Mayor Eric Garcetti
The growing acceptance of such an approach at City Hall is a sign of the new political weight assumed by homelessness, as encampments once confined to skid row have spread to more affluent and civically active neighborhoods across the city. It is also a measure of how fragile L.A.'s finances remain after the Great Recession despite years of low unemployment, a climbing stock market and booming real-estate development.
The city continues to struggle with the after-effects of the U.S. housing market's collapse in 2007 and 2008, which decimated the property-tax revenue that makes up almost a third of the city's general fund.
See more of our top stories on Facebook >>
While signs of renewed prosperity are evident — perhaps most visibly in downtown's construction boom — the city is still on weak financial footing, in part because its spending on employees' salaries and benefits has continued to grow despite years of decreased tax revenue.
City Administrative Officer Miguel Santana's most recent financial status report, issued in December, forecasts a $97-million hole in the budget by the current fiscal year's end June 30.
"There isn't a penny of money that isn't allocated to an important priority — and, in fact, the city faces structural deficits for years to come," said City Councilman Paul Krekorian, who represents the east San Fernando Valley and chairs the council's Budget and Finance Committee. "There's not a pile of money sitting someplace that nobody's figured out how to spend yet."
That reality is reflected in the scant funds city officials have so far found for homeless housing and services — just $30 million of the $100 million the mayor and City Council announced in September. Even the promised $100 million now appears inadequate: The city adopted a plan this month to spend $200 million or more a year on the homeless over the next decade.
Santana said "the wiggle room is very small" for freeing up additional homelessness funds without a new source of money.
What form a new stream of revenue could take is still unclear. The City Council has asked analysts to prepare a report outlining possible ballot initiatives.
Garcetti said his favored approach would be a document-recording fee for commercial and industrial real-estate projects. Assembly Speaker Toni Atkins unsuccessfully pursued similar legislation last year that would have established a $75 fee for each real-estate document filed and generated an estimated $300 million to $500 million annually for affordable housing.
Other voter-approved financing options could include a housing bond or a variety of taxes, including a sales or parcel tax. Most would require two-thirds approval. Each comes with its own questions.
A bond, while a predictable source of money, could only underwrite construction costs and would not cover the housing vouchers and property leases the city intends to use while it builds long-term housing facilities. And another sales tax widely expected to appear on the November ballot — to fund public transit — could compete with a sales tax for homeless programs.
Not all new funding sources need approval at the ballot box. Since last fall, Garcetti has been pushing a plan for expanded fees on commercial and residential real estate development to fund affordable housing and homeless services.
Called "linkage fees," such a scheme could be approved by city lawmakers alone. But the mayor has acknowledged that the proposal would require months of additional study.
L.A. County, which has historically covered most of the cost of social services for the homeless, could also influence the financial outlook for local homeless programs. The Board of Supervisors has set aside $150 million to spend on reducing homelessness over approximately the next two years. The board is also investigating ways to raise money for ongoing funding, including its own tax and ballot measure.
That money could reduce the financial strain on the city of meeting its goals on homelessness — but not by much. City officials' plan anticipates that the $1.85-billion cost of building or leasing housing and short-term shelter for those who live on L.A.'s streets, unlike the expense of county-funded medical and social services, would be borne by the city alone.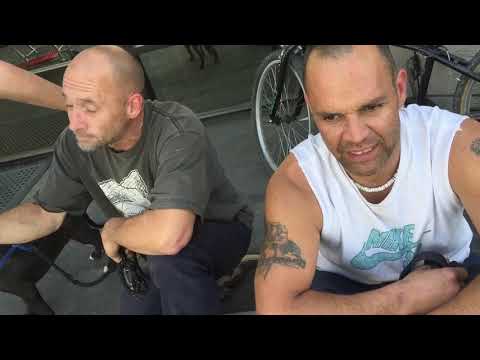 Work crews descended on a homeless encampment in a brushy area visible from the 110 freeway in Harbor City known as 'The Pit' to clean up trash and debris that piled up.
As L.A.'s elected leaders mull over the best way to ask their constituents for more money, some critics see the embrace of a ballot measure as merely the latest way for politicians to duck responsibility for a problem they effectively ignored for years.
Carol Sobel, a Santa Monica civil rights attorney who has successfully sued the city for its past treatment of the homeless, said popular democracy is a poor way to make policy on homelessness, an issue whose complexities don't necessarily translate well in the voting booth.
Should voters reject a ballot initiative for a new tax, bond or fee, she said, the mayor and City Council can claim they tried and failed to secure homelessness funding — even if they made no sacrifices in their own budget.
"For the elected officials, you can't pass this off to the voters," Sobel said. "The voters aren't the ones who caused this problem."
Twitter: @petejamison
Times staff writers Gale Holland and Abby Sewell contributed to this report.
ALSO
Apple says its dispute with the FBI is a 1st Amendment issue that Congress should decide
Texas court dismisses final charge in ex-Gov. Rick Perry's abuse-of-power case
Sign up for Essential California for news, features and recommendations from the L.A. Times and beyond in your inbox six days a week.
You may occasionally receive promotional content from the Los Angeles Times.