Landmark teacher tenure fight resumes in California court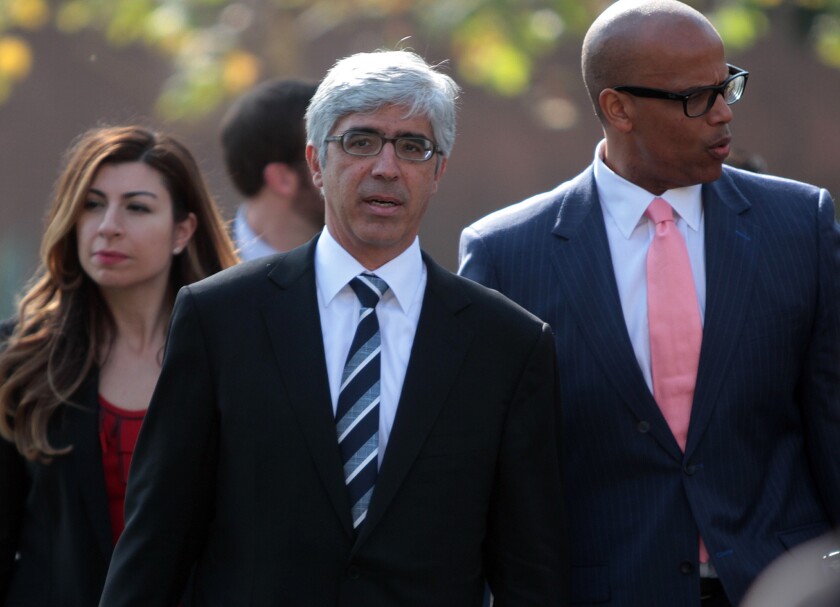 One of the highest-stakes battles in education is about to resume Thursday in a Los Angeles courtroom as teacher unions and their allies try to win back job protections that were tossed out in a landmark 2014 ruling.
An appeals court will weigh the ruling by L.A. Superior Court Judge Rolf M. Treu that sent shockwaves through California and the rest of the country by striking down the tenure and seniority system that had long protected public school teachers. The ruling is on hold pending the appeal.
In Vergara vs. California, Treu sided with the plaintiffs: nine public school students, who argued that the rules protecting teachers' jobs endangered their constitutionally guaranteed right to a public education.
NEWSLETTER: Get essential California headlines delivered daily >>
Treu found that teachers earn strong job protections too quickly -- within two years. And he found the process for firing them "to be so complex, time consuming and expensive as to make an effective, efficient yet fair dismissal of a grossly ineffective teacher illusory." He also threw out rules under which teachers are laid off based on a seniority system, rather than on performance.
The judge also accepted the argument that these rules favored by teachers unions disproportionately harmed minority students -- a status quo that, he said, "shocked the conscience."
Unions and their allies challenged the evidence presented in court, noting, for example, that an instructor named in testimony as an example of a bad teacher had been honored as teacher of the year in her school system.
They also argued that taking away job protections would do little to improve the teacher corps and might dissuade talented teachers from entering or remaining in the profession.
The case quickly made California the center of a national debate over how to protect students from ineffective teachers and how they should be defined.
Former U.S. Secretary of Education Arne Duncan hailed the decision.
American Federation of Teachers President Randi Weingarten decried the decision, saying it stripped "the hundreds of thousands of teachers who are doing a good job of any right to a voice."
See more of our top stories on Facebook >>
There were further ripples. That October, former CNN anchor Campbell Brown founded her own nonprofit that supported a similar lawsuit to undo tenure protections in New York.
The verdict, which is on hold, was appealed by the California Teachers Assn., the California Federation of Teachers, Gov. Jerry Brown and other top state officials.
A panel of three justices hearing the case must rule within 90 days after the hearing.
You can reach Joy Resmovits on Twitter @Joy_Resmovits and Howard Blume on Twitter @HowardBlume.
ALSO
Conservatives push back on transgender bathroom rights in North Carolina
Mining companies' declining fortunes imperil the restoration of land they've mined
Legal fight over century-old Korean papers found in L.A. ends
---
Life is stressful. Our weekly mental wellness newsletter can help.
You may occasionally receive promotional content from the Los Angeles Times.