Mental illness program could transform L.A. County justice system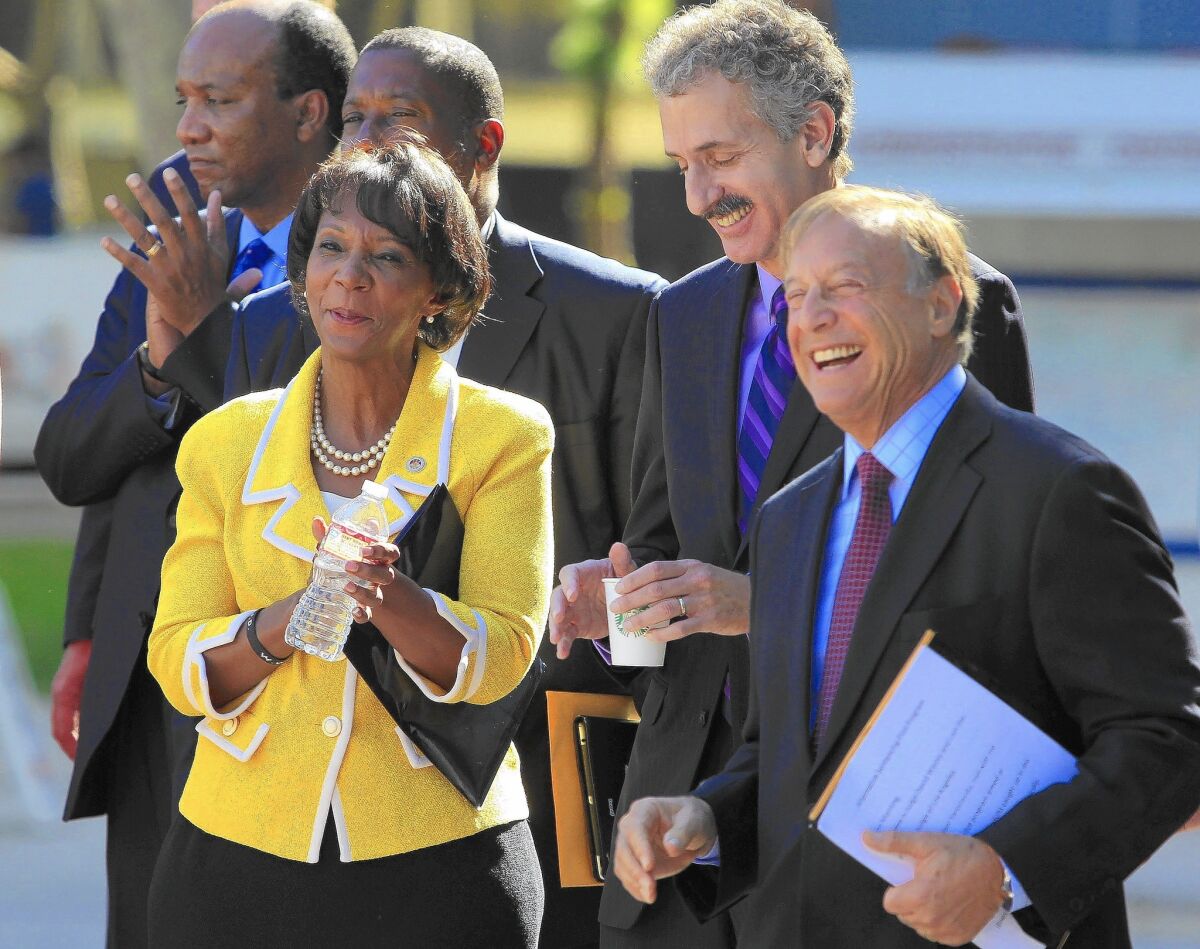 Los Angeles officials announced Wednesday the launch of an alternative sentencing program aimed at diverting mentally ill, low-level offenders from jail into treatment, a project they hope will signal a dramatic shift for the county's criminal justice system.
The $756,000 initiative marks one of the county's most significant attempts to find a better way to treat people who have mental illness and wind up in the criminal justice system by offering them transitional housing, medical treatment and job-hunting help. Officials say the pilot program will start in Van Nuys and initially help 50 people at a time, but it is expected to spread throughout the county and could accommodate up to 1,000 people at once.
The program is designed to reduce jail overcrowding and end a revolving door for offenders with mental illness who find themselves incarcerated for relatively minor crimes.
"It is time to stop bouncing people who are mentally ill and genuinely sick between the streets and our jails," said Dist. Atty. Jackie Lacey. "This is an unconscionable waste of human life and money."
Lacey and other officials, including county Supervisor Zev Yaroslavsky and City Atty. Mike Feuer, announced the plan to give nonviolent felony defendants arrested for crimes like marijuana possession, resisting police and car theft the chance to complete an 18-month program.
Those who complete the treatment and any court-imposed probation will have their pending criminal charges cleared from their records. A 90-day version of the program will be available to people arrested on misdemeanor charges. Participants will avoid paying fees and fines typically imposed in criminal cases.
Karen Tamis of the Vera Institute of Justice, a nonprofit consulting group, said the pilot program could dramatically change the landscape of the local justice and jail systems.
"Los Angeles County has a real problem with people with mental health issues in the jail system," she said. "This could have a very significant impact on the jail population as a whole."
L.A. County already has specific courts for veterans, the homeless and drug users, but Yaroslavsky said the new initiative is different because it aims to have a broad impact on defendants in many different courtrooms.
"This is not a specialty court," he said. "It's a new template."
Yaroslavsky, who helped spearhead the project, is putting up half of the program's budget from his district's discretionary spending fund. The program is also supported by the court as well as the public defender and alternate public defender.
Slated to begin within weeks, the program will require eligible defendants with serious mental health problems to go through a series of assessments before being paired with a case worker at San Fernando Valley Community Mental Health Center. The program's participants will then be placed in transitional housing.
A similar but more comprehensive plan in Miami-Dade County, which L.A. officials used as a model, saw a dramatic drop in recidivism rates.
Judge Steve Leifman, who helped start the Criminal Mental Health Project in Florida, said that when the program started in 2000 the recidivism rate for low-level misdemeanor offenders with mental illness was 72%. Now, he said, it's down to 20%.
The Miami-Dade plan, which included training thousands of police officers on how to deal with people who have mental illness, cut the local jail population nearly in half and allowed the county to close one of its facilities.
Leifman said he thought L.A.'s decision to start with a pilot program in one region and let it spread made sense.
"We started very slow and very small," he said. "We had to show people that this was not just about letting people off with no consequences.... You have to show them it works."
While there has been a national movement toward jail diversion programs for people with mental illness since Leifman helped start the project more than a decade ago — Memphis, Tenn., and Bexar County in Texas have similar programs — Leifman said he was impressed with the broad support base for the program in L.A., especially from Lacey. Getting prosecutors on board, he said, is often one of the biggest obstacles.
"With her buying in to this," he said, "it makes it so much more likely to succeed."
Twitter: @marisagerber
The stories shaping California
Get up to speed with our Essential California newsletter, sent six days a week.
You may occasionally receive promotional content from the Los Angeles Times.