Man is charged in the stabbing death of Pico-Union house fire victim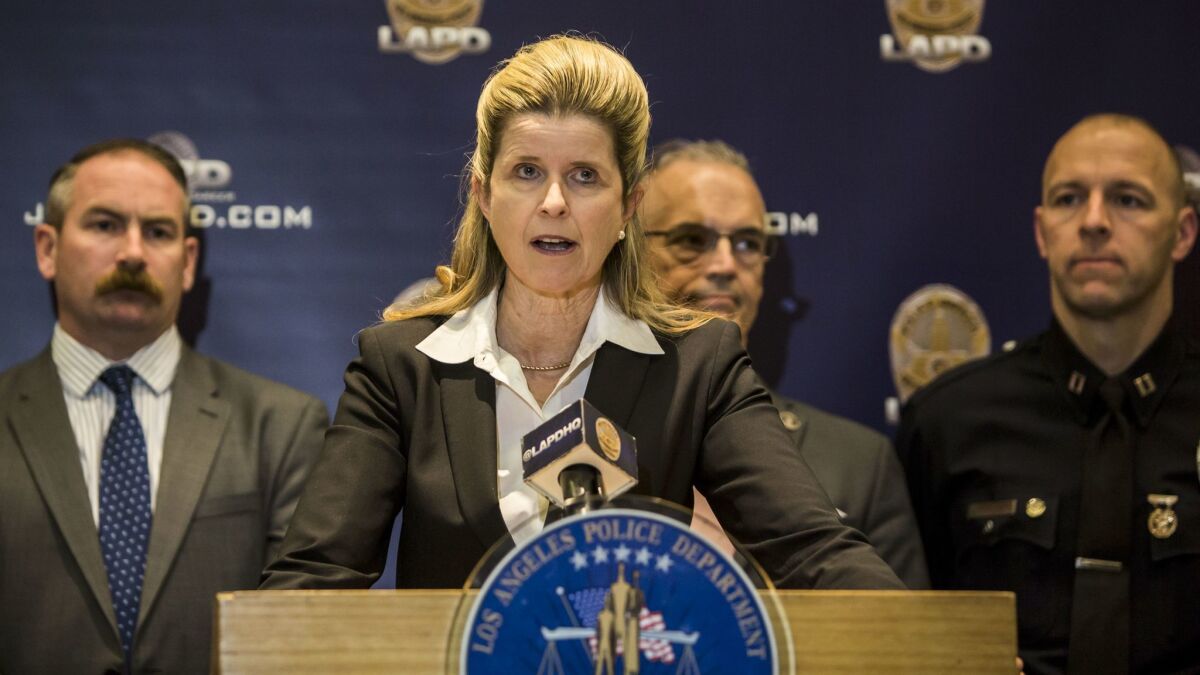 Police on Tuesday announced murder charges in a suspicious fire that led to the discovery last week of a 33-year-old transgender woman who had been stabbed to death, and sought the public's help in piecing together a motive for the crime.
Kevyn Ramirez, 29, of Los Angeles was charged with murder during the commission of an attempted robbery with the allegation that he used a knife in the crime, according to the Los Angeles County district attorney's office. Ramirez was also charged with two counts of arson with allegations that he set fire to multiple structures, and the use of an accelerant, prosecutors said.
About 3:15 a.m. on Jan. 10, authorities were called to a house fire in the 1700 block of South New Hampshire Avenue in Pico-Union. Authorities found the body of Victoria "Viccky" Ramos Gutierrez inside a unit in the building, police said.
Ramirez admitted to stabbing Gutierrez in her home after a dispute and setting the fire, Los Angeles Police Lt. John Radtke said at a news conference.
"The motivations for this vicious murder are still under investigation," Radtke said. Authorities are seeking to determine if the killing may have been a hate crime.
Prosecutors said that Ramirez and Gutierrez met online.
"We know that there are people out there who have probably encountered the suspect, who may be fearful and anxious. We ask them with open arms to please come forward," said LAPD Assistant Chief Beatrice Girmala, who also serves as the department's LGBTQ liaison.
Mariana Marroquin, the program manager for the anti-violence project at the Los Angeles LGBT Center, said that Gutierrez was active in the transgender community. In 2015, she worked on the center's Transgender Day of Remembrance, a yearly event that honors transgender victims of violence.
"It's ironic that she ended up being a victim also," Marroquin said.
Last year at least 28 transgender people were killed, according to a report released by the Human Rights Campaign Foundation and the Trans People of Color Coalition. The two groups called 2017 the deadliest on record for transgender people.
Since January 2013, the foundation has documented at least 102 transgender people who were victims of fatal violence, according to its website, which said Gutierrez was the first transgender woman of color and the second transgender person known to have died this year as a result of violence.
Maria Roman, 46, said she had known Gutierrez, who was from Honduras, for about five years.
"She was such a sweet person," she said. "She was always really happy."
Police are looking to speak with people who knew Ramirez, or others who may have been his victims.
"He may have robbed more people," Radtke said. "He may have done other angry things."
Anyone with information can call West Bureau detectives at (213) 382-9470.
For more crime news, follow @nicolesantacruz on Twitter.
---
The stories shaping California
Get up to speed with our Essential California newsletter, sent six days a week.
You may occasionally receive promotional content from the Los Angeles Times.