CHP's latest headache: Dealing with skateboarders who film their stunts on freeways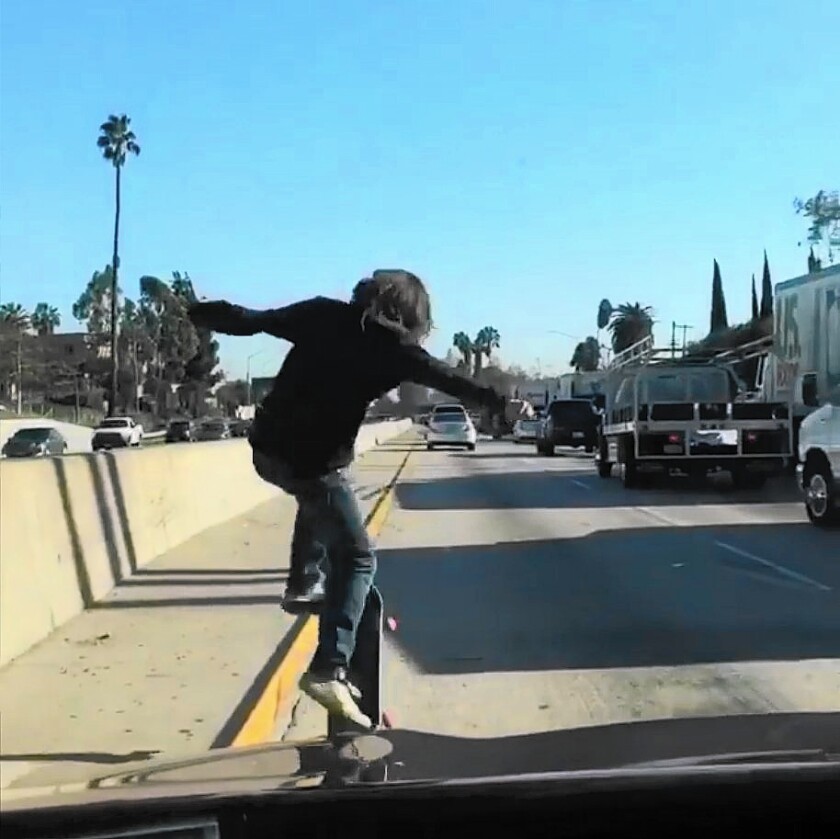 Weary commuters can't wait to get off Southern California's clogged freeways.
But for others, the forbidden lure of the highway is like a magnet.
Over the years, authorities have dealt with protesters, renegade bicyclists, horseback riders and even runners who climb onto various interstates to make a point or simply fulfill a dare.
See the most-read stories this hour >>
In recent weeks, it's been skateboarders. Videos have been posted on YouTube, Instagram and other social media services showing skateboarders roaming through traffic on freeways from downtown Los Angeles to San Diego. Some used the hashtag #freewaychallenge with their posts.
While authorities say freeway skateboarding is nothing new, these videos have gone viral and sparked concern by California Highway Patrol officials about copycats and the potential for accidents.
One video posted earlier this month showed professional skateboarder Nakel Smith jumping out of a car and doing a 360-degree flip on his board between slow-moving vehicles on the 110 Freeway near Dodger Stadium. Others have posted their skateboard escapades along the 118 and 8 freeways.
Smith could not be reached for comment. But on Instagram, he urged other skateboarders not to hit the freeways.
"This #FreewayChallenge stuff is stupid, and I seriously advise that no one tries it," Smith wrote, adding it was "very dangerous and only suppose to be a quick joke."
The CHP said it is investigating those videos and warned that arrests were possible if officers caught skateboarders in the act.
"These are not safe places and weren't designed for that kind of thing," said CHP Sgt. Jose Nunez. "We will take an enforcement action against anyone on the freeway on a skateboard, bicycle or other means that puts them and others in danger."
Nunez said the CHP is used to such behavior. "The difference now is we have people trying to advance themselves and promote themselves. Everyone has a camera these days," he said.
For veteran officers, the "freeway challenge" is simply another variation on traffic tricks they've been dealing with for decades.
"We once had a drunk on a horse we chased down the 5 Freeway from Griffith Park," said Dwight "Spike" Helmick, former CHP commissioner, who spent more than three decades patrolling and managing California's vast freeway network. "You simply cannot believe what people will get up to do. People do the strangest things."
NEWSLETTER: Get essential California headlines delivered daily >>
Helmick recalled being on patrol and felt tapping on the outside of the patrol car. "It was a guy with a fishing rod hanging out of his vehicle," Helmick said. "The worse bit was he spilled the bait all over me when I stopped him."
Freeways near university campuses can be particularly troublesome. "Santa Barbara is a hot spot for streakers," Helmick said.
The high jinks tend to come in waves, Nunez said.
In 2008, a bicycling group protesting what it considered unfair treatment rode onto the Santa Monica Freeway en masse at the height of rush hour and headed east to the San Diego Freeway, where the cyclists exited at Santa Monica Boulevard.
Cycling on the freeway, of course, can be deadly. A 40-year-old bicyclist on the 10 Freeway in Alhambra was killed after he was struck by a transit bus earlier this month. The impact sent the bicyclist onto the train tracks in the center median of the highway.
Protests on freeways started during the Vietnam War. After fading for a while, they emerged a few years ago during a series of demonstration over allegations of police misconduct both in Los Angeles and the Bay Area.
Freeways are not the only domain of daredevil skateboarders. Videos have filled social media sites of skateboarders flying down steep streets from the Hollywood Hills to Laguna Beach. One video last week showed a pro skateboarder "bombing" Baxter Street in Echo Park, one of L.A.'s steepest streets.
"It's for the rush. It's fun," said Oceanside skater Zach Price, 22. "If you're on your way to a spot with your buds and you're in your car, stuck in traffic, maybe you get out and do a trick."
Price, who works at Asylum Skate, said he's never skated on a freeway, but he has weaved between vehicles on residential streets. He stressed he's always aware of his surroundings, and doesn't make moves that are too risky.
In a lot of ways, the freeway is a dream spot to skate, Price said.
"It's untouched," he said. "You get to be the first person to do a kick flip in this untouched area, you know? It's a good feeling."
But the CHP said it is now on notice.
"Now that it's out, everyone is aware of it," said CHP Officer Jim Bettencourt. "The entire CHP is aware of it, and officers are going to be even more vigilant. We have cameras along the freeway to monitor traffic so we can certainly put officers in position to take action if that's something we see."
San Diego Union-Tribune staff writer Lyndsay Winkley contributed to this report.
ALSO
Cellphone videos show massive lunchtime brawl at Sylmar High School
Why this California desert town is experiencing a marijuana boom
Death Valley video shows men skinny-dipping and stomping where endangered fish live
Follow @lacrimes on Twitter
---
For reporting and exclusive analysis from bureau chief John Myers, get our California Politics newsletter.
You may occasionally receive promotional content from the Los Angeles Times.