Kidnapping claims conflict with neighbors' view of Bell Gardens couple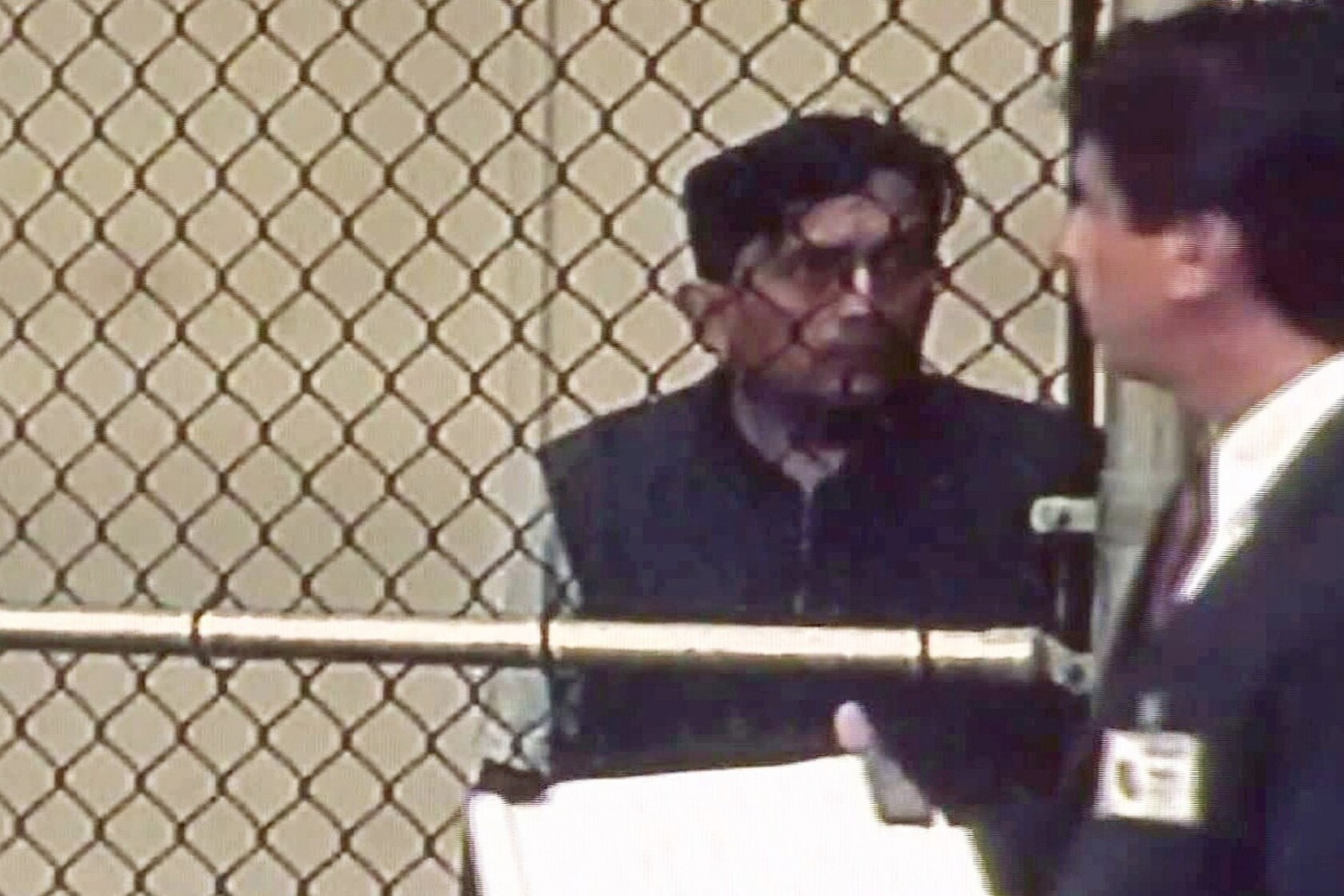 Isidro Garcia appears in court and has been charged with one felony count of forcible rape, three counts of lewd acts with a child and one count of kidnapping to commit a sexual offense, according to the Orange County district attorney's office. His arraignment has been postponed to June 9.
(KTLA)
A woman and two small children are seen at Villa del Sol apartments in Santa Ana, the same complex where a woman claims she was kidnapped 10 years ago.
(Gina Ferazzi / Los Angeles Times)
The Bell Gardens apartment, at top left, where Isidro Garcia and his alleged victim lived.
(Lawrence K. Ho / Los Angeles Times)
Isidro Garcia, 42, of Bell Gardens, has been accused of kidnapping a woman in 2004 and holding her hostage.
(Santa Ana Police Department)
Neighbor Maria Sanchez holds a photo of her neighbor Isidro Garcia that she said was taken at his daughter's third birthday celebration at a Bell Gardens church on Jan. 29, 2012.
(Damian Dovarganes / Associated Press)
The apartment where Isidro Garcia and his alleged victim lived in Bell Gardens.
(Lawrence K. Ho / Los Angeles Times)
Santa Ana police Cpl. Anthony Bertagna describes the alleged 10-year captivity of a now 25-year-old woman in Southern California.
(Chris Carlson / Associated Press)
The young woman and her husband lived what looked like a normal life in Bell Gardens, working long hours, celebrating birthdays, even taking trips to Disneyland and Universal Studios with their young daughter, neighbors say.
But authorities say the man who went by the name of Tomas Medrano abducted the woman 10 years ago, when she was 15. They allege he raped and sexually assaulted her, forced her to marry him and convinced her that her family no longer cared for her.
On Thursday, prosecutors filed five felony charges — including kidnapping to commit a sexual offense, rape and three counts of lewd acts on a child — against Isidro Medrano Garcia. All of the charges relate to crimes alleged to have happened in 2004.
Garcia appeared briefly in a Santa Ana jailhouse courtroom for an arraignment, which was postponed until June 9. If convicted, he faces 19 years to life in prison. He is being held in lieu of $1-million bail.
"Over the course of a decade he continued to physically, emotionally and sexually abuse her so that she felt like she had nowhere to go," said Farrah Emami, spokeswoman for the Orange County district attorney's office.
Garcia's attorney vigorously denied the charges, saying his client was a doting husband who treated the woman "like a queen" and never held her against her will. Neighbors also questioned the woman's story, saying the couple appeared happy.
"Practically everybody connected to the family … finds these allegations unbelievable," said defense attorney Charles Frisco Jr. "She had her own car, her own job. It's mind-boggling why she would wait this long.... Why is she coming forward now?"
Authorities said the girl may not have been confined with chains or locks but was subjected to abusive treatment that made it impossible for her, until recently, to leave. The woman, who officials have not publicly identified, was 14 when she arrived in Santa Ana from Mexico in 2004 to reunite with her mother, who was living with Garcia, prosecutors said.
Not long after her arrival, Garcia allegedly began grooming her by buying her gifts and taking her side when she argued with her mother, prosecutors said. When the girl turned 15, Garcia allegedly raped and sexually assaulted her three times.
In August 2004 he kidnapped her, prosecutors said. Police say Garcia obtained false papers from Mexico changing the girl's birth date and forced her to marry him. A few years ago they had a daughter.
It all ended, authorities say, when the woman, who is now 25, contacted her sister on Facebook last month and gained the courage to leave.
"She was a minor in a foreign country. That's a very important part of this," said Santa Ana police Cpl. Anthony Bertagna. "He takes her away and says 'this is what's going to happen to you.' He took control of her life, he forced her to get married.... Whether she accepted this as her life or what her feelings were, only she knows."
During a brief interview with KABC-TV, the woman said she was too scared to seek help during the last 10 years.
"I was 15. I couldn't do anything," she said. "I was very afraid about everything, because I was alone. I [thought] I was alone, but I never was. My family was with me."
For many of the couple's Bell Gardens neighbors, the accusations came as a surprise.
Earlier this month, Garcia threw his wife a surprise birthday party in the back of the apartment complex where they lived, with a clown, music and carne asada, residents said. Garcia worked two jobs, one at a nearby Chinese restaurant and another cleaning buildings.
"He was a hardworking man," said Ricardo Ledesma, 43, who lives in the complex. "He would do anything for her and their daughter."
Maria Reyes, who lived downstairs from the family, said she had known them for five years. Garcia and the woman would go on trips to Fresno and to local theme parks with their young daughter, she said.
"I don't believe it, it doesn't make sense," Reyes said. "They were a very tight couple, she wouldn't do anything without his approval and vice versa."
Women who knew the mother in 2004 when the kidnapping allegedly occurred told The Times she may have initially believed that her daughter left willingly with Garcia.
Emami, the district attorney's spokeswoman, said none of the evidence authorities and prosecutors have reviewed indicates that is the case. Even if she had gone willingly, she said, a 15-year-old cannot legally consent to sex with an adult or to leave their parent's custody.
"Whether she left willingly or not it's still a crime," Emami said. "This is not an adult, 25-year-old woman who willingly and happily entered a relationship. This was a 15-year-old child who was held against her will and kept in a relationship whether she wanted to or not."
---
The stories shaping California
Get up to speed with our Essential California newsletter, sent six days a week.
You may occasionally receive promotional content from the Los Angeles Times.