L.A.'s effort to equip officers with body cameras stalls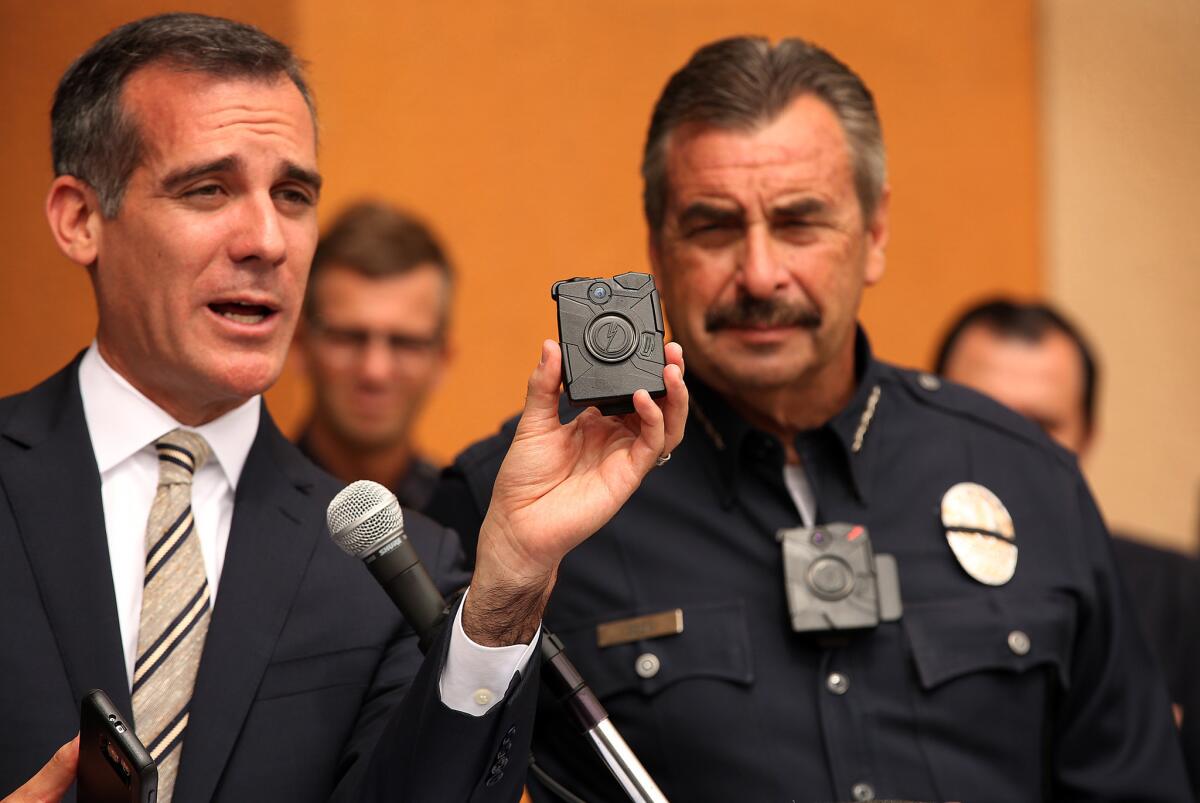 Los Angeles' much-touted plan to equip thousands of police officers with body cameras has stalled amid controversy at City Hall over the program's price tag and whether the Police Department got the best deal possible.
Delays have derailed Mayor Eric Garcetti's pledge to provide nearly every officer with a camera by the end of this year, an ambitious proposal that garnered national attention and would make the LAPD the largest law enforcement agency in the country to use the devices on a widespread scale.
LAPD officials do not expect to finish outfitting 7,000 officers until the fall of 2017 at the earliest. And a new proposal, they say, could push the completion date back another year.
The head of the council's public safety committee now wants the LAPD to start over and accept new bids from camera manufacturers.
"This is too big to get wrong," said Councilman Mitch Englander, who told The Times he plans to introduce a formal proposal next week. "It's more important that we get it right and not just do it quickly."
Despite the initial fanfare, the camera plan came under scrutiny at City Hall over its costs — $57.6 million over five years — with one council member saying he was experiencing "sticker shock." In addition, competing technology companies complained they were unfairly left out of the LAPD's selection process, which relied in part on a separate search for body cameras for the much smaller Kern County Sheriff's Department.
See more of our top stories on Facebook >>
Body cameras have been hailed as a key tool for improving oversight of officers and building community trust in police. Garcetti unveiled his initiative in late 2014 following nationwide protests over the way police officers use force, particularly against African Americans.
Three of Garcetti's appointees on the Board of Police Commissioners voiced alarm about Englander's proposal, saying the LAPD had already followed proper contracting procedures and found the best product at a good price.
"This is not good for police transparency, accountability or keeping a commitment to our police officers and community members," commission President Matt Johnson said.
Commissioner Steve Soboroff, a longtime advocate for the camera technology, said city lawmakers are "horribly underestimating the ramifications" of delaying the body camera initiative. Having the LAPD ask camera companies to send in new proposals could drag out the process further, resulting in years of additional challenges and procedural delays by competing firms, he said.
"This is an unequivocal disaster for public safety in Los Angeles," Soboroff said.
Garcetti struck a more diplomatic tone, saying through a spokesman that he hoped the council would act "as quickly as possible."
The LAPD already has about 860 cameras, purchased through private donations. Last year, the LAPD negotiated a contract with Taser International to provide thousands more as well as replacement equipment, digital storage of the recordings and thousands of Tasers.
Weeks later, the council balked at approving the $31.2-million contract with the Scottsdale firm, sending the proposal back for more deliberations amid concerns over the initiative's overall cost. Council members voiced dismay that the initiative would require scores of LAPD officers to review camera footage, ensure officers were using the devices properly and other tasks. (The LAPD later revised its plan to include more civilian staffers.)
A new vote was never scheduled, and on Friday, council members voted to temporarily use some of the city's camera funds for housing programs.
Englander, perhaps the biggest champion of the body camera program on the council, repeatedly argued last year that the council should push ahead with the Taser contract. But he came under fire from critics who said he should not have accepted $8,400 in campaign contributions from a dozen donors affiliated with the company.
On Friday, Englander said his decision to change course had "absolutely nothing to do" with those donations. Starting a new competitive process, he said, would allow the city to answer the complaints of rival companies who say they were excluded from the LAPD's search.
The market, he said, has "changed dramatically" in recent years. He said he also wanted the city to analyze the effect body cameras could have on costly police-related litigation.
"We will be the biggest department in the country to deploy them, and making sure and ensuring we do that openly, transparently and correctly is important," he said.
Council President Herb Wesson — who sets the agenda for when and how major issues are decided — said he was comfortable with Englander's approach.
"This allows us to start anew, or fresh, if you will," he said. "The only thing I would insist is that we try to fast-track this. Because the commitment is there to make sure we have body cameras in place."
Wesson said through a spokeswoman that he hoped a search for a camera vendor would last three to six months. But an LAPD official said it would probably take longer, even if the effort was accelerated.
Maggie Goodrich, the LAPD's chief information officer, said the process of seeking bids, negotiating a deal and finalizing a contract typically takes a year. The department might be able to shave one to three months off because officials already know what they're looking for in a body camera, she said.
If the council requires new bids, Goodrich said, the complete rollout of the cameras could be delayed until the end of 2018.
LAPD Chief Charlie Beck said he expected officers to eventually get the body cameras. But starting the contract process over, he said, was "not ideal"
"If that's what we need to do to get this through, then that's what we'll do," he said.
The delays are reminiscent of the problems the LAPD has faced when putting cameras in the department's patrol cars, a decades-long effort hampered in part by a lack of funding. The LAPD launched its most recent attempt to install those cameras in 2008, but is still working to complete the citywide installation.
Police Commissioner Robert Saltzman said he worries the same could happen to the body camera program if the contracting process was restarted.
"I fear a delay in implementation of the on-body cameras now will begin another troubling and unnecessary multi-year process that will be similarly embarrassing for the city," he said. "Delaying it now will undermine its likelihood of success and would be regrettable."
Twitter: @katemather
Twitter: @davidzahniser
ALSO
Man charged with killing his nephews in Arcadia is extradited from Hong Kong
L.A. City Council votes to stop doing business with North Carolina and Mississippi over LGBT laws
Santa Clarita couple accused of sexually abusing children charged with additional felony counts
Sign up for Essential California for news, features and recommendations from the L.A. Times and beyond in your inbox six days a week.
You may occasionally receive promotional content from the Los Angeles Times.