L.A. City Council votes to stop doing business with North Carolina and Mississippi over LGBT laws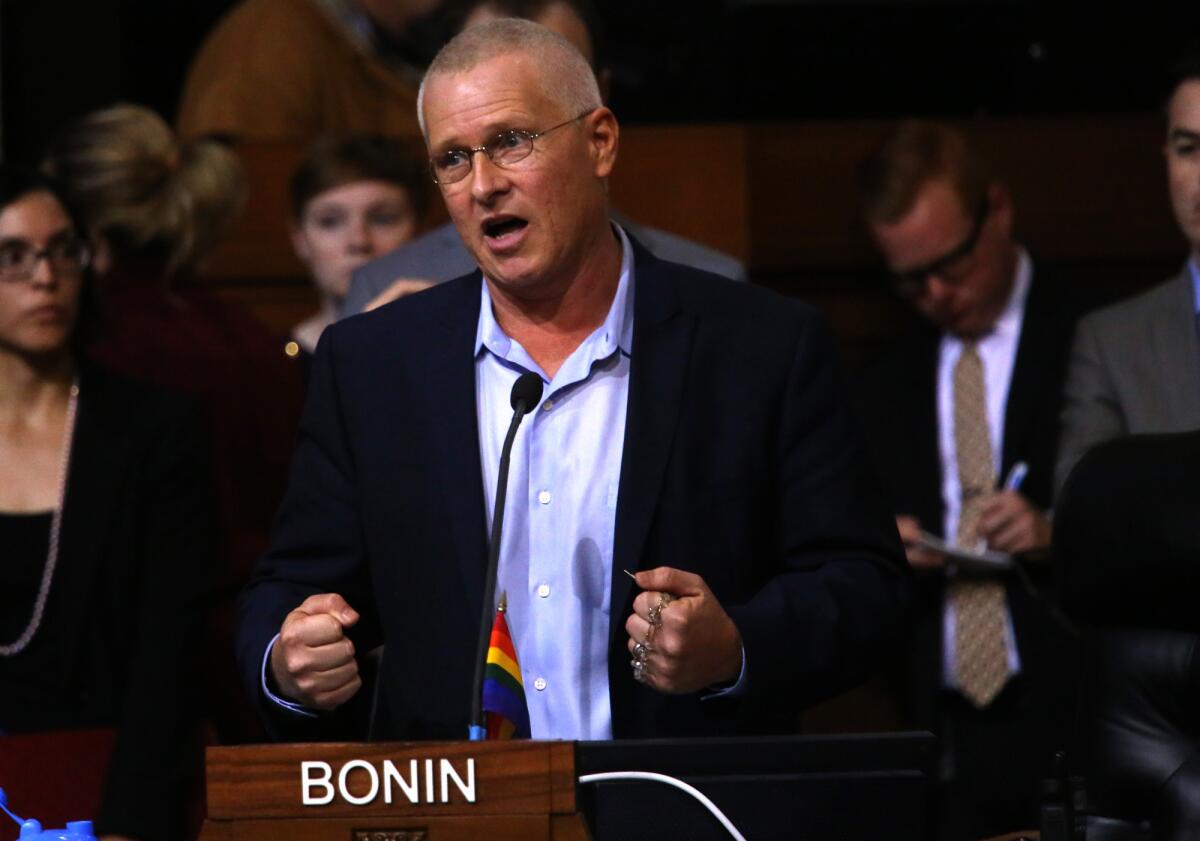 In the wake of controversial North Carolina and Mississippi laws that critics say discriminate against lesbian, gay, bisexual and transgender people, the Los Angeles City Council voted Friday to refrain from conducting business with the two states.
City Council members voted 12 to 0 to stop doing business with the states, including participating in any conventions or other business that requires city resources. Councilman Mike Bonin, who wrote the resolution, said the laws in North Carolina and Mississippi would create a "climate of intolerance and a climate of violence" in those two states.
Join the conversation on Facebook >>
"I can guarantee you in these two states that hate crimes are going to increase and people are going to be beaten," said Bonin, who is gay and represents coastal neighborhoods from Westchester to Pacific Palisades. "And I can guarantee in these two states that young kids struggling with their identity are going to be bullied and some of them will ponder suicide. That's not what Los Angeles stands for."
Bonin spokesman David Graham-Caso said the council's resolution is "functionally a travel boycott."
"It is not our intent for the city to stop purchasing goods from private, equality-minded companies," he said in an email.
I can guarantee you in these two states that hate crimes are going to increase and people are going to be beaten.
— Mike Bonin, L.A. city councilman
Republican North Carolina lawmakers passed a law last month limiting legal protections for LGBT people at hotels, shops and restaurants. Also restricted were the bathrooms and locker rooms that transgender people can use.
Mississippi Gov. Phil Bryant signed a law this month that allows government employees to refuse to issue marriage licenses or perform marriage ceremonies for same-sex couples and that allows businesses and faith-based groups to deny housing, jobs and adoption and foster-care services to people based on their sexual orientation.
L.A joined other places and companies calling for boycotts or other actions in response to North Carolina and Mississippi's laws. Earlier this month, Bruce Springsteen canceled a concert in Greensboro, N.C., citing passage of the new law.
L.A. Mayor Eric Garcetti expressed his support for the council vote.
"In recent weeks, we have seen both of these states pass legislation that betrays the basic rights to equal protection and self-expression that all Americans are guaranteed by the Constitution," he said in a statement. "These bills are thinly veiled as actions to preserve religious freedom or protect against sexual violence, but will instead promote intolerance and discrimination against the LGBT community."
Bonin proposed ceasing business with North Carolina until it repeals its law and amended the resolution Friday to also include Mississippi, until that state repeals House Bill 1523.
In the resolution, Bonin cited some of North Carolina's bill, which includes legally barring North Carolinians from any bathroom or locker room that does not match the gender assigned on their birth certificate.
On Tuesday, North Carolina Gov. Pat McCrory announced he had signed an executive order intended to "affirm and improve the state's commitment to privacy and equality." The executive order would expand the state's equal-opportunity employment policy to ban discrimination based on sexual orientation and gender identity.
But critics dismissed the executive order, arguing that the governor was not making any significant changes.
In May 2010, L.A. was part of a wave of cities that voted to boycott Arizona after lawmakers there passed a law targeting immigrants in the country illegally. City Hall staffers were ordered to review contracts with Arizona companies for possible termination and official travel to the state was supposed to be suspended.
But in the aftermath of L.A.'s vote, the city still did business with Arizona, with the L.A. City Council granting several exceptions, including to approve contracts to buy Taser guns made in Arizona and red-light traffic cameras. Some critics said the council's decision was ultimately more symbolic than anything else.
Twitter: @brittny_mejia and @davidzahniser
Times special correspondent Jenny Jarvie in Atlanta contributed to this article.
ALSO
California minimum wage hike hits L.A. apparel industry: 'The exodus has begun'
L.A. plan would demand Airbnb hand over information so city can track down illegal rentals
L.A. releases addresses of 13,500 apartments and condos likely to need earthquake retrofitting
Sign up for Essential California for news, features and recommendations from the L.A. Times and beyond in your inbox six days a week.
You may occasionally receive promotional content from the Los Angeles Times.