Transportation Crippled, Badly Damaged Firms Forced to Close
Only rubble remains at the junction of the 5 and 14 freeways following the 1994 Northridge earthquake.
(Jonathan Alcorn / For The Times)
The interchange of the 14 and 5 freeways, where LAPD Officer Clarence Wayne Dean died. Dean, 46, had left his Lancaster home after the quake struck. Driving south on the 14 in the dark, he rounded a bend on the transition road and plunged 30 feet from the roadway, which had collapsed in the quake.
(Los Angeles Times)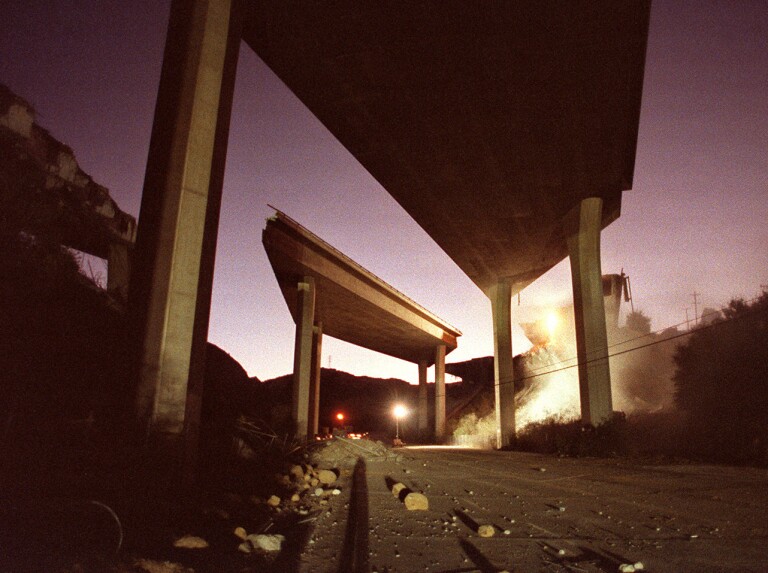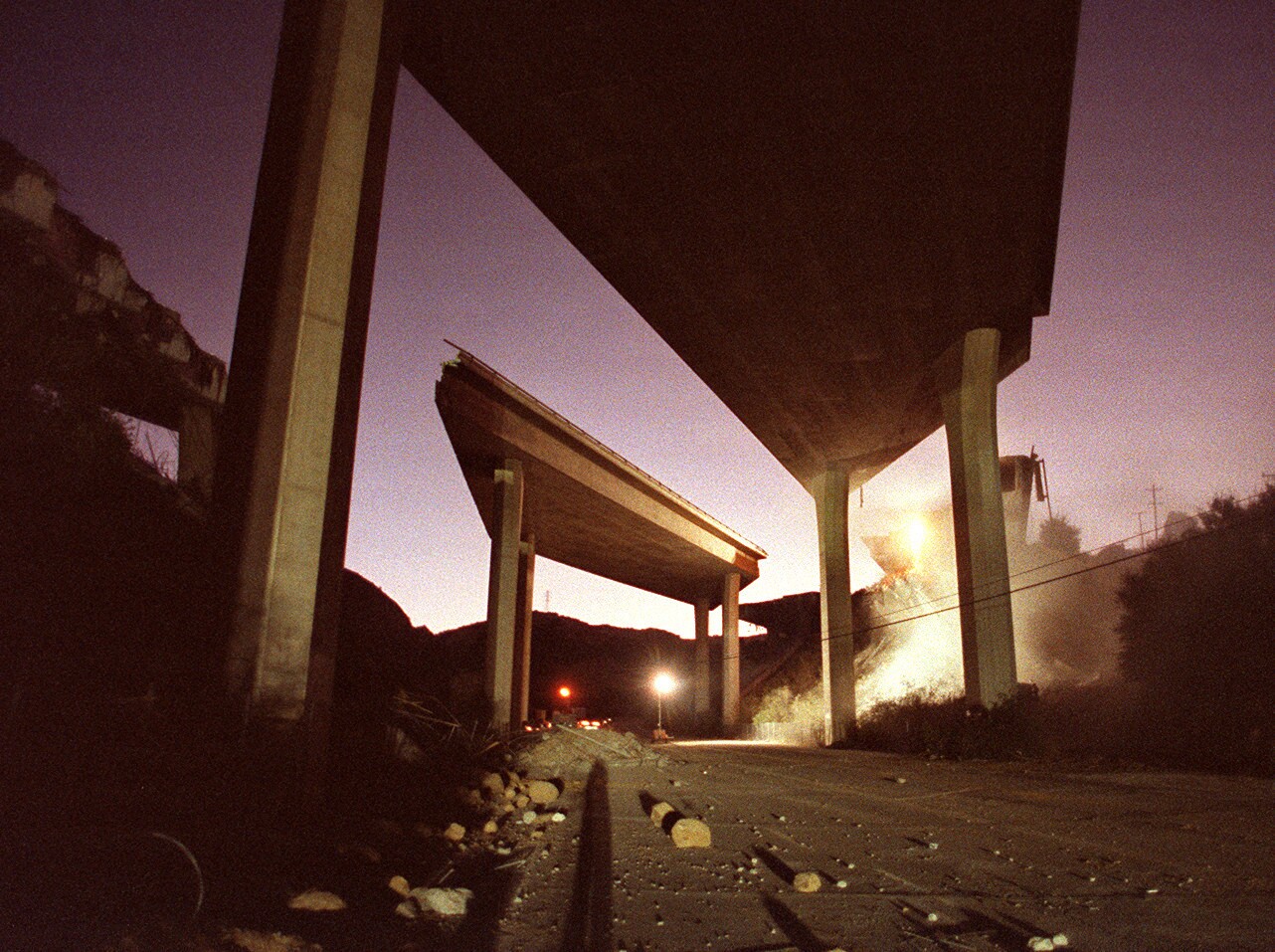 Before dawn, repairs begin on the collapsed 5 Freeway.
(Los Angeles Times)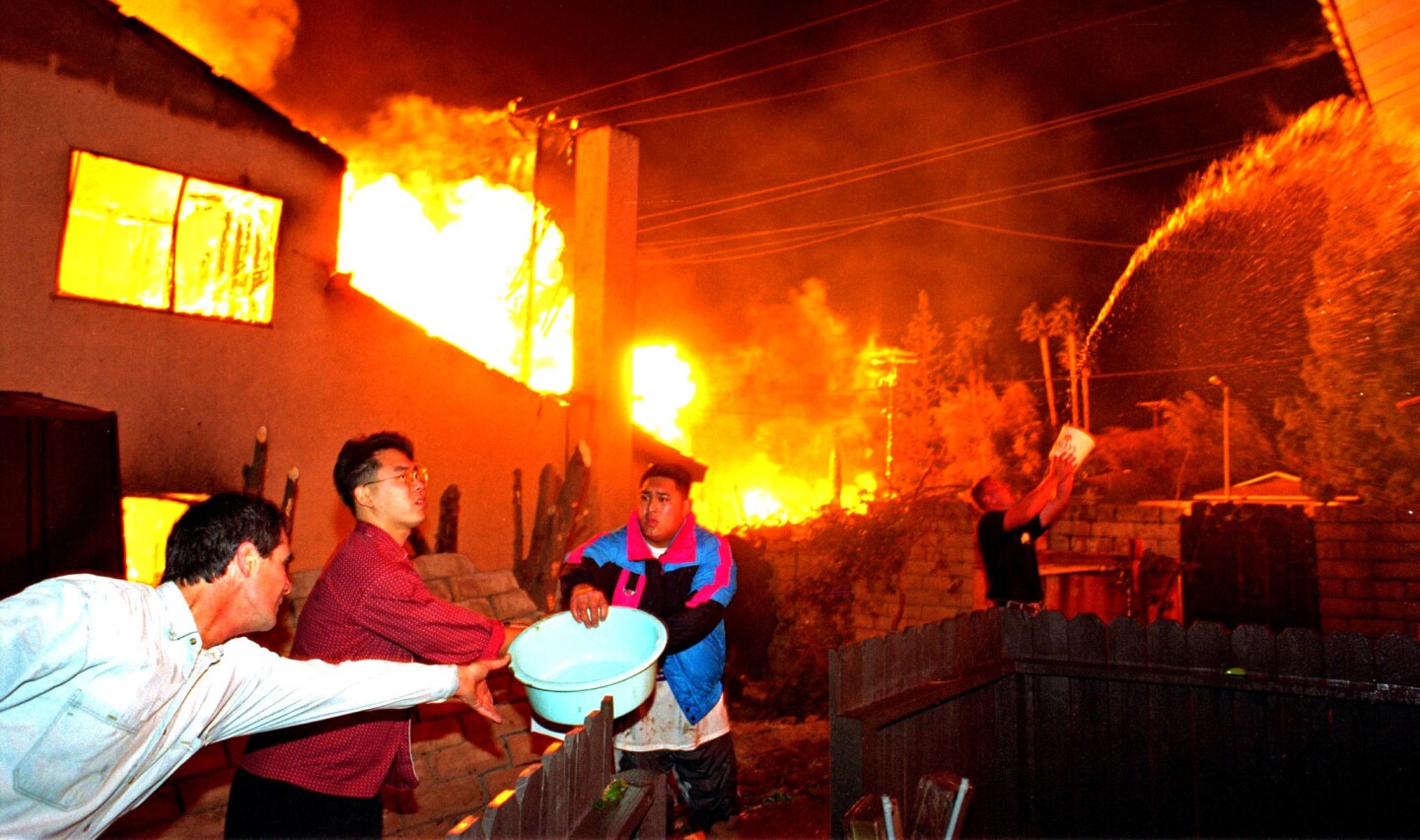 Neighbors use a bucket brigade to fight a fire in the 11700 block of Balboa Boulevard in Granada Hills.
(Los Angeles Times)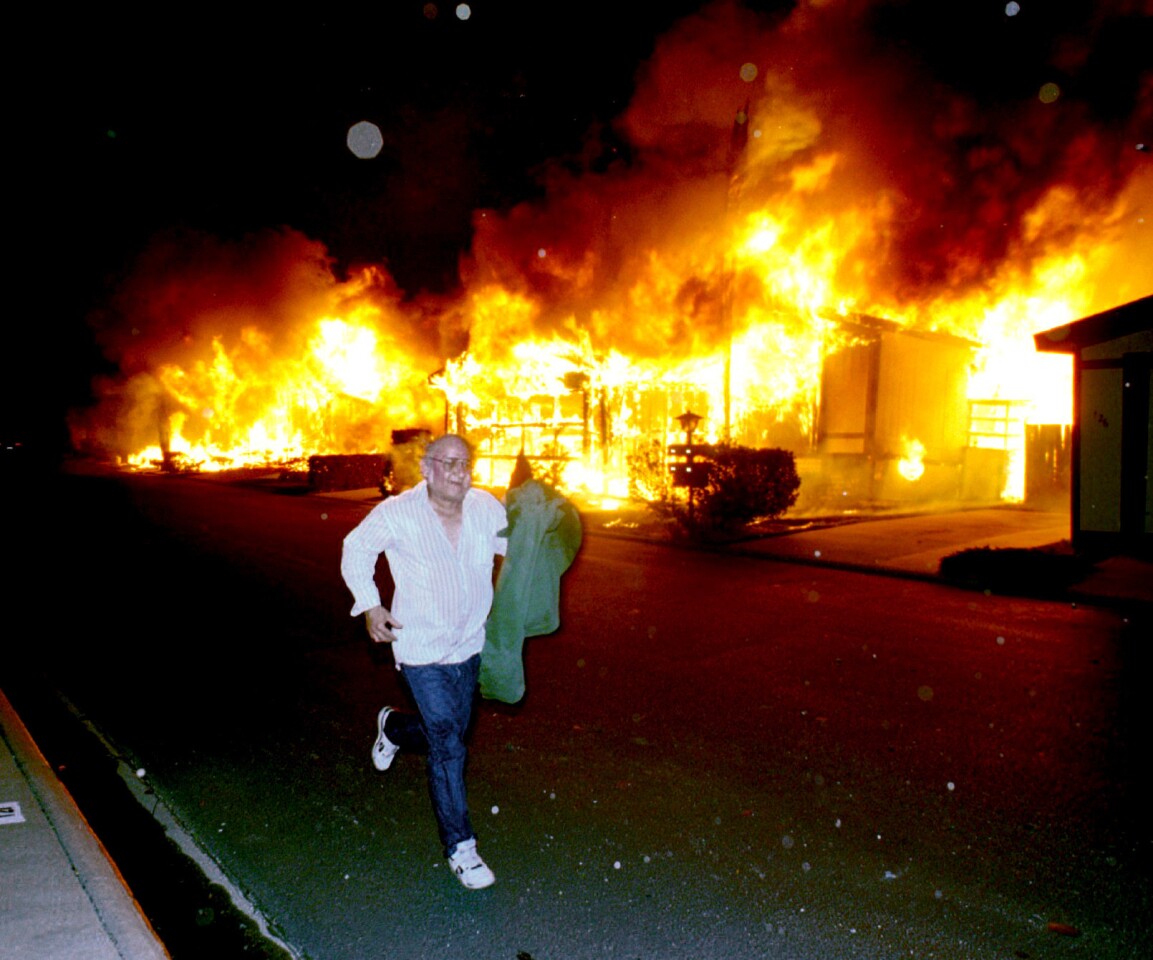 Sylmar resident Brian Demetz flees from his burning home.
(Los Angeles Times)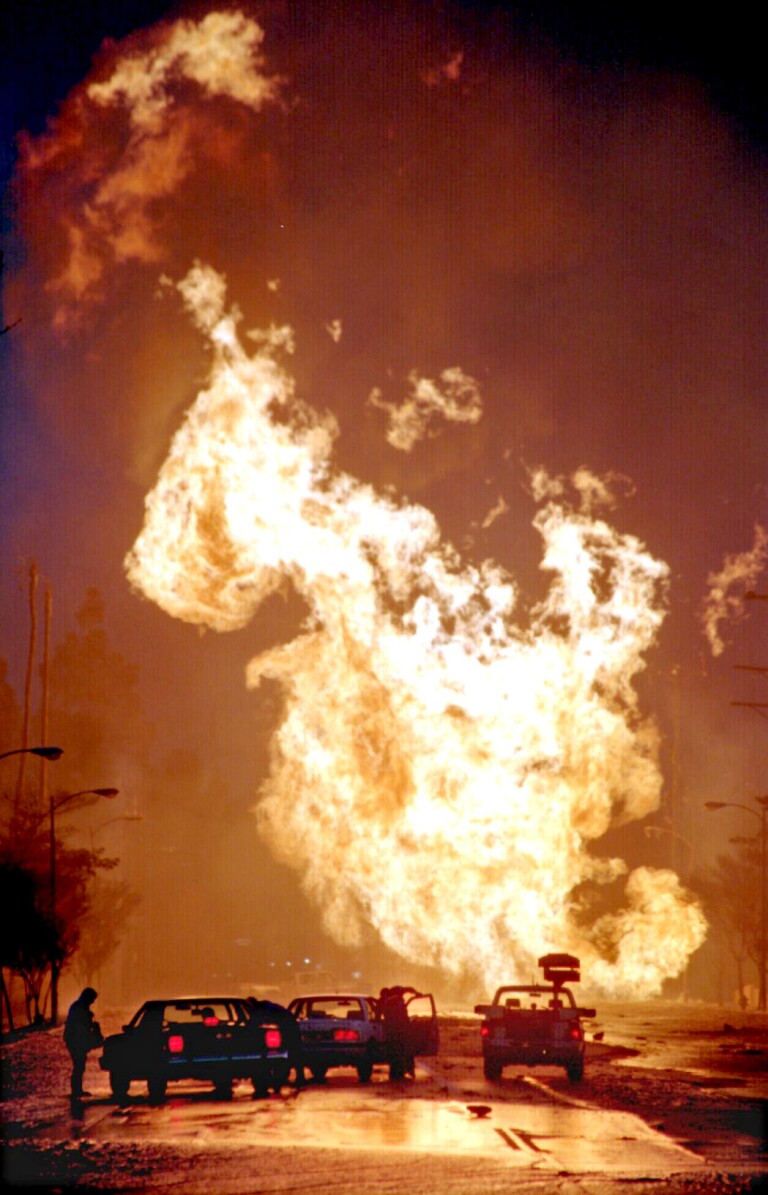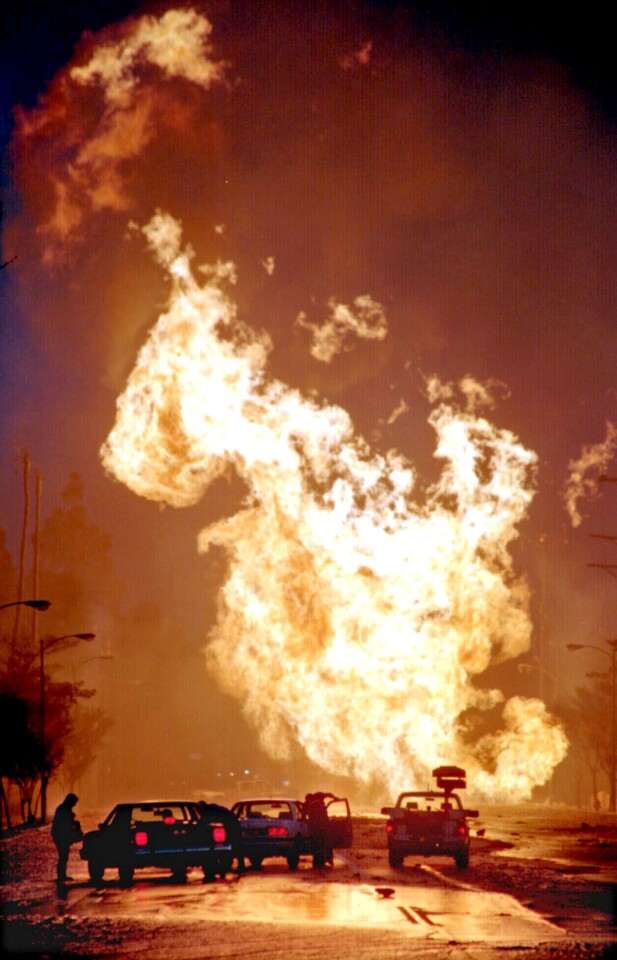 Cars are dwarfed by a wall of flames that was created when a natural gas line ruptured in the earthquake.
(Jonathan Alcorn / For The Los Angeles Times)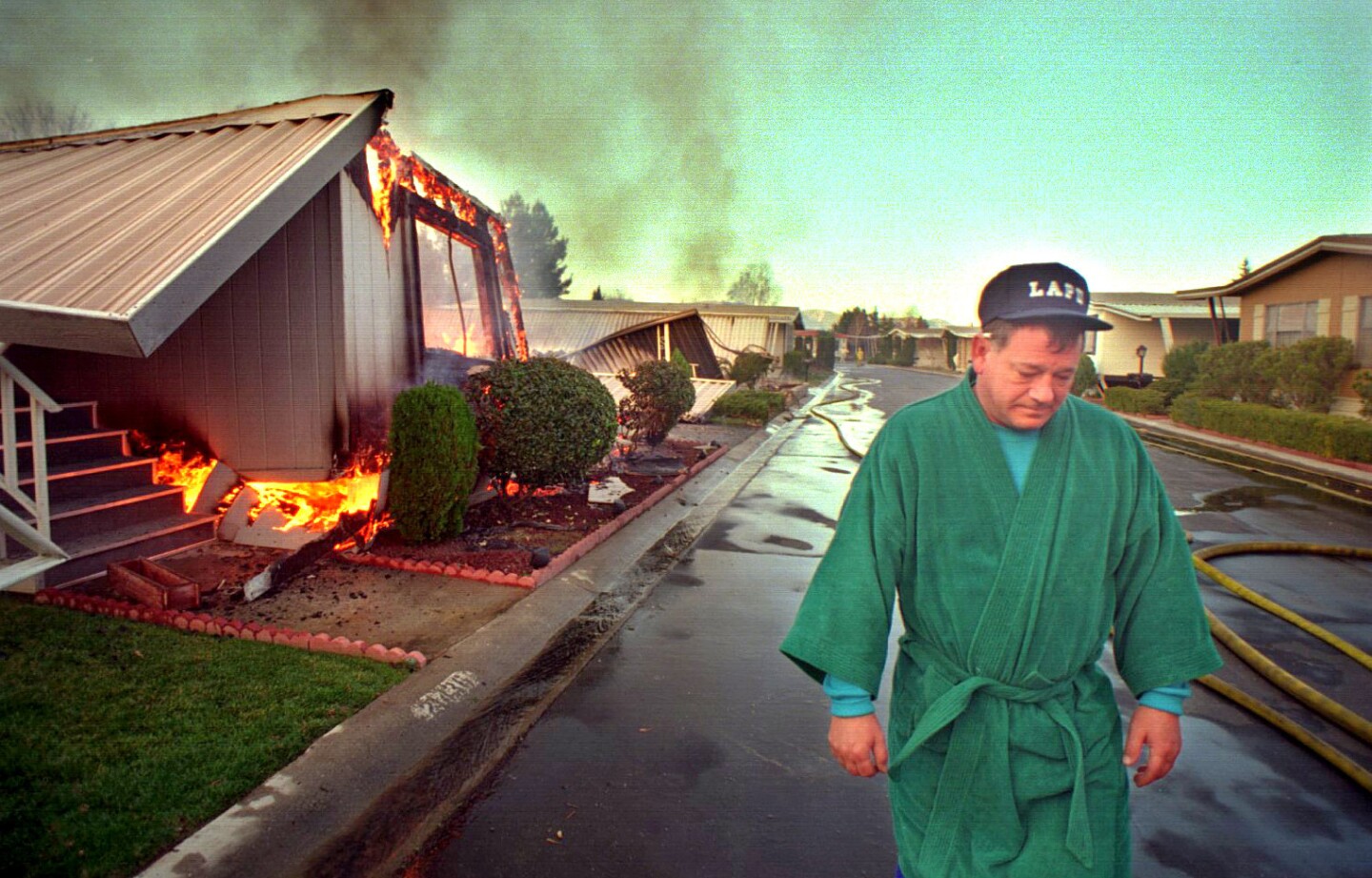 Michael Evans walks through a mobile home park in Santa Clarita. His residence was among those that burned.
(Los Angeles Times)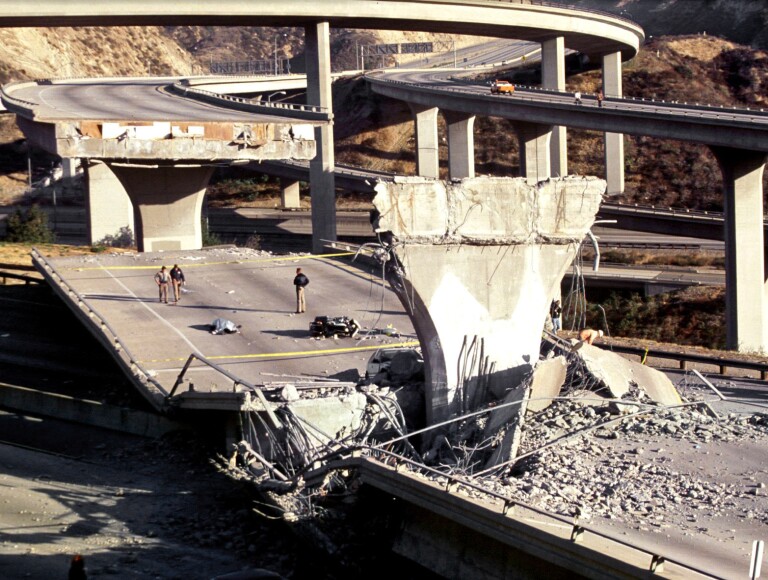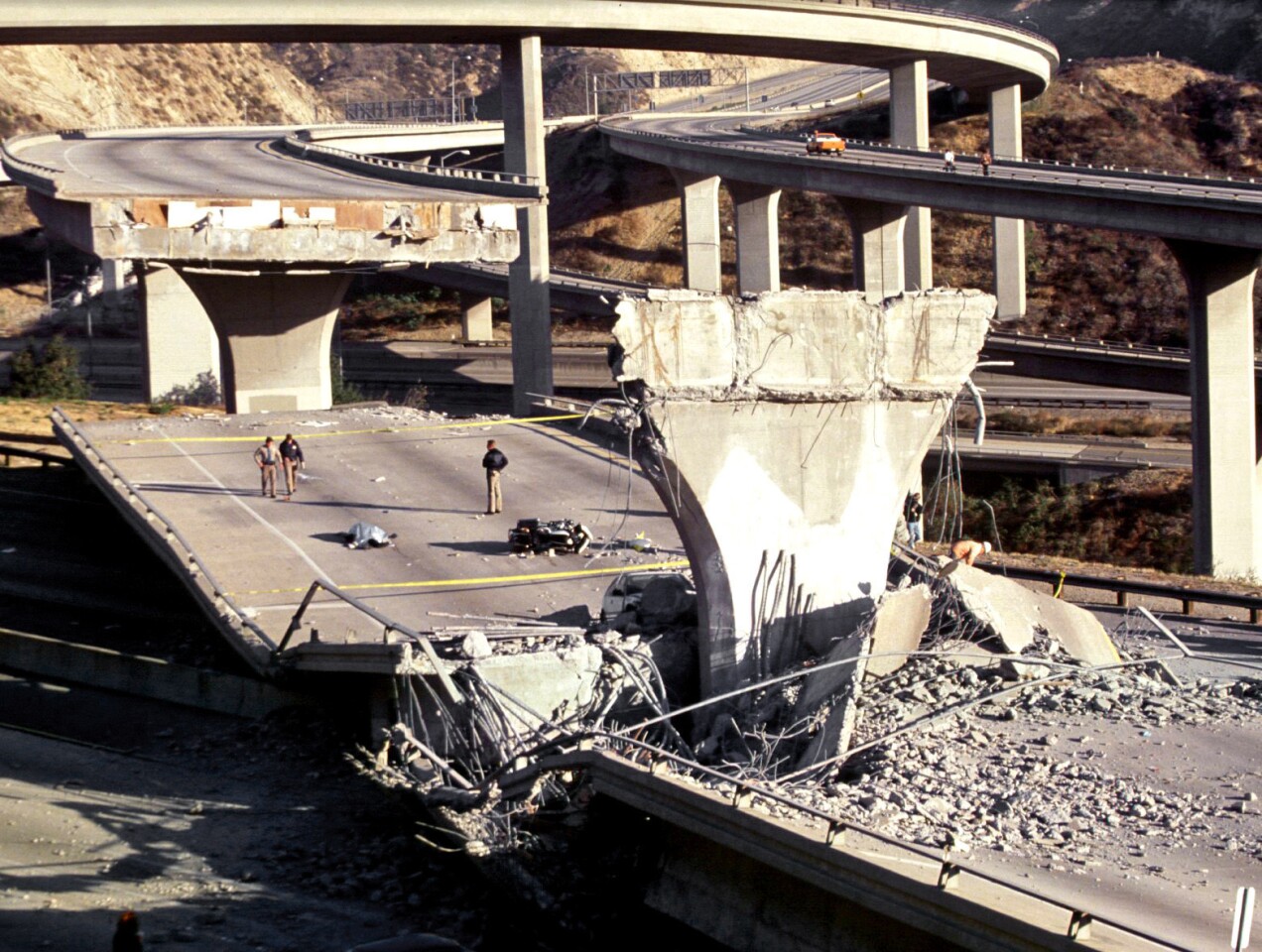 The body of Los Angeles Police Officer Clarence Wayne Dean lies near his motorcycle, which plunged off the 14 Freeway overpass that collapsed onto the 5 Freeway during the earthquake.
(Jonathan Alcorn / For the Los Angeles Times)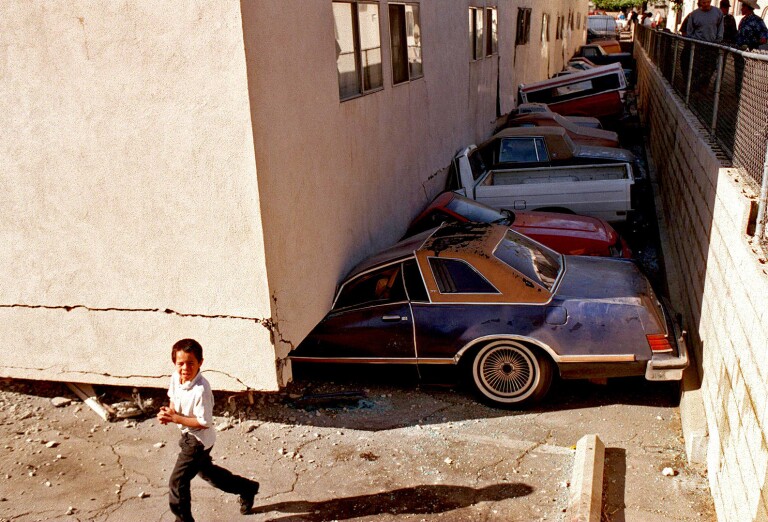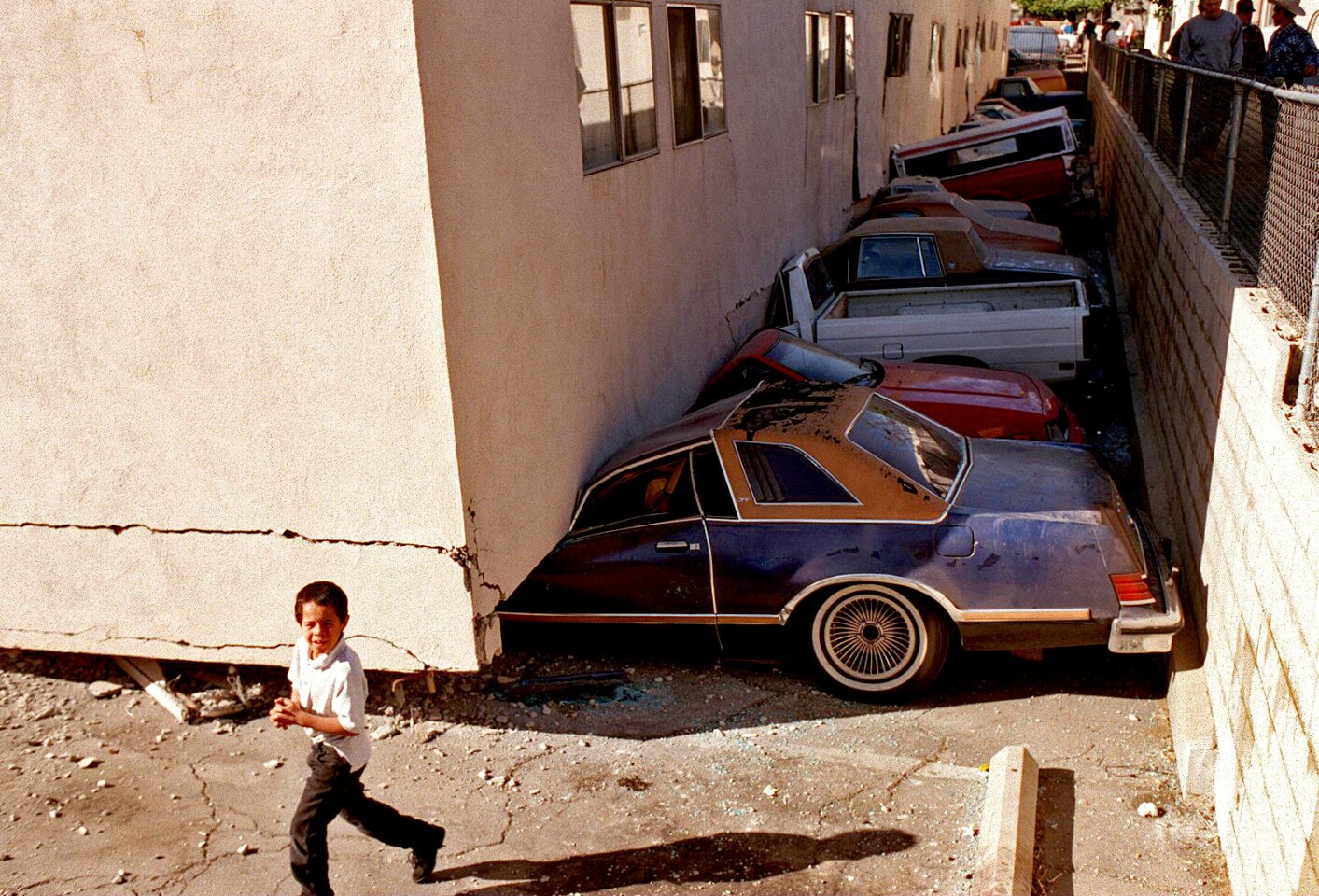 A row of cars is crushed beneath a collapsed apartment building in Canoga Park.
(Los Angeles Times)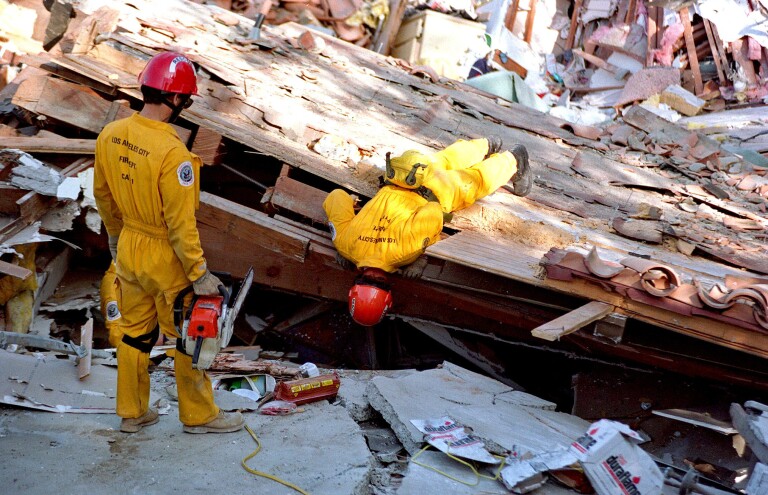 Rescue workers peer into the wreckage of a Studio City house that slid down a hill and collapsed in the earthquake.
(Los Angeles Times)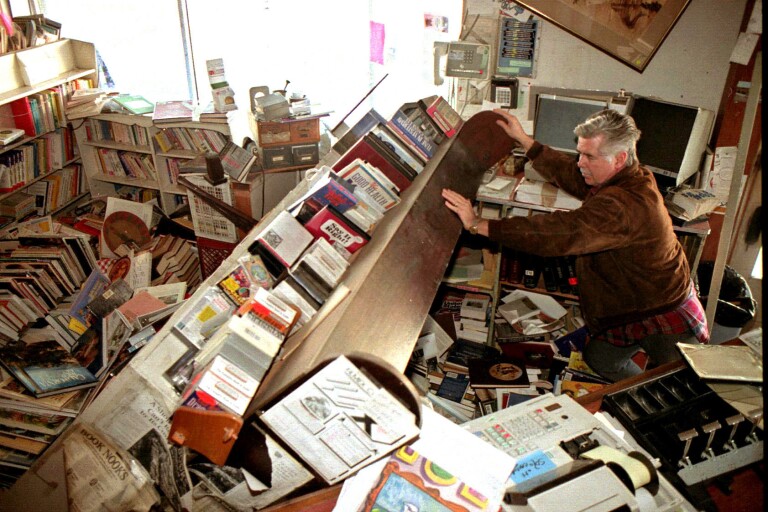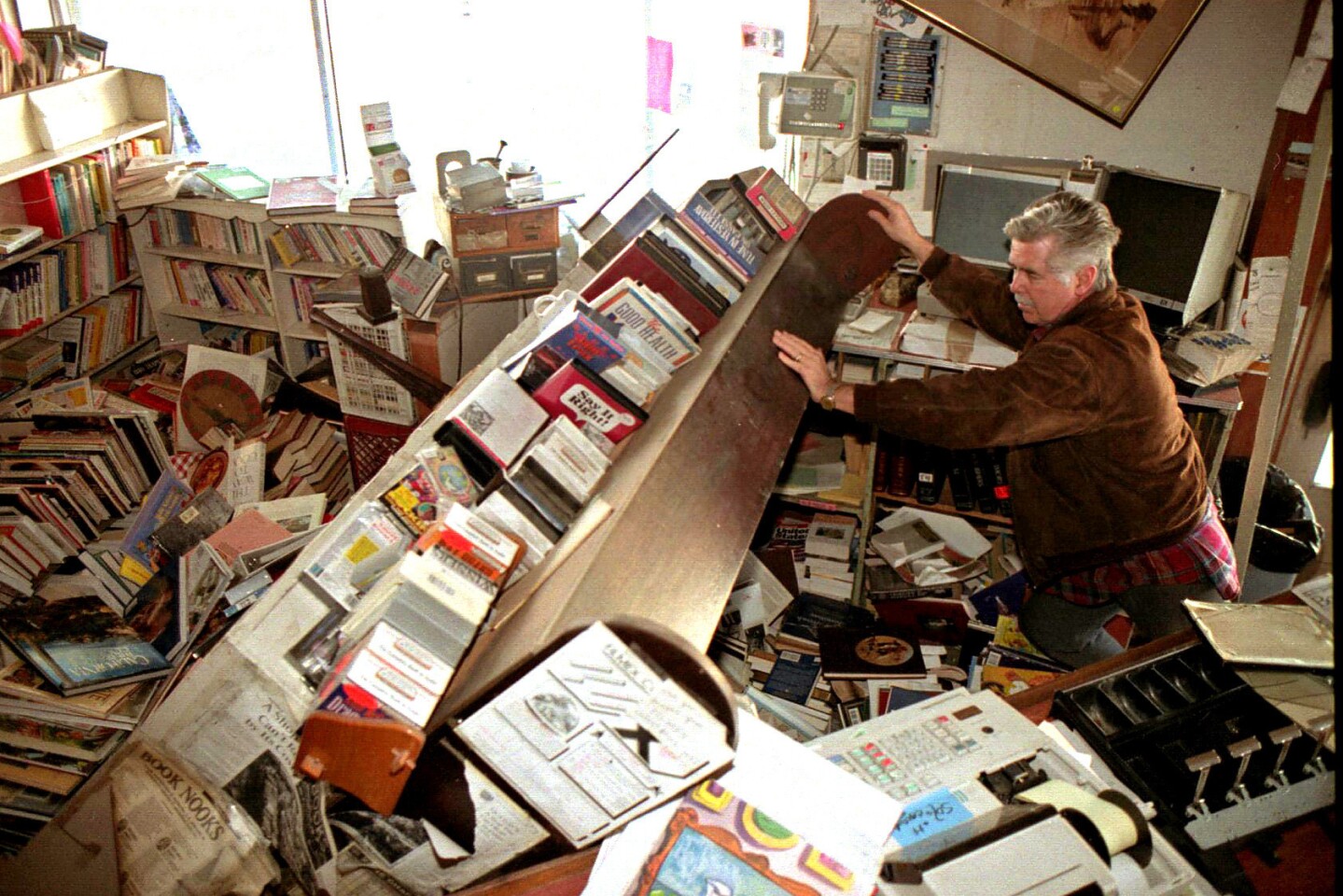 Dave Dutton found chaos at his Dutton's Books in North Hollywood.
(Julie Markes / For the Los Angeles Times)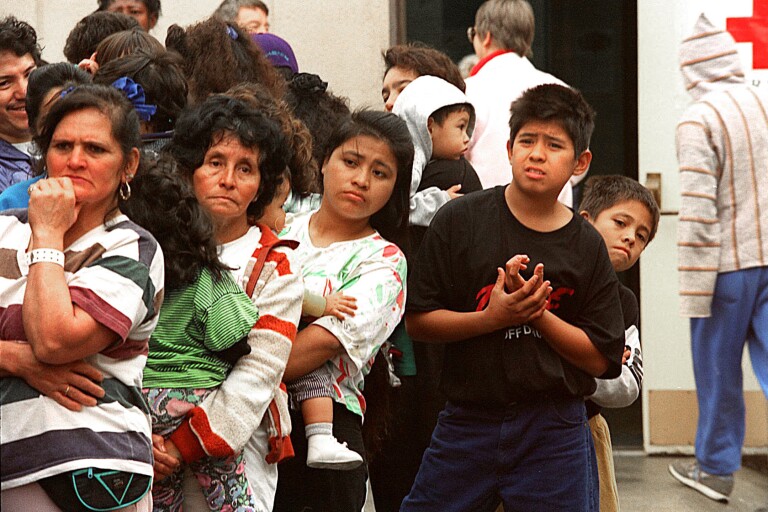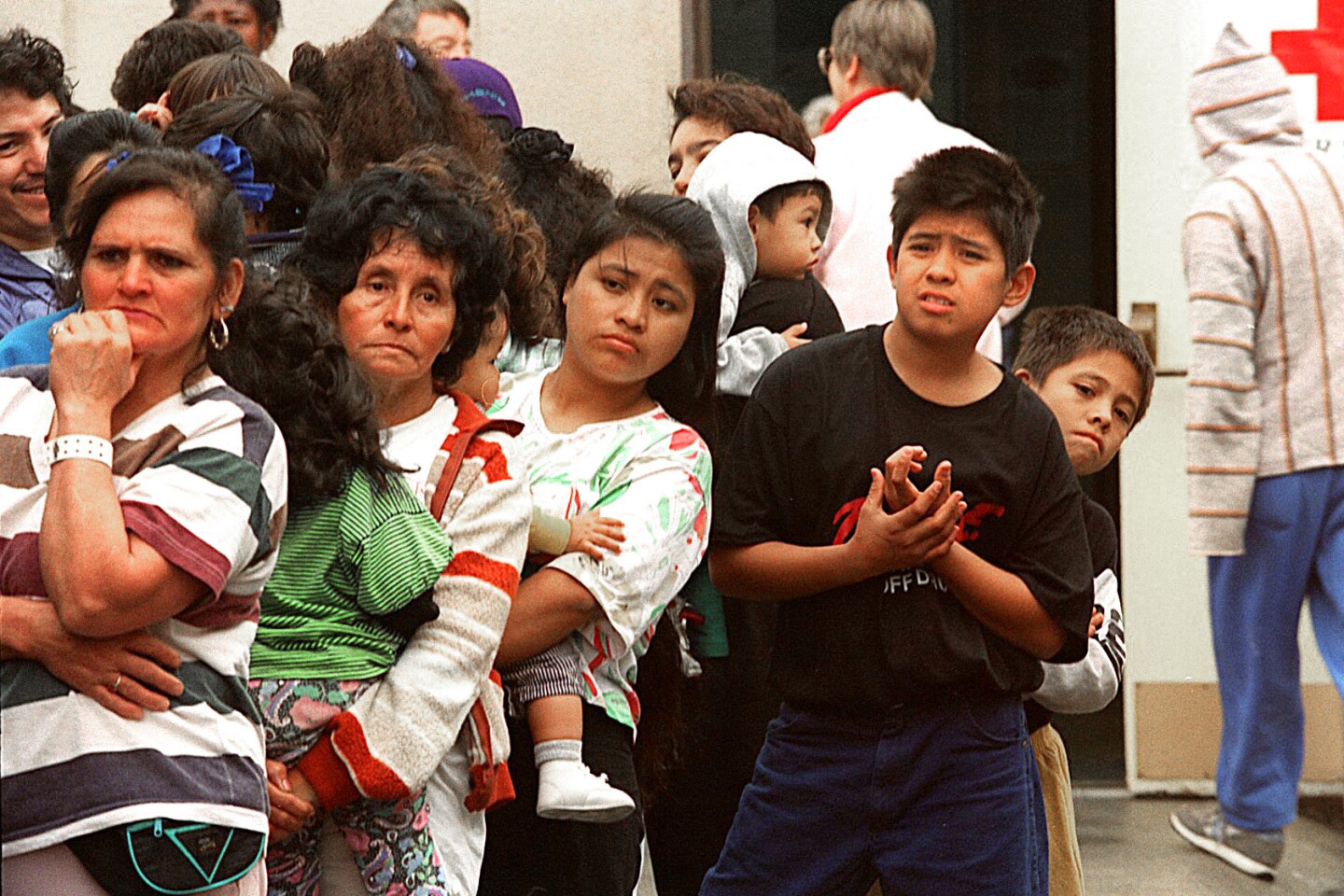 People stand in line at a Canoga Park High School shelter to pick up children's sweat suits donated by a sporting goods manufacturer.
(David Bohrer / For the Los Angeles Times)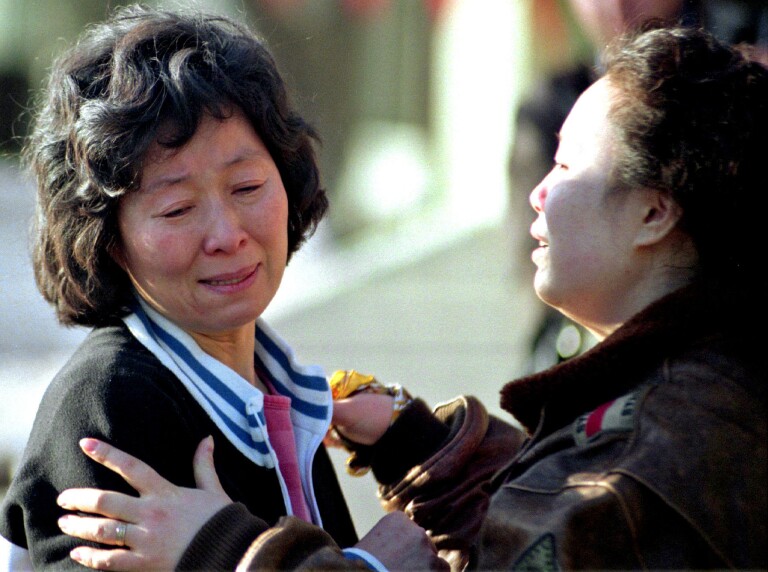 A mother's face reflects her grief on learning that her 14-year-old son had been found dead in a closet in their Northridge apartment.
(Los Angeles Times)
L.A. Mayor Richard Riordan, left, Gov. Pete Wilson and President Clinton listen on the 118 Freeway as Caltrans engineer Andrew Ponzi explains the extent of the damage to L.A. freeways.
(Los Angeles Times)
Jessica Hernandez, 7, clutches her teddy bear outside the makeshift shelter where her family and other residents of a Van Nuys apartment complex are living because they are afraid of return to their homes.
(Al Seib / Los Angeles Times)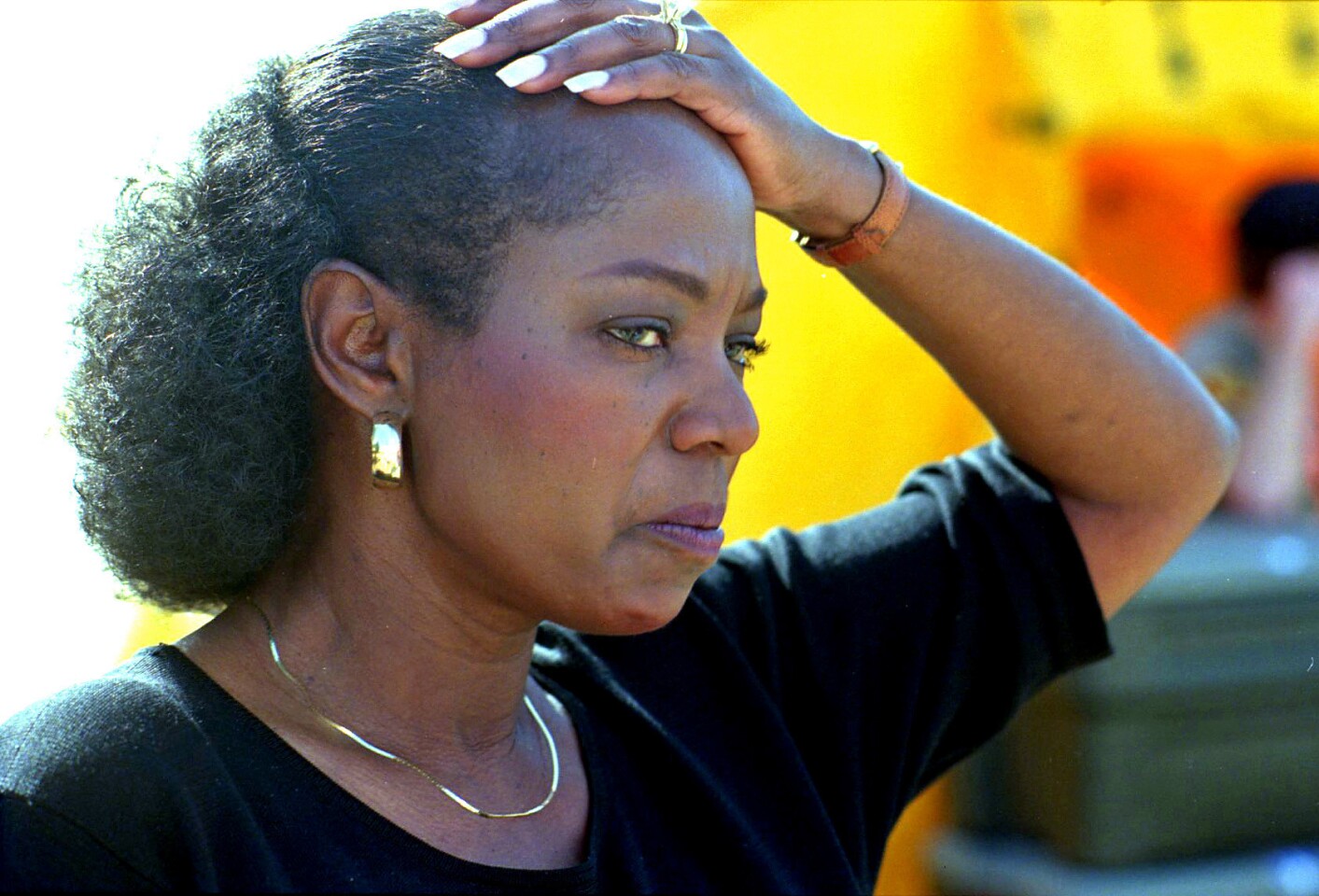 Cal State Northridge President Blenda J. Wilson said: "The moment of returning to the campus and seeing the parking structure demolished ... was the most terrifying moment of my life."
(Los Angeles Times)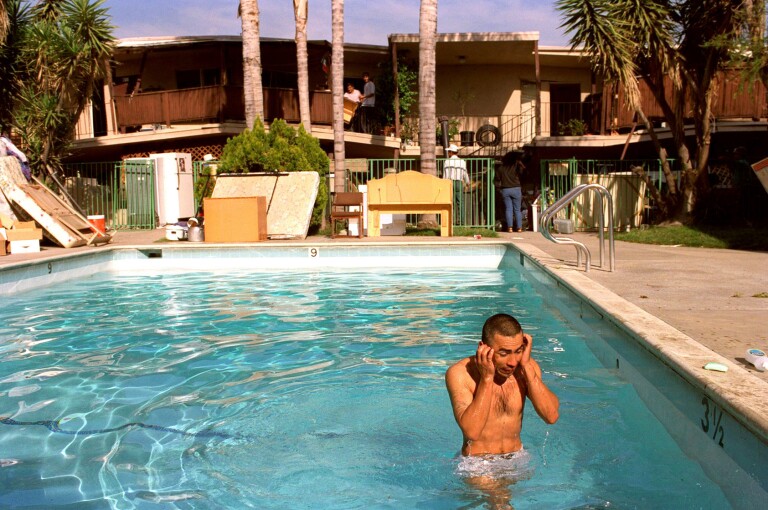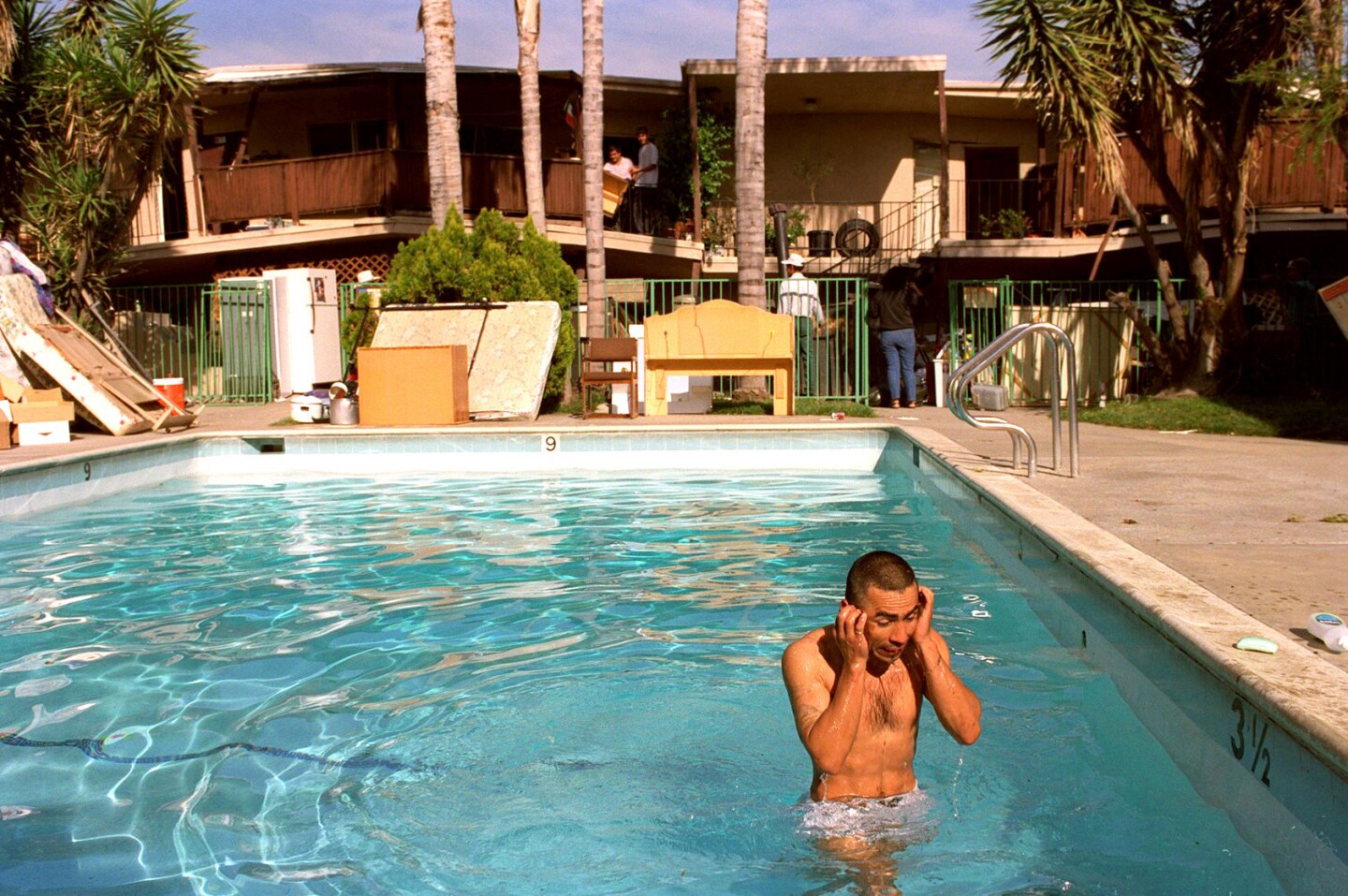 Unable to bathe since his Canoga Park apartment was condemned, Jose Aguilar rinses off in a pool.
(Ricardo DeAratanha / Los Angeles Times)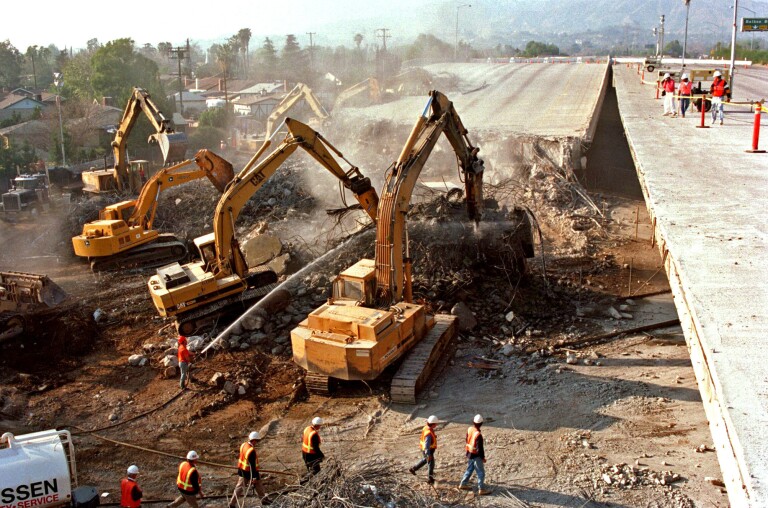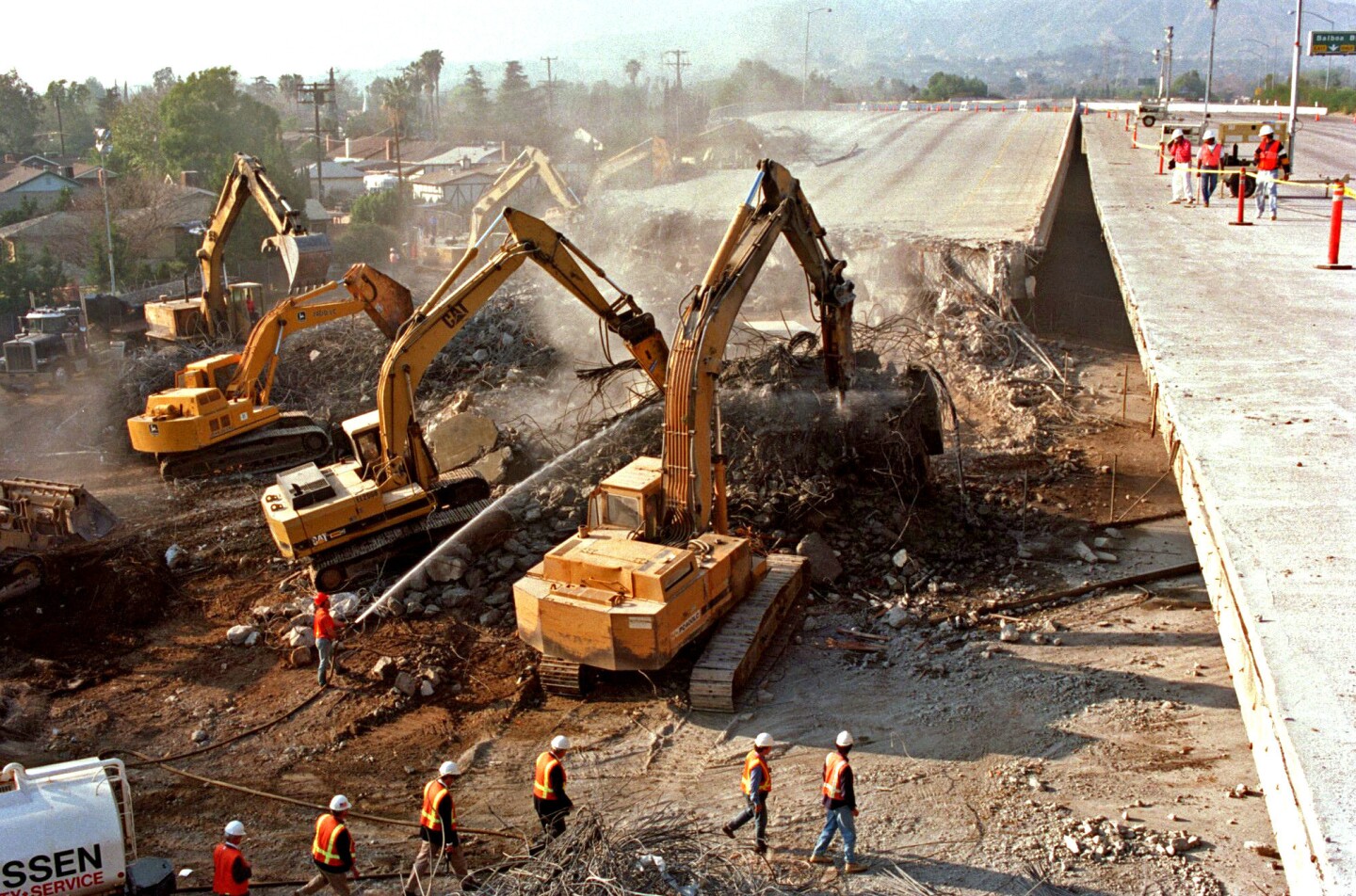 Heavy-equipment operators remove pieces of the 118 Freeway's eastbound lanes.
(Los Angeles Times)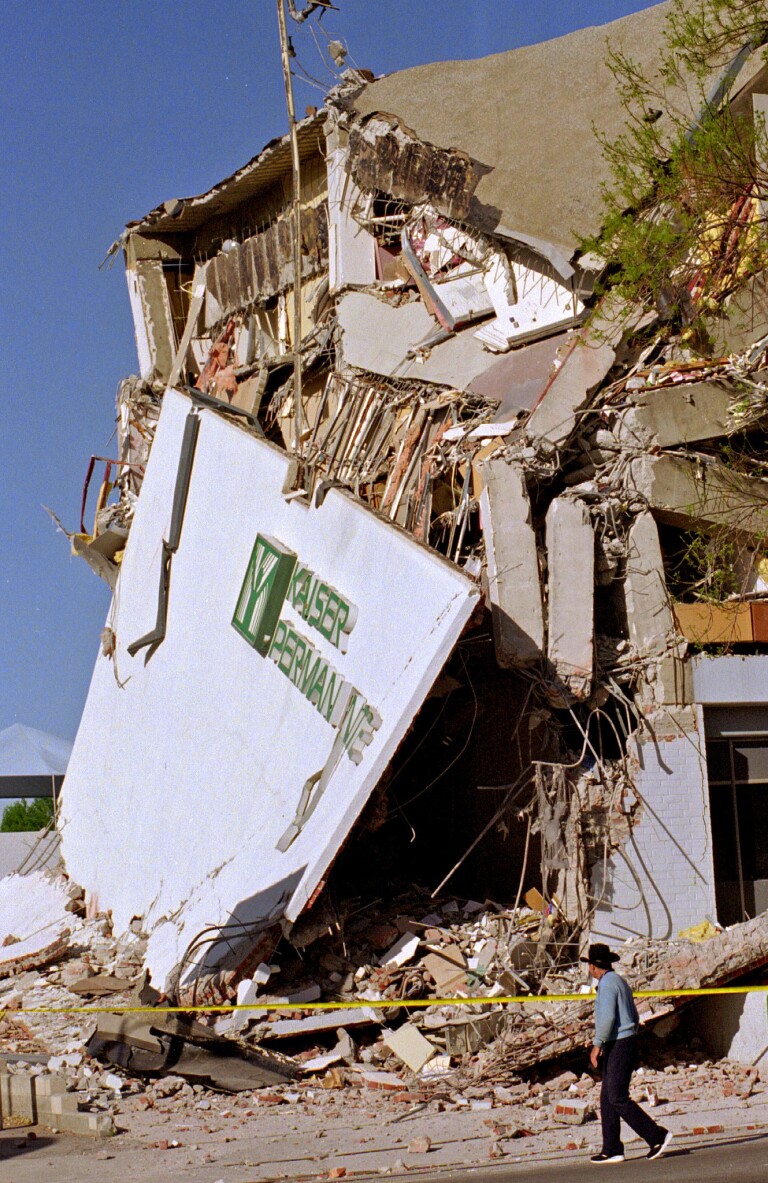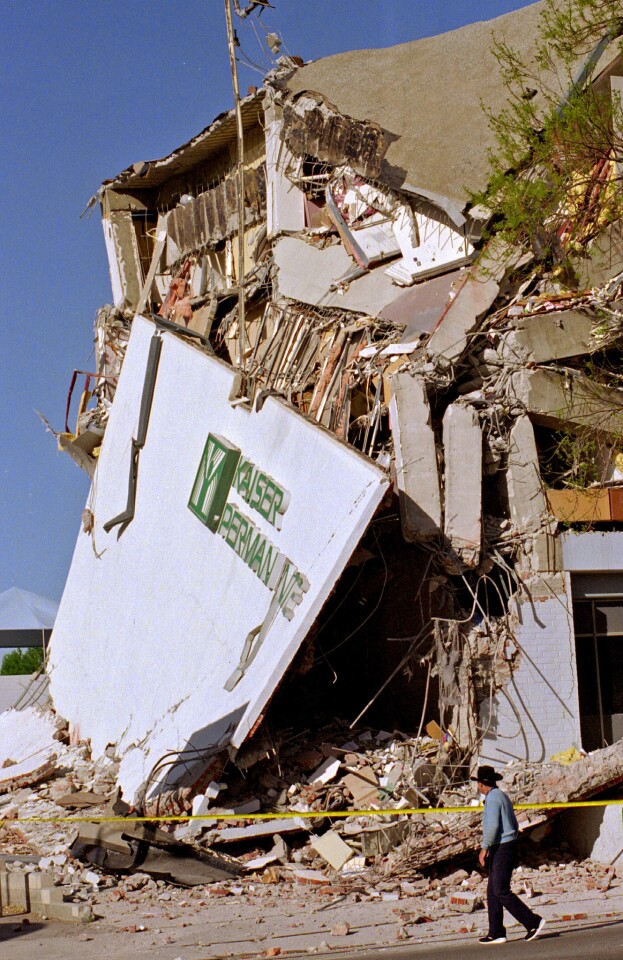 Both ends of this medical administration building collapsed, and the second floor pancaked.
(Ricardo DeArantha / Los Angeles Times)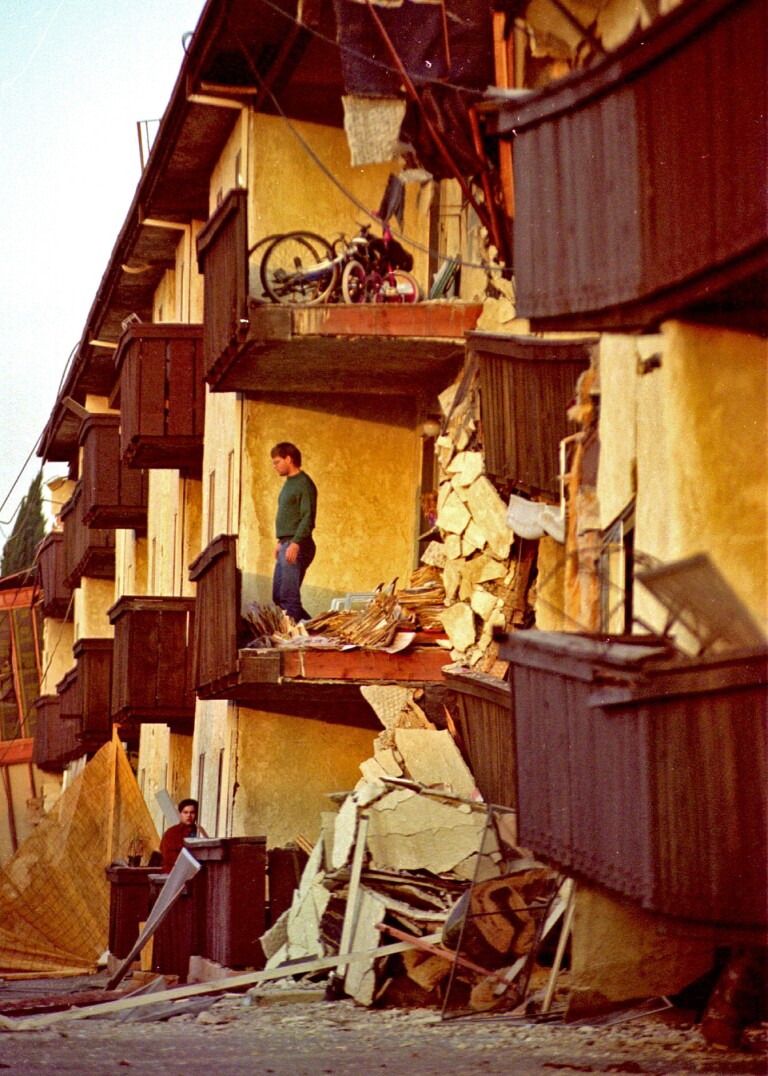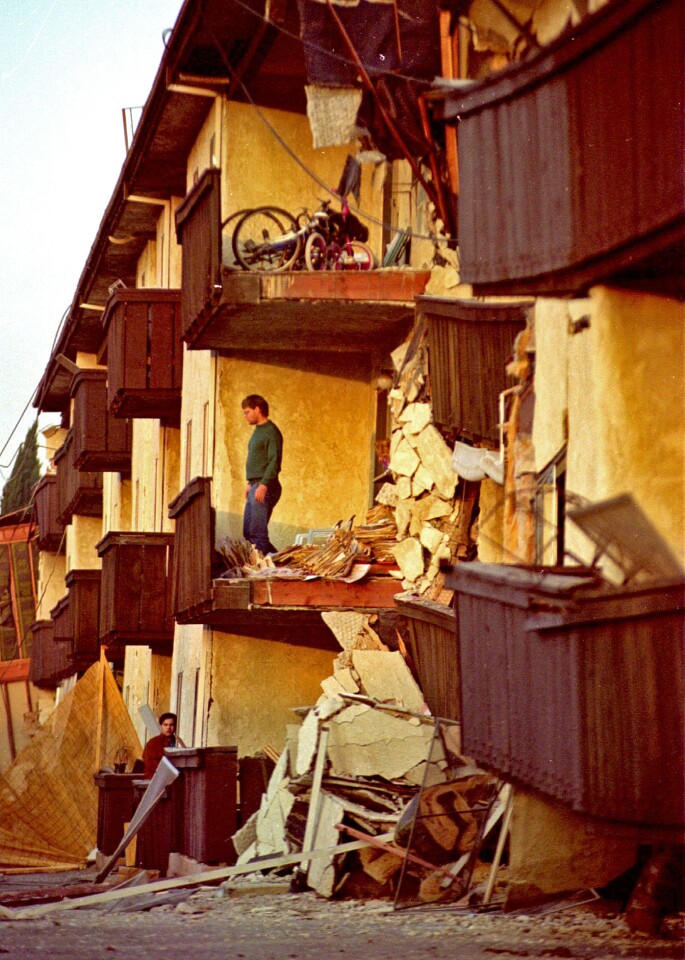 A man stares out to the street from his wall-less home at the devastated Northridge Meadows apartments.
(Joel P. Lugavere / Los Angeles Times)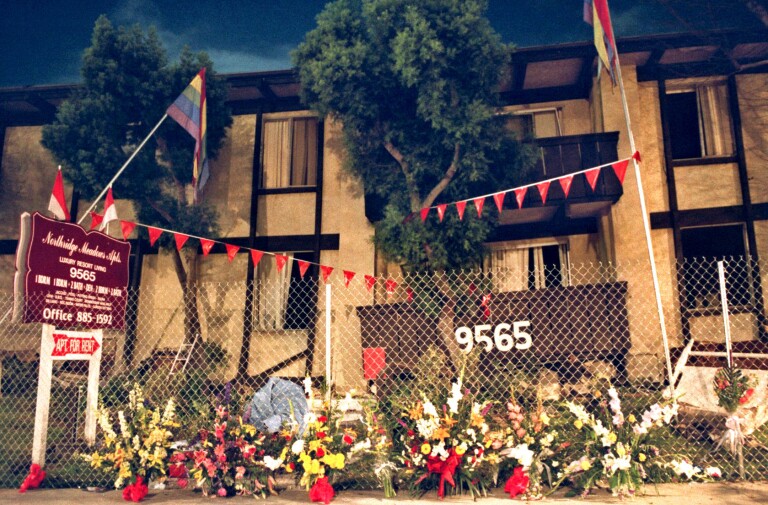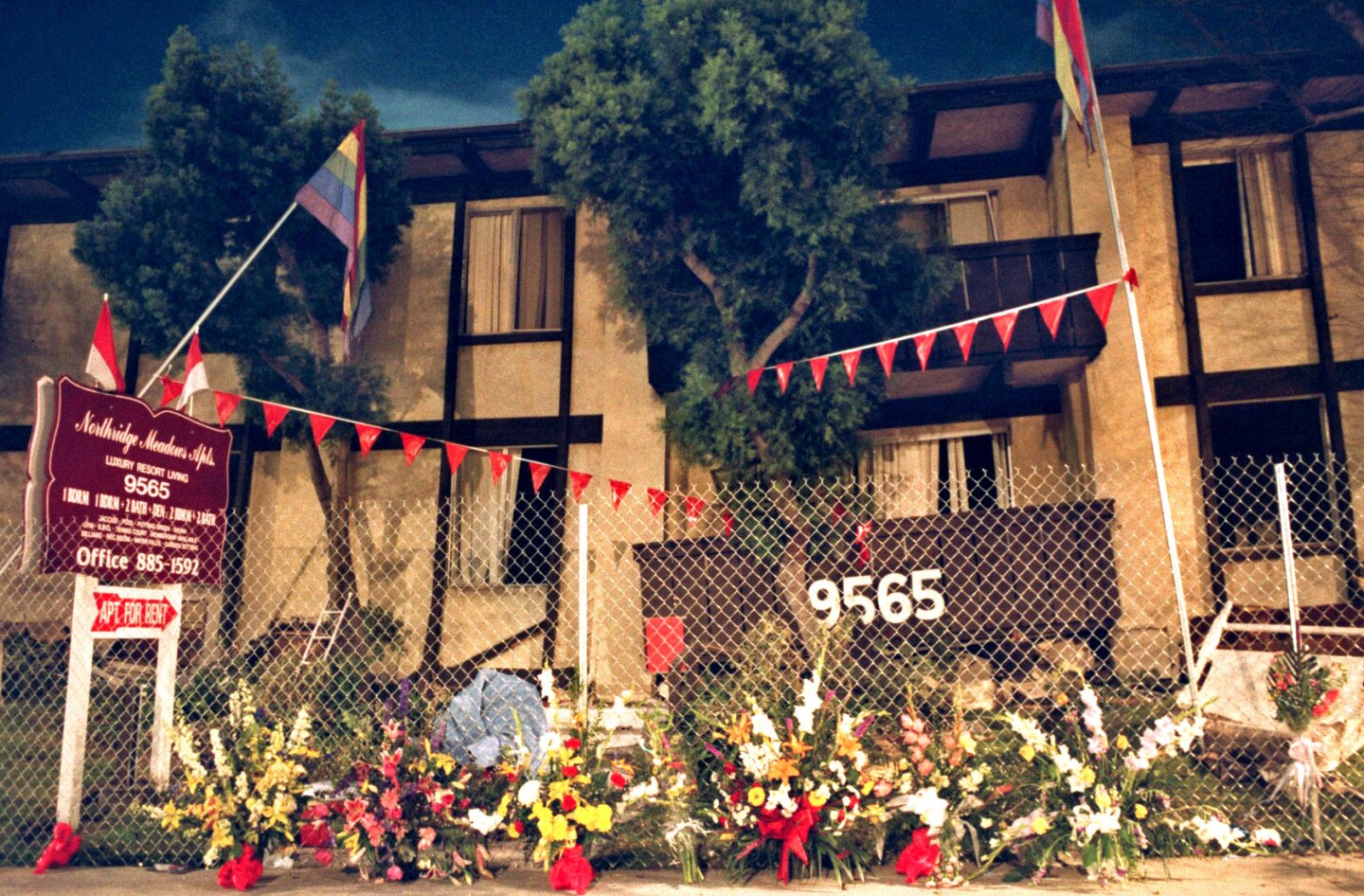 Flowers line a fence at the Northridge Meadows apartment complex a week after the quake.
(Julie Markes / For the Los Angeles Times)
Times Staff Writer
The earthquake sent shock waves through Southern California's business community Monday, crippling transportation and communications, damaging factories and idling thousand of workers.
Companies in the San Fernando Valley were hit hardest by the magnitude 6.6 quake, with many firms forced to close because of damage or lack of phones and electricity. Some of the hardest hit:
* Rockwell International Corp.'s Rocketdyne division in Canoga Park, where the firm assembles rocket and space shuttle engines, was shut down after the plant suffered broken water pipes, shattered windows and buckled floor tiles.
Lockheed Corp., with 5,000 Los Angeles-area employees, said it would keep its Burbank "Skunk Works" plant closed today because of water and other damage. Hughes Aircraft Co. plants in Canoga Park and Malibu also remain closed, affecting about 2,000 employees.
* Oil giant Atlantic Richfield Co. reported that one of its Four Corners oil pipelines ruptured in at least four places in the San Fernando and Santa Clarita Valleys and near Pyramid Lake in the Grapevine.
Arco and several other oil companies shut down their oil pipelines as a precautionary measure while inspecting for leaks. Oil companies were also assessing damage to service stations near the epicenter, many of which were damaged and not expected to be open for a while.
* The 20th Century Insurance headquarters building in Woodland Hills was closed Monday after the earthquake left the 11-story building looking like a bomb had exploded inside. Roughly 100 panes of glass were blown out, beige drapes hung out the windows like unmade bedsheets and the phones, elevators and electricity were out. Phone calls by worried policy holders were being forwarded to 20th Century's emergency center in Monrovia, plus seven other offices.
* The quake caused undetermined damage to Great Western Bank's sprawling 12-building headquarters complex in Chatsworth, home to some 3,000 employees.
Beyond the Valley, the effects of the quake were widespread, mitigated only because many firms were closed for the Martin Luther King Jr. holiday. Other businesses--including grocery stores--stayed open despite damage and lack of electricity to meet the needs of rattled homeowners.
A city-wide dusk-to-dawn curfew was sure to put a crimp in the commerce at bars, restaurants and stores dependent on evening traffic, many still struggling with the region's persistent recession.
Power to the entire city of Los Angeles was interrupted by the quake, with electricity being restored only gradually during the course of the day, the Department of Water and Power reported. Several large companies used emergency generators.
The Pacific Stock Exchange opened on time Monday morning. On the trading floor, activity was subdued amid the clutter of paper and beneath the green crawl of stock quotes.
The DWP also reported that a main water trunk line ruptured in Northridge, lowering water pressure in the San Fernando Valley and depriving some areas of water entirely.
Outside the city, Southern California Edison Co. reported that industrial, commercial and other customers went without power mainly in Ventura and Santa Barbara counties and in the Northern San Fernando Valley.
Pacific Bell reported that all switches--the building-sized equipment that connects telephone calls--were operating and processing calls.
GTE California, meanwhile, said its network was damaged, with several switching offices operating on backup generators due to the loss of power.
The quake also disrupted vital transportation links to businesses. Los Angeles International Airport was closed for several hours after the quake. American Airlines and others diverted or canceled inbound and outbound flights.
The collapse and closure of portions of the Santa Monica freeway, the nation's busiest, and the Golden State freeway, the state's major north-south conduit, have left many trucking companies scrambling for alternate routes.
Trucking companies said the quake had a heavy impact on pick-ups and deliveries in Southern California Monday, but most said they expected to be able to reroute deliveries around freeway blockages in the next several days to prevent any serious shortages of goods.
Gary Frantz, spokesman for a major interstate hauler, Consolidated Freightways, said freight terminals were operating at about 50% of capacity in Pasadena and Los Angeles, mainly because many employees were not able to get to work.
Meanwhile, Michael Martin, spokesman for Santa Fe Pacific Railways, which operates the Santa Fe and Southern Pacific tracks in Southern California, said trains were halted for up to five hours after the quake while track was inspected. Damage was minimal.
Editorial and administrative offices of the Daily News of Los Angeles in Woodland Hills sustained severe structural damage, including collapsed ceilings, broken water pipes and possible gas leaks, said Editor Bob Burdick. The paper's printing plant in Santa Clarita was also out of service.
The newspaper was published with the help of the Copley Newspapers offices in Santa Monica and Torrance. The Daily News managed to produce 250,000 copies of a special, ad-free 12-page paper. It was unclear when the Daily News could return to its own plant, Burdick said.
The Los Angeles Times also suffered disrupted operations from the quake. Its suburban San Fernando Valley presses and newsroom were closed by the quake, said spokeswoman Laura Morgan. Workers returned to the building Monday afternoon to clean up and assess the damage.
Printing plants near downtown and in Orange County were not damaged and the Times planned full Metro and San Fernando Valley editions for Tuesday, she said. The Times has a daily circulation of about 1.1 million.
Retailers were among the biggest losers, especially in the San Fernando Valley.
At least two major shopping centers--Topanga Plaza in Canoga Park and the Northridge Fashion Center--sustained major structural damage and were expected to remain closed for days. On the West Side, the Beverly Center was cordoned off.
At Topanga Plaza, chunks of brick and masonry had crumbled from the facades of the Nordstrom, Broadway and Robinsons-May stores.
At the Northridge mall, large portions of a three-story parking garage collapsed. At the mall's Bullock's department store, the roof fell in and large portions of the decorative facade peeled away.
Nordstrom reported that four of its Los Angeles County department stores were closed Monday as a result of the quake.
Two Bullock's department stores will remain closed indefinitely, a spokeswoman said. Three other Bullock's stores--Beverly Center, Century City and Woodland Hills--sustained water and merchandise damage and will remain closed today.
Eleven Broadway department stores in the San Fernando Valley and elsewhere were closed and being inspected for structural damage.
Big supermarket chains said a number of stores will remain closed due to heavy structural damage. In general, the supermarkets' biggest problems were power outages and the avalanches of cans, jars and boxes knocked off shelves.
Some supermarket chains, such as Lucky's, donated food, emergency supplies and bottled water to Red Cross and Salvation Army relief centers.
La Habra-based Food 4 Less, which operates more than 200 Alpha Beta, Boys Market and Viva grocery stores, was relying on an emergency plan created in the wake of the 1992 Los Angeles riots, which damaged or destroyed more than 40 of the company's stores.
Banks reported extensive damage to branch offices and ATM networks, which require both electricity and telephone lines.
A Bank of America representative said 25 branches in the San Fernando Valley, Newhall and West Side area may be closed today while officials assess damage. There were scattered outages reported among the bank's automated teller system.
Separately, a Wells Fargo Bank spokeswoman said more than 200 of bank's ATMs were down early Monday, but most were working by the afternoon.
First Interstate Bank said the quake caused extensive damage to its Simi Valley credit-card processing center, forcing its closure and the temporary relocation of 500 employees to downtown Los Angeles.
Meanwhile, Foodmaker, the San Diego-based operator of Jack in the Box fast food restaurants, said 80 of its 310 Southern California outlets were closed Monday afternoon, due mainly to the "absence of potable water and electricity," spokeswoman Sherry Zizzi said.
At least in Hollywood, the workday was relatively unaffected, since most of the entertainment industry was taking the day off anyway. Some people still made it into work, among them billionaire Rupert Murdoch, who controls Twentieth Century Fox. But work stopped on some television shows, notably "NYPD Blue" and "Picket Fences."
About 1:30 p.m., Jerry and Susan Mailer stood outside the closed office of their Studio City realtor.
The couple had a 2 p.m. appointment to make a new, $215,000 offer on a house, after the seller rejected their original $209,000 offer on Saturday.
"We tried to call our agent, but we couldn't reach her because the phones were down," said Jerry Mailer, a beverage distributor. "Now we're here to tell her to forget it--we aren't going to buy anything for a while."
Times staff writers James Bates, Martha Groves, Greg Johnson, Chris Kraul, David W. Myers, David Olmos, Scott Paltrow, Jesus Sanchez, Stuart Silverstein, Barry Stavro and Jonathan Weber contributed to this report.
---
For reporting and exclusive analysis from bureau chief John Myers, get our California Politics newsletter.
You may occasionally receive promotional content from the Los Angeles Times.