The first day of high school, with one of Orange County's best teachers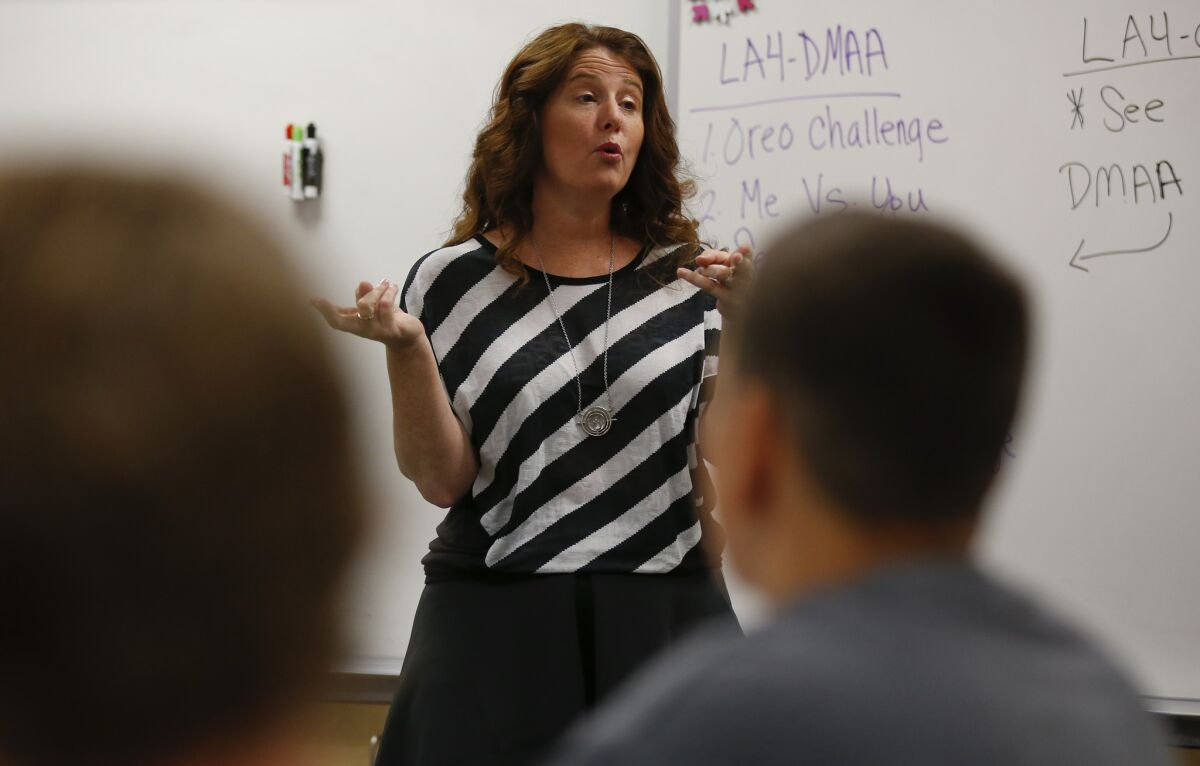 For teachers, going back to school means getting restless students just back from summer vacation into learning mode. When it comes to building a positive classroom dynamic, the first few days back are key.
We wanted to know, how do teachers set the tone for the year? How do they welcome their students?
To answer this question, we visited Kathleen Switzer. She is an English and theater teacher at El Dorado High School in Placentia, where school started on Tuesday. She's also one of the state's finalists for Teacher of the Year.
So we visited her classes on the first day of school to find out how she welcomes her students and establishes the tone for her new class. We'll check up on her progress throughout the school year.
Kathleen Switzer changed her outfit four times on Tuesday morning.
"I'm worse than the kids," she said as she held open the door of her first-period classroom at El Dorado High School at 7:50 a.m., welcoming freshmen as they filed into their first-ever high school class.
"Switzer, 202? Yup,'' she said, checking their schedules as they walked over the welcome mat. "Sit wherever you want."
Standing at the door and greeting each student shows that this is a class where everyone's needs will be addressed. But it also reinforces the teacher's role as the authority figure, said Doug Lemov, author of the book "Teach Like a Champion" and the director of the teacher training team for Uncommon Schools, a charter network. His comments applied to teaching in general and not Switzer and El Dorado specifically.
In Switzer's class, the three dozen language arts students chose their seats and sat mostly in silence while they waited for the second bell, looking to Switzer as she moved toward the front of the class.
"First day of school," she said. "Are you guys excited?"
No response.
"So I'm just going to talk to you," she said.
Switzer's style is bubbly and welcoming. She graduated from El Dorado and has taught there for 18 years. Her husband is a teacher at the school, and her 8-year-old son is a mainstay in the theater, she told her students.
All of the tactics she would use that day — coaxing students into answering questions, getting them out of their seats — were ways to make the students comfortable, something that's particularly important at El Dorado this year after months of losses. In March, students found a teacher dead in a classroom after what appeared to be a suicide, and another beloved teacher died from health complications over the summer.
In the classroom, Switzer didn't mention either loss explicitly, but she did tell the students that she, and every other teacher at the school, was there to support them.
Once they were fully awake, it was time to get them up out of their seats, for "get-to-know-you bingo." They were to walk around the room and look for people who met the criteria on the page — things like having read all the Harry Potter books, "is wearing blue" or "has a cat."
Switzer played the game with the students. It helped them learn her name ("Mrs. Switzer, like Switzerland without the land!"), and vice versa.
At first, the students stayed near their desks. Slowly, the bingo groups grew; still, girls talked to girls, boys talked to boys. But seven minutes into the exercise, the entire class of 36 had converged in a loud mass in the center of the room, and everyone was talking to everyone.
The only time Switzer changed her tone was in talking about the syllabus -- the rules on homework and making up tests are absolute, and she knew there would be pushback. So she had to establish that firmness now.
That balance is a practice of good teaching, said Elizabeth Green, author of the book "Building a Better Teacher." People might not think that classrooms can be both comfortable and demanding, but in fact, these two attributes complement each other.
"The huge tightrope act is: Is it possible to help your students learn to struggle and think for themselves while also providing them structure?" Green said.
Switzer wanted to know more about her students than what they did during the summer. Her last activity was a survey about how they like to learn, asking such questions as: What are the best and worst things she could do as their teacher?
El Dorado Principal Carey Cecil said she wanted the students' first day to be balanced, an experience she tried to give teachers on their first day back. The morning was for business, but the afternoon was for boating in Newport Beach. "We just took time to enjoy one another," Cecil said, which she said was important for staff members after the difficulties in the last year.
"That's my biggest expectation," Cecil said, "to build a caring culture."
Reach Sonali Kohli on Twitter @sonali_kohli or by email at sonali.kohli@latimes.com.
---
Life is stressful. Our weekly mental wellness newsletter can help.
You may occasionally receive promotional content from the Los Angeles Times.