CSU administrators' pay gains outpace those for faculty, report says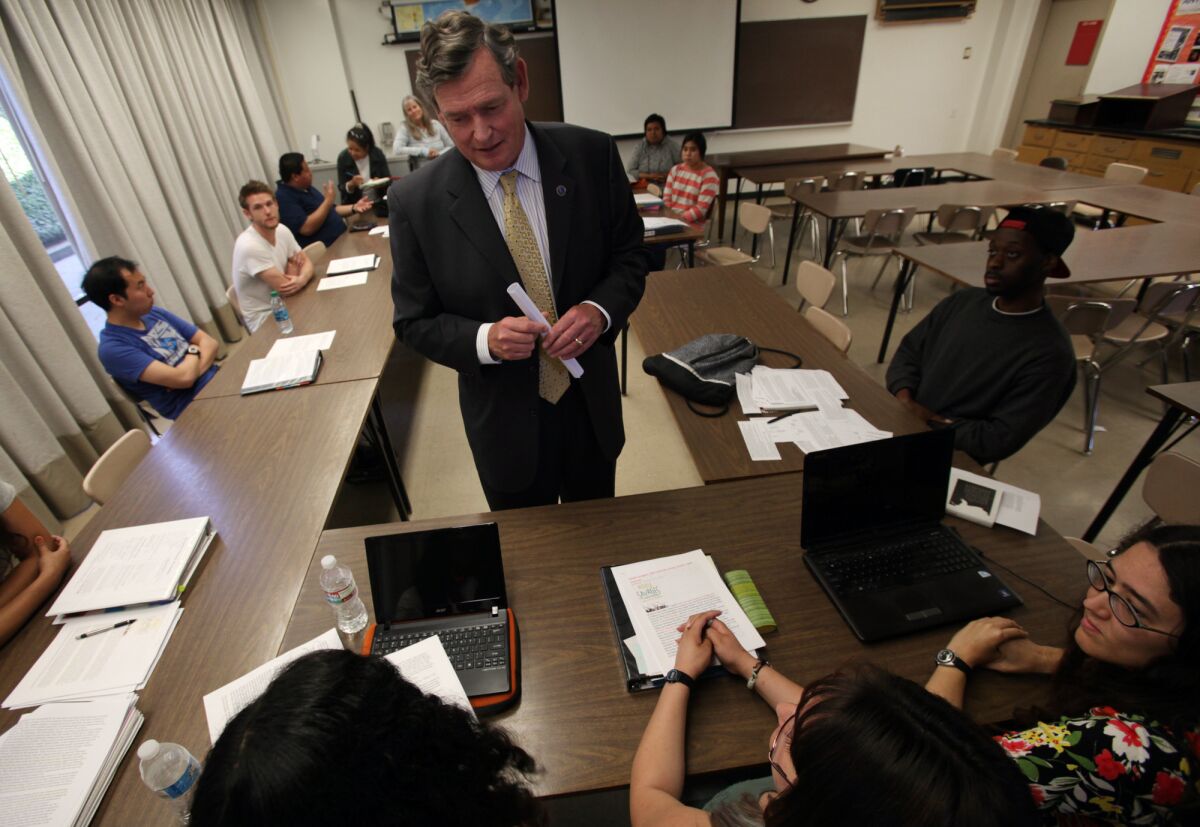 California State University administrators made significant gains in hiring and compensation over the last decade while faculty lost ground or failed to keep pace in both areas, according to a report released Tuesday by the California Faculty Assn.
The report, "Race to the Bottom: Salary, Staffing Priorities and the CSU's 1%," culled CSU payroll and budget data and found that over the last decade, the number of managers and supervisors systemwide grew 19% while the number of tenured and tenure-track faculty fell 3%.
------------
FOR THE RECORD
Cal State trustees: In the March 25 California section, an article about actions by the California State University trustees said that the board approved a long-range academic plan that would eliminate 17 degree programs, including the bachelor's in chemistry at Cal State L.A. The campus is eliminating its bachelor of arts chemistry program but will retain a bachelor of science in the subject.
------------
The number of permanent faculty was reduced even as the student population increased 24% during that time, according to the report.
Its release comes as the faculty group hopes to reopen negotiations with the university on salary and benefits in May.
The union represents about 25,000 Cal State professors, lecturers, librarians, counselors and coaches.
"Instead of investing in permanent faculty, CSU administrators have adopted a fast-food franchise model of faculty staffing for the university's core mission," the report said.
While salaries for full-time faculty increased 10% from 2004 to 2014, those for managers and supervisors increased 24%, according to the report. In 2014, the average salary for a manager/supervisor, excluding campus presidents, was $106,149 compared with a full-time faculty salary of $64,479.
In November, trustees approved a 3% pay hike for top executives, including Chancellor Timothy P. White and the 23 campus presidents, who had not received boosts in seven years.
Cal State previously had been heavily criticized for hiking pay for newly hired presidents in the midst of the recession and while boosting tuition. White has tried to chart a different course, including seeking a 10% reduction in the state-funded portion of his salary when he was hired in 2012.
After going five years without a raise, faculty won a 1.34% pay increase in 2013 and a 1.6% boost last year. The latest three-year pact called for the two sides to reopen salary and benefit talks for 2015-16 and 2016-17.
"I don't think that CSU disbelieves that there is a problem, but we're trying to say, what does this problem look like, how does it compare to other things going on in the system and how does this problem affect faculty and students," faculty group President Lillian Taiz said. "Our hope is that it starts a conversation about how to bring about meaningful change and not have symbolic gestures."
Cal State officials said White is committed to improving faculty hiring and compensation. The system hired about 740 full-time faculty last year, although some of those gains were offset by retirements, union officials contend.
And nearly $130 million has been set aside for employee compensation in the last two years, with $65 million more set aside in the 2015-16 budget, spokeswoman Laurie Weidner said.
"As soon as the state began to reinvest in the CSU we prioritized improving employee compensation," Weidner said. "Our dedicated faculty deserve it, and our mission of serving students requires it."
Cal State officials had not yet been able to review all of the faculty report, but will evaluate the research, Weidner said.
The CSU's own data, though, indicates that faculty hiring outpaced that of other employee groups, including managers, over the last decade, she said.
At a meeting Tuesday of the Board of Trustees in Long Beach, meanwhile, discussion centered on the progress of a program designed to better prepare students for college-level English and math.
The latest crop of high school graduates to enter Cal State's 23 campuses were the best prepared in history to tackle college-level math and English under the Early Start program, which provides intensive instruction over the summer, officials said.
The program, created in 2009 and begun in 2012, requires freshmen who need remedial classes to take them before their first term. Summer 2014 was the first time all admitted freshmen were required to participate.
For fall 2014, more than 24,000 of the 63,000 freshmen were required to take Early Start English or math. About 2,200 completed requirements in English and 3,700 in math before the school year began. Students have up to a year to complete the requirement.
Proficiency in English and math increased to 59% in 2014 at entry from 44% in 2010.
Students needing remedial instruction have long plagued the system, slowing the completion of degrees and impeding access for new students. Even though the improvements may seem small, the effect in the 460,000-student system is huge, the chancellor said.
"It works and allows campuses to deploy resources elsewhere that might go to developmental programs," White said. "Students have less work to do; they have their shoulders back and their heads back saying, 'I can do this.'"
Cal State officials said the students have been better prepared by their high schools. The percentage of freshmen who are college-ready in English and math at graduation grew to 54% in 2014 from 43% in 2010, officials said.
Those needing remedial classes fell to 21% from 28% during that time.
In other matters, trustees approved a new, long-range academic plan that includes proposals for 29 new degree programs in the next 10 years, including bachelor's programs in geology at Northridge; women's, gender and sexuality studies at Cal State L.A.; and master's programs in architecture at Pomona and cybersecurity at Dominguez Hills.
In addition, 17 programs will no longer be offered, including the bachelor's in chemistry at the Los Angeles campus and German at San Jose, and master's programs in human resources at Northridge and psychology at Bakersfield.
Students already enrolled in those programs will be allowed to complete their degrees.
Campuses frequently add and discontinue programs in response to workforce needs, student interest and duplicate programs at other campuses.
"The relevant question is: Are we meeting the needs of students and do we have the right academic mix?" Cal State Monterey Bay President Eduardo M. Ochoa said.
That campus is planning new bachelor's programs in sustainable hospitality management, and human development and family studies, while ending master's programs in interdisciplinary studies and management and information technology.
Twitter: @carlariveralat
---
Life is stressful. Our weekly mental wellness newsletter can help.
You may occasionally receive promotional content from the Los Angeles Times.