Cal State plans big lobbying push for more state money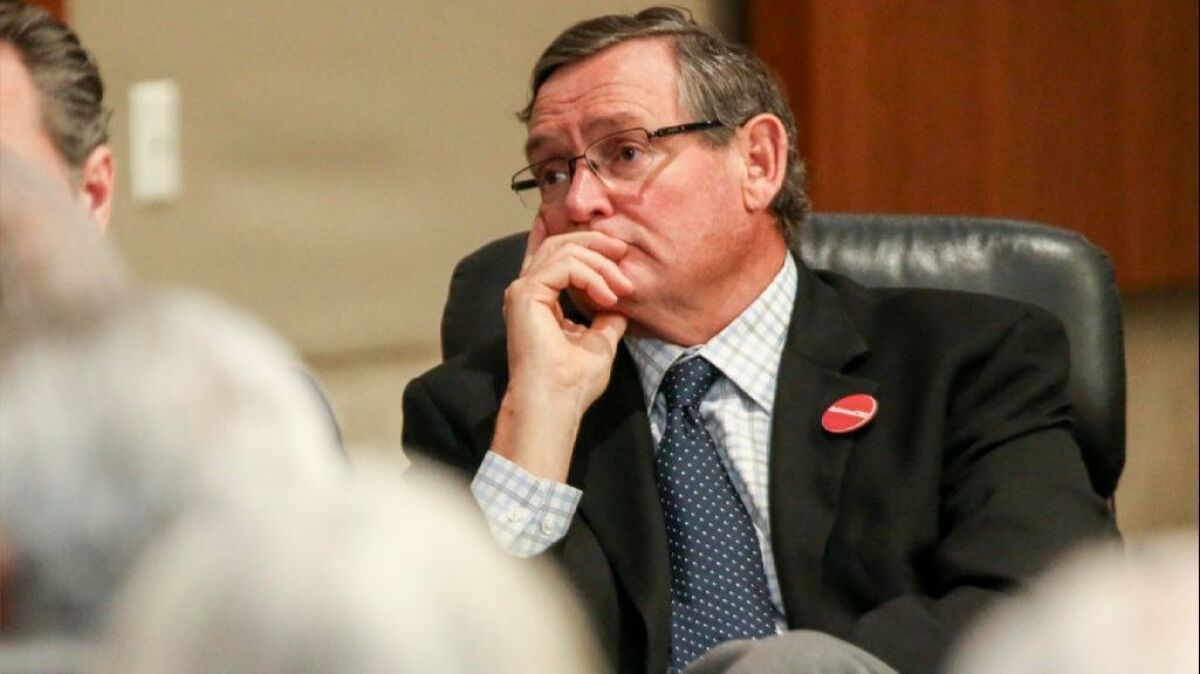 In the final weeks of budget negotiations in Sacramento, Cal State officials plan an all-out lobbying push. They say they're racing against the clock to prevent harmful cuts by shaking more money out of state coffers.
The university system's leaders say they're still trying to rebound from recession-era cuts while they try to accommodate more students. And even though the state has tried to make up funding in recent years, Cal State's needs have grown and the money isn't keeping up.
Cal State asked for a $263-million boost in ongoing funding. Gov. Jerry Brown is proposing to give the system $92 million of that, as well a one-time $100 million to catch up on deferred facilities maintenance.
The effort to get more funding from the state was a major topic Tuesday when Cal State trustees met in Long Beach.
Earlier this school year, Chancellor Timothy P. White had raised the prospect of another tuition increase — which would have been the second in two years. But last month, he shelved the proposal, opting to put more pressure on Sacramento instead of further burdening students. The decision was bolstered by news that the state now expects an $8.8-billion surplus.
Cal State is mobilizing students, staff and alumni to circulate a video called "Invest in California's Future," and spread the message on social media. On May 30, Cal State representatives plan to fan out and meet with numerous legislators and to post photos of those who are supportive with red signs that say "Choose CSU."
The University of California, which followed Cal State in putting aside a proposed tuition increase, has launched a similar lobbying effort to try to increase its funding.
Cal State officials are hopeful. "We're encouraged by discussions that we've had with the Legislature," Executive Vice Chancellor and Chief Financial Officer Steve Relyea told trustees Tuesday. "This is the time, in these last few weeks, to continue ... telling the story of the California State University."
They're getting some political support. On Wednesday, Assemblyman Jose Medina (D-Riverside), chairman of the Assembly's higher education committee, is holding a Sacramento news conference with students and faculty to pressure Brown to "fully fund" both Cal State and UC.
What full funding would be was the subject of some confusion at the meeting Tuesday.
Cal State officials say the $263 million they request would be enough to cover academic programs, staff compensation, growing enrollment and a much-touted initiative to boost graduation rates. But Brown has repeatedly stated that, rather than ask for more and more, California's public universities should learn to live within their means.
His proposed one-time money for maintenance did little to appease, especially because Cal State has an estimated $2-billion backlog in such work.
If June budget figures still fall far short of Cal State's demands, White has said he will be forced to make some cuts. Ryan Storm, assistant vice chancellor for budget, said they could include freezing or reducing student enrollment, hiring fewer staff and faculty members and cutting back on student services. Storm said Cal State could also slash spending on its graduation initiative, which costs $75 million a year.
"Even though we're not having a tuition increase, I strongly feel that our students are still scared," student trustee Jorge Reyes Salinas said at the meeting. "They're scared that the Legislature is not going to pull through."
Times staff writer Teresa Watanabe contributed to this report.
The stories shaping California
Get up to speed with our Essential California newsletter, sent six days a week.
You may occasionally receive promotional content from the Los Angeles Times.