Teachers union gains a foothold in L.A.'s largest charter school group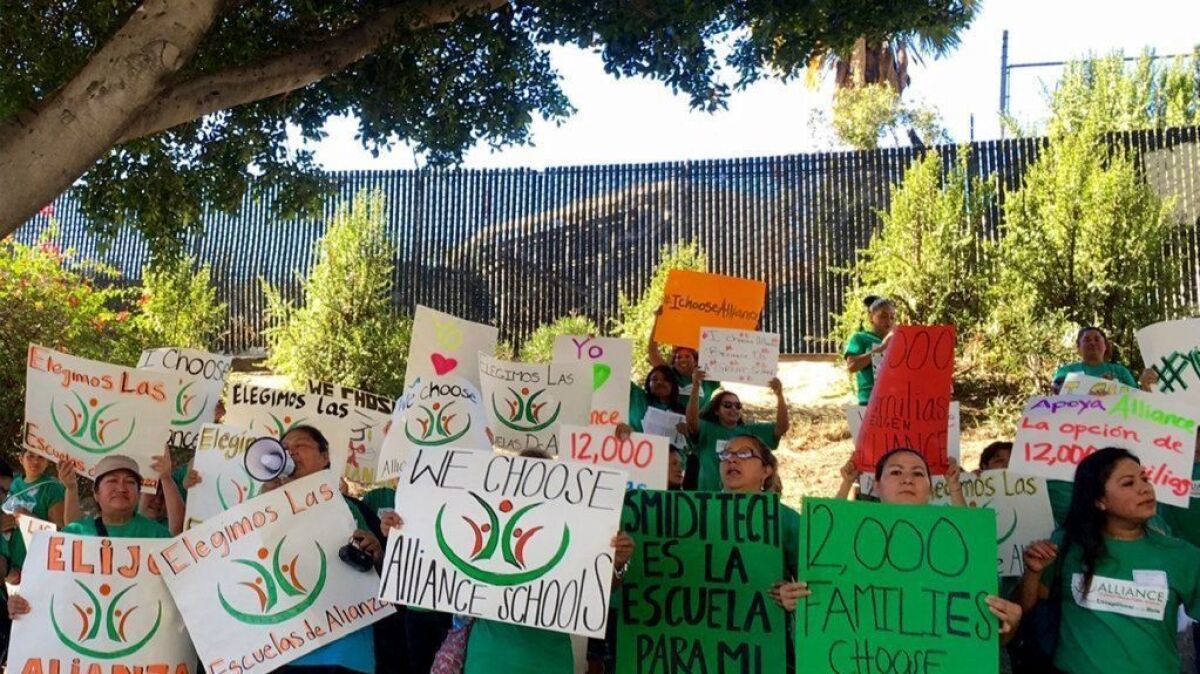 For years, the possibility of organizing the employees of the largest charter school group in Los Angeles was an elusive goal for the teachers union. Efforts launched in 2015 sputtered out during an extended and expensive legal back-and-forth.
But on Wednesday, the movement appeared to get its momentum back.
Teachers at three charter schools operated by the Alliance College-Ready Public Schools network submitted paperwork to form a union and begin bargaining collectively. Though they make up a fraction of Alliance's total employees — the network runs 25 schools across L.A. — their actions represented a partial victory in the union's campaign to organize charter schools.
"These three schools, with more than 100 educators, are the first to file. Others in the 25-school charter chain are expected to follow," a spokesman for the union, United Teachers Los Angeles, wrote in a statement.
In a statement, Catherine Suitor, Alliance's chief advancement officer, said the group had "been made aware that some staff" at three schools had submitted cards to form a bargaining unit. She pointed out that Alliance has "more than 700 dedicated educators" at its schools.
"As always, we remain committed to making sure that all of [our] educator voices are heard and counted as this process moves forward," she said.
Attempts to unionize the Alliance schools began in earnest in 2015, when nearly 70 employees sent the group's administrators a letter asking to be allowed to organize without fear of retaliation. Alliance's leaders suggested they would not interfere.
But that early civility gave way to a series of disputes over whether UTLA organizers were being overly aggressive — as Alliance claimed — and whether Alliance's leaders were intimidating employees interested in joining — as the union maintained.
At one point, UTLA officials accused the charter group of using public funds to pay for lawyers and public relations consultants to fight off the unionizing effort. But a state audit later cleared Alliance of wrongdoing. It found that while Alliance had spent nearly $1 million to fend off the organizing push, it had raised the money from private donors and benefited from another $2 million in pro bono legal work.
UTLA officials said a "clear majority" of teachers and counselors at three Alliance schools submitted cards to the California Public Employment Relations Board on Wednesday morning, authorizing UTLA as their union. The schools are: Alliance College-Ready Middle Academy 5 in Lincoln Heights, Alliance Gertz-Ressler/Richard Merkin 6-12 Complex in downtown L.A., and Alliance Judy Ivie Burton Technology High School in South L.A.
"One of the reasons we made the decision to pursue this strategy was to kind of model for schools that are not at majority yet what having a union will actually look like," said Alisha Mernick, an art teacher at the Gertz-Ressler school. "There is interest and support for forming a union at a lot of schools."
Since organizing began, Mernick said, Alliance has sent its employees a flood of emails and letters warning them against joining a union that has opposed the growth of charter schools in L.A. The network recently dispatched school principals to deliver the message, she said, and at least one school leader threatened to resign if the union was approved.
Organizers said their aims for a first contract include establishing due process rights and negotiating a fair employee evaluation system. Mernick said that Alliance ties teachers' pay to their annual evaluations, which are based on classroom reviews, student and parent surveys and students' test scores. The use of test scores has rankled some Alliance teachers, who say the exams were not designed for this purpose.
Edgar Hermosillo, a social studies teacher at Alliance Judy Ivie Burton Technology High School, said he hoped union representation would also diminish staff turnover.
"The way we're set up is geared, literally, to burn through a teacher in two to three years because of the crazy hours, the crazy expectations," Hermosillo said. "There's really no sense of professionalization in our schools."
Though buoyed by the move to unionize the three schools, several Alliance teachers said they held no illusions that the path forward would be easy.
The charter network could decide to challenge the legitimacy of the schools' support for the union. And future disagreements are almost inevitable, as Alliance has previously taken the position that each of its schools is a separate nonprofit corporation — and that, as a result, the union would have to bargain for each school individually rather than propose a network-wide contract.
Charter schools are exempt from the labor contracts that govern traditional public schools, and most remain union free in California and in L.A., where there are more than 200 charters.
However, there are prominent examples of unionized charters, such as Green Dot Public Schools, which operates 20 charter schools in Los Angeles County. UTLA says it currently represents educators at 9 of the 40 unionized charter schools within L.A.
Twitter: @annamphillips
The stories shaping California
Get up to speed with our Essential California newsletter, sent six days a week.
You may occasionally receive promotional content from the Los Angeles Times.