One L.A. campus, divided between traditional school and charters, may offer window into future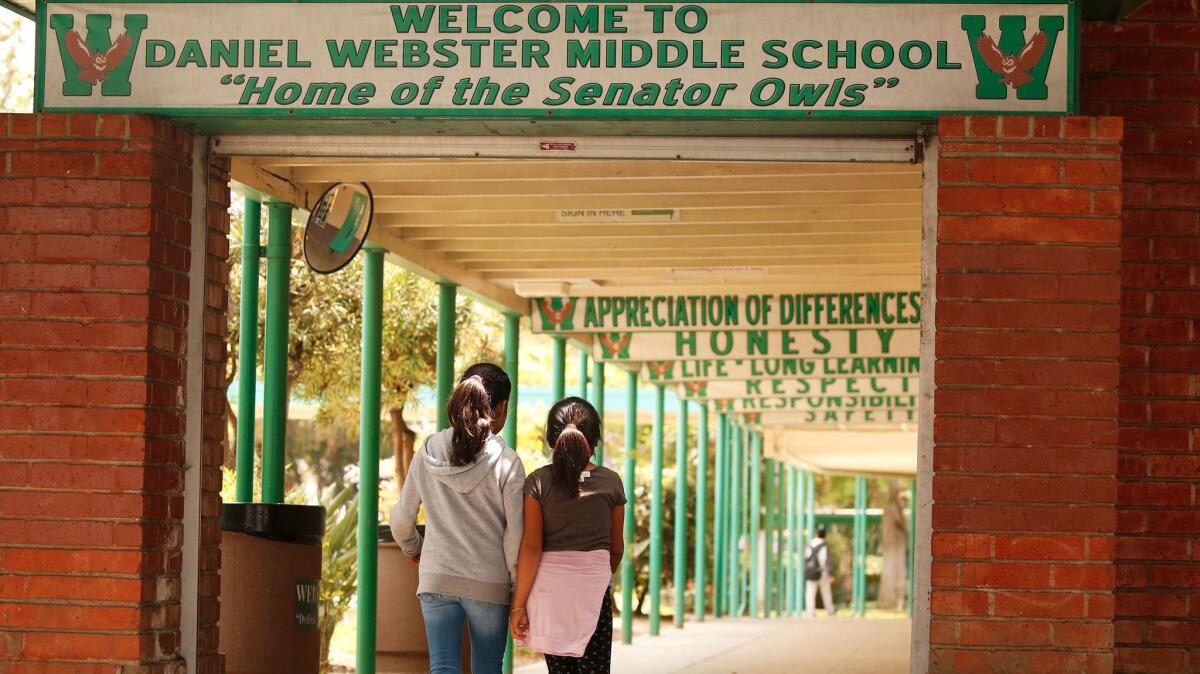 On a shaded Westside street nestled just below the curve where the 10 meets the 405, two different visions of how to teach students in Los Angeles sit side by side.
Daniel Webster Middle School is a traditional public school, serving about 430 students both from the neighborhood and elsewhere in the city. At the edge of the campus, past a small parking lot, sits Magnolia Science Academy 4, a charter school that receives public funding but is independently run. Magnolia serves about 200 students in grades six through 12, with one attraction being smaller class sizes.
Next year, a second charter school, Citizens of the World Charter Mar Vista, will join the campus, placing kindergartners in classrooms next to Webster's preteens.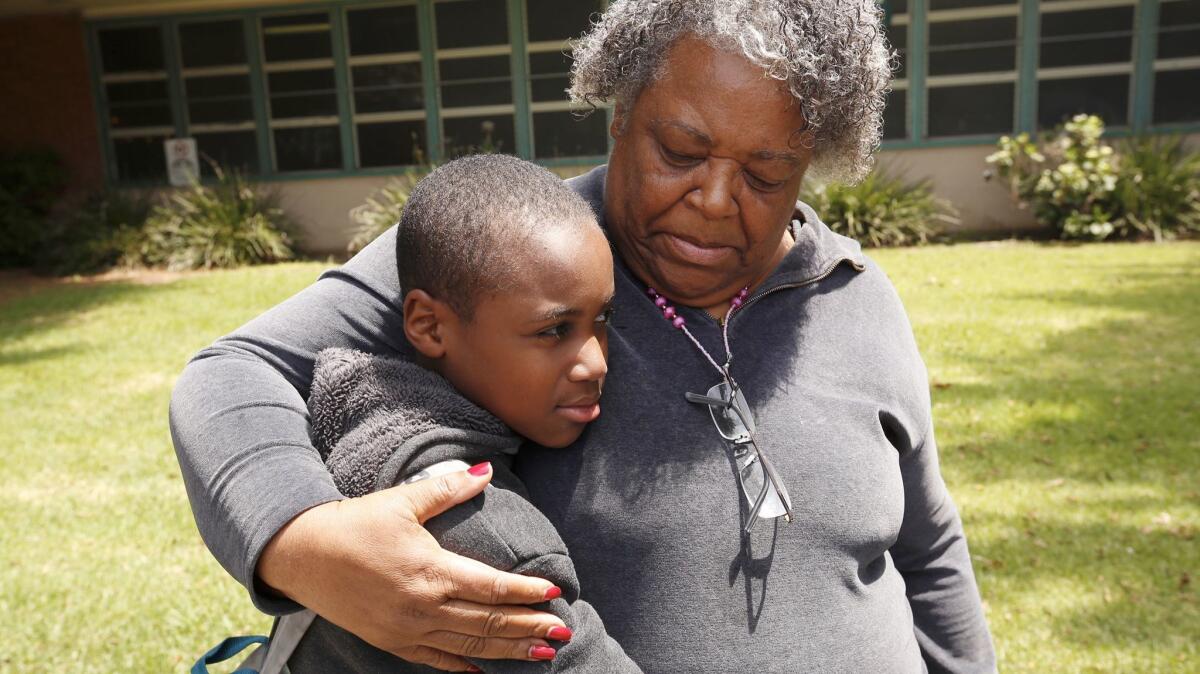 This has been the way of L.A. schools in recent years as charters have expanded at a rapid clip. The Los Angeles Unified School District already has more charters and more charter students than any other school system, though they still account for only about 16% of enrollment.
But Tuesday's watershed election — which gave charter school supporters their first majority on the Los Angeles Board of Education — could accelerate that growth. Charter forces have said they want to dramatically increase the number of schools in the next few years and are in the process of raising the money to do so.
The election results have brought both hope and some fears to the Webster campus and other schools across the city. Some believe the changing politics will provide more choices for educating their children. But others worry what might happen to L.A. Unified's traditional schools and said they are alarmed by the huge spending by pro-charter forces. The record spending topped $14 million, much of it raised by charter supporters.
Mark Kleger-Heine, executive director of Citizens of the World Charter's Los Angeles region — which has faced opposition from a number of public school communities that were supposed to share their campuses — said it's too early to know what, if any, changes the majority pro-charter board could bring to L.A. schools. His approach to working with the district will remain the same, though.
"The goal that I have probably hasn't changed … [that] all students have access to a great education and access to a school that meets their needs," Kleger-Heine said.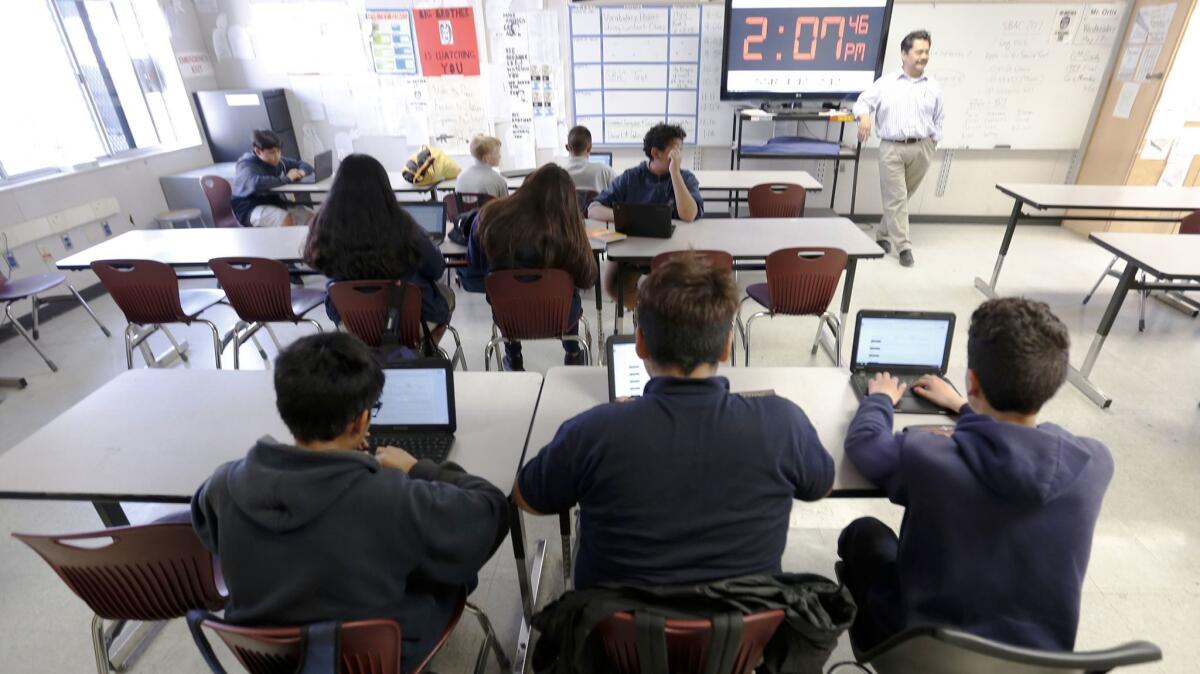 A charter-majority school board would most likely put up less resistance to new charter schools and could make it easier for existing charters to have their five-year operating agreements renewed. Charters also could get increased access to district-owned classrooms such as the ones at Webster and to school construction money controlled by L.A. Unified.
Charter supporters say these schools offer high-quality choices to parents whose neighborhood campuses are plagued by low student achievement and other problems. Charters have proved popular with many parents, and some have waiting lists.
Charter critics question the claims of success and assert that the loss of students — and the funding that comes with them — imperils the ability of the district to offer full services to parents of children in traditional schools, including those with moderate to severe disabilities.
Because of a California law requiring school districts to rent empty classroom space to charters, traditional public schools and charters often are forced together. That's the case with Magnolia and Webster in the middle of L.A. Unified's Board District 4, where charter supporter Nick Melvoin ousted union-backed incumbent Steve Zimmer on Tuesday night.
Corianne Cook, a sixth-grade Webster teacher, said the election results made her feel like crying.
"I feel like I was betrayed by many of the community members that want to pretty much undermine and dismantle the union and what we stand for," Cook said. Most charter schools lack the teacher protections that district schools provide.
"I didn't vote; I didn't have the opportunity," said parent representative and Webster mother Cecy De La Torre, who doesn't live within District 4. "What I woke up thinking was, the people have spoken. From today forward, we're going to take whatever negativity comes and turn it into a positive."
The Webster parents tried to make it known that they did not want Citizens of the World to join the campus. Kindergartners will be taking five rooms in the main Webster building full of middle school students, blurring the separation of space. Currently, only two Magnolia classrooms are on the Webster side.
They also said they felt Webster was in the beginning phases of a revival, with a new magnet program opening and a higher projected enrollment for next year — and that giving space over to a charter school might stunt its growth.
Angela Rodriguez, whose daughter is in sixth grade at Webster, said she wishes voters would have chosen board members who want to fix the district from within instead of committing to charter schools.
Magnolia Public Schools is a charter network with 10 schools around Southern California. Its first was established in 2001, and it's been embroiled in drama stemming from its practice of bringing teachers from Turkey on temporary work visas. The network was accused of bad money management before Caprice Young came on as its chief executive in 2015.
Young, who served on L.A. Unified's school board from 1999 to 2003, said the outside money funding both sides in the school board races was disheartening. But she said she hoped the pro-charter shift in the school board would be a good thing for all students.
"We need a new vision for education in Los Angeles ... that really embraces the creativity of all of our educators and allows the flexibility for all of our educators to create programs that are unique for our students," Young said. "That's where our new … board members are going to take the district if they are able to convince their peers."
Multiple people at Magnolia, which has shared the campus with Webster since 2009, described the relationship between the two schools as "neutral." The students have separate entrances, the parents don't interact and the administrators mostly communicate about when and how to share the space.
Magnolia parent volunteer Sofia Aquino, who has a son in 10th grade and another child who graduated from the school, said she hasn't talked to other parents about the election. She doesn't think having a pro-charter board will affect her child's education, she said, but it could increase support for charters generally.
Lisa Ross worked as a teacher and data coach in L.A. Unified schools for nine years before becoming the principal at this Magnolia campus.
She said all Magnolia parents received a robocall reminding them to vote, but it was nonpartisan.
As for her, "I don't let stuff that's going on outside affect what we're doing for our kids inside the boundaries of our schools," she said.
Melvoin said Wednesday that he wants to improve L.A. Unified's process of allocating classrooms to charter schools. "There's no intentionality in getting the schools to work together," he said.
To read the article in Spanish, click here
Times staff writer Howard Blume contributed to this report.
Twitter: @Joy_Resmovits
Twitter: @Sonali_Kohli
Sign up for Essential California for news, features and recommendations from the L.A. Times and beyond in your inbox six days a week.
You may occasionally receive promotional content from the Los Angeles Times.