L.A. school board sets a new goal: Prepare every grad to be eligible to apply for Cal State or UC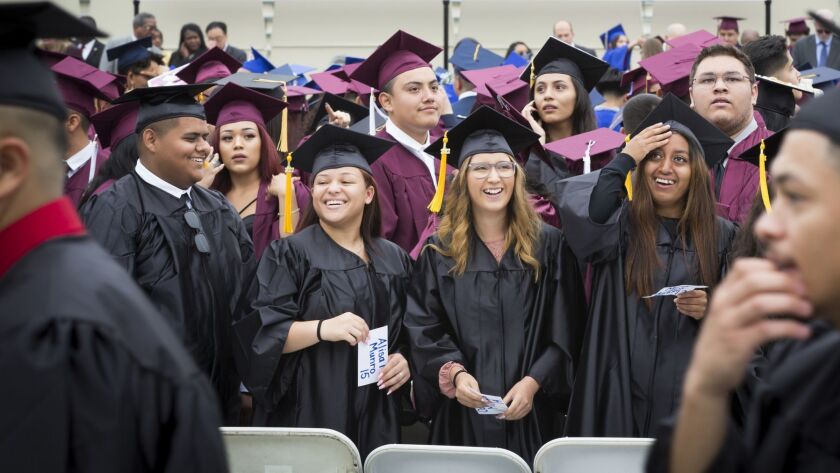 Last month, Los Angeles' school board president proposed a spate of highly ambitious mandates aimed at ensuring that every district graduate be eligible to apply to one of the state's public four-year universities by 2023.
By the time the L.A. Unified school board unanimously approved the resolution Tuesday, the original language had been watered down. The goal is no longer that in five years 100% of students meet the long list of benchmarks, which include not just college eligibility for graduates but first-grade reading proficiency and English fluency by sixth grade for all students who enter the district in kindergarten or first grade speaking another language.

For the record:
10:10 a.m. July 2, 2018L.A. school board: An article in the June 13 California section about ensuring that school district graduates can be eligible to apply to state four-year universities referred to an education advocacy nonprofit group as Educators 4 Excellence. Its name is Educators for Excellence.
The original college-readiness goal, for example, called for "100% of all high school students" to be eligible to apply to one of the state's four-year universities. Now the goal seems to offer more wiggle room: "Prepare all high school graduates to be eligible to apply to a California four-year university."
It's not clear how much improvement schools would have to make for every graduate to be eligible for a Cal State or University of California campus. That's because there isn't a clear baseline.
Board President Monica Garcia had to correct an error in the resolution during the meeting. The district estimated that 56% of all students in the class of 2017 earned a C or higher in the classes necessary to apply to Cal State, she said, not 56% of all those in the class who graduated.
Just getting Cs in those classes also doesn't guarantee Cal State eligibility. Students with grade point averages below 3.0 also need to hit certain minimum SAT or ACT standardized test scores. In the 2016-17 school year, 46% of students in the class of 2017 took the SAT, district spokeswoman Barbara Jones said. She could not provide numbers on how many had taken the ACT.
In introducing the resolution Tuesday, Garcia said, "Education is the pathway out of poverty, and it does interrupt cycles of oppression."
Public speakers focused on the need for high expectations and resources for all students, regardless of ZIP Code, race or ethnicity.
"No student should have to fight to not slip through the cracks of an unjust education system," said Kevin Ramirez, a program coordinator for the education advocacy nonprofit Educators 4 Excellence, part of the coalition that pushed for the resolution.
Ramirez said that when he was an L.A. Unified high school student, a counselor dismissed his goal of going to the University of California. It took supportive staff at a continuation school, he said, to help him reach UC Berkeley.
Even though he voted for the resolution, board member George McKenna pointed out persistent achievement gaps between white students and students of color, and said he had doubts that the district would be able to achieve the resolution's goals.
"I would rather work with my colleagues to develop a thoughtful and substantive strategy rather than a document … that may go down as another disappointment," McKenna said.
Supt. Austin Beutner agreed that words are not enough.
"L.A. Unified has to make changes and do things differently in order to make progress in these areas," he said.
Reach Sonali Kohli at Sonali.Kohli@latimes.com or on Twitter @Sonali_Kohli.
---
The stories shaping California
Get up to speed with our Essential California newsletter, sent six days a week.
You may occasionally receive promotional content from the Los Angeles Times.