Cal State Northridge students rally to protect cross-cultural courses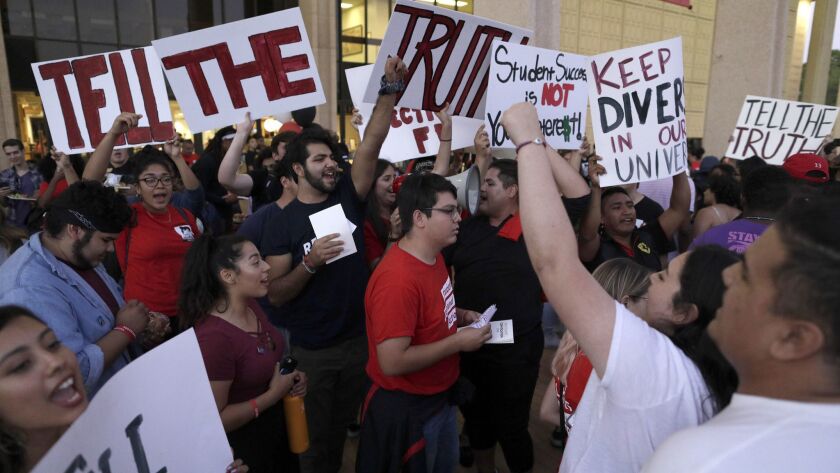 Cal State Northridge senior Angelo Mutia is a straight man who admits he's used a slur to describe gay men. He's joked about transgender people. He's dismissed as "ridiculous" any gender identities besides male and female.
His attitudes changed, he said, two years ago, when he took a class to fulfill a campus requirement for coursework in comparative cultural studies.
In his gender and women's studies class, he learned about LGBTQ struggles, the spectrum of human sexuality and how insecurities about his own masculinity led him to denigrate others.
"I didn't realize how homophobic I was, but this is what this campus loves to teach: how to interact in a diverse world," Mutia said.
Mutia is among the students and faculty members now worried that their university's rich array of courses on gender, race and ethnicity could be threatened by systemwide rules concerning graduation requirements. Many of them protested Thursday, disrupting an outdoor welcome ceremony for new students at Oviatt Lawn outside the main library. They interrupted speakers in academic regalia with chants against the rules, pumped their fists and waved signs that read "Keep Diversity in Our University" and "Defend Sacred Knowledge."
Cal State administrators say there is no threat to the courses.
Last year, Cal State Chancellor Timothy P. White issued a revised executive order to clarify the system's general education course requirements and, in part, to bring all 23 campuses into alignment with them.
Northridge had developed some of its own policies over the years. It required that all students take at least two courses about gender, culture or languages of other peoples; most other campuses require only one course in those areas. The campus gave students freedom to fulfill upper-division general education requirements with a broad range of courses; White's order specified one course in science, one in the arts or humanities, and one in social sciences.
Among other things, White wanted to streamline graduation requirements and make sure that students who transfer from one campus to another don't have to fulfill different or additional requirements, according to a spokeswoman with the chancellor's office.
But Northridge opponents saw White's order as "cookie-cutter" education imposed from the top, a threat to campus diversity and independence. White eventually compromised, allowing CSUN to retain its own policy on diversity classes.
"Diversity is in the DNA of the CSU and we are not taking that away," said Cal State spokesman Mike Uhlenkamp. "We believe in this."
Some Northridge faculty and students, however, are concerned that the systemwide course requirements will narrow opportunities for students to take comparative cultural courses. If students have less room in their schedules for culture courses, they say, enrollment could drop and classes could be canceled, diminishing the breadth of campus offerings.
"We're concerned that this will shift resources away from ethnic, gender and queer studies and reduce access for students to these classes," said Kathryn Sorrells, a communication studies professor who co-chaired a campus task force this year on the issue. "Given the unpredictability, the executive order is experienced as an assault on the struggles, communities, histories and knowledge of students of color."
Stella Theodoulou, Cal State Northridge's interim provost and vice president for academic affairs, acknowledged that enrollments could shift. But she said ethnic and cultural studies departments all have courses that students can take to meet the systemwide requirements.
"We understand that there are still questions about implementation," she said in a statement. But campus leaders, she said, "are all absolutely sincere in CSUN's commitment to the university's comparative cross-cultural studies programs and the positive impact they have not just on our students but the community at large."
White's order took effect this fall; Northridge was given a one-year extension to meet all requirements.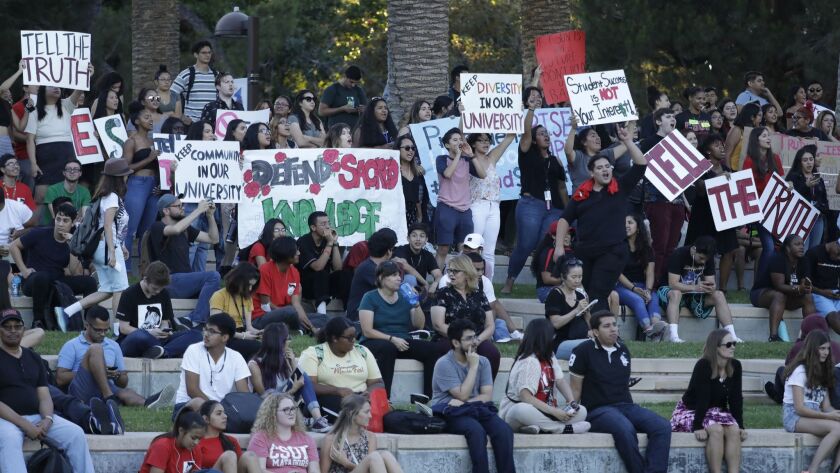 This year, the San Fernando Valley campus of more than 38,000 students is offering about 135 courses in comparative cultural studies. Subjects include Asian American immigration, African American personality development, American Indian philosophy, Armenian women, the Central American diaspora, modern Italian culture, European geography, Jewish history, Middle East civilization, queer health and disability studies.
Several student protesters described how the courses dramatically influenced their perceptions and inspired their activism.
Christian Valenzuela, a senior who emigrated from Mexico when he was 4, said he was raised with ignorance about Asian Americans. But he learned in Chicano and Chicana studies courses that Filipinos and Mexican farmworkers struggled together and that Chinese laborers were attacked and eventually banned from entry into the United States in the late 19th century.
"I identify so much more now with Asian American communities because we've had the same struggles," he said.
Karen Loong, a senior, said the courses changed her career ambitions. Loong planned to become a lawyer until she took her first Asian American studies course. She was stunned to learn about Vincent Chin, a Chinese immigrant who was beaten to death in Michigan in 1982 by two men who thought he was Japanese and blamed him for layoffs in the auto industry. The attackers were convicted of manslaughter.
After taking the course, Loong switched her major from political science to Asian American studies. She now wants to join a nonprofit to help victims of violence and promote civil rights.
A course on "Men, Masculinity and Patriarchy" made Brittney Harvey, a senior, more empathetic toward men. After learning that close male friends in the 1800s used to hold hands and link arms, she said, she realized that society's current norms of masculinity have deprived many men of the chance to express such intimacy.
"The course made me realize that everyone is a victim, even men," she said.
Crystal Rose Waters, a third-year transfer student who watched the protest on Thursday, didn't need to be convinced of the protesters' arguments.
"There's value in those courses, just to be a better human," said the music therapy major of Slovakian, German, French, Irish and Scottish descent. "Isn't that the whole point of college — to learn to function in society surrounded by other cultures?"
Twitter: @TeresaWatanabe
---
The stories shaping California
Get up to speed with our Essential California newsletter, sent six days a week.
You may occasionally receive promotional content from the Los Angeles Times.