Grading L.A. Unified Supt. Michelle King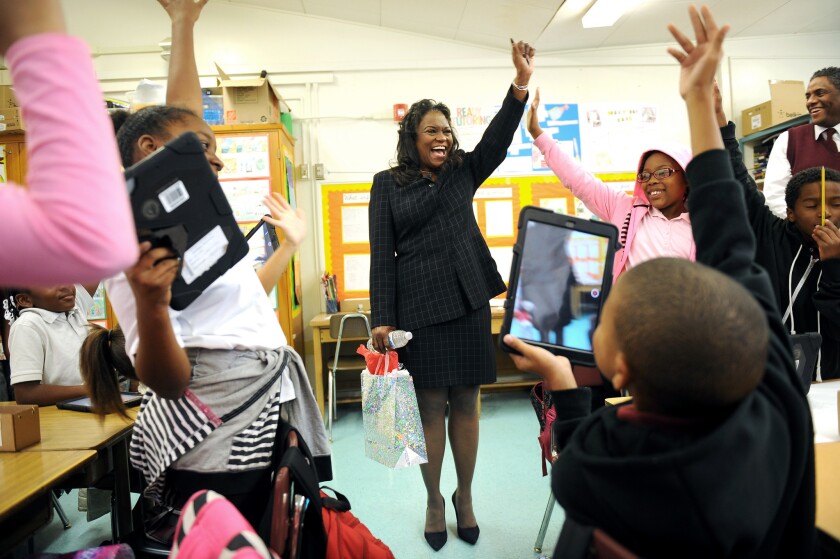 L.A. Unified Supt. Michelle King has been in office for a year.
But figuring out how to assess her performance on the job is difficult.
The school board, in selecting King, did not specify particular measures by which it would evaluate her, and the plans she has made thus far have been broad.
In December the superintendent released the latest version of her three-year strategic plan, with a goal of reaching 100% graduation. The document lays out targets for the district's test scores, attendance, suspension rates and parent involvement, but it offers few concrete details about how King will achieve those goals. She said her next step is to create implementation plans.
Moving forward, the board will use the goals in King's plan to evaluate her performance, said school board member Ref Rodriguez.
A year in, L.A. Unified's insider superintendent has made no big waves »
Here are some of the changes King plans to make in the next three years. The Times will continually update this page with information, tracking the superintendent's progress throughout her tenure.
Graduation rate
In 2016, L.A. Unified's high school graduation rate of 75% marked an all-time high for the district. It was cause for celebration, but it came at an unexpected time, not long after the district put in place tougher graduation requirements.
When it was estimated in the middle of the school year that those new requirements left close to half of high school seniors in danger of not earning diplomas, the district stepped in. King stepped up a districtwide push to use new "credit recovery" options — online and teacher-led classes that would let students make up credits quickly.
King wants the graduation rate to reach 81% by the 2018-19 school year. She plans to achieve this through a combination of credit recovery (the district committed another $15 million for the current school year), better tracking of student progress and increases in the number of magnet schools, linked learning and dual-language immersion programs.
Early Education
In the 2015-16 school year, 66% of second-grade students met early literacy benchmarks. King's goal is to increase that to 81% by 2018-19. She and others see this as a vital part of raising the graduation rate, as students who fail to master reading in their early years often don't catch up later.
King's plan includes expanding access to preschool and prekindergarten for all students, creating a rating system for early education programs, and bringing in a preschool curriculum that includes "school readiness behaviors," literacy and math concepts.
Attendance
In 2015-16, 69% of L.A. Unified's students attended school at least 172 out of the 180 school days. King's plan is to increase that to 77% in three years. While studies show that increased school attendance can lead to higher academic achievement, boosting attendance is also a way for the district to address its budget crisis as the district receives funding for each student who attends school each day.
King's plan to increase attendance includes encouraging parental involvement in schools, increasing the availability of online marketing and "promotional materials," and creating safe school environments.
School safety
The district's suspension rate is already low, at 0.6%. The goal is to reduce this further to 0.3% by 2018-19. The district has cut the suspension rate in half in recent years in part by using restorative justice practices, which try to resolve conflicts through talking circles and other methods to build trust. King has committed to spreading restorative justice to every school by the 2018-19 school year. Some advocates and students say that restorative justice isn't being implemented effectively at every school.
State test scores
L.A. Unified students perform worse than their peers throughout California on state standardized tests. King aims to increase the number of students meeting state standards by eight percentage points. Although this would be an accomplishment, it would still mean that fewer than half of students would test at grade level by 2019.
Times reporters Anna M. Phillips and Howard Blume contributed to this report.
Reach Sonali Kohli at Sonali.Kohli@latimes.com or on Twitter @Sonali_Kohli.
---
The stories shaping California
Get up to speed with our Essential California newsletter, sent six days a week.
You may occasionally receive promotional content from the Los Angeles Times.