Must Reads: A Palmdale charter school borrowed nearly $30 million to build a new campus. Then it got shut down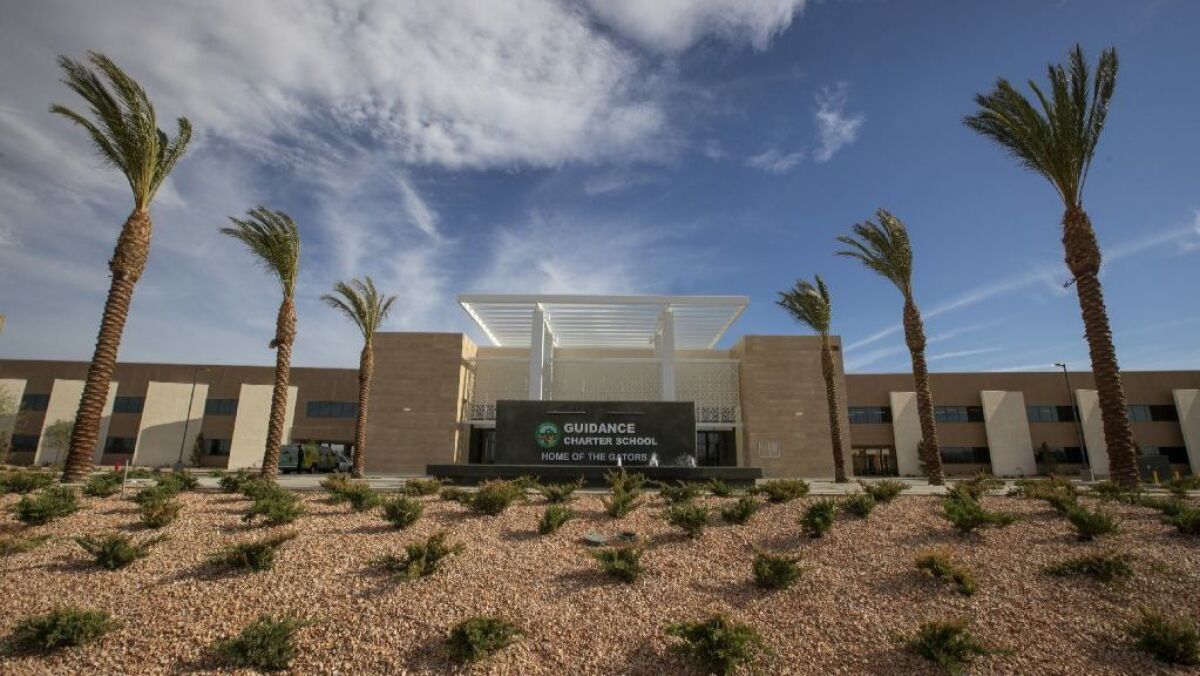 For the last year, construction on the corner of Avenue R and 40th Street East in Palmdale hummed along as a massive school campus took shape.
On its Facebook page, Guidance Charter School posted photos of students holding shovels adorned with yellow ribbons and contractors pouring the foundation for what would be an 87,000-square-foot campus with a swimming pool, library and playing fields — paid for with nearly $30 million in bonds.
Less visible was what was happening behind the scenes, as the local school system raised alarms that threatened Guidance's existence.
The Palmdale School District's board of trustees, which first authorized Guidance 17 years ago, voted in January to close the school, citing concerns about poor academic performance and questionable financial operations. As the new campus rose, charter officials launched a series of appeals, the latest of which came before the Los Angeles County Board of Education this week.
On Tuesday, the board rejected Guidance's last-ditch effort to open for the 2018-19 school year. Unless a court overturns Palmdale's decision, Guidance Charter School will not be able to enroll students — or receive the state funding that comes with them. But it still will be responsible for repaying the debt.
Supporters say the school is a victim of a process that puts decision-making power in the hands of the very districts that compete with charters for students and funding. Opponents see it as proof that charter schools, regardless of the quality of the education they offer or the extent of oversight they receive, are able to access bond money too easily.
The school's executive director, Kamal Al-Khatib, blames its closure on the Palmdale School District, which he said purposely set the charter school up for failure in order to win students back. In the spring of 2017, less than a year before voting not to renew the school, the district had declared that Guidance was on solid ground, he said.
"They gave the bondholders assurance that the Guidance Charter School is in good standing. And then when we submitted our charter, they denied our charter," Al-Khatib said. "It was their plan from the beginning."
District officials dismissed these claims. "We are not anti-charter," said Nancy Smith, president of the board of trustees. "We have two other charters. The other two are doing great. This one is not."
Guidance was founded in 2001 by Muslim leaders who promised to offer students a secular education and Arabic instruction.
The school leased space from a mosque owned by the American Islamic Institute of Antelope Valley, a religious organization run by the charter's founder and its executive director, which would later prompt a host of conflict-of-interest concerns. Guidance's ties to the mosque — and the thin partitions erected to separate its students from a prayer room — drew criticism from the American Civil Liberties Union and the Anti-Defamation League that there was not enough of a wall between church and state.
Regardless, the school grew. It had opened with 65 students but by last year had about 900 in grades K-12. And every five years, when its right to operate came up for renewal, the Palmdale school board voted to keep it open. Guidance also rented classroom space from the district.
In 2017, with assurances from the district that it was not in danger of being closed, Guidance set about building a permanent campus that could hold more than 1,000 middle- and high-school students.
To finance construction, more than $29.5 million in mainly tax-free bonds were issued by the California Statewide Communities Development Authority, a public joint-powers authority. This money was then lent to the charter school, which agreed to pay off the debt over the course of several decades. The school's leaders expected that the bonds would cover most of the project, which they thought would cost $35 million.
According to financial documents that detailed the terms, investors were warned that Guidance had been the subject of several inquiries by the Palmdale School District, including one regarding invalid or improper teacher credentials. The documents noted, however, that in February 2017 school system officials had confirmed the school was "in good standing with the District, other than with respect to the teacher credentialing issue."
The authority did not respond to requests for comment.
It is not uncommon for California charter schools to borrow money through bonds to build campuses. But unlike public school districts, they don't have access to additional public revenue streams such as parcel taxes when they have to find a way to pay back creditors.
When district officials voted not to renew the charter, they cited Guidance's lagging academic performance as their primary concern.
Although its students' scores on the state English exam in 2017 were roughly comparable to their peers in the district, according to Palmdale, math was a different story. In that subject, scores at Guidance were worse than those at most other schools in the area; none of the charter school's 11th graders tested at grade level.
Many of Guidance's students didn't graduate, according to county officials, who said its drop-out rate was about 23% for the class of 2016. Palmdale officials found that even when students did graduate, many were not prepared to go to four-year colleges. According to the district, of 32 students who graduated from Guidance in 2014 and 2015, 24 had not completed the courses required for admission to the University of California or California State University systems.
The district also flagged Guidance's fiscal operations and governance structure. It accused Al-Khatib of having financial interests in several of the school's transactions, including its lease with the American Islamic Institute and a roughly $2-million loan from a related company called Guidance Charter School Services LLC.
Guidance's lawyers disputed the claims and said Al-Khatib's role at the mosque was voluntary and unpaid.
The charter's leaders also took issue with the district and county's data, saying Guidance's information had been entered incorrectly by the charter school's own staff. They claimed to have a graduation rate of 97%, a figure that county officials said is actually 73%.
"They tried to manipulate the data," Al-Khatib said.
The school district's findings were taken seriously enough that Guidance's appeals to county and state officials failed.
In June, at the end of the school year, Guidance's charter officially expired and the school closed. Families had no choice but to move on. Many parents decided to put their children back into the district-run schools they had tried to leave, while others looked for open seats at other charter schools in the area.
Marcia Ramos' son and daughter attended Guidance for years, but she said she had to enroll them in their local schools this year or risk accusations of truancy. Palmdale students went back to school Aug. 15. Like Al-Khatib, Ramos blames the Palmdale school system, which she said didn't like the charter competition.
"I'm going to tell you straight — it was politics," she said. "Palmdale was losing students."
Saddled with debt, Guidance's leaders did not give up. They sued the Palmdale School District in an attempt to overturn its decision. A trial date has not yet been set. They also applied to open the new campus as a new school, Guidance Charter School 2, under the authorization of the Antelope Valley Union High School District, which encompasses the city of Palmdale.
When that district rejected them, they went to the L.A. County board.
It is unclear why the Palmdale district finally moved to close down Guidance after repeatedly renewing its charter. On Tuesday, Smith blamed former district Supt. Roger Gallizzi, who retired in 2013.
"What I have been told is the former superintendent told the staff to ignore it and let it go," she said, referring to the charter school's problems.
Gallizzi called that "a false statement."
"I have been retired for five years," he said. "If this was really an actual problem, why have they allowed it to go on for five years? A charter school can be revoked at any time."
Although Guidance's charter is no longer valid, the organization that operated the school is still responsible for a multimillion-dollar debt and the empty campus that Al-Khatib estimated is 95% complete.
It's unclear how long the organization has before it runs out of cash and defaults on its payments.
Al-Khatib said he is focused on finding a way to reopen his school and retain ownership of the campus, possibly by getting another charter to rent it. Bankruptcy is not an "immediate option," he said, but it could be "a last resort."
"We're still looking for opportunities," he said. "It is a long shot, but there's nothing impossible."
Twitter: @annamphillips
---
UPDATES:
4:40 p.m.: This article was updated to clarify that Guidance Charter School claimed that its own staff had incorrectly entered data about its students.
This article was originally published at 3:20 p.m.
The stories shaping California
Get up to speed with our Essential California newsletter, sent six days a week.
You may occasionally receive promotional content from the Los Angeles Times.