L.A. Community College trustees assailed for seating a Latino man over African American women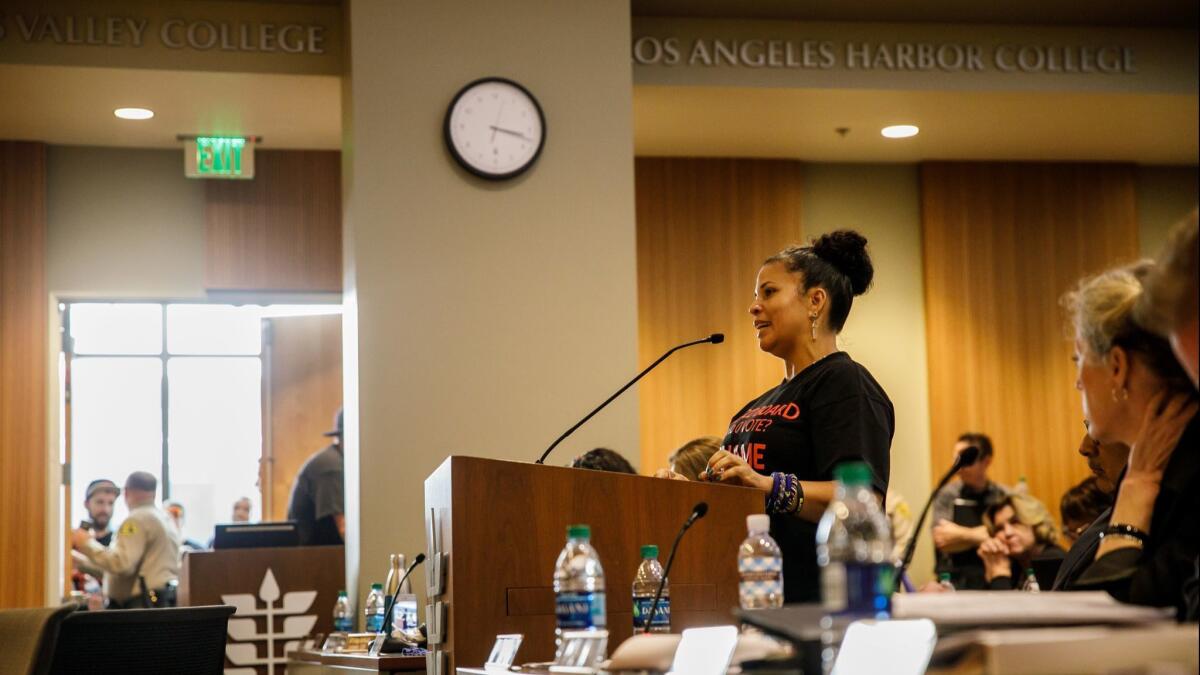 The board room was packed. The anger was palpable. For more than an hour, speaker after speaker blasted Los Angeles Community College District trustees this week for selecting a Latino man over African American women to fill a vacant board seat.
The board's choice of David Vela, a former Montebello school board member with deep political connections, has left the seven-member governing board of the nation's largest community college district with only one woman and no African American trustee.
Melina Abdullah, a Cal State Los Angeles professor of Pan-African Studies and leader in the Black Lives Matter movement who was one of the candidates passed over, delivered fiery warnings to trustees during public comments that activists would mobilize against them for their actions.
"This is erasure of black representation," she said. "It's absolutely shameful."
Four of the trustees contacted Thursday said they valued diversity and supported one or more of the African American candidates — but could not get consensus on the fractured board to select any of them in their vote last month.
Trustee Andra Hoffman nominated Abdullah, but only board colleague Steve Veres joined in backing her. Trustee Scott Svonkin said Abdullah lacked experience with community colleges and K-12 education, while Gabriel Buelna said her confrontational tactics with Mayor Eric Garcetti and the Los Angeles Police Commission were "a little concerning."
(Addressing those concerns at the meeting, Abdullah fired back that aggressive tactics had won civil rights, voting rights and police reforms.)
Svonkin nominated Christine Burke Adams, an African American educational consultant who has worked with both public schools and such charter organizations as Green Dot, but won support only from Veres. Buelna said he didn't support her in part because the faculty union did not.
Some faculty members were concerned about Burke Adams' charter school ties, said Sandra Lee, a Los Angeles Southwest College psychology professor who helped interview candidates for the Los Angeles College Faculty Guild. She said the union's top choice was Abdullah.
Buelna said he would have supported two other prominent African American women, Valerie Shaw and Dallas Fowler, but neither was nominated.
Board President Mike Fong and trustee Ernest Moreno were not available for comment.
In the end, trustees unanimously selected Vela to finish out the term of Sydney Kamlager-Dove, an African American who was elected to the state Assembly. As a result, the board now has four Latinos, two whites and one Asian American.
Among the nine-college district's 148,000 students, about 58.5% are Latino, 14.8% white, 9.5% African American and 7.53% Asian, according to 2017 state data.
"It's a shame we had a real opportunity to appoint an African American woman and we didn't," Hoffman said. "I do understand the outrage."
Protestors minced no words at the meeting, accusing board members of cronynism, racism, sexism and Trumpism. Some wore black T-shirts printed with "Shame on you" and called on Vela to step down.
"The LACCD probably educates more African American students than any community college district in California, and it's just disheartening not to have a voice and seat at the table," Lee said.
Veres said the board is considering shifting from at-large elections to single-member district ones, a move that could promote broader representation.
But Vela brings diversity as the board's first openly gay trustee, which some hailed as a milestone.
"His appointment is historic," Svonkin said. "I believe David can bring together various factions of the board."
Jack Hadjinian, Montebello mayor pro tem, called Vela a "man of integrity" with "good moral character" who had bridged the divide between the city and school district with his collaborative style.
Vela has worked as an aide to a host of Democratic politicians, including former Assemblywoman Jackie Goldberg and former County Supervisor Gloria Molina. But when an aide to state Sen. Ricardo Lara (D-Bell Gardens) stepped to the podium to deliver congratulations, some in the crowd booed.
For his part, Vela said he understood the pain of protesters and bore them no ill will. But he said he did not intend to step down.
"Right now, I'm going to call for unification," he said. "I want to prove I can represent every student and population."
teresa.watanabe@latimes.com
Twitter: @teresawatanabe
Sign up for Essential California for news, features and recommendations from the L.A. Times and beyond in your inbox six days a week.
You may occasionally receive promotional content from the Los Angeles Times.