L.A. school board seat could tip political scales on charter movement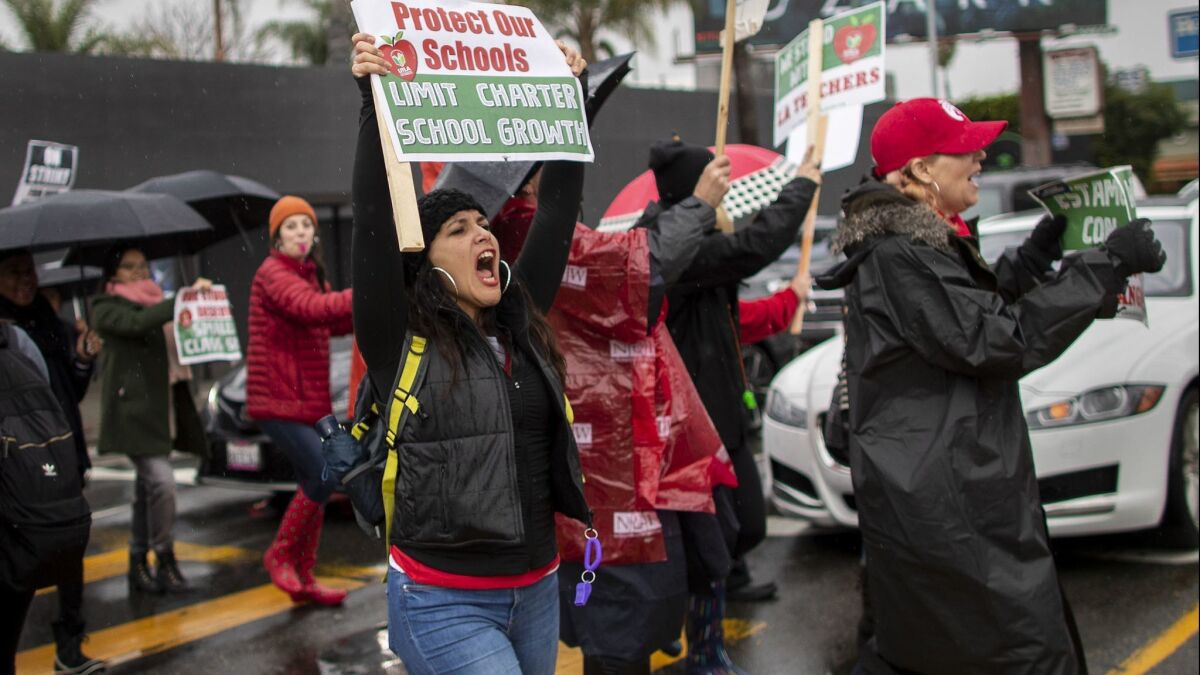 Los Angeles teachers drew widespread support when they went on strike in January, but public commitment to their cause will be tested Tuesday in an important school board election.
Ten people are vying to fill the open District 5 seat, and the teachers union is walking neighborhoods and mailing flyers for Jackie Goldberg — a veteran elected official who came out of political retirement to run. A victory for Goldberg – a front-runner — could tilt the direction of the Board of Education toward United Teachers Los Angeles.
Other candidates also have powerful endorsements and financial backing. Former charter-school leader Allison Bajracharya has gotten help from charter-school supporters and Heather Repenning, who has spent years in city government, has the backing of L.A. Mayor Eric Garcetti and the union that represents most non-teaching school district employees. Graciela Ortiz has raised the most campaign funds of the Latino candidates vying to represent a district that was carved out to help elect a Latino.
Meet the candidates running for District 5 of the L.A. school board.
The winner will join a board that is split on how to deal with the growing number of privately operated charter schools — which compete with district schools for students — and on how to address low achievement and declining enrollment in the district. The nation's second-largest school system also faces serious long-term financial challenges.
Board members also should soon see the long-awaited strategic plan of Supt. Austin Beutner, who was hired last May largely with the support of those helped into office by charter-school enthusiasts. Beutner has insisted that his primary focus is on making public schools more successful for all students. He says his plan will give schools more control over decisions and resources. Critics have expressed concerns that consultants brought in to advise him have favored aggressive measures in other school systems — such as converting low-performing traditional schools into charters.
The candidates are divided on Beutner, though most express little enthusiasm for his performance to date.
District 5 includes neighborhoods north of downtown and then cuts a narrow path east of downtown to the cities of southeast L.A. County. The seat opened up when Ref Rodriguez resigned last July after pleading guilty to violating campaign finance laws. The winner will serve the remainder of Rodriguez's term, through 2020. If no candidate claims a majority, the two top finishers will compete in a May 14 runoff.
Although Goldberg would be just one of seven members, she would add to an ideologically divided board a strong voice in favor of containing charter-school growth. Like the teachers union, she supports a moratorium on new charters in the district — which would require a change to state law. (Rodriguez, by contrast, was co-founder of a charter-school organization.)
Bajracharya, a Los Feliz resident, must compete for voters from the same areas of the district where Goldberg is best known: the pro-union, voter-rich enclaves of Los Feliz, Silver Lake, Echo Park and Eagle Rock.
Until she began her campaign, Bajracharya, a Los Feliz resident, was a senior executive at Camino Nuevo Public Schools, a well-regarded charter school network. Her two children attend Franklin Elementary, a traditional public school campus. It would be an oversimplification to cast her as focused on charters, but she opposes a moratorium on new charters. Separately, she sides with those who believe that the district is in serious financial trouble — which the teachers union disputes.
Goldberg says the district's financial perils are overstated but that much more money is needed to provide adequate services to students. The other candidates also want more money for schools.
Goldberg previously served two terms on the school board and is known to be pragmatic despite her strong opinions. In 1987, the teachers union declined to endorse her for reelection, Goldberg recalled, after she was willing to support mandatory transfers of teachers if nothing else worked to fill vacancies at less desirable schools.
The transfers were not ultimately needed and Goldberg won anyway. Local voters subsequently sent her to the City Council and state Legislature.
Repenning is from the same part of the district as Goldberg and Bajracharya. A former public works commissioner, a longtime aide to Garcetti and a district parent, Repenning positions herself as the middle-ground candidate between the charters and teachers union.
The mayor's support has helped her win other endorsements. She is endorsed by Local 99 of Services Employees International, which represents bus drivers, cafeteria workers, custodians and teaching assistants. (Many city employees belong to a sister SEIU chapter.)
Local 99 has emerged as the surprising big spender, kicking in about $850,000 through Sunday — for Repenning and against Goldberg and Ortiz. The teachers union, United Teachers Los Angeles, has spent more than $570,000 on Goldberg.
Unlike in other recent races, charter-school supporters are not the biggest spenders. They don't want Goldberg but they don't have an obvious pro-charter candidate who is likely to win more votes.
Support from the California Charter Schools Assn. could be a mixed blessing for a candidate because the group's political wing pulled out all the stops to elect Rodriguez in 2015. The teachers union also effectively spread the message during the strike that traditional public schools are undermined as more and more charter schools come in — though charter supporters argue that this increased competition is good for students.
Still, Bajracharya has raised significant money from charter-school backers. Through Sunday, her campaign had collected nearly $230,000 — compared to about $200,000 for Goldberg and $287,000 for Repenning.
A New York-based political action committee called Students for Education Reform Action Network, which is associated with charter-school backers, has funded a separate outside campaign for Bajracharya, spending about $117,000.
Ortiz, a school counselor and Huntington Park Council member, has raised about $130,000, far more than other Latino candidates vying for the district's Latino majority. She unsuccessfully tried to get the backing of the teachers union and charters, but her political allies within the Southeast cities have come through in an additional independent campaign with more than $80,000 in spending on her behalf. She also won endorsements from two unions representing school police.
The union that represents principals and other administrators has co-endorsed Goldberg and district principal Cynthia Gonzalez.
The other candidates for the seat are Bell City Council member Nestor Enrique Valencia, college instructors Ana Cubas and Salvador "Chamba" Sanchez, former county Arts Commission member David Valdez and Rocio Rivas, a neighborhood council leader.
Times staff writer Sonali Kohli contributed to this report.
---
The stories shaping California
Get up to speed with our Essential California newsletter, sent six days a week.
You may occasionally receive promotional content from the Los Angeles Times.