L.A. Unified renames first all-girls school after retiring Supt. Michelle King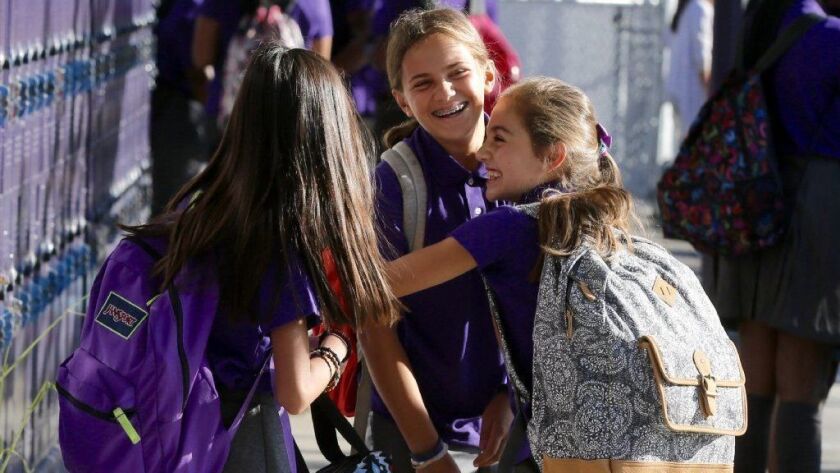 Los Angeles Unified's first all-girls school has been renamed in honor of one of the women who pushed for its founding.
The Girls Academic Leadership Academy, which eventually will serve grades six through 12, used to be known as GALA but will now have a much longer name. Officially, it will be the Girls Academic Leadership Academy, Dr. Michelle King School for Science, Technology, Engineering and Math.
The superintendent announced in January that she had cancer. She will remain on medical leave until her retirement in June.
The board was planning to name a school after her, and King recommended the academy.
The name may be hard to say, but the school is a fitting choice for the namesake of the first black woman to lead Los Angeles Unified School District.
King became superintendent in January 2016, the school board's unanimous insider choice. She sent one of her own daughters to an all-girls private school and pushed for single-gender schools. In 2016, both GALA and an all-girls charter school opened in the district.
Those schools had been approved in 2015, before King took the top job. But school leaders say she pushed for an all-girls school as a high-level district administrator.
King was not at the meeting Tuesday when the school board voted to rename the school, but her three daughters were there to hear district leaders and students talk about her impact.
"This is what happens when you trust in women, when you believe in women, when you support women," her daughter Brittney King said.
King was an L.A. Unified graduate and parent, and worked in the district for more than three decades.
Board President Monica Garcia had a message for current students: "We name schools for kids just like you. We name schools for young people who are willing to love and lead despite any circumstance."
Board member George McKenna said he found the new school name a bit too long, but he expressed his support for and gratitude to King and voted to approve the naming.
"We miss you, we care about you, we care about what you left us with and we will continue your legacy," McKenna said.
Student leaders also spoke at the meeting, saying they were glad their all-girls school now has a powerful woman in its name.
"It's cool because before we were strong … but now we're adding a role model," said Mehrin Ashraf, 15, the school's student body president. "So we're even stronger now."
Reach Sonali Kohli at Sonali.Kohli@latimes.com or on Twitter @Sonali_Kohli.
---
For reporting and exclusive analysis from bureau chief John Myers, get our California Politics newsletter.
You may occasionally receive promotional content from the Los Angeles Times.