California and L.A. Unified graduation rates continue to increase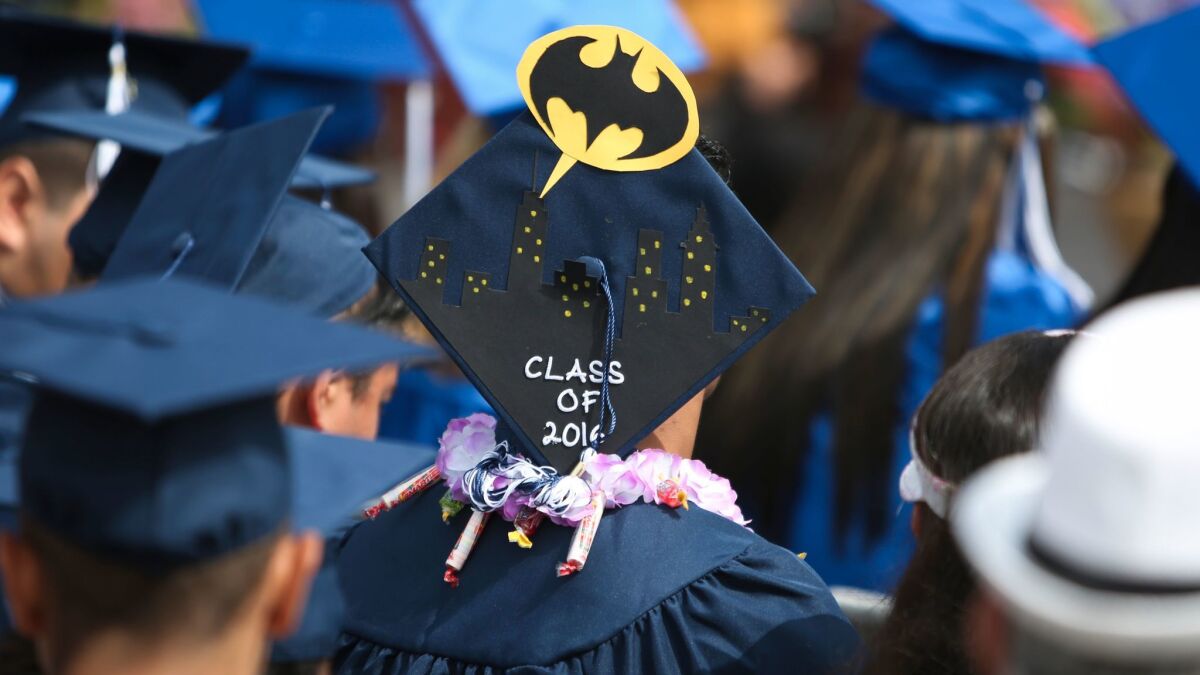 Los Angeles Unified School District's high school graduation rate jumped almost 5 percentage points within a single year, the largest increase in recent history, according to new state data.
The district hit a 77% graduation rate in 2015-16, up from 72.2% the year before, according to the California Department of Education.
Last year the district estimated that 75% of the class of 2016 graduated on time, which already was an all-time high. The state's calculation may be higher because it is able to track down more students who started in the system but transferred out and may have been counted by the district as dropouts.
The state graduation rate was 83.2% last school year, up less than a percentage point. L.A. is inching closer to it.
"This data shows we are closing opportunity gaps and preparing more L.A. Unified students for college and careers, but we still have work to do," L.A. Unified Supt. Michelle King said in a statement. "I expect these numbers to keep rising until we reach our goal of 100 percent graduation."
But high school graduation rates don't tell the whole story, especially with school districts relying on an array of "credit recovery" methods to let students quickly bring up their grades in classes they've failed.
The state should also release the percentage of students who needed remedial help in college and highlight those truly successful districts from which more students are graduating without needing remedial college classes, said UCLA education professor Pedro Noguera.
"While we all should be happy to see graduation rates rising, we also know that it's not necessarily because kids are better-prepared," Noguera said. "The rates of kids being placed in remedial courses is still very high."
In fall 2016, just 62% of California State University freshmen were considered college-ready in both English and math.
"Diplomas should mean that a student has every opportunity to either go to college or find a rewarding career," said Ryan Smith, executive director of Education Trust-West, a nonprofit that advocates for high achievement for all state students. "With the rise of credit recovery, with some questionable rigor standards, we need to make sure we're doing everything possible to provide a quality education for all students."
Disparities in graduation rates by race narrowed slightly statewide for 2015-16, state numbers show.
Black, Latino and Native American students continue to lag behind in the state and in Los Angeles.
School districts such as Oakland, San Francisco and L.A. have increased their focus on helping black students graduate, which may have helped, Smith said.
"We still have work to do to ensure that all black, brown and low-income students and students with disabilities succeed," Smith said.
High-needs students who get more funding from the state — English learners, those from low-income families, and foster youths — still perform worse than the state as a whole. Only half the state's foster youths graduated on time in 2016.
An Education Trust-West analysis found that California schools hire roughly one social worker for every 12,870 students.
Fewer than 500 social workers now work in California schools, Smith said. "We should be investing in more social workers to support foster youth."
To read the article in Spanish, click here
Reach Sonali Kohli at Sonali.Kohli@latimes.com or on Twitter @Sonali_Kohli.
---
Life is stressful. Our weekly mental wellness newsletter can help.
You may occasionally receive promotional content from the Los Angeles Times.