Crash course in credit recovery yields best-ever graduation rate of 75% for L.A. schools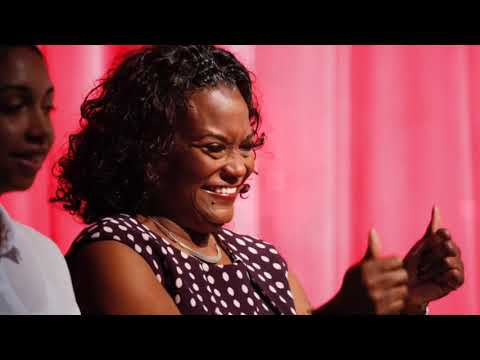 LAUSD Supt. Michelle King gives her first major address.
The star of an annual kickoff event for the new school year in Los Angeles was a number: 75%, the highest graduation rate ever tabulated by the nation's second-largest school system.
That achievement, announced by L.A. Unified Supt. Michelle King on Tuesday at Garfield High School, brought acclaim from an audience of administrators and dignitaries, but also led some to wonder again whether such improvement is real.
The milestone represents a breathtaking turnaround between December and June.
In December, only about half of seniors were on track to graduate under new, more difficult requirements that were taking effect for the first time. But a controversial triage already was underway, employing a lengthy list of programs that specialize in credit recovery."
The aim was to allow students to earn credits for courses they had flunked. Seniors made up for past failures with astonishing speed, even as they also attended regular classes and completed their regular coursework.
"I think there's always room for healthy skepticism," said Pedro Noguera, director of the Center for the Study of School Transformation at UCLA. "When we see kids completing three years of high school in a year through credit recovery, that should raise alarms for people. Are these kids actually getting an education that's going to prepare them for something?"
Even before the credit-recovery binge, many high school graduates — not just from L.A. Unified — were having to take remedial classes once they arrived in college, Noguera noted.
"At the same time, we shouldn't be so skeptical that we don't know when to celebrate some real accomplishments," he added. "And so I think you can do both. You can give credit to the hardworking educators and the kids who made this possible. At the same time you need to make sure this is genuine."
Although last year's 72.2% rate also had broken a record, this year's projected rate is especially notable because of new requirements that, for the first time, include such classes as intermediate algebra. (The state requires only first-year algebra as a minimum standard for a diploma.)
"This is exceeding expectations of those who said our students couldn't do it," King said at Garfield High School during her first "state of the district" address. King rose to the top job in January, but had helped oversee the expanded credit recovery in her previous post, as the district's No. 2 administrator.
Reliable data on historic graduation and dropout rates is hard to come by because the formulas for tabulating them have evolved and improved over time.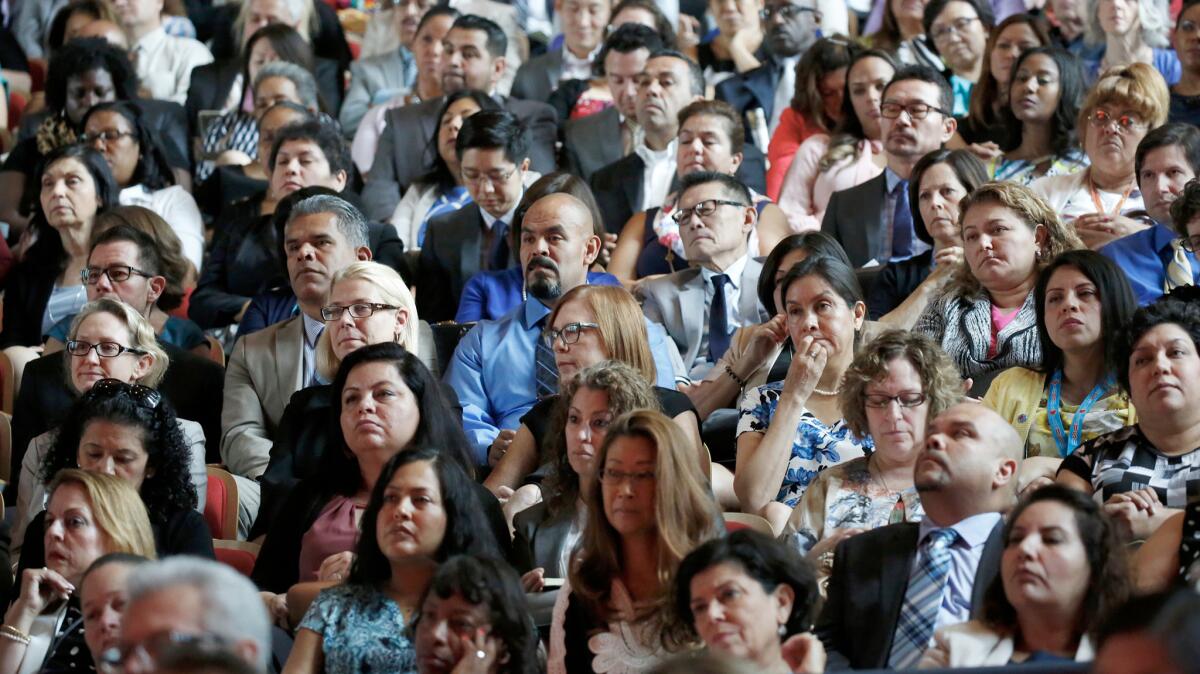 The new graduation standard requires all students to earn a D or better in those courses required to apply to a four-year state college. Even that standard is not sufficient for these colleges, which mandate a grade of C or better in those classes. The set of courses is known as the A to G requirements. (Requirement A is two years of history/social science; B is four years of English; C is three years of approved college-prep math, etc.)
Besides second-year algebra, they include two years of foreign language and a year of a college-preparatory elective such as geography or statistics.
"We know our kids and we know what they are capable of," school board President Steve Zimmer said during remarks before King's speech at the East L.A. campus. "We know 100% of all kids can graduate fully passing the A to G."
The narrative fits a commonsense precept among education reformers: that higher expectations lead to better outcomes. The rising graduation rate also keeps Los Angeles schools in step with the progress other school systems are claiming nationwide. Indeed, L.A. Unified has begun making greater use of credit recovery methods that other school systems have been using for some time.
Although officials have steadfastly defended the district's academic integrity, they present limited data to make their case. Officials still are trying to determine which students took advantage of which credit-recovery options.
They say they hope to have the data in the coming weeks, but the directive from King was first to focus on getting students to graduation. Although no one suggested that any cheating would be tolerated, keeping detailed records was secondary. In some cases, students were allowed to make up work to change recorded grades. All records of the prior grade then disappeared from the district's central data system, according to school site administrators, making it difficult to track such remediation in order to be fully accountable.
Not all the gains were instantaneous. The district's rising performance represents a subtle but ongoing shift from viewing graduation as the responsibility of the student and family to the responsibility of all district employees.
Fifteen years ago, some experts calculated that only half of L.A. Unified's students were graduating, said John Rogers, a UCLA education professor. Since then, he said, there has been real progress, even if there is much more to accomplish.
L.A.'s graduation rate still trails the state average, which in 2014-2015 was 82.3%. Current figures are not yet available.
One of the most commonly used credit-recovery options is Edgenuity, an online program that has gained favor in school systems across the country. Edgenuity classes have been approved by the University of California, but their rigor is not necessarily consistent from district to district.
L.A. Unified, for example, allows students to skip Edgenuity units with a "pre-test" set at a lower standard than in some other school systems.
Even students debate what kind of instruction works best and represents real learning.
Liliana Reyes, 16, said she found the Edgenuity program about as challenging as regular coursework, with certain advantages. The videos were interesting, and she could watch them more than once, at her own pace. And she could email a teacher with questions.
"You log in when you have time and finish as much as possible," said Liliana, who also attended traditional summer classes at Banning High School in Wilmington to make up credits.
Joshua Depaz, 18, said he's grateful that an online option was available for him to quickly make up for academic mistakes he blames entirely on himself. But he wonders whether enough is being demanded of him and others.
"It's pretty easy," he said, after a computer-based session earlier this year at Harris Newmark High School, just west of downtown. "Everything is given to us."
Times staff reporter Anna Phillips contributed to this report.
howard.blume@latimes.com | Twitter: @howardblume
sonali.kohli@latimes.com | Twitter: @Sonali_Kohli
MORE EDUCATION NEWS
How LAUSD successfully tackled the racial divide in 1969
UC Davis chancellor resigns following probe into ethical violations
How did LAUSD spend $450 million? Not on the high-needs students the money was for, state officials say
Sign up for Essential California for news, features and recommendations from the L.A. Times and beyond in your inbox six days a week.
You may occasionally receive promotional content from the Los Angeles Times.