Superintendent's 'listen and learn' tour leaves LAUSD parents with questions unanswered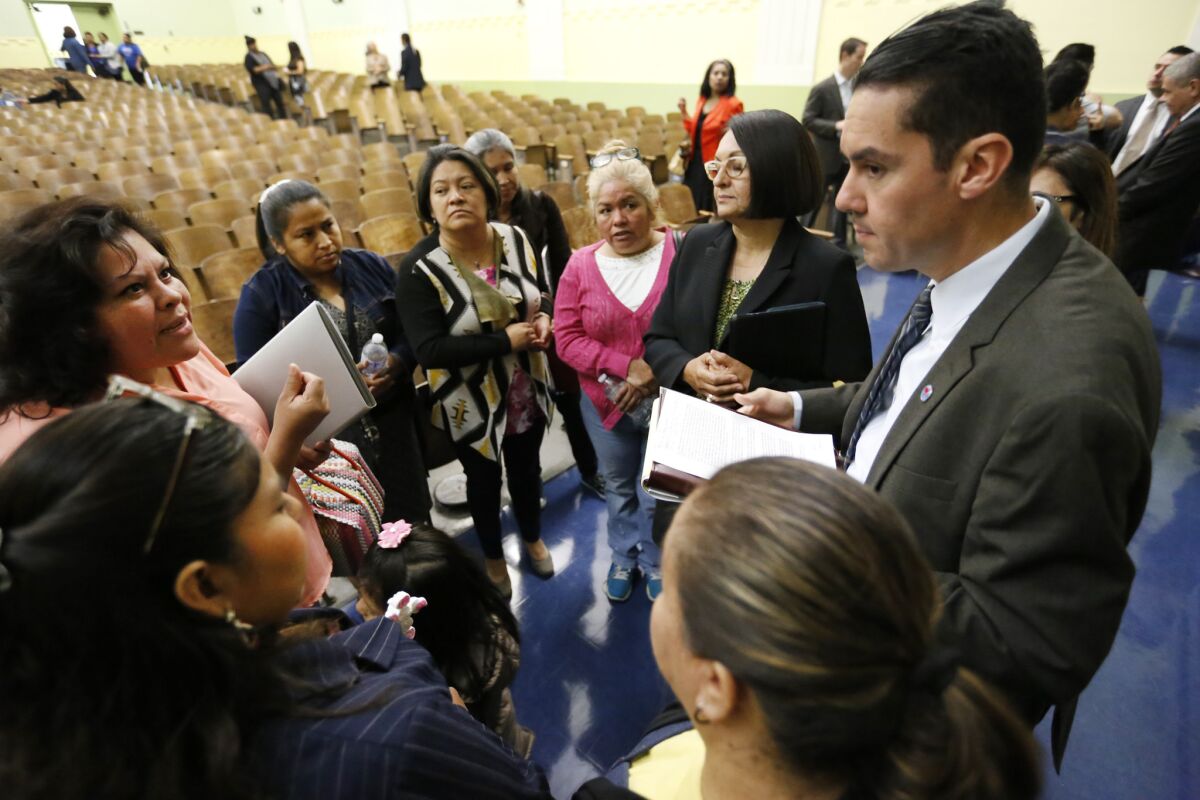 Rosaura Roa came to Nightingale Middle School on Wednesday to make sure L.A. Unified Supt. Michelle King knows about the problems at her children's school, Arroyo Seco Museum Science Magnet.
Instead, she didn't get to meet or talk to the superintendent, and she heard a similar overview of priorities that King has offered at other recent town halls, part of her self-described "listen and learn" tour to help her formulate a plan for the district.
That tour has included about 20 visits to schools, parent groups and community organizations, said Antonio Plascencia, the leader of King's transition team.
"It's not a Michelle vision," King told the group. "It's going to be an LAUSD plan. It's about all of us. ... It's going to be done from the ground up."
King addressed about 150 parents, community members and district staff shortly after 8:10 a.m. and talked about her priorities: giving decision-making power to schools and local districts, ensuring that parents and students can choose between schools, access to safe campuses, a rigorous curriculum, and making sure specialized programs are available from kindergarten through high school.
See the most-read stories this hour >>
She answered questions from school board member Ref Rodriguez and about six questions from audience members, who wrote their questions and contact information onto note cards.
In response to one question from a parent who mentioned a daughter's bullying at Nightingale, King said parents should be able to talk to principals and local district staff members about specific issues. King then pivoted to talking about district-wide initiatives to address bullying in middle school in person and online, through appropriate consequences for bullying and restorative justice.
"If there is a concern that you have, you should be able to call the school," King said.
A contingent of about a dozen mothers from Arroyo Seco Museum Science Magnet came to the meeting with complaints about their school. Half of them crowded around Plascencia afterward.
He listened as the mothers told him, in Spanish, of the problems they said their families face—lack of communication from school administrators, not enough space or equipment for sports, discrimination from school staff who favor parents who can speak English and fewer academic demands than they've seen in past years.
Roa, a mother with two students in Arroyo Seco, said she went to Nightingale to ask King to "change the staff, to bring people with new ideas" to the magnet school.
She said parents have met with local district leaders multiple times, but they have yet to see changes.
"How much longer will we have to wait?" she asked Plascencia in Spanish.
Follow the Times' education initiative to inform parents, educators and students across California >>
She and other parents feel they have a right to be heard. King told the crowd she was there to listen, Roa said, but spent much of the time promoting her own plans.
Roa said she will reserve judgment for the future, to see if King or her staff follow up.
Plascencia said he will follow up with the local district office to make sure they talk to parents this school year to understand the root causes of their concerns, and he will follow up with parents to make sure their concerns are being addressed.
Other parents and principals came from local charter schools, including from the network Rodriguez founded. Some said they were relieved to hear King talk favorably about charter schools and sharing best practices.
"We have a number of different models, and to me that's the beauty of our district," King said.
Join the conversation on Facebook >>
King will host a best-practices forum in July for schools that share campuses to discuss the ways that they've collaborated, Plascencia said.
"I see us as all working together and all the models sharing across the aisle," King said, "Not being really separated off into these silos."
The town hall was supposed to last from 8 a.m. until 9:30, but King stopped answering questions by 9 and left the school at 9:20 after meeting principals and parents who surrounded the stage to talk to her. She left behind district staff to take down the complaints of groups of parents who didn't have their questions answered.
Twitter: @Sonali_Kohli
ALSO
Romania continues an unlikely cinematic domination at Cannes
Several arrested after Trump supporters and opponents square off at rally in Anaheim
Condoms, tampons and feces: Oregon fraternity suspended after 'disgraceful' trashing of Shasta Lake
The stories shaping California
Get up to speed with our Essential California newsletter, sent six days a week.
You may occasionally receive promotional content from the Los Angeles Times.