UC opens doors to record number of Californians, led by growth in transfer students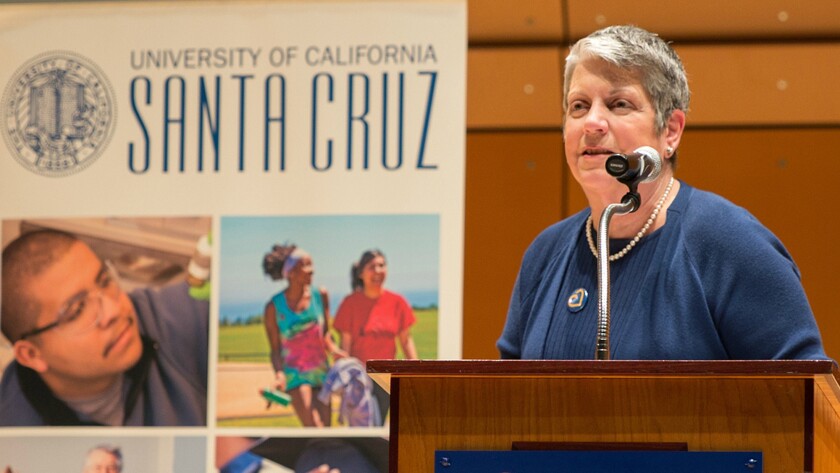 The University of California opened its doors to a record number of Californians for fall 2018, led by growth in transfer students from across the state, according to preliminary data released Wednesday.
The public research university's nine undergraduate campuses offered seats to 95,654 Californians, nearly 3,000 more students than last year. Overall, UC admitted about three-fifths of the 221,788 California, out-of-state and international students who applied.
"After reviewing yet another record-breaking number of applications, our campuses have offered admission to an exceptionally talented group of students," UC President Janet Napolitano said in a statement. "With the benefit of a UC education, these accomplished young people from different backgrounds, with diverse beliefs and aspirations, will make California and the world a better place."
The data reflect UC's stepped-up efforts to reach more deeply across California for community college students, as it responds to growing pressure from Gov. Jerry Brown and the Legislature to open access for more residents.
Brown has long advocated the transfer option as a cheaper alternative to a four-year degree at a time when the state is projected to face a shortfall of 1.1. million college-educated workers by 2030, and he has used his budget power to prod UC to adjust its admission policies. In recent years, state elected officials also have successfully pressed UC to boost enrollment of Californians and limit out-of-state and international students.
The mix of offers for freshmen and transfer students slightly shifted this year in response to such pressure. Most campuses increased offers to California transfer students and decreased them for freshmen.
UCLA, for instance, admitted 562 fewer freshmen but 64 more transfer students this year. Berkeley, Merced, Riverside, Santa Barbara and Santa Cruz also boosted their admission offers to state transfer students. Offers to California freshmen were down at Berkeley, Irvine, San Diego and Santa Cruz in addition to UCLA.
"Transfer students are the future of our university," said Youlonda Copeland-Morgan, UCLA vice provost of enrollment management.
One of them is Francisco Cruz Tapia, a 24-year-old transfer student from Moreno Valley College who plans to study computer engineering at UCLA this fall. He said he chose to start at a community college to stay closer to family and save money. His costs were minimal, he said, because he lived at home and received a fee waiver for his classes.
At UCLA, his tuition and fees will be covered by a Cal Grant and university aid, but he said he'll need to pay rent in the expensive Westwood area. Cruz Tapia said, however, that the costs will be worth it for a chance to pursue his research interests in artificial intelligence.
"It was really challenging to transfer because I had to take a lot of math and physics classes, but I'm excited to go to one of the top universities in the nation," Cruz Tapia said.
UCLA particularly focused on recruiting in the Central Valley this year as part of a joint effort between UC and California Community Colleges to increase students from areas with historically low transfer rates. Under the partnership, launched in September 2016, the college system gave UC $2.6 million to help students at 39 of its 114 community colleges become more competitive applicants.
Copeland-Morgan said UCLA chose to work with four Central Valley colleges — San Joaquin Delta, Bakersfield, Solano and Reedley — because students there are more geographically isolated, often low-income and the first in their families to attend college. Many have less access to the resources and information needed to succeed in the competitive world of college admissions, she said.
Her recruiters made multiple trips to the colleges to help students and counselors understand how to become not only eligible but also competitive for UC admissions. UC requires a minimum 2.4 GPA for California transfer applicants, but Copeland-Morgan said most successful UCLA applicants have at least a 3.6 GPA.
UCLA boosted applications from those colleges by 29% and admission offers by 34% this year. Overall, the Westwood campus admitted students from 109 state community colleges.
This year, Santa Cruz showed the biggest gain in admission offers to California transfer students, increasing to 7,027, from 5,328 last year. Santa Cruz and Riverside were under fire by Brown for being the only two of eight campuses that failed to meet a ratio of one transfer student per two freshman. He withheld $50 million from UC last year until the campuses met or made "good faith efforts" to meet that target, releasing the money in May after deciding they'd made enough progress.
This year, Napolitano announced that the university system would guarantee admission of all qualified community college students. In another move to boost transfers, the UC Academic Senate developed a road map of courses needed to enter 21 popular majors — a move aimed in part at helping transfer applicants avoid wasting time and money on unnecessary classes.
Community college counselors say they've noticed the difference. Daniel Nannini, a transfer counselor at Santa Monica College, said that more of his students received offers this year from multiple UC campuses and that the university's "customer service" has improved. A UC Santa Barbara admissions officer, for instance, took the time to call and encourage a student to take one more unit to become eligible to enter the university.
"In the past, if you missed the cut, you missed the cut," Nannini said. "They've really stepped up their game."
Chancellor Eloy Ortiz Oakley of the California Community Colleges also hailed UC's work with transfer students.
"This is great for the university, the community colleges and most important for the state of California," said Ortiz Oakley, who also serves as a UC regent. "The question going forward is whether we can sustain the effort and build the infrastructure so we can encourage and support a diverse set of students from across the state."
Among freshmen applicants, Asian Americans remained the largest group admitted at 36%, followed by Latinos at 33%, whites 22% and African Americans 5%.
Offers to international and out-of-state students also increased. UC regents last year approved an 18% cap on nonresident students at five campuses and voted to allow those campuses that exceed that limit — Berkeley, Los Angeles, San Diego and Irvine — to keep but not increase the higher percentage they enroll.
---
UPDATES:
1:45 p.m.: This article was updated with additional background on state officials' efforts to open UC access to more California residents.
This article was originally published at 9 a.m.
---
For reporting and exclusive analysis from bureau chief John Myers, get our California Politics newsletter.
You may occasionally receive promotional content from the Los Angeles Times.