Q&A: Getting along pays off, plus more departing thoughts from L.A.'s exiting school board members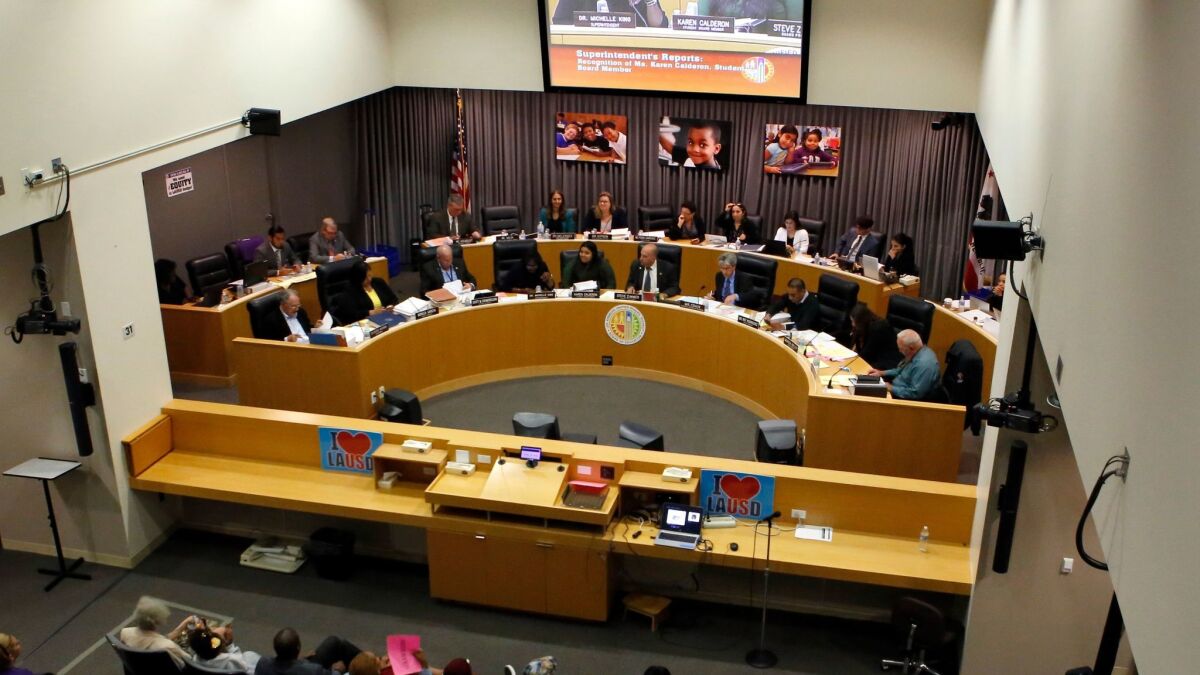 Don't underestimate the value of getting along. That's one piece of advice from former school board members Steve Zimmer and Monica Ratliff to the new Los Angeles school board majority.
After this year's contentious Board of Education election marked by ugly, often false accusations, it's unclear how easy getting along will be.
In contests that broke spending records, charter school supporters were the biggest spenders and they succeeded in electing the new majority bloc. Both Zimmer and Ratliff expressed concern that the growth of charters would threaten the district's financial health.
Zimmer had harsh words for the California Charter Schools Assn., which argues that charter growth helps all students — in part by pushing traditional public schools to improve to keep students.
Charters are publicly funded but privately operated; most in L.A. Unified are non-union and are typically set up as nonprofits. The district has more charters than any other school system; they enroll about 16% of district students.
Both Ratliff and Zimmer had other long-term budget worries related to underfunded pensions and retiree health benefits — and how such budget pressures could undermine district services, including the staffing of school libraries.
The former officials also expressed much pride in district progress, such as expanding early kindergarten and restoring some arts programs. They were especially pleased by the record high graduation rate, which accompanied a new requirement for students to pass an expanded range of college preparatory courses.
They also weighed in on developments since their departure.
Ratliff represented District 6 in the east San Fernando Valley for one four-year term. Instead of running for reelection, she made an unsuccessful bid for the Los Angeles City Council.
Two-term incumbent Zimmer, who served as school board president, lost a bruising contest to attorney Nick Melvoin in District 4, which stretches from the Westside to the west Valley. Charter school supporters backed Melvoin; the teachers union, Zimmer.
The Times' education team met with Zimmer and Ratliff separately.
---
What are the challenges posed to the district by the growth of charter schools and how should they be managed?
Zimmer: "We have crossed — or are about to cross — a threshold where the loss of revenue to the district as a result of students leaving for charter schools has an effect on the quality of education for families that choose L.A. Unified-operated schools. At the same time, there are still areas where there are legitimate reasons to create new charters.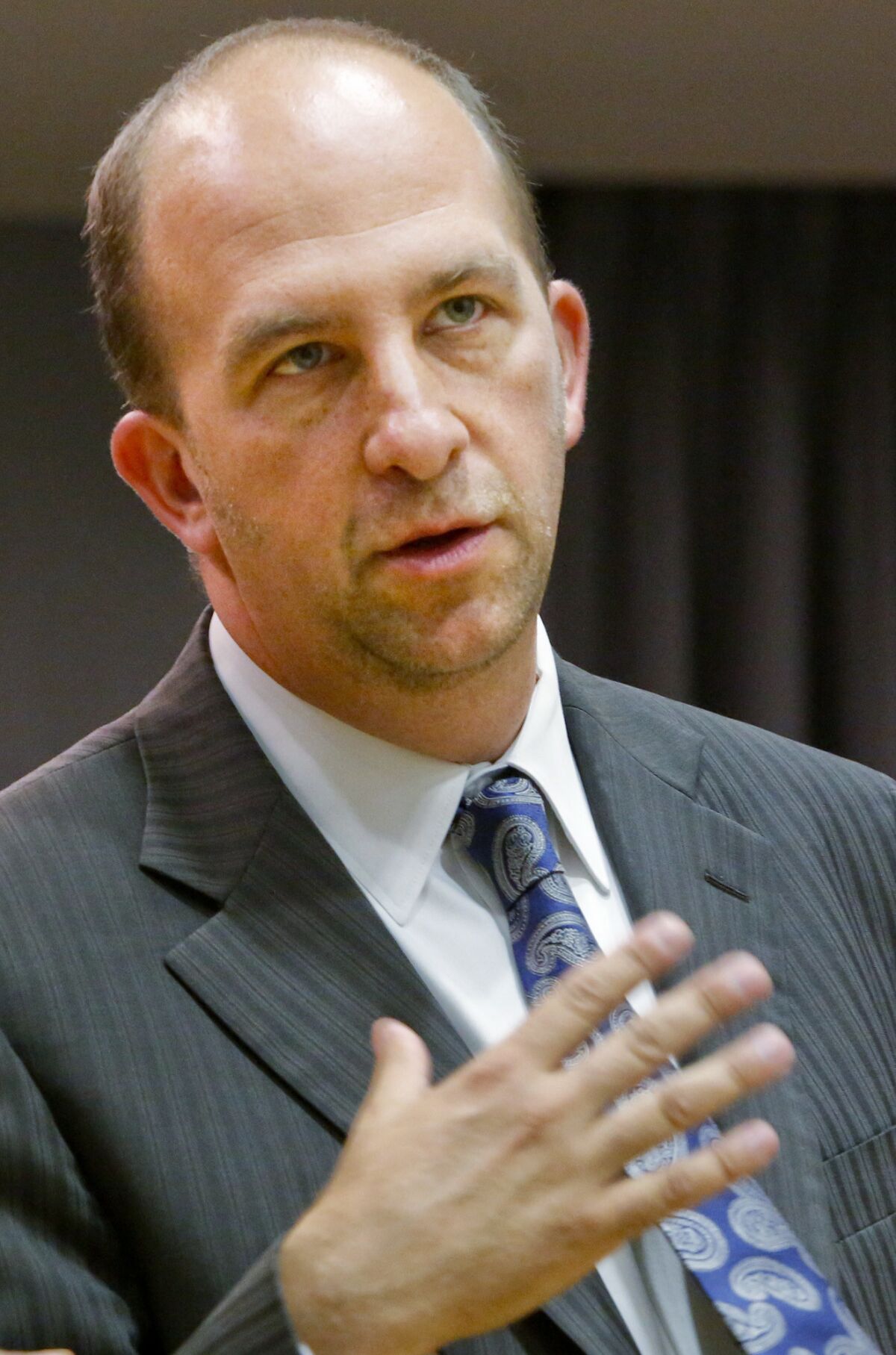 The California Charter Schools Assn. takes the view that students will benefit from an education market in Los Angeles that is about pure cutthroat market share and competition. I disagree and I don't believe individual charter leaders view the world that way. I believe that charters benefit from a strong public school system to serve the children that charters don't or cannot.
And the teachers union has been more engaged in fighting charters than what should be an all-hands-on-deck approach to transforming the schools that need the help the most.
It's like a perfect storm from both ends."
Ratliff: "I'm very concerned about the proliferation of charters. I think someone at the level of state government needs to take a look at the fact that right now you can put a charter anywhere, even if there is a successful charter next door.
We are setting up a situation that's making it difficult for traditional schools and even charters to maintain enrollment when you have a saturation of charter schools in an area.
There needs to be a legislative solution, but not one that would give local school districts the authority to prohibit all new charters or to shut down existing charters that are being run properly."
Charter-backed candidates win L.A. Unified majority, but can they lead from within? »
At the first meeting with the new board members, the new president, Ref Rodriguez, pushed through a resolution with directives for Supt. Michelle King under the stated principle of "putting kids first." What are your thoughts about this action?
Ratliff: "It was very detail-oriented and it appears somewhat to be micromanaging the superintendent. However, I believe she was already going to do some of the things in the resolution, including ensuring that classrooms are all staffed appropriately. The thing in the resolution that I appreciated was requiring a deep cleaning of the schools before school starts. Every parent, student and staffer would greatly appreciate that. I think it will cost a lot of money. If it can be done, it will be phenomenal."
Zimmer: "Any newly installed board has moments in which they define themselves and the choice to do that straight out of the box is assertive and different.
Was it implied that the prior board failed to put children first? I hope not. I hope the new board can build on the foundation of stability that the previous board established. This stability is necessary to accelerate gains in student achievement."
There is a 'kids-first' army and everyone else who has a different opinion about how to put kids first is the enemy.

— Steve Zimmer
Philanthropist and former L.A. deputy mayor Austin Beutner has assembled an advisory committee of civic leaders to help Supt. Michelle King follow through with her strategic plan. What are your thoughts?
Zimmer: "I'm concerned about initiatives that might appeal to a civic elite but that are not necessarily good for public education. But at the end of the day, I'm glad the superintendent is meeting regularly with leaders from the outside community. In addition to this group, I hope the superintendent continues to meet with representatives of principals, students and educators to get holistic input on the best direction for the school system."
Ratliff: "The more friends that the district has the better. I have high hopes for this committee."
Some activists are pushing the district to raise the bar for a diploma by requiring students to earn a C or better (rather than a D) in all mandatory college preparation courses. What is your advice to the new board?
Ratliff: "We have to have a system that allows our high school students to get a diploma, and they should not be stopped from getting a diploma because they got a D in one subject that they didn't like. I'm hoping it's not English or math. They need those, right? But just because you got a D in French because you don't like French the second year, I don't think that should stop you from getting a diploma."
Zimmer: "I've always been in favor of raising the requirement to a C or better, but it is essential that the board and superintendent invest even more in the academic foundations students must have to succeed in rigorous courses that will develop the critical thinking skills they need to succeed in higher education."
Up and down the ranks, people don't want to rock the boat. They're afraid to challenge authority.

— Monica Ratliff
What worries you the most? What are some of your persisting concerns?
Zimmer: "I worry that there will be a return to the politics of conflict, competition and confrontation. There is a 'kids-first' army and everyone else who has a different opinion about how to put kids first is the enemy. I also worry about the potential embrace of a completely market-based system. Such a system creates winners and losers among schools, teachers and groups of kids.
We need to avoid the politics of confrontation within the district, the constant brinkmanship that was characteristic of an earlier era, where everything is a fight."
Ratliff: "The atmosphere that still exists at district headquarters. People try very hard to be good soldiers there. Up and down the ranks, people don't want to rock the boat. They're afraid to challenge authority and say what really needs to be done or changed. We need people to feel comfortable about speaking their minds appropriately."
The stories shaping California
Get up to speed with our Essential California newsletter, sent six days a week.
You may occasionally receive promotional content from the Los Angeles Times.