New pro-charter L.A. school board seeks emergency motion to 'put students first'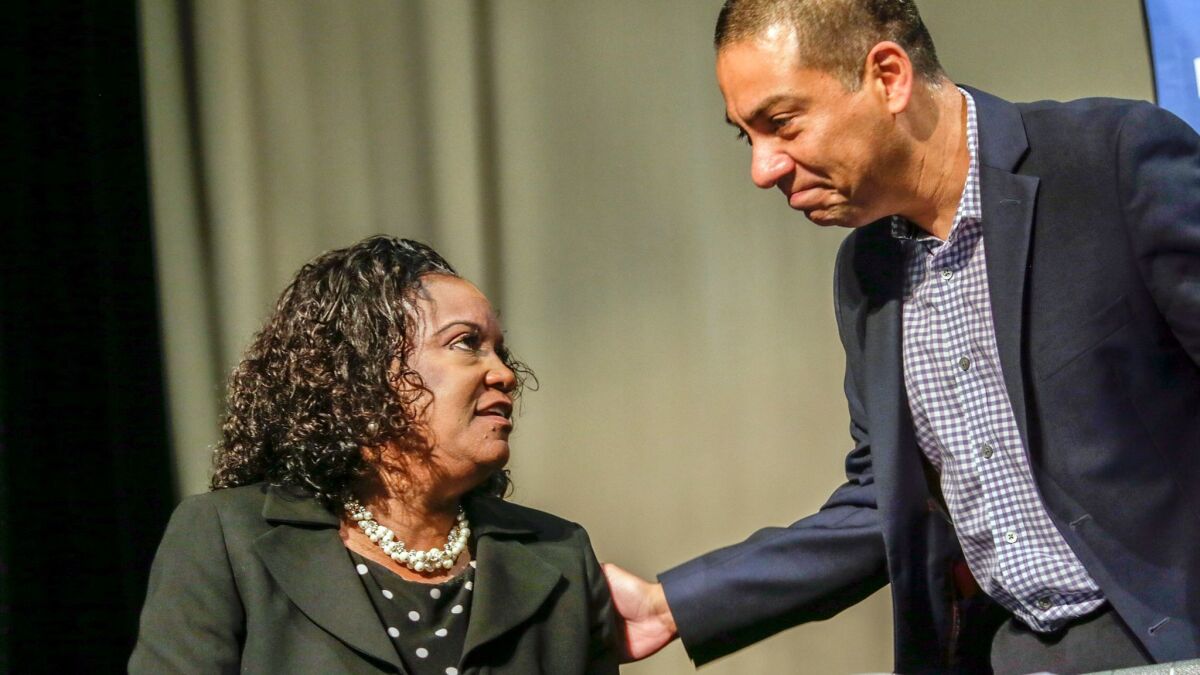 For generations, earnest teachers and administrators in Los Angeles have sought the solution to lagging student achievement, with imperfect results. But on Thursday, a new wave of leaders seems to have found what they believe is the elusive formula on their first day in charge.
A school board member who belongs to a pro-charter school bloc, Ref Rodriguez, put forward an emergency motion that declares: "We are a District that puts kids first."
There's more to the resolution than that, but that opening line to a set of action items suggests that the previous leadership — including board members, the superintendent of schools and senior staff — missed the mark on the quintessential idea that the needs of students must be the top priority in the nation's second-largest school system.
This resolution is a main order of business of the first board meeting for a seven-member body that will, for the first time, have a majority elected with dominant financial backing from charter school supporters. Also spending big in this year's elections, the most expensive school board elections in the nation's history, were employee unions, most especially the teachers union, whose candidates lost.
The charter-backed bloc consists of newcomers Kelly Gonez and Nick Melvoin, elected in the May general election; longtime incumbent Monica Garcia, reelected by winning a majority in the March primary; and Rodriguez, who was not on the ballot this year.
The first order of business Thursday will be swearing in the three election winners, something that will take place at the Cortines School of Visual and Performing Arts, just north of downtown. Then the board will convene at nearby district headquarters to elect a president. Rodriguez appears to have an inside track, based in part on the fact that he is listed as the author of the "students first" resolution.
That resolution requires L.A. schools Supt. Michelle King to provide a "Student Impact Statement" for "any item" that comes before the board. This statement also must show how the measure would affect "outcomes by Low Income students, English Learner students, Foster Youth, African American students, and Special Education students."
The resolution next directs King to ensure that "100% of parents and guardians" are using the district's still developing online "support system" by the end of the next school year.
In the arena of teachers, King would have to establish a $7.5-million teacher training fund with contributions from outside donors. This money would be used for "teacher-led" efforts. It was not immediately clear why the figure for this fund was set at $7.5 million. It was also not clear whether outside donors were already lined up or what conditions donors might attach to the use of the funds.
The resolution also would direct King "to publicly certify that schools and classrooms are 'ready to learn' for the first day of school." This would mean that "air conditioners are working, schools have been deep cleaned, student schedules have been finalized with appropriate placements and classes, textbooks and classroom supplies are available and accessible by teachers and students, and Parent Centers are up and running with a schedule of fall workshops."
King also would have to certify that all schools are fully staffed.
Lastly, the resolution calls on King to follow through with recommendations that an outside panel address the district's budget problems. King would have to provide weekly updates and set up a task force to improve student attendance.
Twitter: @howardblume
The stories shaping California
Get up to speed with our Essential California newsletter, sent six days a week.
You may occasionally receive promotional content from the Los Angeles Times.