Cal State Northridge wins $100,000 grant to build student skills, confidence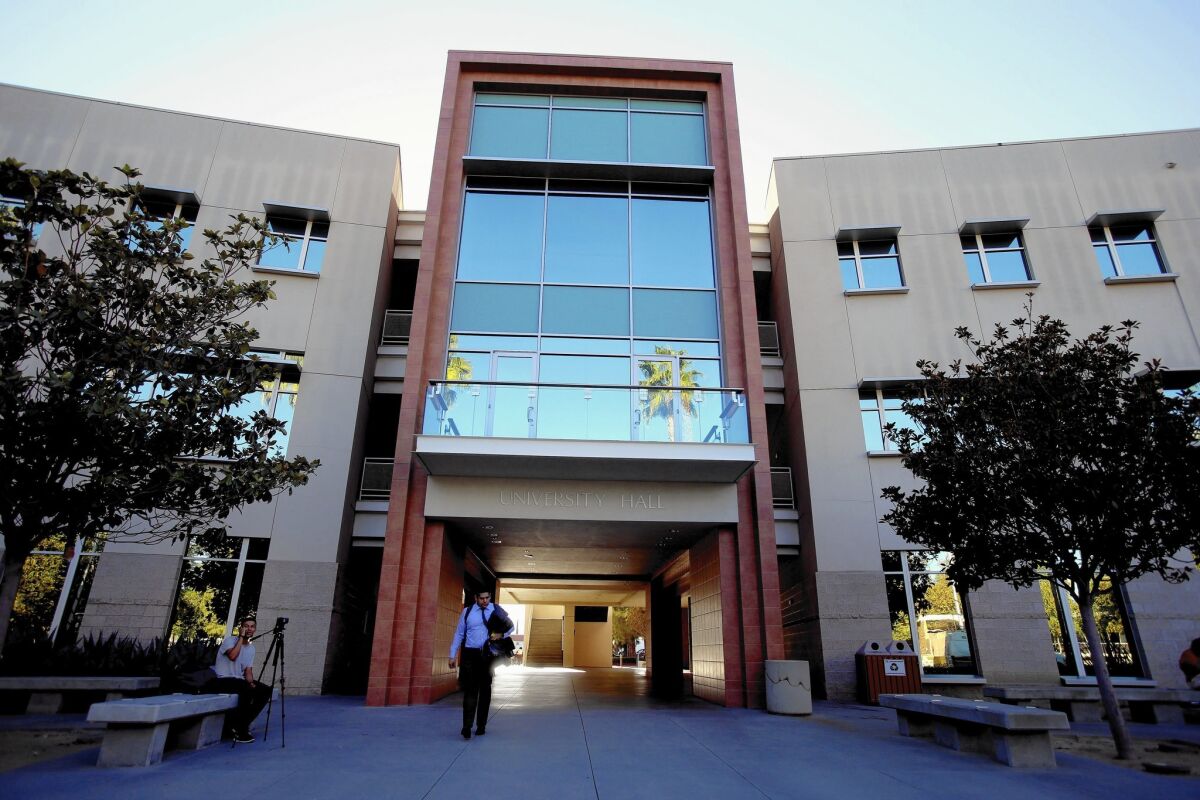 When the National Urban Alliance applied for a grant last year to start a program aimed at helping college students in remedial courses graduate, the group intended to launch the program at a historically black college or university.
When the NCAA awarded the grant to the alliance, the nonprofit's president, Eric Cooper, wasn't even considering Cal State Northridge as a potential destination.
"I knew they were a large university, but that was about it," he said, adding he wasn't even quite sure where the campus was located.
But nearly a year later, faculty and staff at the San Fernando Valley campus received the $100,000 grant. They are learning the Urban Alliance's "Pedagogy of Confidence" program, and about 40 people are being trained to recognize students' strengths, help them develop time management skills and improve in math and English. The program was developed by Columbia University's Teachers College and has been used in K-12 schools throughout the country. It has not been implemented on a large scale at a college or university.
The alliance initially had planned to include only athletes, but all Northridge students will be eligible to participate next semester after staff and faculty complete their training.
Cooper said once he learned more about Cal State Northridge's demographics, he thought the school would be an ideal location to roll out the alliance's program. Of the school's 41,000 students, about 5% are black and 42% are Latino, according to state statistics.
Historically black institutions, such as Spelman College in Atlanta and Howard University in Washington, D.C., are majority African American.
"Given the demographics of the country, reaching a more diverse population was important," said Cooper, who said his organization still plans to work with historically black colleges.
Cooper said he was also attracted to Northridge because the school's president, Dianne Harrison, was enthusiastic. After Cooper gave a speech at a conference last December, Harrison approached him and said she wanted the program to come to her campus. "She was literally first in line," Cooper said.
Interested in the stories shaping California? Sign up for the free Essential California newsletter >>
Other colleges have had success with similar programs. Syracuse University offers some first-year minority students extra counseling and study groups. Between 2003, when the program was implemented, and 2012, 96% of Syracuse students who had participated in the program returned for their second year, higher than other students, according to university data.
Harrison said she was intrigued by the program's focus on student confidence, something she said many CSUN students don't have when they first arrive. "They know they need to be here, but they don't always have that drive or confidence that 'I'm going to take the world by storm,'" she said.
Many students who succeed find mentors or get encouragement from faculty or staff. "Sometimes it's just a little bit of feedback that makes a big difference," Harrison said.
The grant will last through the summer, and CSUN officials will track student performance, including grade point averages and class attendance, Harrison said.
Although the program is open to all students, some Northridge coaches believe it can improve their players' performance on the field and in the classroom. "We're hoping the confidence from their strengths on the field carry over," said Terry Davila, the men's soccer coach.
Davila said he sees some athletes' play suffer when they aren't doing well in class. Several years ago, one of the team's best players was behind on studying for some of his midterms.
"You could tell he didn't get enough sleep," Davila said.
During a game, the player was slower than usual, and when an opponent tried to slide tackle him, the Northridge forward broke his leg during the play.
"Normally, he would've jumped out of the way," Davila said. "At this level of play, you need all the advantages you can get."
Current players say they struggle with their academic courses and making the transition from high school to college.
"It was hard to stay organized; my time management isn't that great," said Jumoke Hutton, a freshman from Santa Barbara who plays defense on the soccer team.
During a team trip to Nebraska this fall, Hutton said he forgot to write an essay for his English course after playing two games in three days. "The professor wasn't happy," he said.
Aaron Robles, a freshman forward on the team, said he also has struggled with time management and also turned in a paper late following the Nebraska trip.
Robles said he didn't think his academic struggles affected his performance on the field. "When I play, I don't think about anything but the game," he said.
Still, Robles said he plans to get even more academic help, including through the new National Urban Alliance program when it begins next semester. "I've got to use my resources better," he said.
Twitter: @byjsong
ALSO
Authorities arrest mother of baby found buried alive in Compton
Investigation into San Bernardino attack widens
L.A. school board holds unusual Sunday meeting to interview superintendent candidates
The stories shaping California
Get up to speed with our Essential California newsletter, sent six days a week.
You may occasionally receive promotional content from the Los Angeles Times.