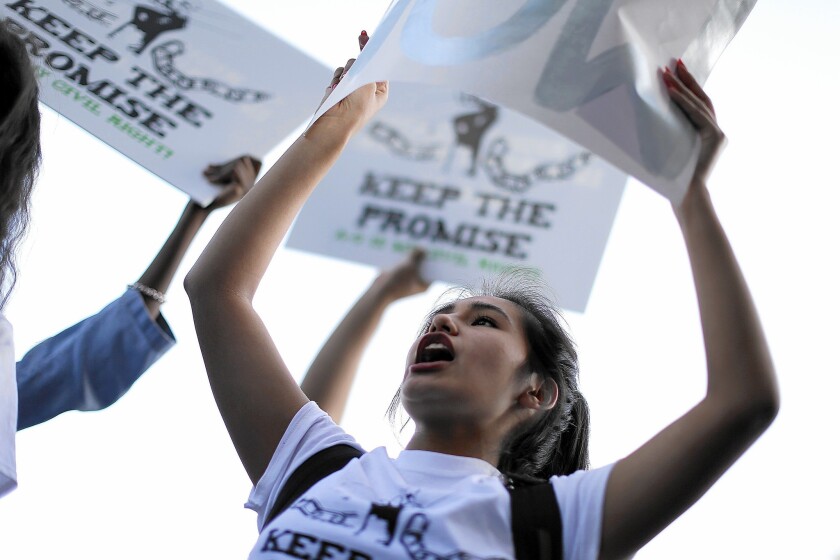 For years, Los Angeles school officials have suggested that miracle academic turnarounds would be unsustainable and even suspect, and that real and lasting gains for the academically lagging school system would be a step-by-step journey.
On Friday, that gospel changed.
L.A. Unified now claims it has, almost overnight, averted a looming graduation crisis and could be on the path to its most diplomas ever.
"We've made dramatic gains," said Frances Gipson, the district's new head of instruction.
The early grim news had arrived in December. At the time, only 54% of seniors were projected to graduate based on stiffer requirements that took effect for this year. The figure would represent a free fall from last year's 74% rate — despite more than a decade of preparing for the higher standards.
See more of our top stories on Facebook >>
Then came the seeming impossible. As of the beginning of February — after a three-week winter break and one month of school — the estimated graduation rate rose to 63%. And officials say they are optimistic the rate will rise much higher, perhaps to 80%.
"We continue to break new ground, as we prepare our first graduating class to meet the new requirements," said a report sent Thursday to the Board of Education. "The LAUSD family has 'all hands on deck,' and has rallied around our graduates with providing supports needed to ensure their success."
The district set aside $15 million for a variety of programs and strategies, but one clear star of the effort is online courses. Students are logging on and quickly earning credit for classes they flunked in the past.
Follow the Times' education initiative to inform parents, educators and students across California >>
"This does raise questions about the integrity of the system," said UCLA education professor Pedro Noguera. "A number of school districts around the country are using online classes for credit recovery. It's partially responsible for the increase in the national graduation rate that everyone from the secretary of education to the president has been celebrating."
"It's still kind of an unknown," he added. "Obviously, you're not doing kids a service if you just graduate them and they're not prepared."
Gipson said the district has worked to make sure that academic rigor has been maintained.
At least one measure, from outside the district, shows that this year's seniors were not soaring academically when they took state standardized tests as juniors. On the English language arts test, only 45% met the state's learning goals. In math, the number was 19%.
The district's new graduation standards long have been a source of debate. This year's seniors are the first who must pass the series of classes that would make them potentially eligible for a four-year state college. In these classes, the district mandates a passing grade of D or better.
The standards have come under attack from factions with almost opposite views on how to make sure students' academic coursework is meaningful.
Some insist the standard is too lax because students need a grade of C or better in these courses to be eligible for admission to the UC or the Cal State systems. The new district standard falls short of that.
Others are concerned that the new standard is too demanding. For example, students must pass intermediate algebra. The state requires California high school graduates to pass only beginning algebra.
Some critics also are concerned that the focus on a college-prep curriculum will limit the opportunity for students to take electives, such as calculus or photography.
"I think that the requirements were excessive and, apparently, the district is finding ways to work around them," said Gary Orfield, co-director of the Civil Rights Project at UCLA. "Given the terrible cost of dropping out, I don't think that this is a bad idea for the present."
Twitter: @howardblume

ALSO
Inside the fight against California's charter schools
Opinion: Green space and gray matter: Why L.A's. kids are short on both
Sentenced to prison for assault, teenage 'parachute kids' deliver warning to adults in China
---