More California sea lions are dying because of poisonous algae blooms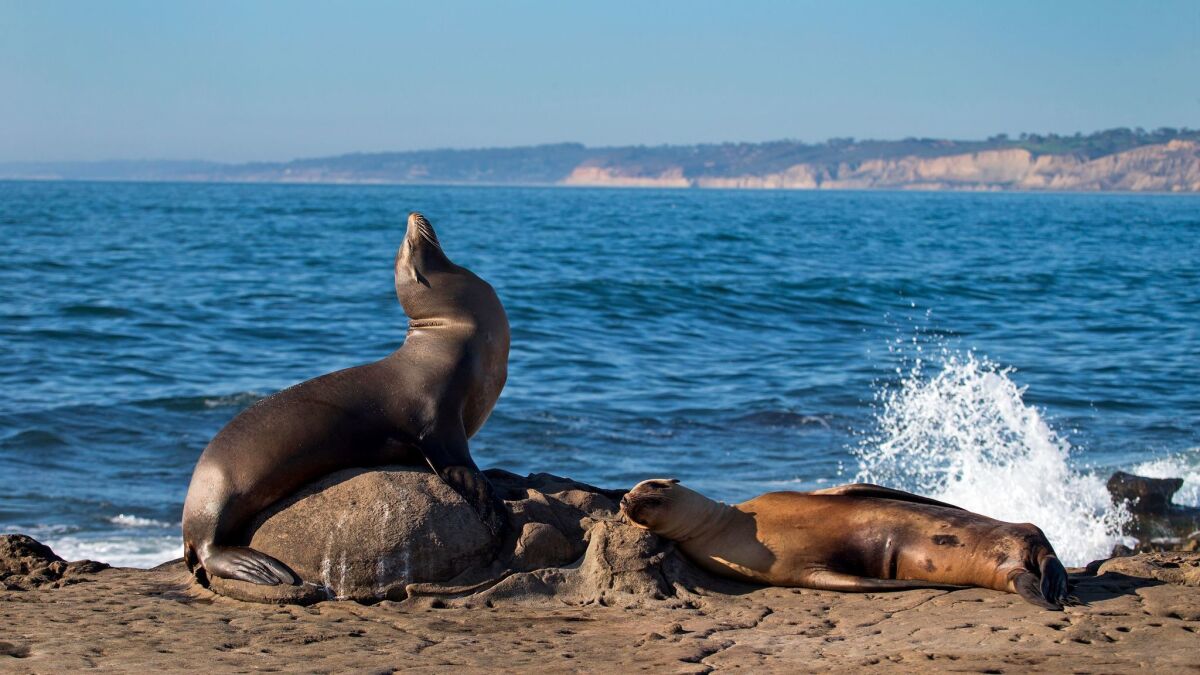 During an average year, rescue workers at the Pacific Marine Mammal Center in Laguna Beach may encounter one pregnant sea lion suffering from domoic acid poisoning — a potentially deadly illness that occurs when the animals eat fish that have been feeding on toxic algae.
In the last two weeks however, the center has recorded 14 sea lion deaths due to domoic acid poisoning.
"Other rescue facilities are also seeing the same animals," center spokeswoman Krysta Higuchi said. They're "all over the place."
In 2007, the last time the problem was this severe in Southern California, 79 sea lions died from domoic acid poisoning despite efforts by the center to rescue them, Higuchi said.
State officials have issued warnings against eating mussels, clams or whole scallops harvested recreationally in Santa Barbara County.
"Dangerous levels of domoic acid have been detected in mussels from this region, making them unsafe to consume," the California Department of Health said in an April 13 release.
When domoic acid poisoning occurs in humans it's called "amnesic shellfish poisoning." No cases have yet been reported in California.
Higuchi said that 25 poisoned sea lions were rescued in just the last two weeks, and it was unclear how many would survive. Two of them have been released and two more have started eating again, which raises hopes, she said. Staff are injecting the remaining animals with fluids to "flush those toxins" before it affects their brains.
The acid comes from the growth of tiny, single-celled algae that usually bloom for about a week during the spring. These blooms can be intensified by heavy rains that flush nutrients from fertilizers and other sources into the Pacific Ocean.
Small sea animals like clams, mussels and anchovies feed on the algae, and then they are in turn eaten by sea lions.
"When the sea lions eat these toxic anchovies, they have serious neurological problems," said Kathi Lefebvre, a research biologist at the National Oceanic and Atmospheric Administration Fisheries in Seattle. "The sea lions will have seizures, in some cases they'll die, in some cases they'll recover but have permanent brain damage."
Many pregnant sea lions miscarry, and pups that are born often suffer negative effects of the poisoning, Higuchi said.
For the most part, humans are safe, Lefebvre said, though regulatory agencies will issue warnings if there is a danger.
"Commercially harvested and purchased seafood is tested and is safe for human consumption when it goes to market," she said. "You might not want to harvest your own shellfish if you don't have a way to test it" and make sure domoic acid levels are lower than 20 parts per million, she said.
People should call the center if they see sea lions near large groups of people on the beach who are weaving their heads or having seizures, Higuchi said.
Reach Sonali Kohli at Sonali.Kohli@latimes.com or on Twitter @Sonali_Kohli.
Times Community News reporter Bryce Alderton contributed to this story.
---
The stories shaping California
Get up to speed with our Essential California newsletter, sent six days a week.
You may occasionally receive promotional content from the Los Angeles Times.