UC regents to discuss how to add 5,000 extra students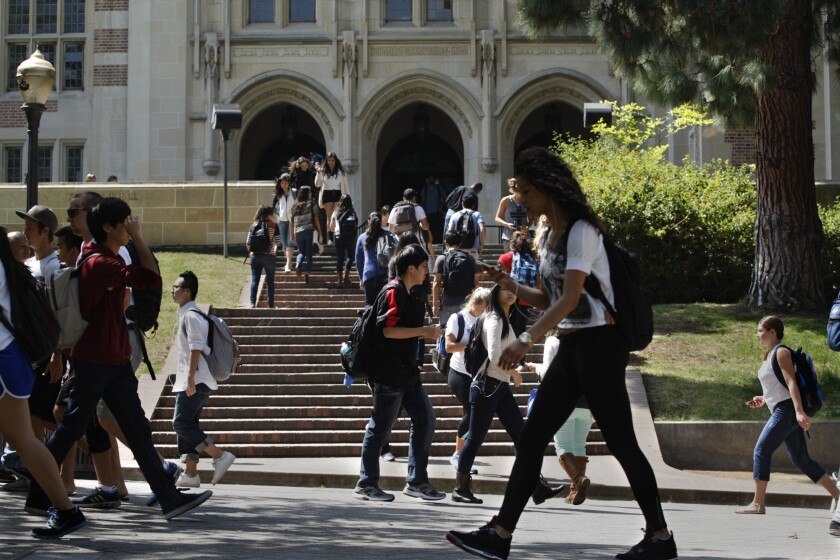 The University of California is facing an unusual math problem: How do you divide up 5,000 by 9?
To be more precise, how do you assign each of UC's nine undergraduate campuses a fair and reasonable number of the extra 5,000 California undergraduates that the university system is expected to enroll next year? That question, and many related issues, are scheduled to be discussed Thursday and Friday during the UC regents meeting in San Francisco.
So far, UC President Janet Napolitano has been mum on the details of the additional enrollments, other than to emphasize that UCLA and UC Berkeley – the campuses receiving the most applications – won't be exempt from the expansion. She is expected to outline her plan only in general terms at the meeting even though many professors and administrators will listen closely for any hints of specific allotments.
NEWSLETTER: Get essential California headlines delivered daily >>
The enrollment move should hearten high school seniors and parents as the Nov. 30 deadline is fast approaching for students' applications for fall 2016. It may mean their chances of admission will improve.
Dividing up the new students will not be equal among all nine campuses, UC officials say. Some campuses will enroll significantly more than others because they have more room, enough dorm beds and the capacity to quickly increase the number of classes and labs for the additional freshmen and transfer students.
UC has faced complaints from the state Legislature and parents about the rising number of students from other states and nations who are accepted. In response, Napolitano said she wants to expand enrollment of undergraduates from California by 10,000 by the 2018-19 school year.
Her plan would boost in-state enrollment of freshmen and transfer students by 5,000 next fall and then 2,500 more in each of the two following school years. The much-criticized increases in recent years of undergraduates from outside California would continue but at a slower pace, according to the proposal.
A 10,000-student increase would be a boost of about 20% over the nearly 50,000 new in-state freshmen and transfer students who enrolled this fall.
The Legislature last spring allocated an additional $25 million to UC to increase the number of in-state undergraduates by 5,000 no later than 2016-17. Napolitano said that would pay for only half the cost and that the university would come up with the additional $25 million needed for next year. The university would then seek rising amounts from the Legislature and governor for an additional 2,500 California students in 2017-18 and another 2,500 the following school year.
Follow me on Twitter @larrygordonlat.
ALSO
Medi-Cal cancer patients don't fare much better than the uninsured, UC Davis study says
Tourist stabbed near Hollywood and Highland 'suddenly, for no reason'
Divorced couple's frozen embryos must be 'thawed and discarded,' judge rules
---
For reporting and exclusive analysis from bureau chief John Myers, get our California Politics newsletter.
You may occasionally receive promotional content from the Los Angeles Times.