UCLA claims $13 million in flood damage from water line break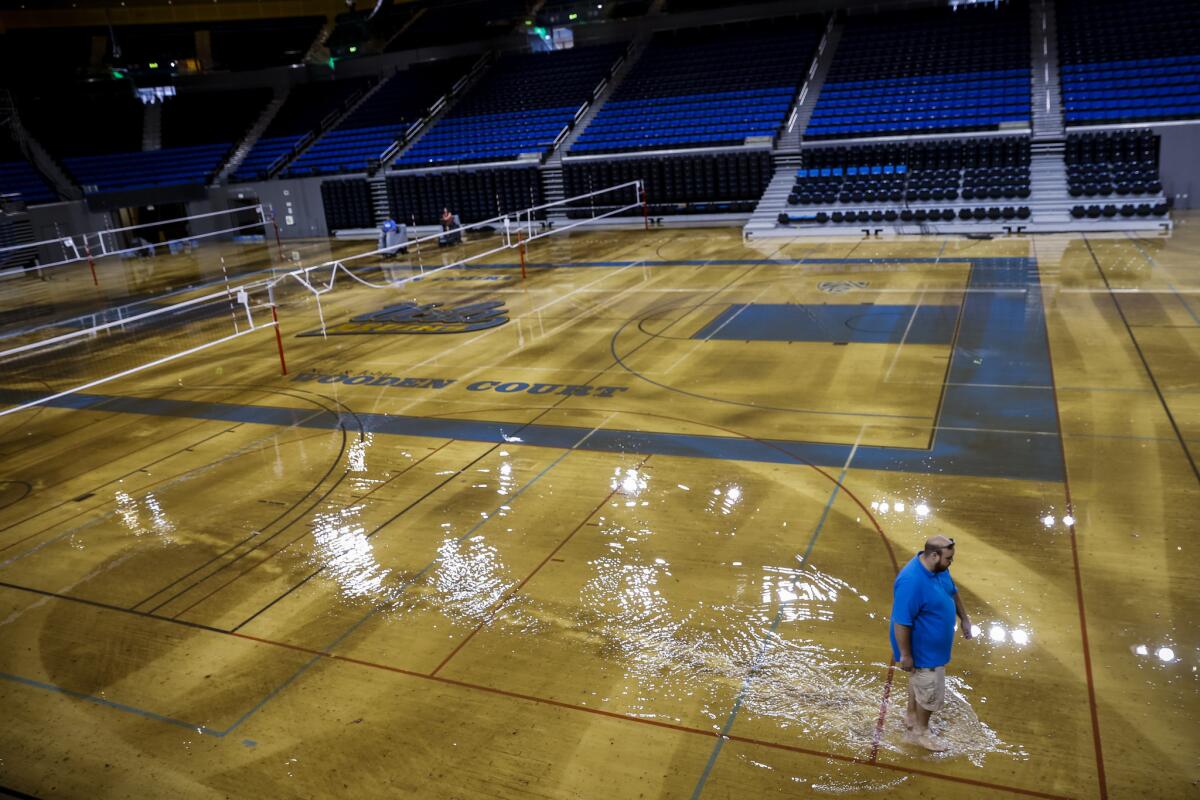 UCLA is seeking $13 million in compensation from the Los Angeles Department of Water and Power and the utility's insurers for the massive flooding damage caused by last year's water main break on Sunset Boulevard.
In the July 29 flood, a torrent of water filled lower floors of university parking garages, inundated sports fields and ruined Pauley Pavilion's relatively new wooden basketball court.
In a statement released Thursday, UCLA said it has submitted the $13-million claim for damage to five buildings, several athletic fields and two garages and that the DWP has acknowledged its responsibility for those losses. All the repairs have been completed, including the replacement of the Pauley court, which was under as much of 8 inches of silty water during the flood.
Settlement talks between UCLA and the DWP are "complex, collegial and productive," a statement from UCLA said, adding that "we are confident an equitable agreement will be reached."
The dramatic break at the juncture of two corroded trunk lines under Sunset Boulevard shot a geyser through the roadway and sent an estimated 20 million gallons of water into the surrounding Westwood neighborhood, much of it downhill to the adjacent UCLA campus. It took the DWP about four hours to fully shut off the lines.
The line breaks and the resulting damage brought new attention to the poor condition of parts of the city's water system.
DWP officials on Thursday said that they expect a settlement will be reached with the utility, its insurance company and UCLA by year's end without litigation, although they did not provide a specific response to whether they believed the $13-million claim was accurate.
"UCLA and LADWP have, and will continue to, cooperate regarding the resolution of all UCLA campus-related damages," the city utility officials said in a statement.
The DWP has an insurance policy that has a $3-million deductible for each such flooding incident and presumably would cover most of UCLA's claims, according to utility agency spokeswoman Michelle Figueroa. The DWP already has paid about $2.5 million to owners of the hundreds of vehicles destroyed or damaged in the flooded parking garages below the UCLA sports fields and some additional vehicle claims are pending, she said.
UCLA spokesman Phil Hampton said that the school's claim does not include the hundreds of privately owned vehicles.
In testimony to the City Council after the flooding, a DWP official said one of the lines that burst was badly corroded and the other had had five leaks before the rupture. Neither line had been scheduled at that time for replacement, despite getting "C" and "D" grades from the utility.
Follow me @larrygordonlat.
Sign up for Essential California for news, features and recommendations from the L.A. Times and beyond in your inbox six days a week.
You may occasionally receive promotional content from the Los Angeles Times.