Protests over race issues at Occidental are 'just the beginning,' students say
They had occupied the administration building at Occidental College for days, giving it the vibe of a packed airport waiting area, with power cords snaking across the floor, students typing quietly on their laptops and sleeping bags at the ready.
But, on Wednesday night, the protest went mobile. About 300 students angry over what they regard as racial insensitivity on campus marched a quarter of a mile to the alumni center, where they had been told administrators and college President Jonathan Veitch were working.
They left a couple dozen students behind — just in case the administration tried "to 'Mad Max' us," as one student put it, referring to the action movie in which some characters leave one site and return to find it occupied by another group.
Shortly after the protesters arrived at the alumni center, campus security was out in force. The Los Angeles Police Department arrived 20 minutes later. There were a few tense moments before the students decided to return to Arthur G. Coons Hall, claiming victory.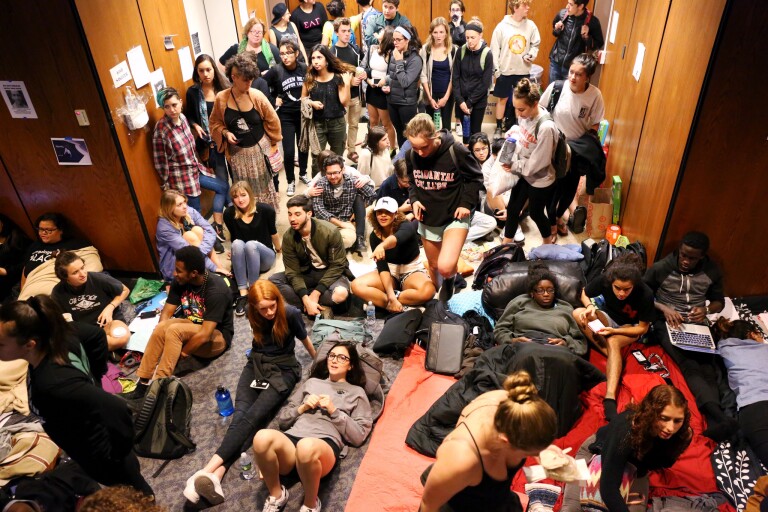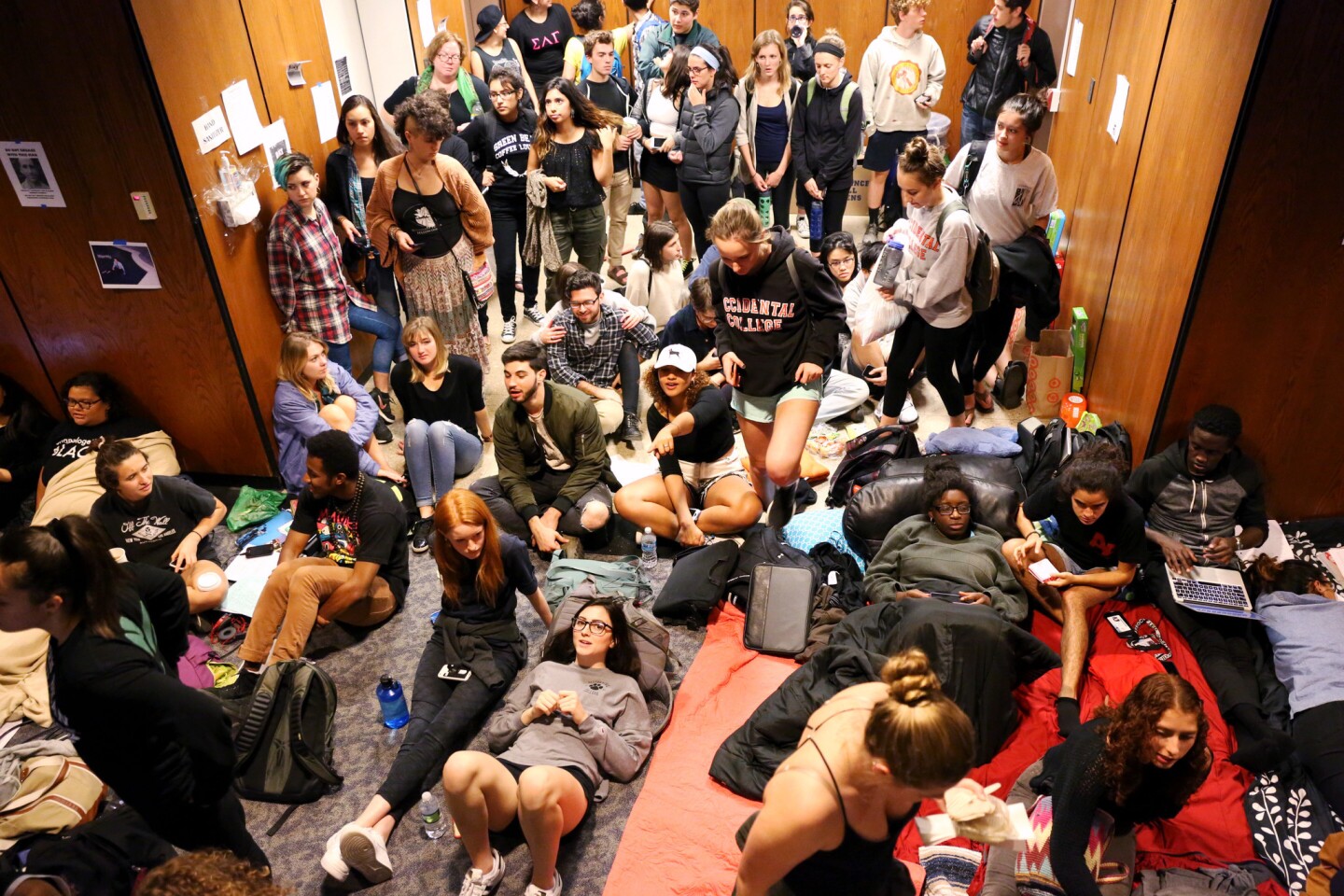 Occidental College students occupying Arthur G. Coons Hall gather for an online discussion with former students.
(Marcus Yam / Los Angeles Times)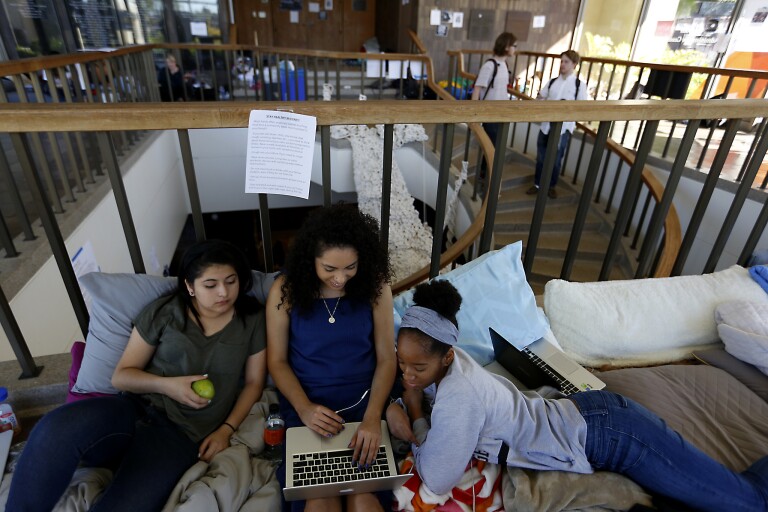 Mariel Guido, 18, left, Melissa Morales, 19, and Nasira Pratt, 18, study in the lobby of Occidental's administration building.
(Francine Orr / Los Angeles Times)
Students unhappy with Occidental College's handling of diversity issues begin their occupation of Arthur G. Coons Hall, the school's administration building.
(Francine Orr / Los Angeles Times)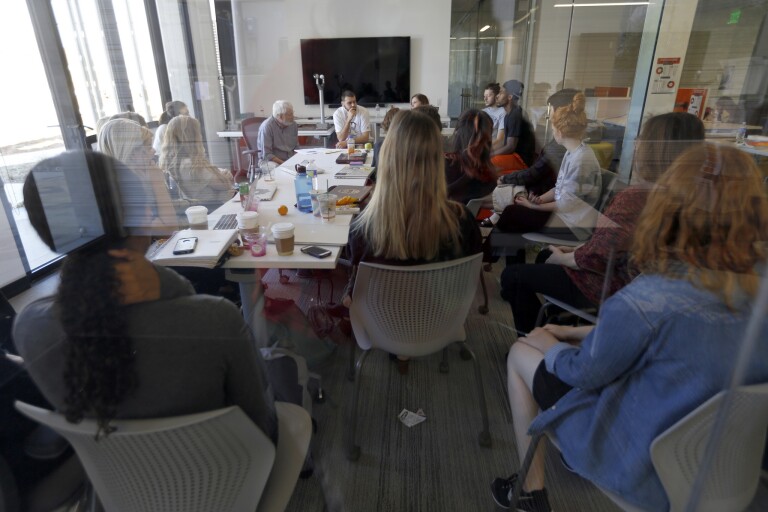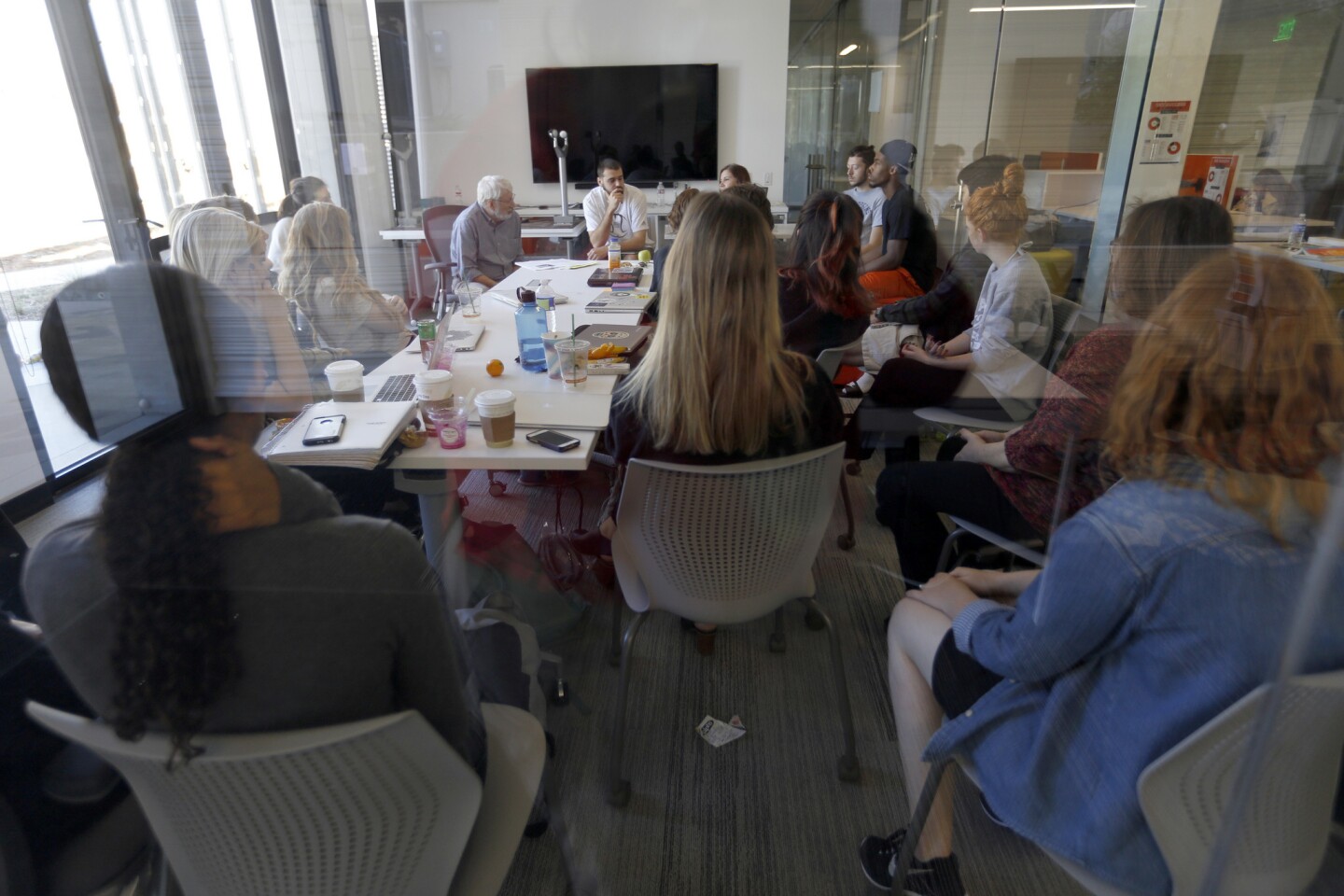 Some Occidental faculty are holding class in the administration building so that student protesters don't miss course work.
(Francine Orr / Los Angeles Times)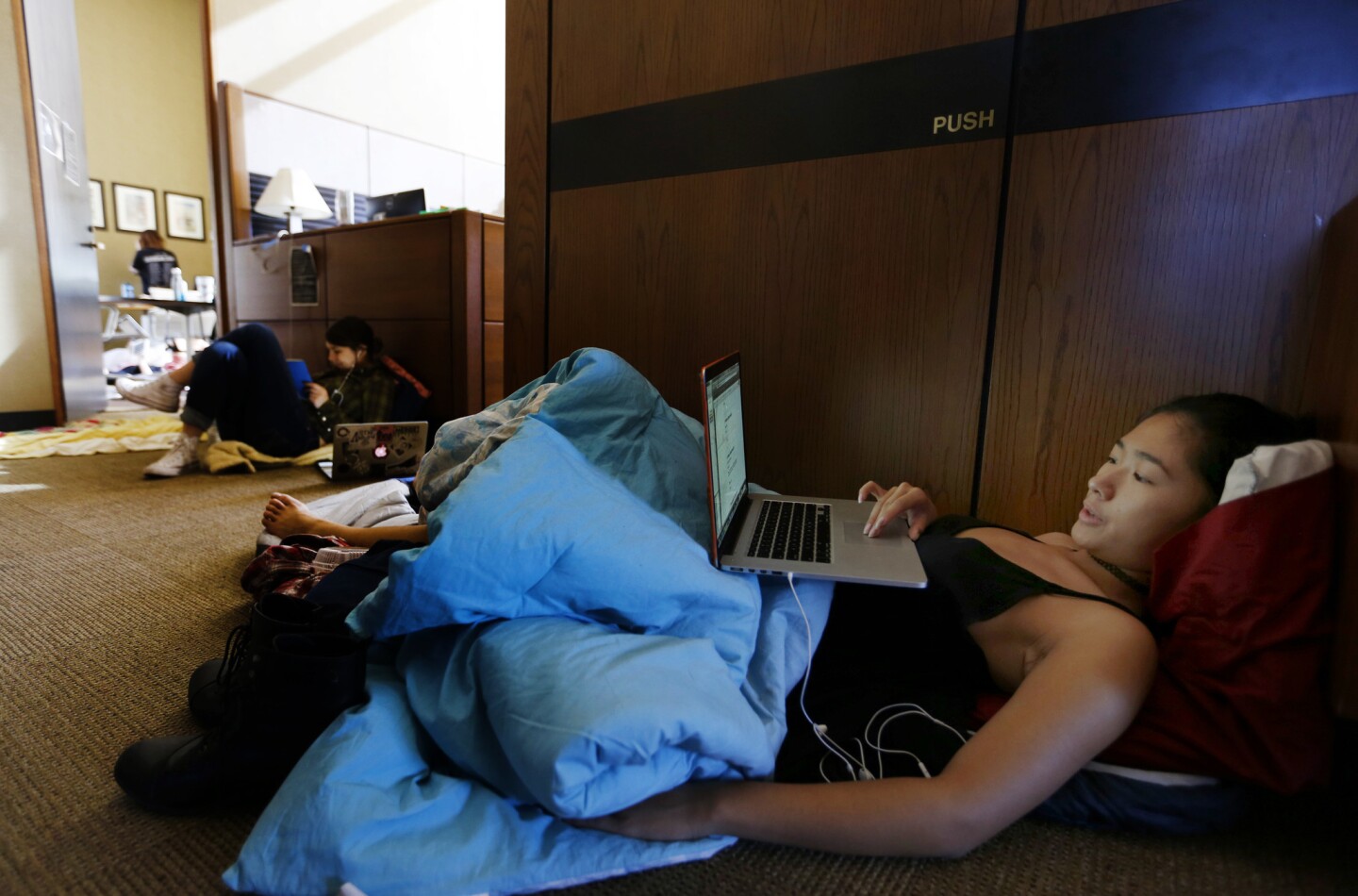 Rebecca King, 19, does homework in Coons Hall.
(Francine Orr / Los Angeles Times)
Occidental college students occupying Cools Hall gather for an online discussion with former students.
(Marcus Yam / Los Angeles Times)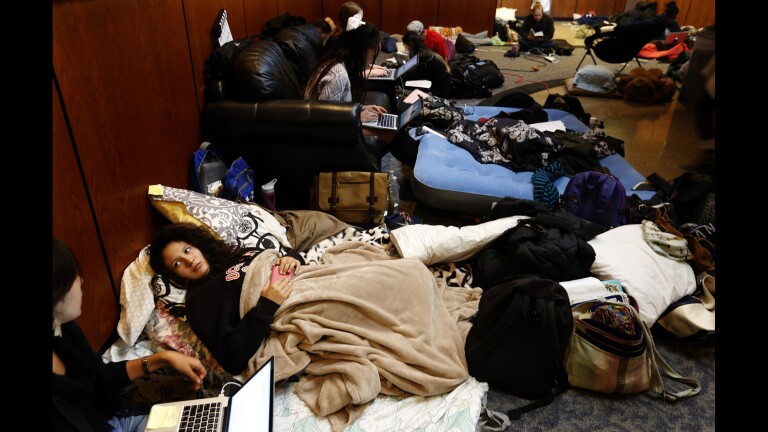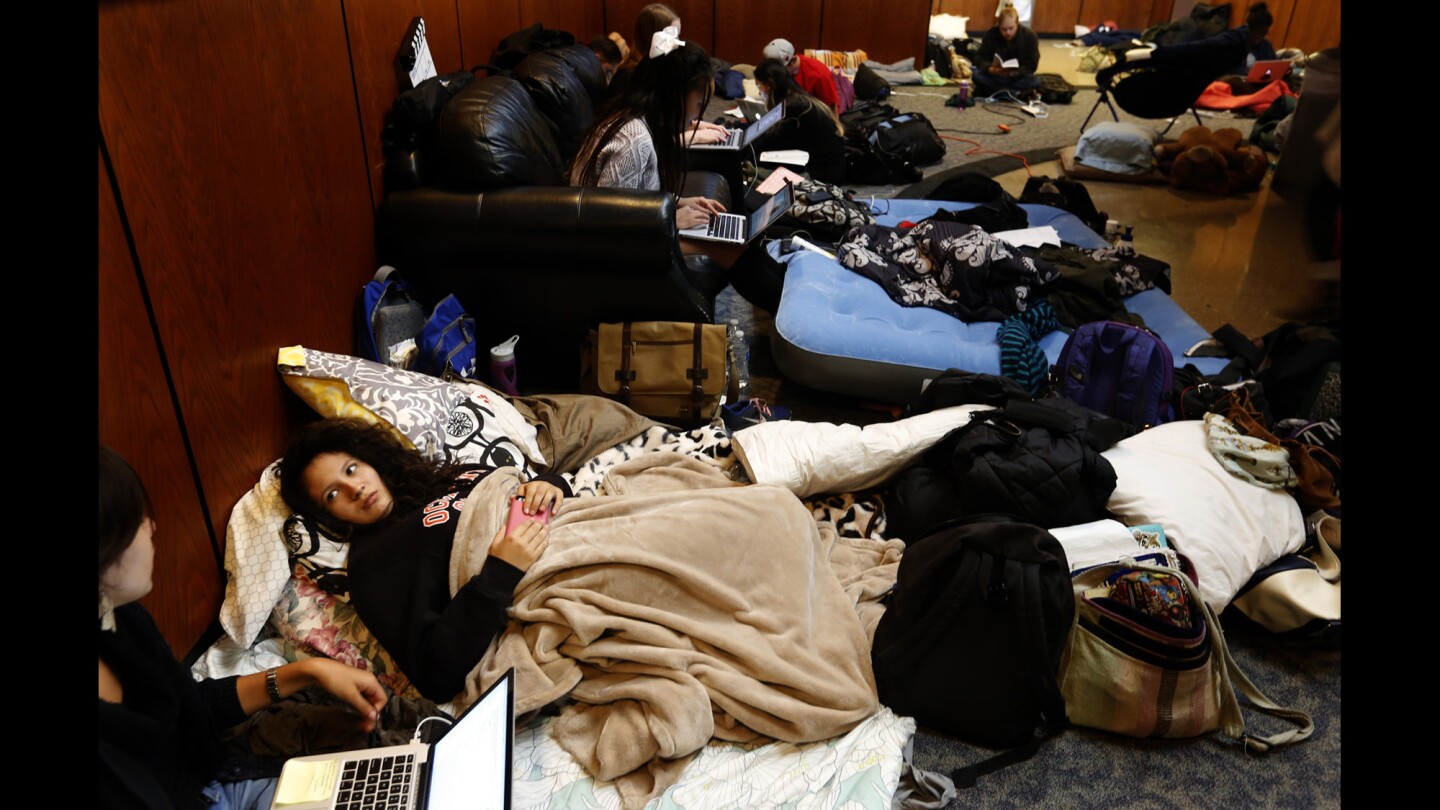 Between 70 and 120 students each night have been camping in the administration building to protest Occidental's handling of diversity issues.
(Mark Boster / Los Angeles Times)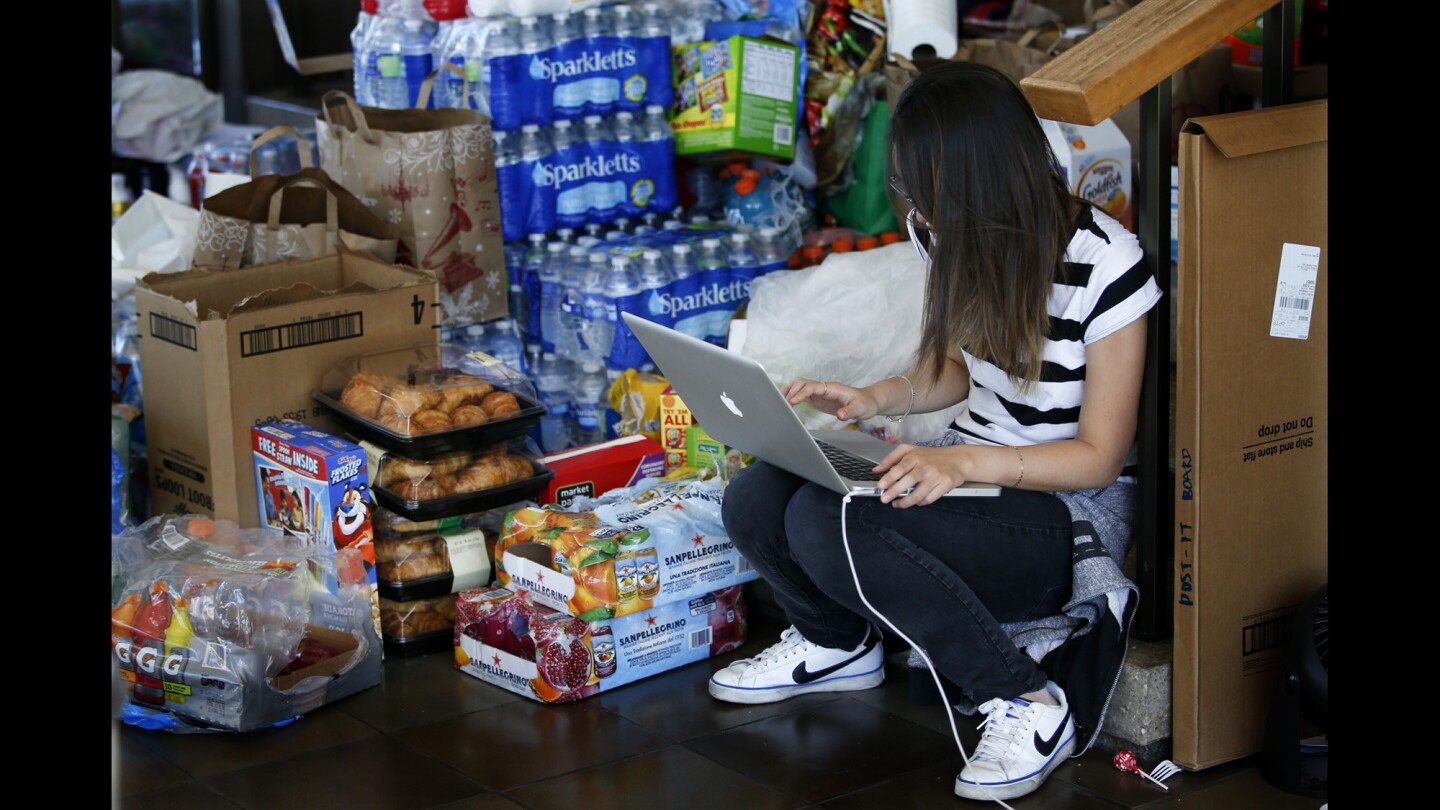 Occidental College student Erin Kim studies next to a stack of protesters' supplies, including food and bottled water.
(Mark Boster / Los Angeles Times)
"We needed to let them know there's no place to do work," said Danielle Raskin, a junior. "We needed to show them that we're not going anywhere until our demands are met."
The scene illustrates the tense but also relatively tame protests that have rocked the Eagle Rock liberal arts college over the last week. The students say it's their right to protest problems on campus, and the administration is largely letting them do so with little resistance. Students who sleep overnight inside the hall have plenty of bottled water, snacks, hand sanitizer, phone chargers and laptops that illuminate their protest zone at night. There have been between 70 and 120 campers each night.
"We're not going to shut anything down," Marty Sharkey, the school's associate vice president of marketing and communications, said earlier this week. "They've been conscientious and respectful."
The demonstrators have a list of 14 demands, including increasing student and faculty diversity and removing the LAPD from the campus. Perhaps most important, they are demanding Veitch immediately step down.
Occidental's board of trustees put out a statement this week saying Veitch has its full support. But the college has been moving aggressively to address concerns.
On Thursday, school officials agreed to some of the students' demands, including diversifying the faculty, creating a black studies program and increasing the budget for diversity initiatives. They also proposed hiring a mediator to deal with the aftermath of the unrest and said they would study other demands such as "demilitarizing" security.
But students say they are not entirely satisfied.
"We want to see action, not an email," said junior Cruz Riley. "There's a huge level of mistrust."
Occidental, perhaps best known as President Obama's alma mater, has long been known for its commitment to diversity.
In 1995-96, 44% of non-international Occidental students reported that they were minorities. This year, about 42% of students said they were minority or multiracial, according to school statistics.
Protesters said they started planning to take over Coons Hall after they held a demonstration about diversity and campus issues Nov. 12. Veitch addressed the crowd during the protest but left when students began discussing alleged incidents of sexual assault.
Some students took that as a sign of the president's indifference to their concerns, but Occidental administrators said Veitch left because he felt his presence was "no longer constructive."
Lindsey Ingram, a black first-year student, said she has been sleeping at Coons since Monday because she believes administrators should do more to combat racism on campus. Ingram said her peers have touched her hair and body without permission and called her racial names.
We want to see action, not an email. There's a huge level of mistrust.
— Cruz Riley, student protester at Occidental College
During orientation, one of her peers asked her what sport she plays. "That was the first question I got here," she said.
"So being uncomfortable [in Coons] is nothing compared to how I've been uncomfortable since I've come here."
Coons, which houses Veitch's third-floor office suite, now has signs with the movement's hashtags — #whyobamaleft and #movementnotamoment — and a gender-neutral bathroom on the third floor. School employees have set up a desk outside where students can get flu shots.
"Cough into your elbow if you need to cough," one handwritten sign said inside the building.
Some students have taken on a combative tone with administration, taping up signs featuring a picture of Sharkey throughout the building. "Do Not Engage With This Man," the sign read.
But many also said the experience has been a chance to meet and bond with their peers and even have a little fun at times. After leaving the alumni center Wednesday, students played music at Coons and had a small dance party. Students have also had teach-ins and yoga sessions.
"Looking into the crowd and seeing so many different demographics and seeing the change in their eyes has been great," said Matt Riback, a junior who was still wearing his pajamas at lunchtime on Thursday.
Some students said they believe administrators are hoping that the protests will die down soon, especially because finals and Thanksgiving break are approaching.
"This is just the beginning," Riley said. "There will be [a demonstration] the first day after break."
Twitter: @byjsong
---
The stories shaping California
Get up to speed with our Essential California newsletter, sent six days a week.
You may occasionally receive promotional content from the Los Angeles Times.