On the road for gun control, Parkland students bring their stories to L.A. schools
One day in February may have saved Mia Freeman's life. A second day changed it forever.
On Feb. 2, Mia's fourth-period class, which had been meeting in her high school's freshman building, was moved back to its original classroom space on another part of the campus.
On Feb. 14, a former student brought a semiautomatic rifle into the freshman building and started firing, killing 17 people.
It was what happened that day at Marjory Stoneman Douglas High School in Parkland, Fla., that brought Mia and her classmate Hayley Licata to talk to a crowd of students at Shalhevet High School, a private Jewish school in Mid-Wilshire, on Friday. They had come to join L.A. in the March for Our Lives, spearheaded by Parkland students, taking place Saturday in locations worldwide.
On Saturday, they will be speaking to a crowd of thousands.
But first, Rabbi Yoshi Zweiback of Stephen S. Wise Temple in Bel-Air brought them to share their experiences Friday with young people at three Jewish schools and a synagogue.
Mia told the Shalhevet students how Feb. 14 had started normally enough. During a bathroom break from class, she heard an alarm go off. She was confused because they'd had a fire drill earlier in the day. Soon a teacher had gathered up some students and shuttled them to the backyard of the middle school next door. By then, she knew there'd been a shooting, she said.
"I had no idea where the shooter was, if they would survive, or if my friends would survive," she said.
Hayley described sending a text message to her mother during a precarious escape from the school, as she and her classmates ran single file between a fence and a lake.
The Shalhevet students rose to honor the visitors and listened in silence as they spoke.
On her first day back to school after the shooting, Hayley told them, volunteers, parents, first responders and police officers greeted each student with a flower. But to her, it seemed they were there not only for support but to protect them from the many who wanted their stories.
"The first day we walked out of the red gates off the campus, we were bombarded with microphones and cameras being shoved in our faces from every angle. … I understand they have a job," she said of the media, "but they also need to respect us as students, and let us grieve."
The sounds of the news helicopters, she said, made her particularly anxious, because they reminded her of the day of the shooting.
At first, she shied away. Reliving the day again and again is not easy.
But she's speaking out now, though, she said, because of how much she and so many other students want change. "We need to make everyone understand that enough is enough," Hayley said. "Prayers and thoughts only do so much."
"My school is trying to make a change. … That's why it's not going away," Mia said of the students' fight for stricter gun control. She said the march and the movement it is part of is "of and for all Americans who are tired of being in fear of going to school, the movies or the mall."
After the young women spoke, they answered questions. One student asked their thoughts on arming teachers.
"This should never happen again," Mia said. "I don't think teachers should have to worry about being armed."
"There are too many what ifs that all end in a bad way," Hayley said of the prospect.
Nick Melvoin, vice president of the L.A. school board, also came to Shalhevet on Friday. Melvoin, who started a petition pushing for gun control, told the group he flew to Washington, D.C., recently to press his case to members of Congress. "Adults have failed you on this issue. Adults have abdicated their responsibility to keep their kids safe," he said. "We have your backs."
At the end of the Parkland students' visit, Shalhevet junior Eliana Cohen sat at a piano to perform a song she had written in response to the shooting.
"How do you expect me to move on, to be strong, with so much pain happening? How do you expect me to live life, to love life, without my best friends by my side?" she sang. "Can we find a way? There has to be a way."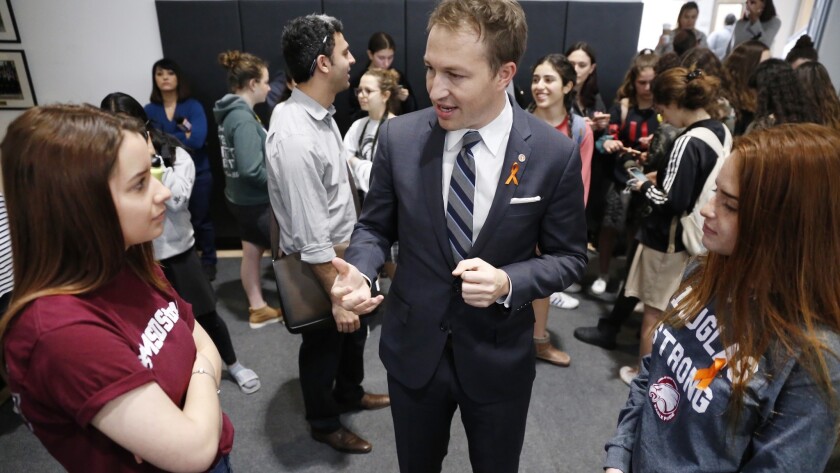 ---
For reporting and exclusive analysis from bureau chief John Myers, get our California Politics newsletter.
You may occasionally receive promotional content from the Los Angeles Times.