What prom looks like in juvenile detention: contraband hairpins have to be returned at the end of the night
Incarcerated youth at the Dorothy Kirby Center traded their county-issued grey sweat pants and socks for gowns and suits for one night on June 14, 2018. This year's prom theme was "A Night in Paris." 
DeMarlo slipped out of his standard-issue gray sweats and sneakers and left them on the bathroom floor. He stepped out into the library of his juvenile detention center in the gray suit and dress shoes he had chosen to wear to the center's prom.
"I feel like a boss. This could be my office," said the muscular 17-year-old with his mother's name tattooed on his right forearm.
Pending a court hearing, DeMarlo was two days away from release from the Dorothy Kirby Center in Commerce, one of the 19 juvenile detention centers that the Los Angeles County Department of Probation refers to as camps. He had originally planned to stay for the prom the next day, but said he was expecting the birth of his first child, had just learned that his uncle had been killed and wanted to go home as soon as possible.
So as he got a haircut and chose his prom suit, DeMarlo had hatched a plan: He would wear the suit instead to court, to try to impress his tough judge.
As he told a Kirby officer, "I'm not taking this suit off."
With a population of roughly 50 teenagers housed in "cottages" around a green field, Kirby resembles a small boarding school. Because its residents are minors and their cases are not in the public record, their last names and criminal histories have been withheld.
Between 2012 and 2017, the county has reduced the number of minors in detention camps by about 60%. Officials say they are training staff to focus on rehabilitation over punishment. A recent county-commissioned report suggested that such training is uneven. But with a program designed for teens struggling with addiction, emotional disorders and mental illness, Kirby is known for its therapeutic approach.
Giving teenagers a prom, an experience they might otherwise miss, is an important part of that, said Kirby's director, Michael Varela. Students have to be on their best behavior to attend.
"If you want young people to act in a certain way or conduct themselves appropriately, you have to … try to have it so that it's as close as you can have it with what's going on in a comprehensive high school," Varela said. "You try to reward conduct."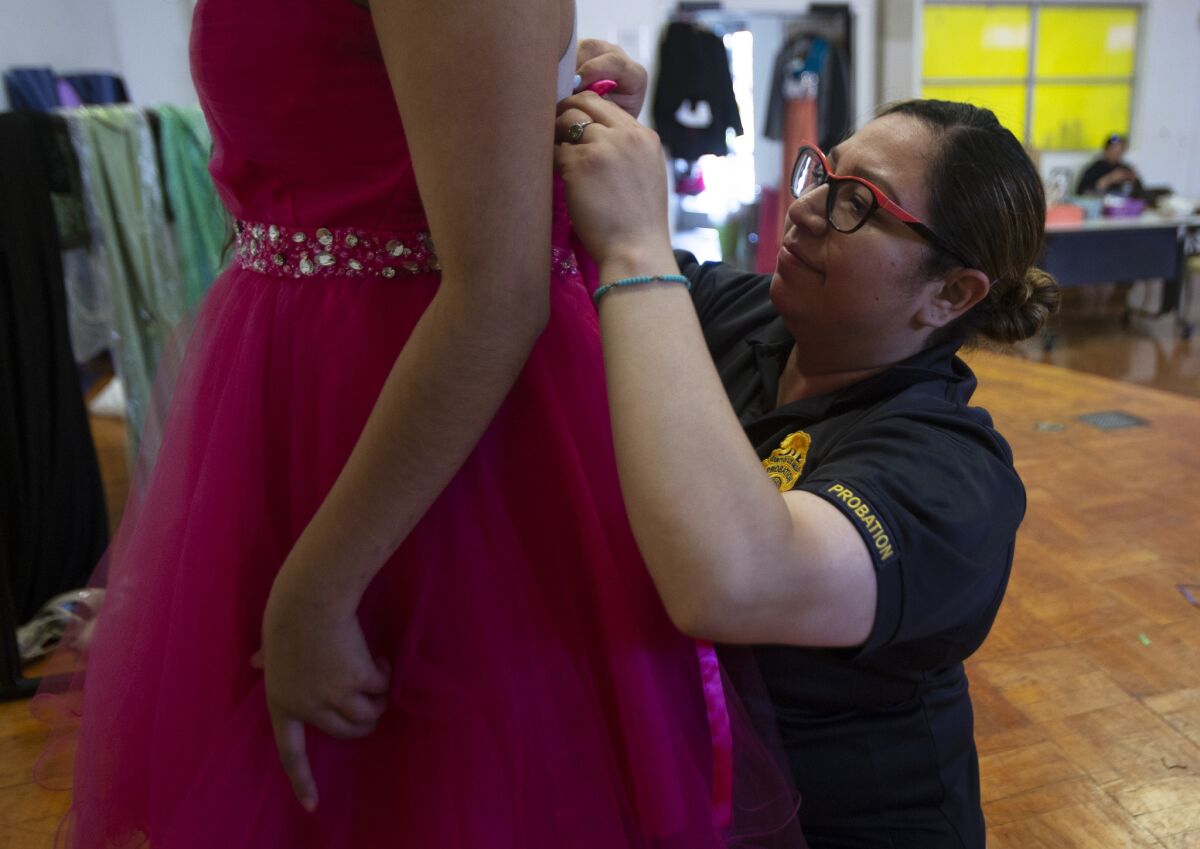 In some ways, the big event on June 14 looked like prom anywhere, but fancier than most. The theme was "A Night in Paris," and deputy probation officer Janet Ramos got staff to magic the drab auditorium into a Parisian nightclub. Wallpaper made half the walls look like exposed brick. Yellow awnings sported French names such as "Cafe Du Monde" and "Pattiseri."
Teens posed for photos and sketches by a caricature artist, ate baguettes, croissants and macarons, and danced to the beats of a DJ. There was a passport taller than some of them, and an Eiffel Tower that was taller still.
In a silver sequined dress, with a tattoo on her neck, Breahna was voted prom queen. Kane, a jovial young man with special needs, got the king's crown.
But the illusion flickered. Contraband hairpins were allowed but had to be returned at the end of the evening. Uniformed guards surrounded the dance area.
At the front of the room, teens sat at round tables and danced. In the back, at rectangular tables, adults gathered to witness an uplifting moment in a system that has been criticized for its abuses.
The teens had to listen to pep talks. A deputy probation officer told a few girls to leave their drama in their rooms. "There'll be judges, lawyers, bureau chiefs," she said. "Don't embarrass yourselves."
Kirby's minors have done things and faced hardships that could derail most adults. Some were traded by sex traffickers. Some live with mental illness. Others, like DeMarlo, have borne relatives' violent deaths.
In the outside world, kids their age don caps and gowns, celebrate sweet 16s and quinceañeras. At camp, teens wear thick socks and gray sweats; sit in class for a few hours a day and have to wait to be told when they can shower, leave their dormitories, wake up and sleep.
Aurora has black hair past her waist and a self-described aversion to rules. When she arrived at Kirby, she didn't want to go to the detention center's prom.
"It doesn't feel the same if I don't get to participate in prom in the outs," said the usually bubbly 16-year-old, referring to life outside the camp.
But when staffers asked her to go ahead and pick out a dress, she put one on, looked in the mirror and saw the reflection of an alternative life. She decided to go; it might be her only chance.
She got butterflies, she said, when she put on the dress. She thought of a memory and a fantasy: The last time she had worn a fancy dress — all pouf and glitter and gold — for her fifth-grade graduation. The quinceañera she had dreamed up and never had, because she had been locked up elsewhere before coming to Kirby.
The dress she chose for prom — knee-length, flouncy, with an open back — was a Barbie hot pink.
"In my imaginary mind," she said, "I can say I'm at the 15."
Aurora went with two girlfriends, who also wore pink. She danced with boys, chatted up a judge and talked to some college recruiters on hand. She and a female officer danced a wild but intricate salsa, Aurora's hair whipping behind her.
Kirby's prom is supposed to narrow the gap between life inside and out. The camp held its first more than a decade ago when a girl told staff how sad she was to be missing her high school one.
Joyce long dreamed of her sixteenth birthday. But on the big day, in May, she was locked up in Central Juvenile Hall. "We had a little dance party," she said, shrugging.
A few weeks later, at Kirby, she found herself facing a typical teenage problem: Whom should she take to prom?
Aside from college-level courses and a few coeducational events, Kirby's young men and women don't get to mix much, so they sneak glances when the opportunity arises.
A boy named Brandon had a smile that made Joyce happy. But he was released. Then a tall guy named Joshua asked her to go with him in a "wila," a secret note folded into a small triangle.
DeMarlo went to prom after all, though he wasn't happy about it.
He had to go to court in an orange jumpsuit and the judge sent him back to Kirby.
At Kirby, he has been working on anger management.
"When I think about it, I get angry," he said, looking down, playing with a hangnail as he spun in a chair at a Kirby office shortly after prom. "When I get angry, I do bad things. When I do bad things, I get into trouble. When I get into trouble, I do more time."
During prom, he had stewed about missing his uncle's funeral and possibly the birth of his baby.
Even with all the twinkling lights and piles of fancy food, he said, "you can't forget about you being locked up."
Times photographer Claire Hannah Collins contributed to this report.
The stories shaping California
Get up to speed with our Essential California newsletter, sent six days a week.
You may occasionally receive promotional content from the Los Angeles Times.