Can L.A. Unified get people to care about its next leader?
Stanley Prince had a lot to say about the next leader of Los Angeles schools last week, and he was grateful for the chance.
For 40 minutes, the assistant pastor had the undivided attention of two consultants involved in the search for the superintendent of the L.A. Unified School District.
That's because Prince was the only speaker at the forum.
"I thought this place would be somewhat packed," Prince said, before two others trickled into the meeting hall at White Middle School in Carson.
Interested in the stories shaping California? Sign up for the free Essential California newsletter >>
So it went at school after school as consultants held open meetings across the city over the last two weeks to collect input for the Board of Education as it prepares to hire the next schools chief.
"I'm sad that so few people attended," said former school board member Caprice Young, who participated in a forum with about a dozen others. "Unfortunately, it is a sign of how disconnected our families feel from the district as a whole."
The low turnout was on par for a school system that struggles to get parents involved — whether it's for teacher conferences, school leadership committees or Board of Education elections. (Less than 10% of voters cast ballots in this year's board races, despite one group's gambit to award $25,000 to a random voter.)
L.A. Unified has long wrestled with the proper approach to public participation in hiring a superintendent. When then-Supt. John Deasy resigned under pressure last year, the board quickly and confidentially arranged for ex-schools chief Ramon C. Cortines to return for a limited time. Board members cited the emergency of the sudden leadership change as the reason for offering no public input.
In 1997, the board allowed the finalists to debate in public; supporters of one, Deputy Supt. Ruben Zacarias, came out in force, successfully pressuring the board to choose him. In 2010, a small group of civic leaders privately used their influence to persuade board members to back Deasy, without public input or considering other candidates.
This time, officials made automated calls to parents, posted forum schedules online and offered meetings at varying times and locations to encourage involvement. They also set aside meetings specifically for clergy, community groups, employees, local leaders and others. And they sent Spanish translators to every forum.
"This current process is probably more in the middle ground," said David Rattray, vice president of education and workforce development at the L.A. Area Chamber of Commerce. "My impression is that this is a sincere attempt to allow the public to be engaged. It's just very ambitious to do this in a way that's going to work, and do it on short notice."
According to the search consultants, more than 1,200 people attended at least one of more than 100 scheduled meetings, an average of fewer than 12 per meeting.
In addition, consultants sought input on written and online surveys; about 8,000 of them were returned through last week.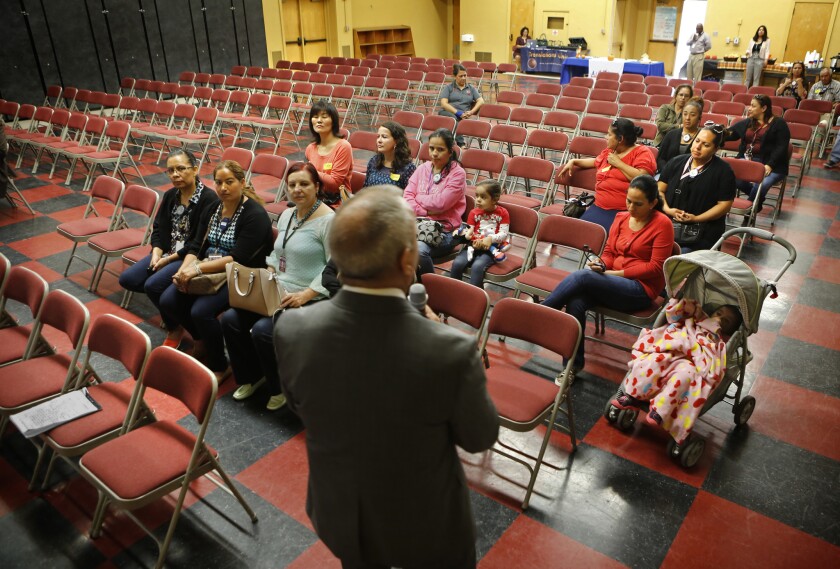 The district has about 650,000 students and about 90,000 employees.
School board member Monica Ratliff called participation at the meetings "tiny."
"The input being gathered at the forums in my community matters to me.... And I believe it matters to the other school board members as well," Ratliff said. "We said that the input would be used to help craft the criteria for the search and we must stand by that promise."
The next superintendent will deal with declining enrollment and serious budget challenges as well as contentious divisions over the best way to improve lagging achievement, including expanding the number of charter schools.
Consultants from the search firm Hazard, Young, Attea & Associates said they have received a reasonable cross-section of feedback. The input will be summarized in a report that will be provided to the board next week.
"I think we're doing a good job of getting all sorts of data," said consultant Joe Farley, a retired superintendent. "A lot of it is positive, and a lot of it is constructive or negative."
Prince used his platform to say that the next superintendent should understand the need for career training, which could give students an incentive to resist gangs and remain in school, while also providing job skills.
Prince also said he hoped that the next leader would possess "spiritual insight."
The forums typically began with consultants asking speakers to discuss what they liked about L.A. Unified. One representative from the search firm usually led the conversation, while the other took notes.
At an East L.A. meeting, Pearl Olympia said she was pleased that her grandson began learning Mandarin in kindergarten, through a dual-language program.
"We are very proud and thankful to the district for the opportunity," she said.
Next, consultants wanted to know what was going wrong or what the priorities should be.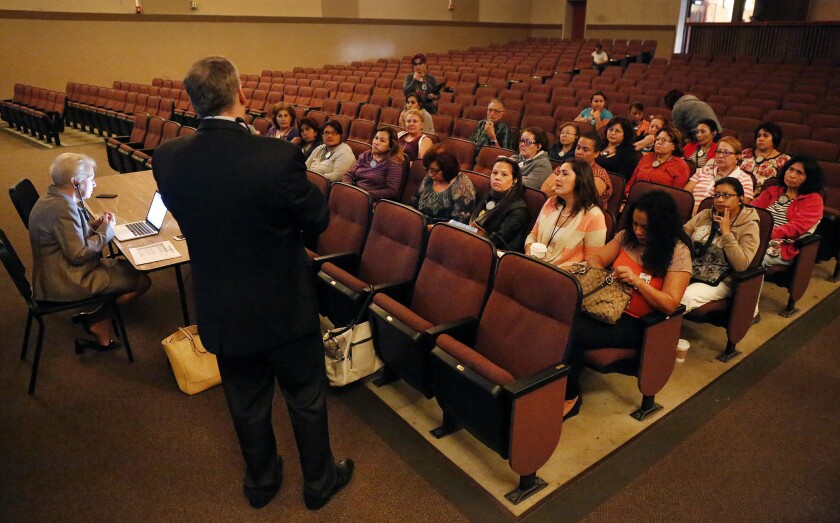 At White, Farley listened to a withering critique, mostly from employees, of a districtwide classroom breakfast program and other projects that were quickly imposed with inadequate planning and resources. As examples, they cited new approaches to student discipline, a costly effort to provide iPads to all students and more rigorous high school graduation requirements.
Next, consultants solicited speakers' favored characteristics in a superintendent; they also jotted down any suggested names of candidates.
"I want a superintendent to become more involved with parents," said Miguel Gonzalez, a parent at Hobart Elementary in Koreatown. He said he would make sure the superintendent knew about some employees who aren't working hard, about the lack of funding for music programs and about overcrowded classrooms.
Many participants also questioned why the names of finalists wouldn't be made public. They were told that the information needs to be secret so that applicants don't endanger their current job by expressing interest in L.A.
"I talked to two or three superintendents today who asked if the search would be confidential," consultant Rudy Castruita told a small group at Monroe High School in North Hills.
The search also involves recruiting.
"We're tapping people on the shoulder who don't even know they want to be the superintendent of L.A. Unified," said Castruita, a former superintendent who teaches at USC.
He repeatedly assured participants that their input would matter.
"We will take everything you tell us and try to find someone who matches the qualifications," said Castruita. "We're going to be bringing in people who are going to make it difficult for the Board of Education to make a decision. They're going to be that good."
Skeptics included Smitha Chandrabose, a speech and language specialist. At White Middle School, she criticized one element of the input: the survey.
"I am embarrassed for L.A.," Chandrabose said. "Who came up with this survey?"
Another doubter is Elise Buik, head of the United Way of Greater Los Angeles. She wanted an outside committee to guide the search; the board rejected that idea.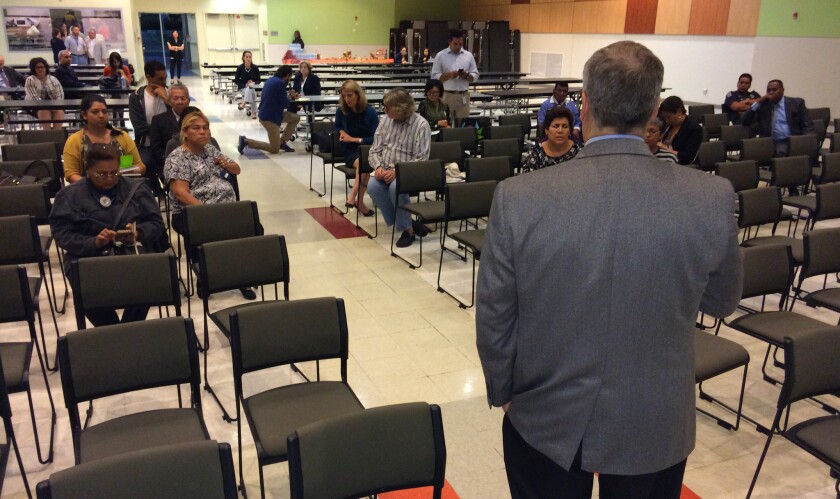 "It's a little random to me," she said, referring to the forums. "We don't know who's going to show up."
Apathy seemed to prevail.
"Many people are saying that these meetings are a waste of time," said Marjorie McDonald, a healthcare assistant at Harbor City Elementary. "My reply is that we do have a voice. This is a democracy. We do have to speak up."
She wants a superintendent who understands that healthy, happy employees will deliver better service to students.
Mario Burrell, who teaches at Riverside Drive Elementary in Sherman Oaks, attended a forum at a campus near downtown.
"We need to have more meetings like this where parents and teachers express their concerns," Burrell said. "The superintendent should be more accountable and should be in the public more often, not in an ivory tower inaccessible to the public."
Twitter: @howardblume
ALSO
California crime laws have gone too far, Gov. Brown says
California congresswoman who had abortion to serve on Planned Parenthood committee
Rep. Lieu joins call for Justice investigation of arrested Chinese American scientists on espionage charges
---
The stories shaping California
Get up to speed with our Essential California newsletter, sent six days a week.
You may occasionally receive promotional content from the Los Angeles Times.