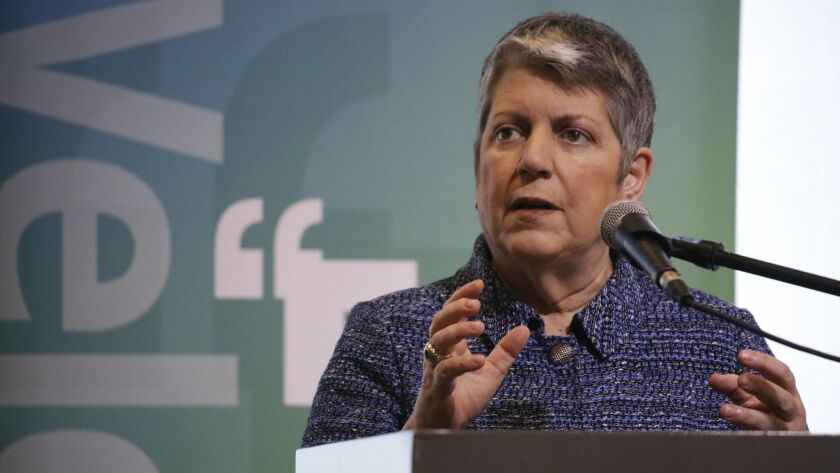 University of California regents this week plan to scrutinize the budget of President Janet Napolitano, whose office came under political fire last year for questionable spending and murky accounting.
Regents will vote on the proposed $876.4-million budget for 2018-19 during their two-day meeting, which starts Wednesday, at UC San Francisco. They also will discuss state funding, financial aid, online education and transfer student policies.
Board Chairman George Kieffer said regents are stepping up to exert stronger oversight of the president's office after a blistering state audit last year found financial problems including an unreported $175 million budget reserve.
Kieffer and other UC officials disputed the characterization of that money as hidden funds, saying it had been allocated to various university programs. But they acknowledged a need for more transparent reporting, which Kieffer said could be found in this year's budget.
"We are trying our best to make sure that the presentation is clearer going forward," Kieffer said in an interview.
A recent extensive outside review of the president's office found relatively little fat in its oversight of the nation's most complex university system — a $34-billion operation that includes 10 campuses, five medical centers, three national laboratories and international research.
The office's share of systemwide expenses is about 2%, a smaller share than in more than half of the nation's 10 next largest university systems, according to the review by the Huron Consulting Group Inc.
About two-thirds of the president's budget revenue is fees for assistance — such as legal services — that central staff provides to campuses or funds passing through en route to others, such as state dollars for tobacco disease research.
In her budget plan this year, Napolitano is proposing a 2% reduction, with less money requested for systemwide initiatives on issues such as carbon neutrality, food security and public law service fellowships.
She wants to shift $30 million to campuses for housing and $10 million to UC Riverside for its medical school. She also suggests redirecting $8.5 million to enroll more than 1,500 additional California students this fall, as required by last year's state budget bill.
Napolitano and the regents are expected to consider further changes to her office operations, as recommended by the Huron group, later this year.
"Part of that is the continual search for the Holy Grail, which is to run the best … office one can imagine — the most efficient, the most streamlined, the most effective that contributes the most value to the university," she said earlier this year.
During their meeting regents also will discuss UC's financial aid program, an expansion of online course offerings and progress in increasing the number of transfer students.
The governor and Legislature held back $50 million from UC's funding this year until the university met several demands, including enrolling one transfer student for every two freshmen at eight of the nine undergraduate campuses. UC Santa Cruz and UC Riverside have yet to meet that ratio, but state finance department officials noted that progress had been made and called Napolitano's recent announcement that UC would guarantee admission to all eligible California community college students a "bold commitment."
Regents are expected to approve Napolitano's budget Thursday. Once they do, officials are likely to release the $50 million, said H.D. Palmer, spokesman for the state finance department.
Twitter: @TeresaWatanabe
---