USC seeks restraining order against UC San Diego in Alzheimer's project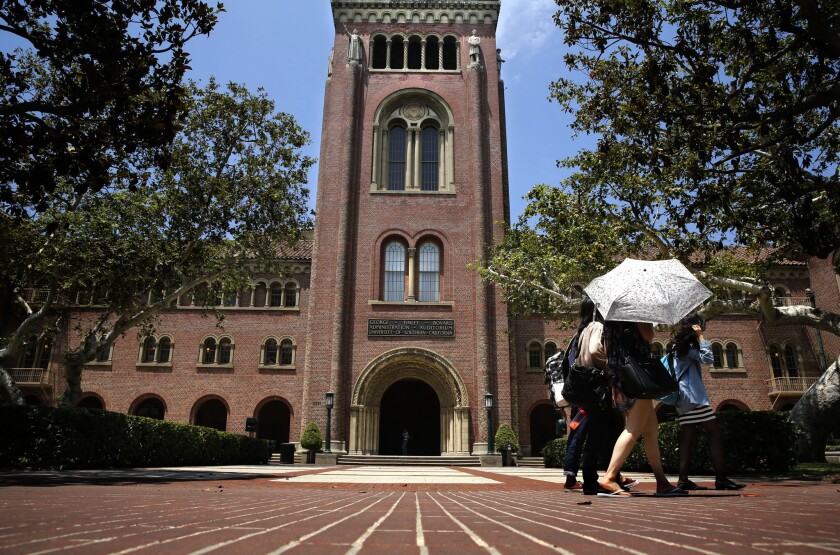 Accusing UC San Diego of interfering with a major Alzheimer's project, USC indicated it will seek a restraining order Tuesday to keep UCSD from hacking computers and taking control of the project.
The order will be sought in San Diego County Superior Court, where UC San Diego just days earlier asked a judge to place the same type of order against USC for allegedly commandeering the Alzheimer's Disease Cooperative Study, which the La Jolla school has run for years.
The two universities have been trading accusations for weeks, all centered on oversight of a $100-million, multicenter study that tests drugs and other experimental therapies for the treatment of Alzheimer's. UC San Diego sued USC, project head Paul Aisen and numerous other colleagues over alleged illegalities in their hires and the project. USC has denied wrongdoing.
Aisen, a rheumatologist, had led the project for UC San Diego since 2007. Last month, he left the school to become founding director of an Alzheimer's research institute that USC is creating in San Diego's Sorrento Valley neighborhood.
Aisen and his new employer contend that funds for the study now belong to USC. They also have confirmed that Aisen has taken administrative control of the project's data.
In a statement, USC said Monday that "an independent forensics expert confirmed frequent and ongoing 'root' access of the database from several computers at UCSD since July 2, and possibly earlier."
UC San Diego countered in a statement that it "did not 'break into' the Amazon account where the defendants have moved the [project.... We have not touched the data and have only observed transactions."
Last week, Superior Court Judge Judith Hayes ordered USC not to tweak data or change any computers involved in the Alzheimer's study.
metrodesk@latimes.com
---
The perils of parenting through a pandemic
What's going on with school? What do kids need? Get 8 to 3, a newsletter dedicated to the questions that keep California families up at night.
You may occasionally receive promotional content from the Los Angeles Times.