Walter Kohn dies at 93; UC Santa Barbara physicist shared Nobel Prize in chemistry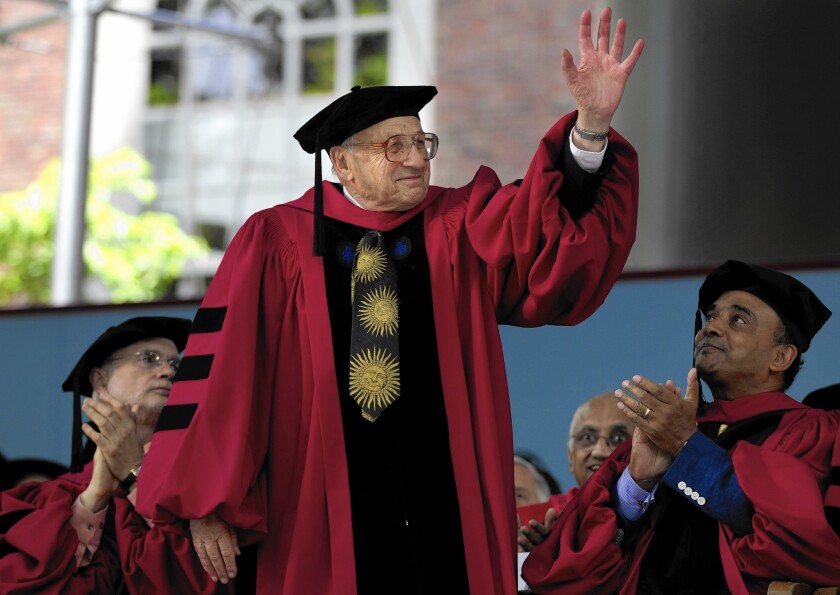 Walter Kohn, a UC Santa Barbara physicist who shared a Nobel Prize for a widely used theory in materials science — and who warned that "science is both a wonderful and terrible force in our world" — died April 19. He was 93.
Kohn's health had declined in recent months after he broke his hip in a fall, his daughter Ingrid Paymar said.
A Holocaust survivor who became founding director of what is now the Kavli Institute of Theoretical Physics at UC Santa Barbara, Kohn helped make it possible to calculate more accurately how electrons flowed through materials. Decades later, other scientists, including British-born John A. Pople, used his theories in computer modeling of complex molecules.
"Physics isn't what I do; it is what I am," Kohn once said. His wife, Mara Kohn, called theoretical physics "his great joy in life."
Yet Kohn also had wide-ranging intellectual and humanitarian interests, and questioned where scientific advancement was taking the world.
He was a prominent critic of the University of California's nuclear weapons research laboratories. Throughout his adult life, Kohn opposed unbridled militarism and was "very, very concerned about nuclear proliferation," Paymar said.
In 2001, three years after he was awarded the Nobel, he told the Santa Barbara Independent that science had instilled in him "a sense of awe, a sense of reverence and a sense of great mystery" but that it could not, of itself, solve all problems.
He said he differed with colleagues who saw science as a process of revealing what would prove an entirely predictable and mechanistic universe — "like a car! A big car!" he joked.
For example, Kohn said, science "does not have anything to say about the meaning of suffering."
------------
FOR THE RECORD:
Walter Kohn: In the April 29 California section, the obituary of Nobel laureate Walter Kohn gave his middle name as Samuel Gerst. Kohn had no middle name.
------------
Walter Samuel Gerst Kohn was born March 9, 1923, in Vienna to Salomon and Gittel Kohn. The Kohns had a family business commissioning, publishing and selling art postcards.
In 1938, Austria was annexed by Nazi Germany. Kohn's father was brutalized by Kristallnacht attackers, who also smashed the family apartment. Walking home from school, Kohn was seized and held in a police courtyard for hours, then released because his captors considered him "too young by a few months."
Kohn and his sister both escaped Austria; his parents did not. Kohn, 15, made it to England. He worked on a farm at first but was soon sent to an internment camp on the Isle of Man by British wartime authorities.
He was transferred to a camp in Quebec, Canada. A Canadian family took him in and helped him enroll at the University of Toronto, where he earned his bachelor's and master's degrees. He received his PhD from Harvard in 1948.
Kohn's parents were killed at Auschwitz. For the rest of his life, their deaths "remained very painful for him and difficult to talk about," his wife said. He would occasionally speak of his mother, she said.
Kohn worked at Bell Laboratories in the early 1950s and taught at Carnegie Mellon University. He became a U.S. citizen in 1957.
In the early 1960s, Kohn began the decades-long work that would lead to the Nobel. Working with colleague Pierre Hohenberg and with Lu Sham of UC San Diego, Kohn delved into the problem of how to predict, with better precision than was then possible, how different materials hold together and conduct electrical forces.
The problem is vaguely akin to forecasting the outcome of a billiard game played with "13 billion billiard balls," said UCLA physics and chemistry professor Robijn Bruinsma.
Kohn's ideas — called density functional theory — brought together what could be surmised about the density of electrons in a given material, as well as the interaction between an atom and an electron, to yield very good approximations of the electrical properties of materials such as semiconductors. "Elegant shortcuts," as one colleague summarized it.
At the time, Kohn's interest was in the fundamental physics of the world, not building the technology of the future, said longtime UC Santa Barbara colleague James Langer, a professor emeritus of physics.
Decades later, Northwestern University professor Pople, who had known Kohn at Carnegie Mellon, realized that with advances in computing power, Kohn's ideas could be applied to efforts to model the attributes of large molecules.
Kohn's tool made these new computer models quite accurate. Pople and Kohn shared the 1998 Nobel in chemistry.
The burgeoning field of quantum chemistry would find abundant use for Kohn's ideas in batteries, solar cells and other applications. But Kohn's work also shed light on the kinds of universal principles that fascinate physicists. He "was not just looking for a convenient way to do these calculations," Langer said. He sought "the truth of the situation."
Such work exemplifies "how fundamental science is necessary to make progress in applied problems," Bruinsma said.
While at Santa Barbara, Kohn kept developing density functional theory. With fellow laureate Alan Heeger, he produced a documentary video on solar power narrated by John Cleese.
He was interested in history, literature and classical music. He liked people and was active — he broke his wrist roller-blading at the age of 75, said his daughter Rosalind Dimenstein.
He took a deep interest in the social responsibility of science and spoke of the danger "of excessive reliance on science alone to solve problems that have essential non-scientific components."
In this, he told the Santa Barbara Independent, he was influenced by his experience under the Nazis.
"The fact that so many people, ordinary people whom one would like to assume were good people, decided nevertheless to look the other way, to not get involved, to not take risks, and let events take their course — this applies also to institutions — this is very much present in my mind," he said.
He is survived by his wife, whom he married in 1978; his daughters Ingrid and Rosalind and a third, Marilyn Kohn, all from his first marriage; and three grandchildren.
---
The stories shaping California
Get up to speed with our Essential California newsletter, sent six days a week.
You may occasionally receive promotional content from the Los Angeles Times.