Tonga Hut carries tiki torch high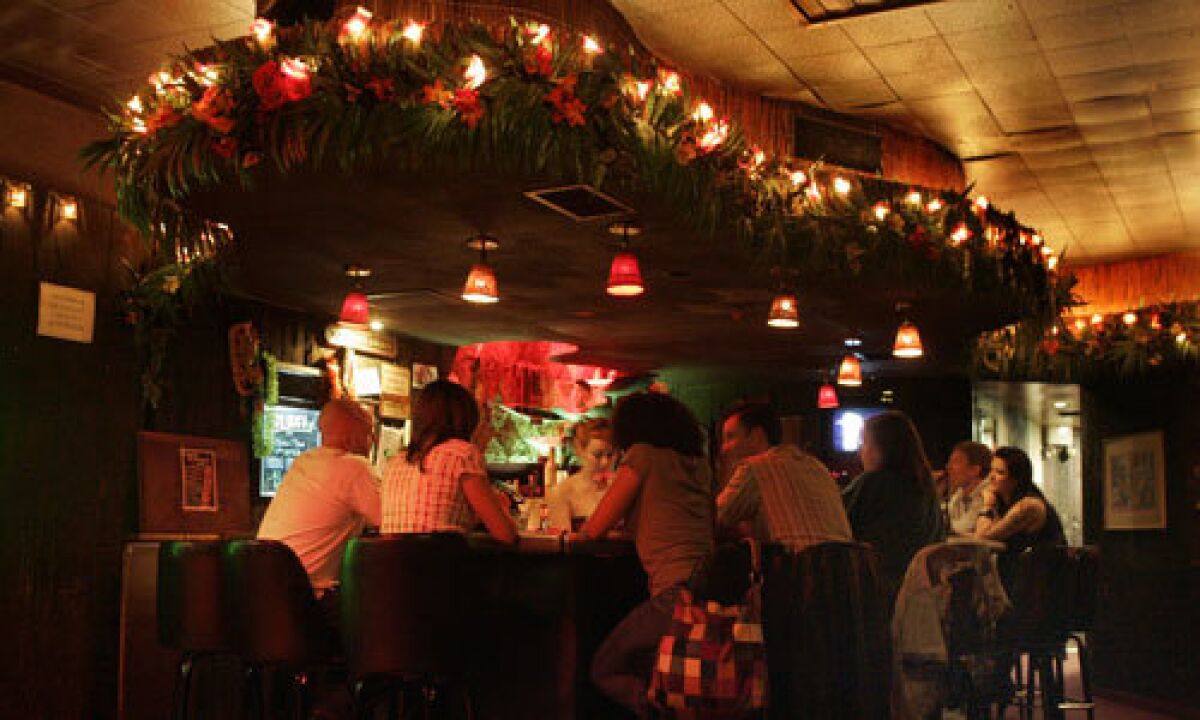 Like a lot of the better things in Los Angeles, you'd probably miss the Tonga Hut if you weren't looking. It sits on a nondescript stretch of Victory Boulevard in North Hollywood, tucked between a model railroad store and a hydroponic grow shop (for your tomatoes . . . cough, cough). But this weekend marks a milestone: L.A.'s apparently oldest yet perhaps least known tiki bar will celebrate its 50th anniversary.
Opened by brothers Ace and Ed Libby, the Tonga Hut was once a swanky neighborhood bar that fell into decline as the Polynesian pop aesthetic went out of style. By the time Jeremy Fleener and Ana Reyes bought the bar in November 2005, the fountains were broken, the Polynesian masks were covered with beer signs and the running soundtrack was provided by battered TVs from the '80s and an ancient jukebox.
"It opened at 6 a.m., and yes, there were people here," said Reyes of the old place.
What inspired Reyes and Fleener, neither of whom had experience bartending or owning a bar, to take on restoring the Hut to its former glory? The Cuban-born Reyes, sister of Cypress Hill rapper Sen Dog, had long wanted to be an entrepreneur. And Fleener, a guitarist who toured and recorded with the band, has always liked dive bars. After discovering the Hut more than a decade ago, he dragged Reyes to the bar and swore one day he would own it. "I came into this place, and it was all old people drinking Busch beer in the afternoon," he says. "I fit right in."
The history of L.A. is littered with the memory of great tiki venues: the Seven Seas in Hollywood, the Luau in Beverly Hills (just reopened by Il Sole restaurateur Andy Hewitt), the Palms in Anaheim and more recently Trader Vic's. (Let's not discuss the Beverly Hilton's depressing poolside reincarnation of Vic's.) Thankfully, a few old-school oases survive. Bahooka Ribs & Grog in Rosemead celebrated its 40th anniversary last year, and Tiki Ti has been a Silver Lake fixture since 1961. But Tonga Hut beats them all by a few years.
The first official record Fleener could find was an L.A. County business license from 1959, though longtime customers swear they've been coming since 1958.
Since buying the bar, Reyes and Fleener have worked to restore it to a respectable condition. The dark wormwood walls have been stripped of the sports memorabilia; the Drooling Bastard, a Tiki god fountain that sits in the back corner, now drools but no longer leaks; and the 7-foot-tall replica of a moai, or Easter Island statue, that was once used as a dartboard has been restored to a place of honor.
But don't expect the wall-to-wall decor of Tiki Ti or Bahooka. The Tonga Hut remains a work in progress. "It's more of a restoration than anything else," Fleener says.
That goes for the drink menu as well. By 2005, nobody on the staff knew how to make a mai tai. With the help of bartender and tiki artist Atomikitty (a.k.a. Suzie Mosher) and tiki drink aficionado PiPhiRho (a.k.a. Paul Rapp), they created a menu of 16 signature tiki drinks including the powerful Tonga Lei made with crème de banana, coconut nectar, rum and Falernum, a clove liqueur from Barbados.
Reclining in the green leather booths, Reyes muses on the mix of clientele her neighborhood bar attracts.
"We've tried to create an environment where anyone from 21 to 101 -- hipsters, old people, tiki enthusiasts -- can come and enjoy the mellow atmosphere."
Tonga Hut 50th anniversaryWhere: 12808 Victory Blvd., North HollywoodWhen: 8 p.m.-2 a.m., Saturday, October 25, 2008Price: No coverContact: (818) 769-0708, www.tongahut.com
Shatkin is a Times staff writer.
elina.shatkin@latimes.com
---
Life is stressful. Our weekly mental wellness newsletter can help.
You may occasionally receive promotional content from the Los Angeles Times.