That kid? He's the chef
Matt Molina, 29, is the executive chef at Osteria Mozza and Pizzeria Mozza in Los Angeles.
(Mark Boster / LAT)
Mozza executive chef Matt Molina with a tray of freshly washed mushrooms.
(Ringo Chiu / For The Times)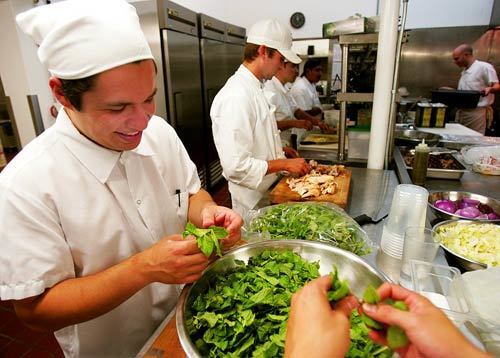 Mozza executive chef Matt Molina, who also does the ordering for the restaurants, checks out some produce.
(Ringo Chiu / For The Times)
Matt Molina, executive chef at Osteria Mozza and Pizzeria Mozza, checks whether an item passes the smell test.
(Ringo Chiu / For The Times)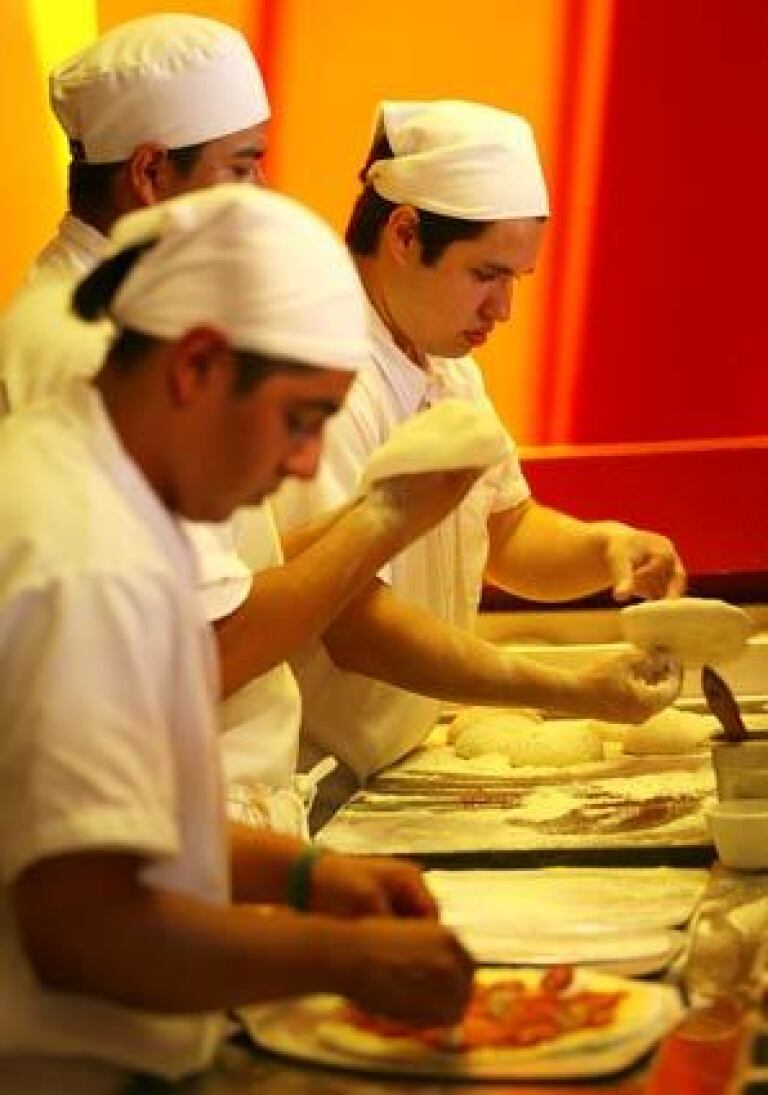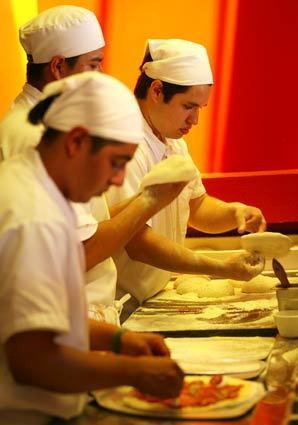 To help ease the lunchtime crunch at Pizzeria Mozza, Matt Molina jumps in with the team stretching pizza dough.
(Ringo Chiu / For The Times)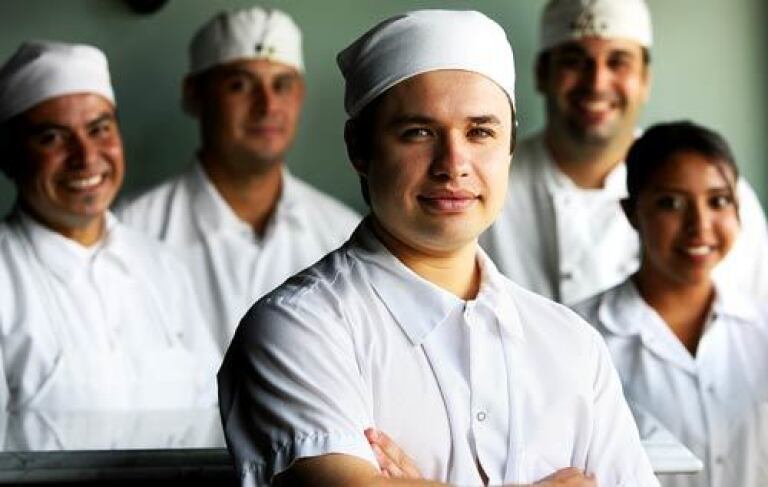 Matt Molina with some of the combined 75 chefs he supervises at Osteria Mozza and Pizzeria Mozza.
(Ringo Chiu / For The Times)
Los Angeles Times Staff Writer
In the dining room at Osteria Mozza, some kid is arguing with Nancy Silverton about food. It's mid-morning and with the restaurant closed for lunch, it's about the only time the room is empty. But already through the tall windows on Highland Avenue, you can see people lining up at their pizzeria next door. Silverton and the kid are standing at a marble table stacked with menus, and they're ripping one apart -- at least verbally.
Silverton is dressed stylishly, as usual, with an apron thrown over her designer duds. The kid has on a short-sleeved chef's jacket and he's got what looks like a large white dinner napkin wrapped around his head. Who is this guy? You might be surprised. Of course you know that Silverton and Mario Batali are the big-name chefs behind Mozza. But do you have any idea who's running the kitchen?
Matt Molina, a 29-year-old so baby-faced he looks as if he probably still gets carded when he orders a bottle of wine, is the executive chef at the two hottest restaurants in Los Angeles: the conjoined twins Pizzeria Mozza and Osteria Mozza.
While his bosses call the shots and get the headlines, it's Molina who makes sure everything works. He helps spin the dough in the pizzeria at lunch and he stands at the head of the osteria kitchen every night, checking each plate before it goes out.
It's Molina who works with Silverton and her co-owners Batali and Joe Bastianich developing the recipes and planning the menus. And then it's Molina who supervises the combined staff of roughly 75 cooks who serve the 600 diners who pass through the two restaurants every day. He does the payroll and he does the ordering.
Two demanding bosses
Wonderful as this opportunity might be for such a young chef, Molina is also very much in the hot seat. Not only is he running two of the most talked-about restaurants in town, with all the microscopic scrutiny that goes with it, he's also working for two very high-profile, very demanding bosses.
Not that it seems to bother him. Right now, he and Silverton are worrying about the arrista. A roast loin of Berkshire pork, it comes with a thick, highly seasoned fat cap -- the secret to its succulence and flavor. But that seems to be a problem for some diners. Molina has noticed that when plates come back to the kitchen with food left on them, it's most often the pork.
At first he and Silverton talk about changing the meat. But neither can bring themselves to do that -- they both love the pork. "We could change it but it just seems so right the way it is now," Silverton says. "Let's think about it and wait a little longer."
So they toss around ideas for changing the accompaniment -- maybe with a different presentation (and with a little more time to get used to it), diners will come around to their way of thinking.
Molina mentions that he's been getting great chanterelles. How about sautéing those? That idea bounces a couple of times, then Silverton suggests pairing the chanterelles with corn.
And what about fresh lima beans? Molina asks.
"Like a succotash?" Silverton says. "That would be good."
Molina pounces: "Last week I wanted to serve lima beans with my Sungold tomatoes and you wouldn't let me," he says, little brother baiting big sister.
"That's because we have too many tomatoes on the menu already," Silverton says. "I know it's summer, but every dish doesn't have to have tomatoes on it."
Chanterelles, corn and lima beans agreed on (but no tomatoes), Molina brings sous chef Chris Feldmeier out of the kitchen to give him preparation instructions ("wash the chanterelles really well in still water, just like morels, then spin them dry").
But after several tests, it's decided that the lima beans just aren't working. So, out they go. After a half-dozen other combinations are tried (even one with radicchio), it's decided it'll be just corn and chanterelles beside that lovely hunk of fatty pork.
Though It was the culinary marriage of the Bread Queen and Molto Mario that created the buzz, the actual fulfilling of both restaurants' promise falls in large part to Molina, a local boy who has cooked in only four restaurants in his career.
So far, he's passing with flying colors.
"He's exceeded all my expectations," Silverton says. "He's not only a good cook, but he can lead a kitchen, and that's something rarer. The way a 29-year-old kid can not only command respect but have older, sometimes more experienced, cooks listen to him, that's not something you find very often."
Batali agrees. "Matt's a surfer dude. I've worked with surfer dudes. They take everything seriously, but then there's this Zen confidence, and that really comes through when you watch him cook."
This is a stretchIT'S a truism that the real miracle of a great restaurant is not the creation of a brilliant dish, but the ability to replicate that dish 30 times a night under highly stressful conditions and have it come out nearly perfect every time. Making sure that happens at the Mozza restaurants is the biggest part of Molina's job.
One morning the pizza crew is having trouble with the dough -- it's a fresh batch and therefore hard to stretch, particularly with the speed required to feed the throngs at Mozza. The kitchen asks Molina about pre-stretching some of the pizzas to save time.
So Molina proposes a test. Two pizzas appear on the counter, identically made except for the stretching and shaping. The pre-stretched one is perfectly round and absolutely flat. The other is slightly irregular and the surface is blistered with air pockets. Molina thinks he knows which one Silverton will prefer, but asks her opinion anyway. Yup, without hesitation she points to the more rustic version. No pre-stretching.
Molina spends the next couple of lunches on the pizza line, helping stretch dough so the crew doesn't fall behind.
You might expect a chef in his position to have cooked since childhood, graduated from a top culinary school and have a long list of famous restaurants on his résumé.
Not Molina. He was raised in San Gabriel, and he signed up for the short-lived Los Angeles Culinary Institute in Burbank in 1995, almost on a whim, three weeks after graduating from high school. Before helping to open Mozza, he'd worked in only three restaurants -- Mi Piace in Pasadena, the late 2087 in Thousand Oaks and Campanile in Los Angeles. That's it, except for a four-month stint helping Batali open Del Posto in New York.
It was while working for chef Richie DeMane at 2087 that the cooking bug really bit. Molina says it was DeMane, who was formerly chef at Michael's in Santa Monica and now runs Leila's in Oak Park, who actually taught him how to create and how to get serious about food.
DeMane says it was clear from the start that Molina had promise. "He's got a culinary mind," he says. "He always looked like he was taking everything in. He didn't have his own agenda or have some big ego. His attitude was all about, 'Let's learn from the people who are out there.' "
When it came time to move on to the next job, Molina organized his search in a straightforward way -- he went out to eat. After trying several highly touted restaurants, he went to Campanile.
"It was the first time I read a menu and then the food I ate was exactly what I imagined it would be," he says. "If it said 'grilled veal chop with tomato confit, olives and basil,' I could close my eyes and taste all of those things and when the dish came, that's what was there in my mouth. The cooking was very direct, very honest, no tricks."
He started as a line cook in 1998 and worked his way up to chef de cuisine in late 2003 after Chris Kidder left to open Literati II. He stayed for a year and a half until Silverton asked him to help her develop recipes for her latest book, "A Twist of the Wrist."
He found they worked well together. "We developed this really strong relationship," he says. "As a cook, she is definitely an inspiration and someone I need in my life to move me forward."
Silverton has a reputation as a perfectionist. Molina just laughs: "In some ways Nancy Silverton is one of the hardest people to work with you can imagine," he says. "She is on point every day. She is focused and she is intense. But she's not there to threaten you; she's there to make sure things get done the right way.
"The thing about Nancy is the way she does it: If she wants something done a different way, she'll explain it to you, she won't just yell at you and walk away. She'll explain it and help you work out a better way."
Kitchen collaborationWHILE Silverton is in the restaurant almost every night, usually working the mozzarella bar, Batali doesn't involve himself much in the day-to-day operation of the Mozzas. As is his habit with most of his 11 restaurants, once the place is up and running, he steps back and lets the chefs on site do their thing.
He's there when they need him, though, functioning as the ultimate Italian food guide and recipe fixer of last resort. When Molina was working up the spot prawns alla diavola for the osteria, he couldn't quite get the dish right. It was missing something, but he didn't know what. With Silverton traveling, he text-messaged Batali. Within an hour, Batali had text-messaged back: Serve it on a bed of giant white beans and make sure there's mint. Perfetto.
Molina is reluctant to take creative credit for any of either restaurant's dishes -- whether this is a diplomatic deferral to his bosses, natural modesty or strict adherence to the truth is hard to say. Most likely, it's just the cooperative way they all work together.
Still, his fingerprints are all over the menu. For example, the stuffing for the fried zucchini flowers that are the must-have appetizer at the pizzeria were developed by Molina after talking with Silverton. "We wanted something oozing, but still stringy, like a ravioli filling," he says, so he worked at the right combination of ricotta and both fresh and low-moisture mozzarellas.
The grilled beef tagliata is his re-interpretation of the grilled steak with arugula salad that Silverton loves to serve guests at home -- his twist was the balsamic marinade; the slight sweetness makes even lean beef taste richer.
Linguine with clam sauce is a classic Italian dish Batali brightened with a spicy jalapeño "pesto." Molina had the idea of using red jalapeños instead of green because he thinks the color works better against the noodles.
Perhaps the ultimate example is the whole orata wrapped in fig leaves and grilled. Molina says the dish came about after Silverton had returned from a trip to Paris, where at Joël Robuchon's restaurant she'd eaten a seemingly miraculous whole cooked fish that didn't have any bones.
Molina remembered that when he was working at Batali's Del Posto, a fish chef named Edwin Ferrari had a similar technique. It's a tricky bit of knife work, but Molina picked it up hanging around in the fish kitchen and watching. Essentially, you fillet half the fish but leave the meat attached at the head and at the tail on one side. Snip the backbone with scissors and remove it. Use pliers to remove any ribs or pin bones and just like that, you've got a whole fish without any mess for the waiters.
Stuffing the fish with herbs was a natural and wrapping it in fig leaves was inspired by "Nancy's love of wrapping things up," he says.
"I really like the rustic look of fish prepared that way, plus it adds another layer of flavor and texture, plus those fig leaves really absorb all of that wood-fire flavor."
So, does the dish belong to Molina? To Silverton? Ferrari? Batali? Or maybe Robuchon? As long as everyone likes it, Molina's not going to worry about it.
russ.parsons@latimes.com
---
For reporting and exclusive analysis from bureau chief John Myers, get our California Politics newsletter.
You may occasionally receive promotional content from the Los Angeles Times.