The Review: Palate Food + Wine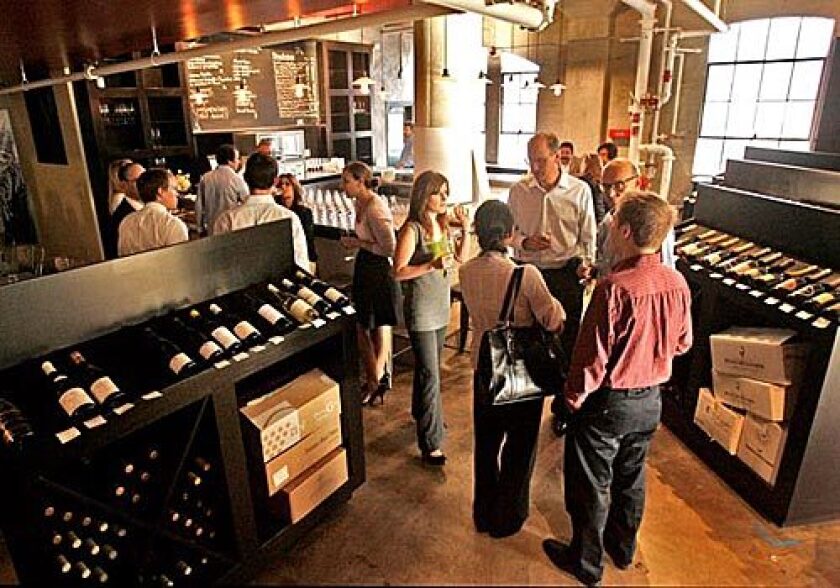 Times Restaurant Critic
YOU SNAG a parking spot on the street in the middle of Brand Boulevard's endless row of car dealerships and as you get out of the car, you can feel the salesmen go into high alert. A possible buyer for that gas-guzzling truck? No, just another food lover on the way to the most exciting and delicious new restaurant to open in a very long time -- Palate Food + Wine.
This is the breakout restaurant for Octavio Becerra, who put in years with Patina Restaurant Group and was the original chef at Pinot Bistro in Studio City. But his cooking at Palate is nothing like the saucy Joachim Splichal style.
At this casual California-Mediterranean bistro and wine bar, it's fresh and direct, polished but not showy, food that anyone can understand, food that celebrates California's great bounty of local ingredients. The lamb's from Sonoma, the lettuces are from Coleman Farms in Carpinteria -- and the butter is made in-house.
Plus, Palate includes a wine shop and wine bar at the back where you can stop in for a quick -- or a lengthy -- bite at one of the communal tables there and pick up a few bottles to go as well. And Palate does all this while changing the irresistible menu frequently and pricing everything under $20.
Becerra came out of the club scene in the late '80s and flaunts one of the better chef tattoos I've ever seen: a life-size Japanese knife inked onto his forearm. But his Mohawk is now a silvery vestige of its former flamboyant self.
Inside the dazzling white former Bekins warehouse built in 1928, the ground-floor space has a straightforward bistro look. There's a curved bar at the front of a long narrow room divided into thirds by transparent fabric panels printed with a pale photo image of grapes. Handblown glass grapes spill over the sides of a pair of giant urns, a tongue-in cheek reference to the wine, which is such a big part of Palate's charm. Becerra's chef-partner is Gary Menes, who worked with him for nine years at the Patina Restaurant Group. With Becerra, Menes is doing his best cooking yet and Becerra himself doesn't miss a beat. A real pro, he moves easily between the kitchen and the dining room, but mostly stays squarely in front of the small open kitchen, inspecting and finishing off every dish before it goes out to a table.
From a corner banquette one night I watch the way Becerra sniffs a potato-size truffle before shaving it over the night's special, risotto with summer truffles. Just the way he finesses the truffle, letting the slices fall in a lovely loose drift over the rice, persuades me to add the risotto to our order. And the coddled egg with summer truffles too.
The risotto is beautifully cooked, each grain of rice separate and perfectly al dente, bathed in a light broth, enriched with Parmesan and then lavished with the marbled beige truffles. With their subtly earthy smell and slightly crunchy texture they're terrific too with that coddled egg served in a small glass canning jar. The egg is very loose, with a shock of gold yolk, best eaten with a spoon to catch yolk, white and truffles in one delicious bite.
Sweet corn and smoked ricotta ravioli from the one-page list of that day's dishes are just as much entirely of the season. These aren't your fat, overstuffed models, but slender, flat, half-moon packets, layered at the bottom of a shallow bowl. Bite into one and you taste pure sweet corn with a milky note of ricotta.
Dreamy wine list
BECERRA'S partner Steve Goldun is as relaxed and understated a sommelier as I've ever encountered and has put together a wine geek's dream of little-known, obscure, undervalued or reasonably priced bottles that anybody would be ecstatic to have in their cellar. Ask him to suggest a wine and he'll come up with something that drinks much more expensively than it's priced.
In addition, you can pop into the wine shop behind the restaurant (in between is the area with communal tables, a library of food and wine books and a lounge), buy a bottle retail and drink it in the restaurant for an $18 corkage fee. Now that's wine-friendly. If you want to drink that bottle in the wine bar, which offers cheese and charcuterie and a few other easygoing dishes, the corkage fee is only $5.
Patina's Splichal has been just as influential as Wolfgang Puck in letting a new generation of chefs loose on the world, and though chefs who have come up in either "school" tend to stick closely to what they've learned there, Becerra, at 44, is old enough to know his own mind. And I suspect he's writing a menu of exactly the kinds of things he likes to eat. He's not into heavy sauces, but he is into deep, pure flavors.
Chilled melon soup poured around pristine chunks of Dungeness crab is topped with a light froth of crème fraîche. A drop of light chile oil brings out the sweetness of the melon.
Coleman Farms lettuce salad arrives as a frilly stack of lettuces interlaced with avocado and bacon, or in a variation, with those impossibly fragrant doughnut peaches and salty-sweet lomo (cured pork tenderloin).
An order of 'porkfolio'
I ALMOST always order "porkfolio," a generous plate of cured meats that encompasses San Daniele prosciutto and one from La Quercia in Iowa, various salami, plus a few slices of lardo -- pure white pork fat perfumed with rosemary -- and is served with thin toasts (the better not to fill you up) and a trio of mustards.
You'll need "something pickled" too, maybe light, crisp lemon cucumber pickles, miniature pears with green speckled skin and an aromatic vinegar bite or the pickled plums or nectarines, any of which are wonderful with the salumi.
Don't miss the "Mason jars" category either, rillettes and confits served in small clear glass canning jars. The basic is potted Berkshire pork, a lush mixture of shredded long-cooked heirloom pork. But there's also a lovely potted chicken. And last week's menu included potted lapin, a savory mix of rabbit and pork flavored with wild herbs. Spread 'em on those same thin toasts. Drink with a Rhône or a Barbera and enjoy.
Sometimes, if there are enough of us at the table, we've ended up ordering practically the entire menu to share in dribs and drabs. Dishes sound so enticing that you can't help being a little greedy. There's always either something new, or a variation on a theme, a remarkable feat in a restaurant this young.
If you see "dw lamb" on the menu (dw stands for Don Watson, Becerra's Sonoma supplier), ask your server to save you an order before it's gone. The farmer drives down to L.A. a couple of times a month with true baby lamb. In spring and summer, Becerra roasts it; in fall and winter, he'll braise or stew it. One night, our table is served a whole braised shoulder of lamb for four: It's groan-inducing delicious, gelatinous and tender, a glorious piece of meat that really tastes like lamb.
Duck breast one night gets a gentle hint of plums stirred into the juices. Braised veal breast is another terrific piece of meat with a deep, satisfying flavor that has its juices spiked with pistachios and sits on buttery squiggles of spaetzle noodles. I could eat that dish all over again today if I was lucky enough to have it in front of me.
Vegetable lovers should order the vegetables en papillote -- Roma beans, asparagus, skinny baby zucchini and more cooked to delicious effect in parchment paper. I loved the organic grits with velvety porcini mushrooms too.
And I'd be happy all over again to dig into the plate of boiled Delta crayfish I ordered another night, sucking the juices from the heads, dipping the curled tails in drawn butter sparked with chile.
House-made butter
SPEAKING OF butter, the kitchen makes its own and serves it garnished with sliced radish and wisps of fennel. It's fresh and delicate. Right now more than 300 pounds of various types of salumi are curing, and Palate will start serving house-made salame and such in a couple of weeks.
Another of the restaurant's strengths is its cheese program, which you can also experience in the wine bar or at one of the communal tables clustered between the restaurant and the wine bar. A selection of three cheeses from the two in-house fromagers is $12, which is quite reasonable given the quality of the cheeses on offer. Additional choices are $3 each. But you'll have to plan ahead to save room.
Desserts are very much in the spirit of the place, unpretentious and direct. Buttery financier (a moist almond cake) is topped with strawberry confit. There's a Valrhona chocolate pudding, deep and dark, or buttermilk panna cotta layered with berry purée, and a fine new entry, half a nectarine stuffed with a crumble of butter and nuts and roasted in the oven.
Palate was a long time coming, yet this newcomer entered the restaurant scene poised and firing on all cylinders. With a crack team in the kitchen and at the front of the house, it already feels as if it's been around forever. Monday nights are shaping up as industry nights, when chefs and sommeliers come out to enjoy the food and the vibe.
Regulars who love the place worry that it's seriously underpriced. Maybe. Maybe not. If the wine shop and wine bar can help support the restaurant, then you may see more places like Palate popping up in neighborhoods all over the city.
With a short, seasonal menu, nothing over $20, and a killer wine list and cheese selection, Palate lives up to its full name in a big way. For food and wine lovers, Glendale just became a destination.
Palate Food + Wine Rating: ***Location: 933 S. Brand Blvd., Glendale; (818) 662-9463; www.palate.com.Ambience: Smart, casual California restaurant with a terrific menu from Octavio Becerra; a fun, lively vibe and a crowd that mixes wine buffs, foodies and locals.Service: Enthusiastic and efficient.Price: Porkfolio, $12; Mason jars, $5; pickles, $3; dishes, $6 to $19; desserts, $7.Best dishes: Porkfolio, potted Berkshire pork, Coleman Farms lettuce salad, sweet corn ravioli, braised veal with pistachios, Delta crayfish with chile butter, pork belly with plums and dandelion greens, any of the lamb dishes, cheeses and homey desserts. Pretty much everything.Wine list: Wonderful selection at extremely fair prices. Corkage fee, $18; $5 for a wine bought at the wine shop and consumed at the wine bar.Best table: One at the very back of the room.Special features: Wine shop and wine bar in back.Details: Open for dinner from 5 to 10 p.m. Monday through Saturday. Wine shop is open from 11 a.m. to 10 p.m. Wine and beer. Valet parking, $6.Rating is based on food, service and ambience, with price taken into account in relation to quality. ****: Outstanding on every level. ***: Excellent. **: Very good. *: Good. No star: Poor to satisfactory.
---
The stories shaping California
Get up to speed with our Essential California newsletter, sent six days a week.
You may occasionally receive promotional content from the Los Angeles Times.