Sheriff's office debated Gibson's arrest report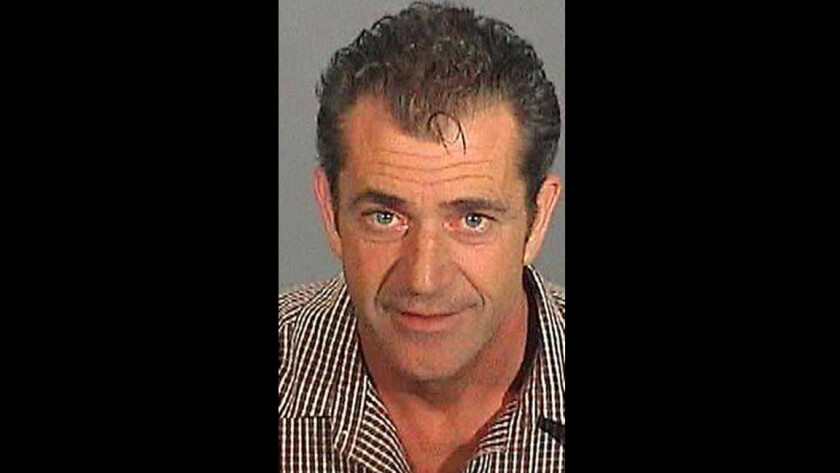 Los Angeles Times Staff Writers
A handwritten account by the sheriff's deputy who arrested Mel Gibson triggered a lengthy debate among department officials Friday over how much should be released about the actor's allegedly profane and anti-Jewish comments, sources close to the investigation said Monday.
The officials ultimately decided to place a portion of Deputy James Mee's report under lock and key in an effort to prevent immediate public disclosure, the sources said. They declined to be identified because of the sensitivity of the case.
"They were like chickens running around with their heads cut off," said one source, who was at the station and witnessed the discussion in the hours after Gibson was arrested on suspicion of drunk driving.
As these details emerged, the actor's spokesman said Monday that Gibson was in an "ongoing program of recovery." And ABC-TV said it would not proceed with a proposed Holocaust miniseries with the Academy Award-winning director's production company.
The Sheriff's Department may face repercussions as well. Two members of the Los Angeles County Board of Supervisors on Monday questioned whether Gibson was given special treatment.
The debate following Gibson's early-morning arrest Friday in Malibu involved officials at the Malibu/Lost Hills Sheriff's Station in Agoura as well as those from sheriff's headquarters, according to the sources. Some staff members at Malibu/Lost Hills wanted to support Mee, the sources said, and urged that the report be treated the same as any other.
But some senior managers, both at the station and at headquarters, expressed concern about Gibson's comments becoming public.
"There was some pressure being put from sheriff's headquarters" to downplay Gibson's behavior, one source said.
As a result, the sources said, officials locked up the deputy's narrative describing Gibson's outbursts, leaving only the arrest's basic facts in a report readily available to station personnel. They planned to provide the full arrest report -- including the narrative -- to prosecutors, the sources said. But the document would have become public only if prosecutors introduced them in court.
The pages that were set aside included the deputy's account of Gibson trying to escape arrest and then allegedly threatening to "get even" with him. In the pages, the deputy, who is Jewish, reported that Gibson made a statement blaming Jews for "all the wars in the world" and then asked the deputy, "Are you a Jew?"
Sheriff Lee Baca said Monday that he had not intervened in the investigation in any way and that the final decision on what to do with the deputy's narrative was made by the captain of the Malibu/Lost Hills station, Tom Martin.
"The people in the system are doing their job," Baca said. "No one in their right mind at the local station is going to ask me what to do about evidence. If we get to that level, we are in serious trouble."
Baca's spokesman, Steve Whitmore, said officials at headquarters were briefed about Gibson's arrest but never issued orders to the Malibu/Lost Hills station about how to proceed with the investigation.
But the details of the arrest and the fact that they became public only after the report had been leaked to the celebrity website TMZ.com have raised concerns about whether Gibson, one of Hollywood's highest-paid actors, had been given preferential treatment.
Los Angeles County supervisors Yvonne Braithwaite Burke and Zev Yaroslavsky questioned whether the incident had been properly handled.
"Knowing that this was a celebrity, they should have been doubly careful about how the report was ultimately prepared," Burke said. "It gives the impression that there may be two different ways they treat people based on who they are."
Yaroslavsky called for "a hard, independent look at what happened in this incident and how the Sheriff's Department handles all such cases."
One issue likely to draw scrutiny was a statement made Friday by Whitmore that Gibson had been arrested "without incident."
Whitmore said Monday that he may have created the wrong impression. He said he described the arrest that way because it was made "without a significant use of force," as deputies did not surround Gibson with guns drawn and did not tackle him. But he acknowledged that Gibson walked away from the arresting deputy at one point and had to be brought back to the patrol car.
Concerns about how the arrest was handled have been heightened by Gibson's ties to the department.
He has met with Baca at least twice in recent years and donated $10,000 to the stepdaughter of a slain deputy through a charity Baca created.
Sheriff's Department officials said they have launched an internal affairs investigation that will look at the handling of the arrest, including how the reports were handled as well as the deputy's decision to not handcuff Gibson.
"If someone released investigative documents without proper authorization, we'll make every effort to determine who may have done that," said sheriff's Chief William McSweeney. He said the review could take as many as 60 days to complete.
For his part, Baca has insisted that Gibson's behavior -- which the actor himself called "despicable" in an apology issued over the weekend -- has no bearing on the criminal drunk driving charges that he faces. Baca said his department's job was "to establish his blood-alcohol level when he was driving and proceed with the case."
Baca's statement raised eyebrows among some in the L.A. legal system, who said suspects are often charged with crimes they committed during drunk driving arrests.
According to Mee's handwritten narrative, Gibson was told that he would not be handcuffed as long as he remained cooperative when he was pulled over for speeding early Friday morning and the deputy allegedly smelled alcohol on his breath. (A source in the department said the deputy had pulled over Gibson at least once before for speeding but had not ticketed the actor.)
Once Gibson realized that he was going to be arrested, according to the narrative, he grew "increasingly belligerent" and became worried about the arrest being made public. Mee described how Gibson "bolted" from custody. The deputy chased Gibson back to the actor's car and handcuffed him -- an incident the deputy described as an "attempted escape from custody." In addition, the report detailed repeated threats against Mee made by Gibson -- who said he "owned Malibu."
En route to the station, Mee wrote, Gibson "continually threatened me" and warned that he would "get even." The behavior concerned the veteran deputy so much that he called ahead to request that a sergeant meet him at the Malibu/Lost Hills station when he arrived. Sources said that some of Gibson's outbursts after he was brought to the station were captured on videotape.
One Sheriff's Department employee said Gibson's demeanor after his arrest could be considered evidence of intoxication and therefore would have been relevant. The person also said the decision not to handcuff Gibson at the outset was unusual.
The details of the arrest also surprised some longtime defense attorneys.
"It's just unheard of, not being handcuffed," said Jeffrey Gray, a Torrance criminal defense attorney. "In 28 years of being a criminal defense attorney, I've never had anyone not handcuffed when they were arrested. Not having a [resisting arrest allegation] doesn't surprise me as much, especially if a cop sees he's a decent citizen and it's more the alcohol talking than the individual talking."
In a written apology released Saturday, Gibson said he had long struggled with alcoholism and suffered a relapse that left him "out of control" and ashamed of his behavior. He has spoken in the past about being a member of Alcoholics Anonymous and acknowledged battles with addictions, which he had said were a thing of the past.
The arrest has placed Mee at the center of an international media story. In an interview with The Times on Monday, Mee said he did not relish the attention.
"I'd rather save a baby out of a burning building than get this kind of national attention," he said. "This is just another drunk driving incident. It just happened to be a celebrity versus Joe Blow Public."
He said he hopes that all the headlines will serve a larger purpose. It "could be construed as cruel and unusual punishment," he said. "As in all DUIs ... I don't relish hurting people [by arresting them].... I'm out there doing my job."
Times staff writers Stuart Pfeifer, Chris Lee, Doug Smith, Jeffrey L. Rabin, John Spano, Ashley Surdin and Juliet Chung contributed to this report.
---
The stories shaping California
Get up to speed with our Essential California newsletter, sent six days a week.
You may occasionally receive promotional content from the Los Angeles Times.