Transit riders assail proposed Metro fare hike at public hearing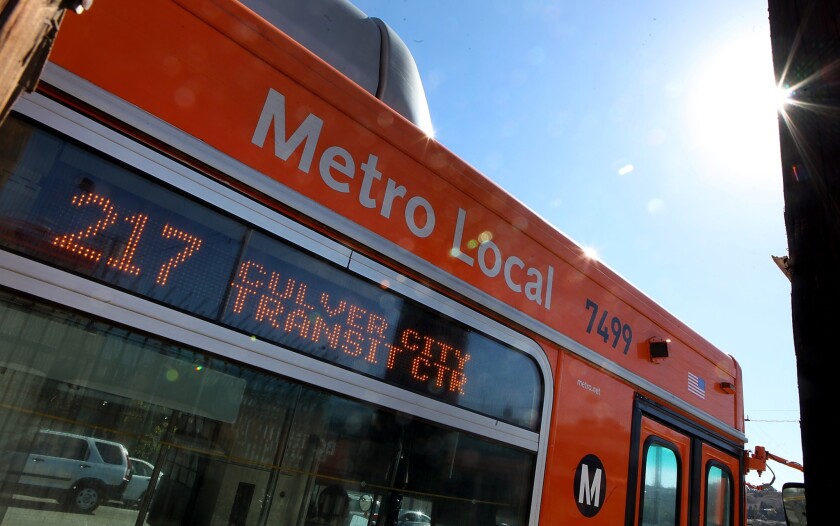 During a packed and sometimes tense four-hour public hearing Saturday, Los Angeles County transportation officials heard a litany of complaints from transit riders who said a proposed Metro fare hike would strain the budgets of students and working-class families.
A crowd of more than 500 activists, students and low-wage workers packed Metro's downtown boardroom and spilled into the cafeteria as speaker after speaker pressed elected officials to avoid fare increases or service cutbacks.
"It simply is impossible for us to pay more," said Sylvia Molina, a carwash employee, speaking in Spanish through a translator. "Please don't cut our basic needs."
Officials with the Los Angeles County Metropolitan Transportation Authority have warned that the agency will face a $36-million operating budget shortfall in 2016, which could grow to $225 million in the next decade unless fares go up substantially.
Metro board members are scheduled to consider fare-hike proposals in May. One would raise the basic $1.50 bus and rail fare to $1.75 in September, to $2 in four years and $2.25 in 2021. Fares for seniors and the disabled would double to $1.10. A $75 monthly pass would increase to $100.
Under an alternative proposal, base fares would remain at $1.50 during non-peak hours. But rush-hour fares would rise to $2.25 in September and more than double to $3.25 in 2021. A $5 day pass would increase to $13 in 2021. After the initial series of increases, fares would continue to rise every two years to keep pace with inflation, Metro officials said.
Without higher fares, Metro will need to consider laying off nearly 1,000 employees and cutting 1 million hours of bus and rail service in 2015, agency staff members said.
Watts resident Della Bonner noted that a federal mediator was called in two decades ago to secure improvements in bus service after riders filed a civil rights lawsuit claiming transit officials gave preferential treatment and funding to rail projects.
"What you did in '94 was wrong. What you're doing now is twice as wrong," she said. "History has shown us that."
Metro officials have stressed that under both proposed fare hikes, riders paying one-way fares would be allowed unlimited transfers for 90 minutes, meaning about 20% of riders who don't use passes could see lower costs using the system. Several speakers urged board members to expand the proposed grace period to two hours.
Students will be especially hard-hit, multiple speakers said. Under both proposals, the $24 monthly student pass would increase 20% to $29 in September and to $45 by 2020.
"Twenty percent more isn't much for someone who's making $75,000 a year," Astrid Logan, a transportation coordinator for Cal State Northridge, said in an interview during the hearing. "But for a student, that's a lot."
Tempers flared as the hearing stretched into a fourth hour. After a loud exchange between a speaker and two Metro board members, Los Angeles County Sheriff's Department deputies escorted the speaker and another audience member from the boardroom and arrested them on suspicion of disturbing the peace, officials said.
Advocates argue the fare increases will disproportionately affect low-income, minority passengers. More than 80% of bus and rail riders are minorities and their average household income is less than $20,000, according to Metro data. Others sharply criticized the quality of Metro bus service.
Metro's aim is to increase the share of operating costs covered by fares. Ticket sales pay about one-quarter of system expenses, the lowest of any major U.S. transit agency. Metro managers hope to boost that ratio to 33%, in part to improve the agency's ability to compete for federal grants.
Twitter: @laura_nelson
---
For reporting and exclusive analysis from bureau chief John Myers, get our California Politics newsletter.
You may occasionally receive promotional content from the Los Angeles Times.